Brisbane vs. Gold Coast: Which Is the Better Vacation?
Whether you are looking to stroll around laid back neighborhoods or enter a new-world city, both the Gold Coast and Brisbane are excellent choices when it comes to vacation destinations. These cities offer unique experiences and attractions that you would want to consider before planning your vacation.
Between Brisbane and Gold Coast, deciding the best vacation will largely depend on what you want from your vacation. Gold Coast is a surfer's paradise complete with theme parks and beaches. Brisbane is more like a city of the future, enjoying a vibrant yet relatively laid-back atmosphere.
| Category | Gold Coast | Brisbane |
| --- | --- | --- |
| Cost Range for 1 Week | $90-500 AUD ($ 64-357 USD) | $70-450 AUD ($ 50-321 USD) |
| Transportation | Buses, trains, bike-taxis, bicycles, rental cars and taxis are available | Buses, trains, ferries, bicycles, rental cars and taxis are available |
| Accommodation | It is relatively higher, though cheaper Airbnb options may be available | Budget to mid-range hotels along with Airbnb options are available |
| Notable Attractions | Surfer's Paradise Beach, Burleigh Heads Beach, Lamington National Park | Lone Pine Koala Sanctuary, River Cruise, South Bank |
| Activities for Kids | Currumbin Wildlife Sanctuary, IFLY Indoor Skydiving, INFINITY experience center | Queensland Centre, Cultural Centre, Daisy Hill Conservation Park |
| Weather | Any time during the year is great for visiting | Autumn is the best time to visit |
| Food and Drink | More cosmopolitan and so a variety of cuisines from around the world is available | Restaurants serve up authentic dishes locally sourced from this region |
| Safety | Incredibly safe | Incredibly safe |
Keep reading to see how the two cities are different in terms of what they have to offer to travelers including the costs of stay, transportation, attractions, foods and more. Hopefully, this article will help you make an informed choice when you have to decide which of the two cities, Brisbane or Gold Coast, will give you the best vacation experience.
Cost of Stay: Gold Coast vs. Brisbane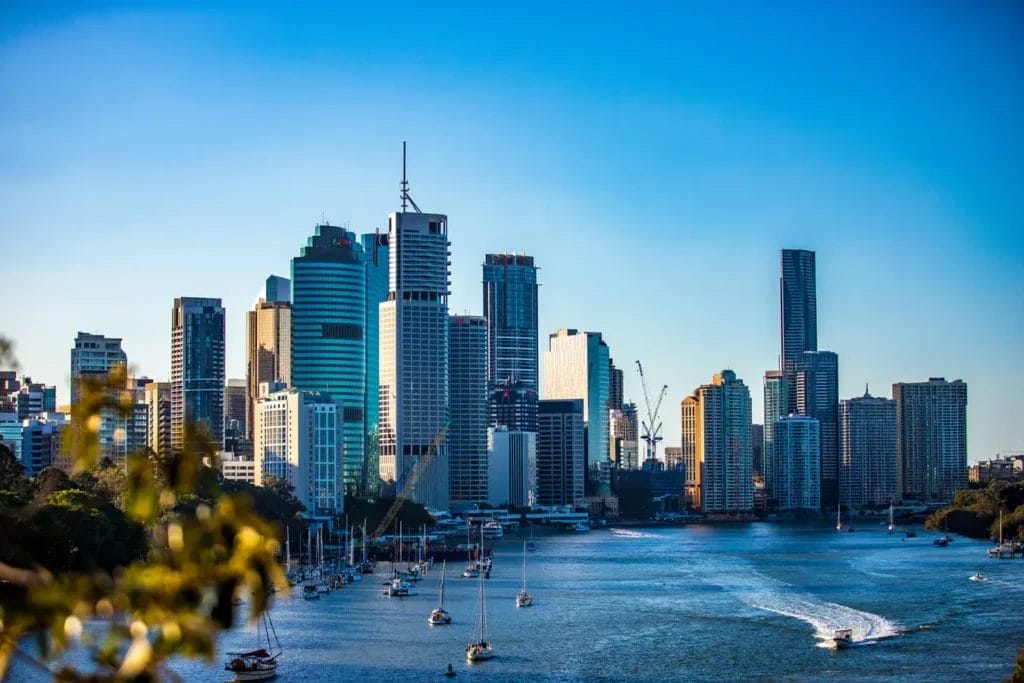 Suppose you plan to explore Brisbane on a backpacker's budget reserve around $70-90 AUD ($50-64 USD) per day. If your budget can stretch a bit more, you can look at a $225-250 AUD ($160-180 USD) per day allocation that will allow you to stay in a private hostel room.
If you are on luxury travel mode, then your per day costs will typically start from $450 AUD ($321 USD), and the sky's the limit.
A shoestring budget travel in the Gold Coast would set you back around $90 AUD ($64 USD) per day, while a mid-range budget would be about $225 AUD ($160 USD) per day, allowing for some more discretionary expenses. A luxury budget can start somewhere around $500 AUD ($357 USD) and go up from there.
Accommodation
Budget hotels in Brisbane usually start from $170 AUD ($120 USD). The Arise Brisbane Skytower and The Fantauzzo are a couple of great options that fall in this range and they offer breathtaking views of the city. Airbnb is a cheaper option that usually ranges from $20 AUD ($14 USD) to $100 AUD ($72 USD).
Medium budget hotels in the Gold Coast cost around $150 AUD ($109 USD) per night to $250 AUD ($182.3 USD). The Meriton Suites Broadbeach and the Hilton Surfers Paradise Hotel and Residences fall under this range. Both these hotels are in close proximity to the beach. They also have a lot of leisure facilities included within the hotel premises. Airbnb options are also available on the Gold Coast.
Notable Attractions
The Lone Pine Koala Sanctuary is a great place to go see the koala bears, or you could head over to the South Bank to stroll around its many parks, plazas, and promenades. You could also take a river cruise on the Brisbane River or indulge in some shopping in the Queen Street Mall.
In the Gold Coast, head over to the Surfer's Paradise Beach to ride with some waves under the sun, or go to Burleigh Heads Beach for some incredible views and time under sunny skies. South Stradbroke Island is an escape from the madding crowd, while Lamington National Park will take you inside a beautiful rainforest complete with waterfalls and quirky wildlife.
This video is a montage of the many attractions that make both Brisbane as well as the Gold Coast a sought-after holiday destination:
Activities for Kids
If you are traveling with your kids to Brisbane, you could head over to the Cultural Centre, which features a dedicated children's art center. Other places like Queensland Museum that hosts engaging exhibitions on topics such as Queensland wildlife and indigenous history, will also be interesting to visit with your kids.
The Brisbane Botanic Gardens Mount Coot-tha and the Daisy Hill Conservation Park are some great places to explore the wildlife that abounds in this region.
Gold Coast is for more adventurous little souls where you can take your little ones to visit the Infinity attraction where your kids will be mesmerized in a world of multi-sensual environments filled with unique special effects and illusions.
The Currumbin Wildlife Sanctuary is where you could see hundreds of native Australian animals living in their natural bushland and rainforest habitats. The iFLY Indoor Skydiving is safe and a whole lot of fun for young children as they experience zero gravity in controlled environments.
Food and Drink
Try Arc Dining if you are up for some gourmet food while looking at the waterfront views outside. The pork terrain and the fillet of rosy jobfish are a must-try. Budget options include Boo's Kitchen and Lord of the Fries, both serving their unique menu and a host of pocket-friendly dishes.
The Gold Coast is truly cosmopolitan, and it can be seen in the food provided in the restaurants here. Le Café Gourmand serves up French and European fare while you have The Cuban and the Ginger Indian Gourmet serving up meals from Cuba and India. For cheaper options, you can try Burgster and Wahoo's Fish Tacos.
Weather
Brisbane is best enjoyed in autumn when the average daily temperature is between 50°F (15°C) and 85°F (30°C). The Gold Coast is known to be busy all year round because it has consistent weather throughout though one of the best times to visit is in the month of May, when the average temperature is between 62°F (17°C) and 76°F (25°C).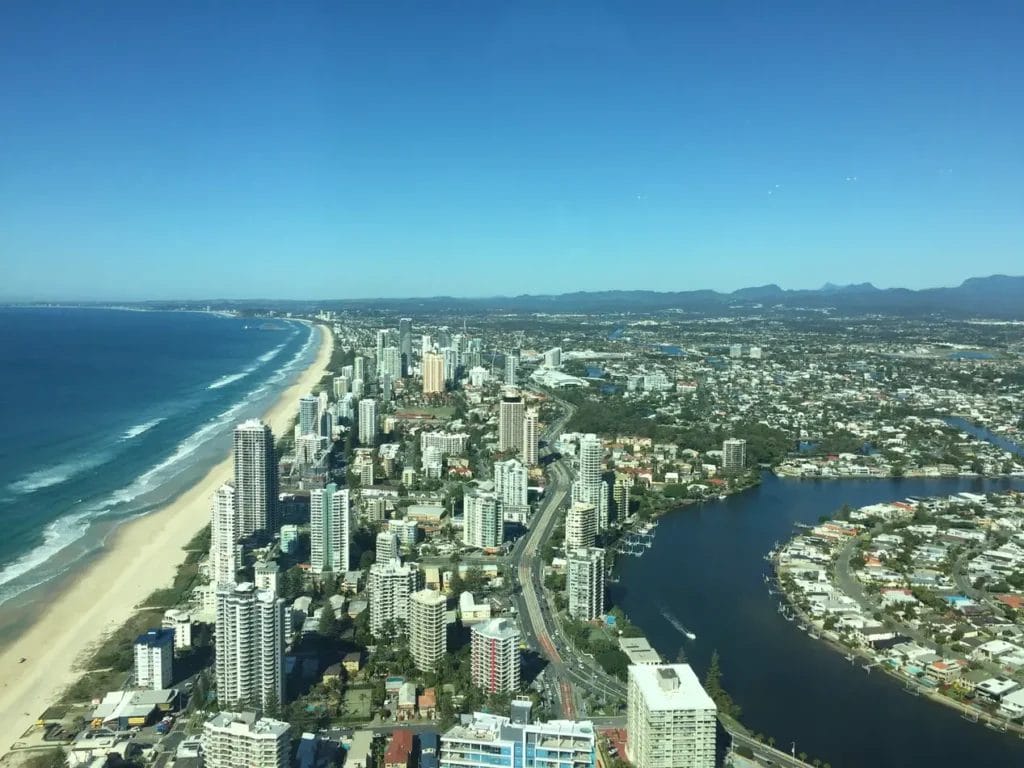 Safety
Both Brisbane and Gold Coast are incredibly safe to travel. You can go backpacking around these cities with friends or even travel solo. That being said, it is always important to be on your guard and be cautious, especially if you have reason to suspect foul play.
For a more comprehensive travel guide on Australia, in general, consider purchasing The Rough Guide to Australia.
Transportation
There are a plethora of choices when it comes to opting for your mode of transport while in Brisbane. There are buses, trains, ferries, bicycles, and taxis to choose from. The buses, trains, and ferries are very efficient systems to get around the city as they are all well connected, and with the help of a Go Card, these can be quite affordable.
The Gold Coast has a vast array of transportation services available. Buses, such as the TransLink and the NightLink, have reasonable fares. Go Cards are also used in this city as well.
Recap: Brisbane Vs. Gold Coast
If you like to stroll in quaint neighborhoods and go to a place that is less touristy, Brisbane will be a great choice. It also enjoys great weather almost all year round. But, if you are looking for that adrenaline rush, then the surfing beaches and theme parks of the Gold Coast will be right up your alley.