Big Sur vs. Monterey: Which Town Should I Visit?
Big Sur vs. Monterey: California is the third-largest state and one of America's most popular tourist destinations. While most people know it for its lavish places and famous people, it has a beautiful coastline and rugged mountain trails. Monterey and Big Sur are popular vacation areas, which have plenty of similarities but also have different and unique things to offer, so which is better for you to visit?
Monterey and Big Sur have similar weather, food, and activities. Monterey is a popular city known for its nightlife scene, while Big Sur is not a town, but a section of coastline known for its scenery and is more expensive than Monterey.
| Category | Big Sur | Monterey |
| --- | --- | --- |
| Cost Range for 1 Week | n/a | $950 |
| Transportation | Uber, Lyft, Public Transportation, Rental Car, Taxis | Uber, Lyft, Public Transportation, Rental Car, Taxis |
| Notable Attractions | Point Sur Lighthouse, Henry Miller Library, Hawthorne Gallery, Bixby Bridge | 17 Mile Drive, Old Fisherman's Wharf, Cannery Row, Stevenson House |
| Weather | The Pacific Ocean regulates Mediterranean Climate. Dry summers with wet and cold winters | The Pacific Ocean regulates Mediterranean Climate. Dry summers with wet and cold winters |
| Food and Drink | Amerian, Seafood, Cafes, Sushi | Amerian, Seafood, Cafes, Bars |
| Activities for Kids | Molera State Park, Pfeiffer Big Sur State Park, Sand Dollar Beach | Monterey Bay Aquarium, Dennis the Menace Park, California Sea Otter Game Refuge |
| Nature Attractions | Pfeiffer Beach, Mcway Falls, Ragged Beach, Limekiln State Park, Partington Cove Point, Lobos State Natural Reserve | Del Monte Beach, San Carlos Beach, Monterey Peninsula Recreational Trail |
This article will showcase the various places and activities in Big Sur and Monterey California. Keep reading if you'd like an in-depth look at what your vacation to either place might look like.
Cost of Stay: Monterey Vs. Big Sur
According to BudgetYourTrip, the average cost in Monterey is about $950 a week for one person. These are averages that change over time. The prices listed here and throughout the rest of the article are only estimates for when this article was written. Prices will fluctuate depending on your budget and who you're traveling with.
There are no exact data for how much it costs to stay in Big Sur, probably because it isn't technically a city; it's part of the coastline starting from Carmel Highlands and ending in San Simeon, stretching about 86 miles across.
But further research implies that it's pretty expensive, even compared to other places in California. It's common knowledge that the Golden State is a pricey place to stay, especially near the ocean.
Hotels
A Los Angeles Times article has a few methods for budgeting your trip to Big Sur, including getting a hotel in Monterey.
According to the same budgeting website above, the average hotel in Monterey currently cost about $79; however, the first three hotels listed on Tripadvisor average out to about $179 per night:
Casa Munras Garden Hotel & Spa: $136 per night
Monterey Plaza Hotel & Spa: $233 per night
Hyatt Regency Monterey: $169 per night
From a similar listing with 3 Big Sur hotels, the average comes out to $1064 per night:
Ventana Big Sur: An Alila Resort: $2575 per night
Big Sur Lodge: $309 per night
Big Sur River inn: $310 per night
The distance between Monterey and the middle of Big Sur is only 45 minutes apart, so the scenic drive might be a benefit to your trip.
Main Attractions
Located in Big Sur is the Point Sur Lighthouse, a historic building atop a volcanic rock. There's also the Henry Miller Library, Henry Miller's house established as a museum in 1981 after his death by fellow artist and friend, Emil White. The museum hosts live music shows and can be rented out for weddings and other events.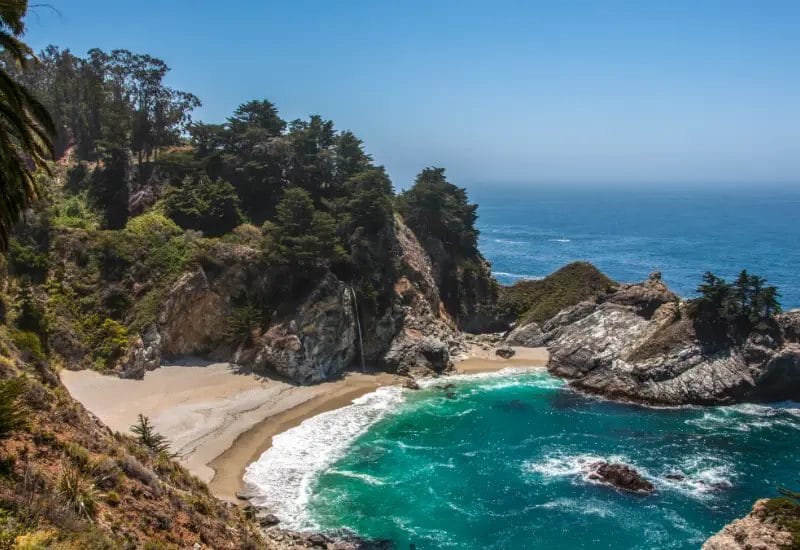 The Old Fisherman's Wharf is a sort of strip mall on a dock in Monterey Bay featuring plenty of seafood restaurants, shops, and exciting activities like fishing and whale watching.
Also in Monterey is Cannery Row, a street of former canning factories turned restaurants. Cannery Row was just a nickname for Ocean View Avenue until it was renamed to honor John Steinback, another famous writer who used the neighborhood as a setting for his acclaimed novel Cannery Row.
Activities for Children
The Monterey Bay Aquarium is a wonderful educational opportunity for children and adults alike. There's plenty of marine life to admire, from penguins to jellyfish to octopus (Octopi?).
For younger kids is the Dennis the Menace Park; it's a large play area with colorful slides and a pond with ducks. It was designed by the creator of the early sixties sitcom of the same name.
In Big Sur is the Sand Dollar Beach. Apparently, it doesn't have as many sand dollars as the name suggests, but children are still encouraged to look for as many as they can after high-tide. It's also a popular surfing destination.
Weather
Both Big Sur and Monterey are extremely close to the Pacific Ocean, which means summers are generally warm, maybe with a gentle breeze now and then and the winters are cold, wet, and foggy.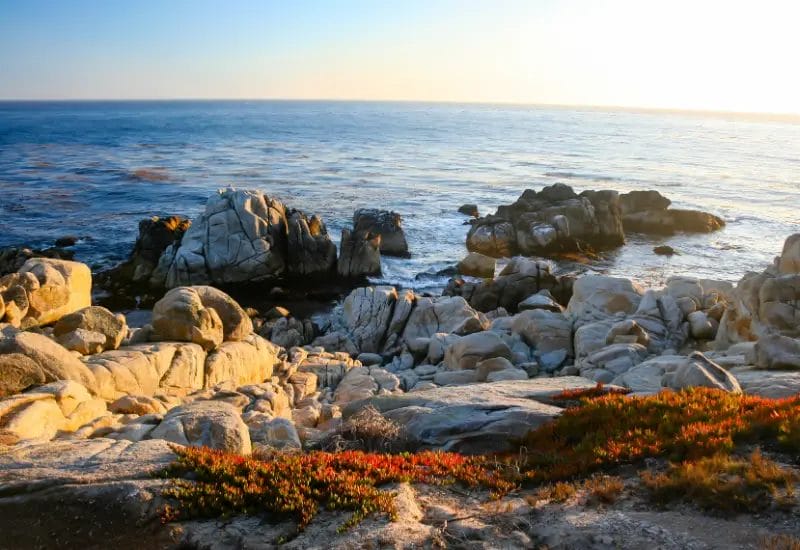 Food
Both areas have similar food options, mainly American and Seafood. There are some popular spots like Nepenthe, a mostly American cuisine restaurant, and it's moderately expensive. They sell a $53 ribeye steak dinner; the lowest thing found that wasn't a drink or on the kid's menu was a basket of fries that cost $10.50, but it does have a stunning view of the south of Big Sur's coastline.
A similar restaurant in Monterey is the Wave Street Cafe that has similar food options and similar pricing. There's also Rosine's Restaurant, which has some Italian dishes and freshly made desserts. This restaurant was also featured on an episode of Diners, Drive-Ins, & Dives in 2014.
There are a plethora of seafood restaurants, varying in price and quality. Monterey has the Old Fisherman's Grotto, conveniently located in the aforementioned Old Fisherman's Wharf. In Big Sur, there's the Wild Coast Restaurant & Sushi Bar.
If you're not a foodie, there's a McDonald's on Del Monte Ave, so whether you want the full California experience with expensive seafood or stop at the first fast-food restaurant you see, both Monterey and Big Sur have you covered.
Natural Scenery
The Pfeiffer beach is ranked the #1 thing to do in Big Sur on TripAdvisor. It has rare and beautiful purple sand due to the erosion of a mineral named manganese garnet from the hillsides. You can surf or swim and let your children make purple sandcastles.
About 10 miles south is the Julia Pfeiffer Burns State Park, which has humongous redwood trees and an 80-foot waterfall named McWay Falls. It is one of only two tide falls in California, the other being Alamere Falls in Point Reyes.
Monterey Bay is a 50-mile stretch of the California coastline. On that bay is the Monterey Peninsula Recreational Trail, taking up about 18 miles. It's popular for hiking and bike riding. There's also the Don Dahvee Park, a fairly small, more obscure park. Some pictures even make it look a little creepy. It doesn't seem to be popular among tourists, but if it interests you, make it a stop on your trip.
Conclusion: Big Sur Vs. Monterey
Whether you plan on going to Big Sur or Monterey, they are strikingly similar regarding food, weather, and seascape.
You're never too far from the Pacific Ocean. Even so, Monterey has a seaside city vibe that focuses on the nightlife atmosphere, while Big Sur is more focused on the seascape, despite being more expensive than Monterey.