5 Best Snorkeling and Diving Spots in Turks and Caicos
Discover the breathtaking underwater wonders of Turks and Caicos through our ultimate guide to the best snorkeling and diving spots. From the vibrant Grace Bay Coral Gardens, where colorful corals and marine life create an underwater paradise, to the diverse marine ecosystem of Smith's Reef, teeming with sea turtles and stingrays, these destinations offer unforgettable experiences.
Delve into the thrilling depths of The Wall, a dramatic diving location, or explore the pristine dive sites of West Caicos Marine National Park. 
For those seeking hidden gems, tranquil locales, and opportunities for underwater photography, we unveil a variety of spots suited to every underwater explorer. Dive in and embark on an extraordinary aquatic adventure in Turks and Caicos.
1. Grace Bay Coral Gardens: A Colorful Underwater Paradise
The allure of Grace Bay Coral Gardens begins with the breathtaking boat ride across the pristine blue waters. As you gear up and dive in, you are welcomed by an array of vibrant coral formations. These majestic formations come in a variety of shapes and sizes, providing a home to a diverse collection of marine life. From delicate seahorses hiding in the seagrass to parrotfish munching on the coral, the Coral Gardens is teeming with life.
Dive a little deeper, and you'll find a stunning variety of both hard and soft corals. These underwater gardens, bathed in the warm Caribbean sun, make for an unforgettable snorkeling and diving experience. The clear waters and gentle currents of Grace Bay ensure visibility and safety, allowing you to lose yourself in this underwater paradise completely. It's no wonder Grace Bay consistently ranks among the world's top beaches.
2. Smith's Reef: Exploring Vibrant Marine Life
Smith's Reef offers not one but several access points, each leading you to a unique underwater landscape. The maze of coral heads hosts an abundance of marine life, including colorful parrotfish, spiny lobsters, and the occasional nurse shark. The reef's layout allows you to explore at your own pace, drifting from one coral head to the next.
For photographers and marine life enthusiasts, Smith's Reef is a treasure trove. The crystal-clear waters offer excellent visibility for underwater photography. With a little patience and luck, you may even capture an image of the elusive octopus or the vibrant queen angelfish. It's an underwater safari waiting to be explored.
3. The Wall: Thrilling Diving Experience
Standing at the precipice of The Wall, you'll feel a rush of exhilaration. The plunge into the blue abyss is nothing short of awe-inspiring. As you descend, the marine life changes – small reef fish give way to larger pelagic species. Keep your eyes open for the regal manta rays, sleek barracudas, and, on lucky days, a pod of playful dolphins.
The Wall's true charm lies in its profound sense of mystery and adventure. The deep blue of the open ocean and the fascinating marine life that resides in this underwater skyscraper offer an unparalleled diving experience. Remember to check your dive computer – you'll be having so much fun, you might forget how deep you've gone!
4. West Caicos Marine National Park: Pristine Diving Destination
Step off your dive boat into the untouched waters of West Caicos Marine National Park, and you're stepping into a world frozen in time. This marine reserve is immaculately preserved, free from the impact of commercial fishing and development. It's home to dozens of dive sites, each offering something unique. From the intricate Gorgonian forest to the mesmerizing Anchor Point with its centuries-old anchors embedded in the coral, West Caicos keeps you coming back for more.
But the adventure doesn't stop at the surface. West Caicos also hosts a network of limestone caves for the truly intrepid divers. These caves, once above water thousands of years ago, are a testament to the geological history of the islands. The park's dedication to conservation and its unique topography make it a pristine diving destination you can't afford to miss.
5. French Cay: Home to Sharks and Rays
The journey to French Cay is a part of the adventure. This uninhabited island is a bird sanctuary above water and a shark and ray haven below. As you dive into the surrounding waters, you are likely to encounter Caribbean reef sharks gracefully patrolling the reef and Southern stingrays stirring up the sandy bottom in search of a meal.
Don't let the presence of these magnificent creatures alarm you. The sharks and rays at French Cay are accustomed to divers and typically keep their distance. Swimming alongside these creatures is an incredible experience, offering a unique perspective on the ocean's apex predators. Diving at French Cay is not just about thrills, but also about gaining a deeper understanding and appreciation of these misunderstood creatures.
Beginner-Friendly Snorkeling and Diving Spots in Turks and Caicos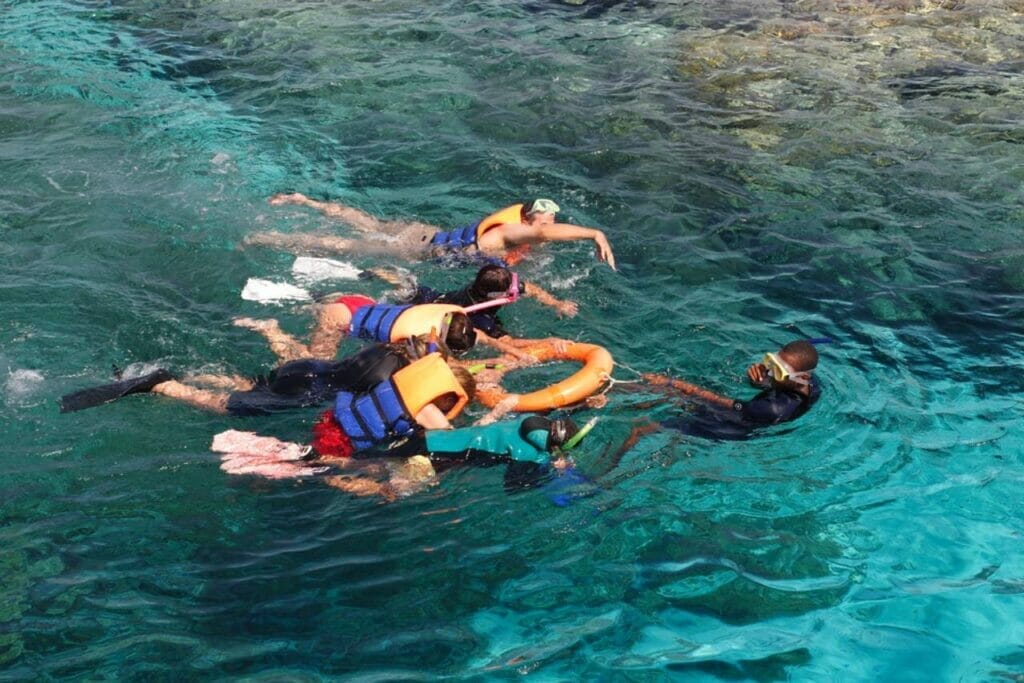 Turks and Caicos is an excellent choice for novice snorkelers and divers, thanks to its tranquil, clear waters and abundant marine life. Bight Reef, also known as Coral Gardens, is perfect for beginners, with its easy shore access and colorful array of marine creatures. Another great choice is Smith's Reef, which is well-marked with safety buoys and boasts a diversity of species.
Meanwhile, Malcolm's Road Beach on the western coast of Providenciales offers a peaceful snorkeling environment away from the crowds. These beginner-friendly spots provide a gentle introduction to the wonders of the underwater world, ensuring a memorable and enjoyable experience for all.
Your Ultimate Guide to Turks and Caicos' Underwater Marvels
Submerge yourself in a world of unparalleled beauty. Beneath the azure waters of Turks and Caicos, you'll find an undersea wonderland teeming with vibrant corals, exotic marine life, and historical shipwrecks, each telling their unique story. Whether you're seeking guided excursions, intimate wildlife encounters, adrenaline-pumping dives, or idyllic snorkeling spots, these islands have it all.
So, gear up and plunge into this guide, where we reveal the top snorkeling and diving spots for every type of underwater explorer. Discover hidden gems, photographic hotspots, and tranquil off-the-beaten-path locales that will leave you spellbound. Dive in, the adventure awaits!
Snorkeling and Diving Excursions
Dive Provo: Renowned for its professional service, Dive Provo offers a range of guided excursions tailored to all experience levels. From novice snorkelers to advanced divers, Dive Provo ensures everyone has a safe and exciting experience, all while exploring Turks and Caicos' underwater wonders.
Big Blue Collective: This eco-adventure company is known for its commitment to sustainable tourism. Big Blue Collective's eco-tours blend thrilling adventures with educational experiences, teaching participants about the marine ecosystem's delicate balance and the importance of conservation.
Snorkeling and Diving with Marine Life
French Cay: This location is famous for encounters with sharks and rays. It's not uncommon to glide through the waters alongside these magnificent creatures, offering divers a unique and thrilling experience.
Smith's Reef: As a diverse habitat for marine life, Smith's Reef offers opportunities to meet sea turtles, stingrays, and even the elusive octopus. This abundance of sea life makes every dive a new adventure.
Snorkeling and Diving for Advanced Divers
The Wall: This deep-sea diving location offers a heart-pounding plunge into the abyss. Its unique marine life, such as pelagic fish and manta rays, coupled with its dramatic underwater cliff, offers advanced divers an unmatched diving experience.
West Caicos Marine National Park: Home to pristine dive sites with unique underwater topographies, this park is a paradise for experienced divers. Expect to navigate underwater caves and sunken ships while swimming amongst a diverse array of marine life.
Snorkeling and Diving Spots with Shipwrecks
Northwest Point: This spot is home to a 100-feet freighter that serves as an artificial reef, attracting a myriad of sea creatures. This unique underwater landscape offers divers the chance to explore a piece of human history enveloped by nature.
Molasses Reef: Known for the oldest known European shipwreck in the Americas, Molasses Reef is a must-visit for history and dive enthusiasts alike. The wreckage tells a captivating story of maritime history, all while offering a unique diving experience.
Snorkeling and Diving Spots near Grace Bay
Grace Bay Coral Gardens: A spectacular reef just off the coast of the world-renowned Grace Bay beach. Its easily accessible location, combined with its colorful corals and teeming marine life, makes it a popular choice amongst divers.
Princess Alexandra National Park: This marine preserve, just a stone's throw from Grace Bay, is home to diverse marine life, offering snorkelers and divers a chance to witness a thriving underwater ecosystem.
Snorkeling and Diving Spots off the Beaten Path
Pine Cay: This secluded spot is perfect for those seeking tranquility and privacy. Its pristine reefs and calm waters offer a serene snorkeling and diving experience.
Salt Cay: Salt Cay boasts a variety of rarely visited dive sites with an array of marine life. Its less-frequented status offers divers a unique opportunity to explore untouched marine landscapes.
Snorkeling and Diving Spots for Underwater Photography
Smith's Reef: Known for its crystal-clear waters and abundant marine life, Smith's Reef is a photographer's dream. The excellent visibility allows for stunning underwater shots of the reef's vibrant inhabitants.
Grace Bay Coral Gardens: The colorful underwater paradise of Coral Gardens is perfect for capturing vibrant images. Its diverse marine life and breathtaking coral formations serve as the ideal backdrop for your underwater photography.
Snorkeling and Diving Spots with Coral Reefs
Grace Bay Coral Gardens: This site is celebrated for its colorful and extensive coral formations. It's a living, breathing ecosystem that promises to mesmerize every snorkeler and diver.
Smith's Reef: Smith's Reef features a maze of coral heads hosting an abundance of marine life. This vibrant underwater jungle invites explorers to lose themselves in its beauty and biodiversity.
FAQ
Does Turks And Caicos Have Good Snorkeling?
Undoubtedly, Turks and Caicos offer exceptional snorkeling opportunities. The islands' vibrant marine ecosystems, coupled with clear turquoise waters, allow snorkelers to enjoy a rich array of sea life. Notably, the Grace Bay Coral Gardens and Smith's Reef offer stunning underwater landscapes filled with colorful coral formations and diverse marine inhabitants, making snorkeling an unmissable experience on these islands.
Where Is The Best Shore Snorkeling In Turks And Caicos?
Smith's Reef in Providenciales is renowned for excellent shore snorkeling. This reef boasts several access points from the shore, leading snorkelers to an underwater landscape teeming with vibrant marine life. Its unique layout enables exploration at your own pace, making it a favorite among both novice and experienced snorkelers.
Where Is The Best Beach For Snorkeling In Providenciales?
Grace Bay Beach, located in Providenciales, is celebrated for its fantastic snorkeling opportunities. A mere stone's throw from the beach, Grace Bay Coral Gardens is an underwater paradise, home to an assortment of coral species and a diverse range of marine life. Its close proximity to the shore and the clear, calm waters make it an ideal spot for beach snorkeling.