3 Best Snorkel Gear Sets for Hawaii
No matter what island you visit, snorkeling is a must-do activity while you're in Hawaii, but to go rogue and swim at all the best spots, you'll need to bring your own snorkeling gear set.
So, if you're ready to catch sight of spinner dolphins, green sea turtles, vibrant coral reefs packed with schools of neon-colored fish, and friendly little sharks, choosing a snorkel set that's comfortable, durable, and easy to carry is critical. 
The best snorkel gear set for Hawaii is the Phantom Aquatics Rapido Boutique Clariza Snorkel Set. This snorkel set offers comfortable, fog-proof, tempered glass goggles, a dry snorkel to keep water out, and short, broad flippers with adjustable sizing.
So, let's discuss the best snorkeling gear for your trip to Hawaii, going through the pros and cons of each set. They are all available on Amazon, but each has unique features that make them ideal for different people. I'll also tell you everything you should look for in snorkeling gear to help you find a set that will be comfortable and perfect for your Hawaiian adventures.
The Phantom Aquatics Rapido Clariza is the best choice since it's a professional-grade snorkel with many features that make it comfortable and easy to use.
From the dry snorkel design to the comfortable airtight padding around the tempered glass fogless goggles, you'll hardly notice that you're wearing this gear after you get in the water. Plus, the flippers are superbly comfortable and offer support for a barefoot feeling with added propulsion.
This set also has the perfect dimensions for leisurely snorkeling, with short, broad flippers and a 14-inch (35.6 cm) snorkel.
These features come at an increased price, but it's well worth the investment if you plan on snorkeling frequently.
Pros
It comes in nine different colors and two adult sizes.
The dry snorkel allows you to both float and dive with no chances of leaks.
There's a purge chamber on the snorkel in case water/saliva gets in the tube.
The no-fog tempered glass goggles have three windows for both frontal and side views.
The flippers are short and wide for the perfect amount of drag.
It's compact and easy to travel with.
The flippers are very adjustable and comfortable.
The mouthpiece is small and comfortable.
Cons
The mesh bag is delicate and rips easily.
Some customers complain about flimsy clips where the snorkel attaches to the mask – although the company will quickly send out a replacement product if you experience issues.
The Zenoplige semi-wet snorkel set with goggles, a snorkel, and flippers is the perfect pick if you want budget-friendly gear with all the features of a premium product.
This snorkel set is most people's favorite for vacations since it's inexpensive and has spectacular reviews. The set is nothing too special but has some uncommon features for entry-level, budget snorkels.
For example, its semi-wet snorkel blocks out water, and there's a valve near the mouthpiece in case water gets into the tube while diving. That makes it perfect for coasting along the surface and diving to see the reefs up close.
Plus, it's got anti-fog tempered glass goggles for the clearest panoramic view possible.
Pros
Semi-wet snorkel design is perfect for keeping water out of the tube.
The flippers are easy to adjust and come in three sizes.
The snorkel is long, increasing visibility and your swimming range.
Comfortable, anti-fog tempered glass goggle lenses.
The goggles seal well and are very adjustable.
Comes in 15 colors and styles with a quick-dry mesh bag.
Has a comfortable, small mouthpiece.
Cons
The snorkel is 20.8 inches (50 cm) long, which may tire your mouth more quickly than a shorter one.
Some customers complain about too many holes in the fins, which makes your kicks louder and less efficient.
Cressi snorkels have gained quite a reputation as some of the best beginner snorkeling sets, and the Bonete doesn't disappoint.
It has some fantastic features, such as tempered glass lenses, a dry snorkel tip with a water-releasing valve, a comfortable silicone mouthpiece, and adjustable closures of its flippers and goggles.
However, one feature that stands out is its lightweight design, making it ideal for people who are packing up their snorkeling set to take on their visit to Hawaii or any other location.
It's only 2.7 lbs (1.3 kg) and has the perfect minimum and maximum dimensions for snorkeling at Hawaiian beaches. For that reason, this gets 1st place in terms of packability.
Pros
Lightweight and easy to fit in a suitcase.
Soft silicone mouthpiece and goggle padding make for a great seal.
The flippers and snorkel have the perfect lengths for snorkeling along the surface.
The dry snorkel design allows you to dive without getting water in the tube.
The two sizes fit most people after adjusting the open-heel flippers and goggles.
Comes in three different colors.
Cons
Some customers complain that the adjustable heel strap on the flippers can slide off if you don't release it before removing the flippers.
Things To Consider When Purchasing a Snorkel Set for Hawaii
Now that you know my top picks, you might be wondering why these are the best of the best for snorkeling in Hawaii.
So, let's look at some criteria you should keep in mind when looking for a snorkeling set and talk about why each feature matters: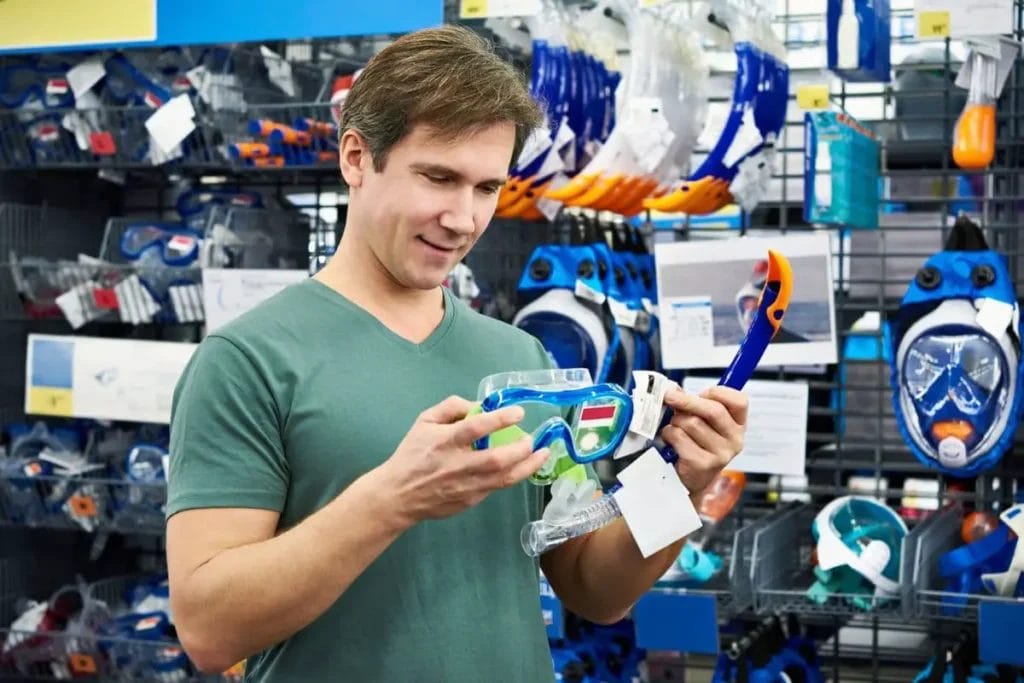 Snorkel Type
There are four main types of snorkels:
Dry Snorkels. Dry snorkels are best for people who want to dive underwater without taking their snorkel off. They have a water valve at the top that seals out all the water, even if you submerge the tube.
Wet or Classic Snorkels. Classic snorkels consist of a straight tube with a mouthpiece. These no-frills snorkels are the cheapest, most common type but can quickly fill with water.
Semi-Dry Snorkels. Semi-dry snorkels have splash guards on the tips of the tube to prevent any water from getting into the mouthpiece. However, if you dive underwater, the tube will fill up.
Flexible Snorkels. These snorkels, sometimes called roll-up snorkels, are small enough to fit in your pocket. However, they can be flimsy and are prone to collecting water.
Since each of these snorkels interacts with water differently, you'll have to consider how you want to swim during your time in the Hawaiian waters.
If you are a great swimmer interested in diving down to the bottom of the reefs, you may want to consider a dry snorkel. However, getting a classic or semi-dry snorkel will be more cost-effective and practical if you're a beginner who only needs the snorkel for one trip.
If you only ever snorkel while traveling and don't like to dive, a flexible or roll-up version will likely fit your needs best.
Snorkel Length
Snorkel length is a critical factor to consider since the length will determine how close to the surface you need to be. In addition, having a longer snorkel can make it easier for boaters and swimmers to spot you, making a longer snorkel ideal for children and people swimming at popular beaches.
However, if the tube is too long, you'll get mouth fatigue from holding up all that weight.
A snorkel less than 16 inches (40.6 cm) long will be best for most people. This length is where your mouth will start to tire more quickly. However, if you are a beginner who wants to float on the surface, 12 inches (30.5 cm) will keep your jaw from getting tired.
Flipper Length
For most people snorkeling in Hawaii, shorter fins are better.
The main advantage of having long fins is to move quickly underwater. So, the longer varieties are better for spearfishers and freedivers who must resurface rapidly for air.
However, moving slowly can be a significant advantage when snorkeling for pleasure. After all, you don't want to scare off all of the fish, turtles, baby sharks, and crabs!
For the best snorkeling in Hawaii's reefs and bays, go for a fin that is no longer than 25 inches (63.5 cm).
Goggle Materials
When shopping for any snorkel set, you'll want to pick something with either tempered glass or no-fog goggles.
Snorkeling is no fun if you can't see, and goggles are prone to getting foggy. However, choosing a no-fog option can keep the fog to a minimum and ensure you can see all the reefs and wildlife under the surface.
Tempered glass is more costly, but it's the best at reducing fog. So, pick up a pair of tempered glass goggles if you are willing to invest in your ability to see.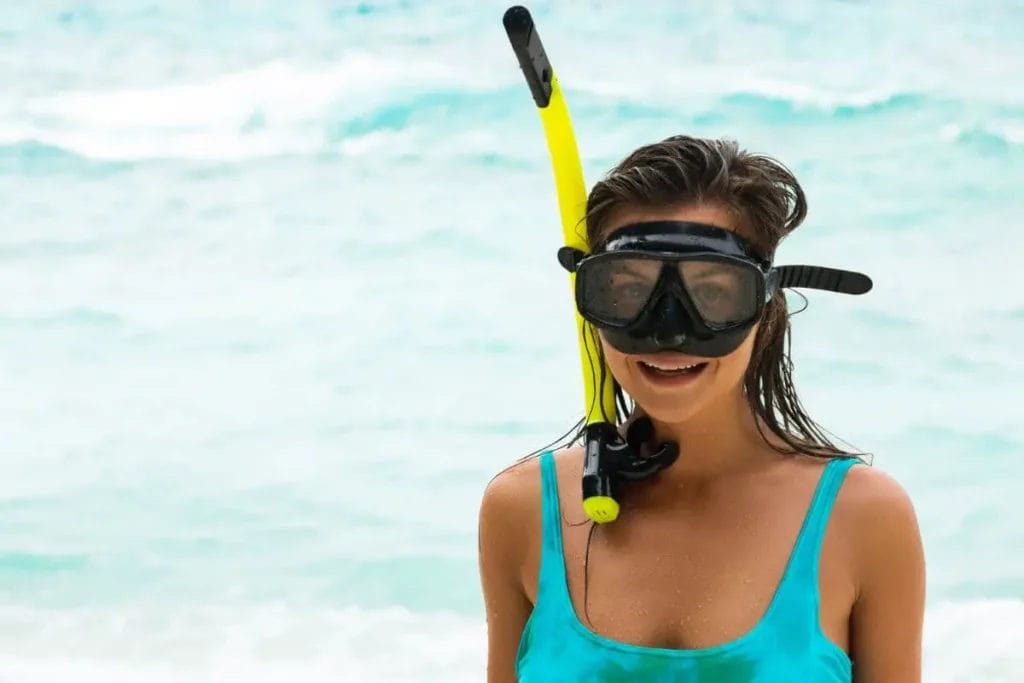 Portable and Easy To Pack
If you're bringing your snorkeling gear to Hawaii, you likely need to make extra room in your suitcase for cumbersome flippers and make a safe spot for your goggles. However, we all know that packing for a vacation can get hectic, and keeping your luggage under the weight limit is tricky.
So, choosing a snorkeling set that fits within your suitcase's dimensions without taking up all of your space is critical. Luckily, all of the snorkel sets on this list will fit in most carry-on suitcases, but if you choose another brand or model, be sure that it isn't too heavy or too large to fit in your bags.
Final Thoughts
In the contest for the best snorkeling gear sets for Hawaii, Phantom Aquatics Rapido Boutique Clariza Snorkel Set is the clear winner. It's easy to pack, lightweight, has fog-proof tempered glass goggles, a short dry snorkel for diving, and short flippers. It's also quite comfortable and very adjustable.
However, if you're trying to cut costs, go with the slightly bulkier Zenoplige Snorkel Set. And if you need to make extra space in your suitcase, try the Cressi Bonete Pro Dry Snorkeling Set.