5 Best Restaurants in Turks and Caicos
Embark on a culinary journey through the best restaurants in Turks and Caicos, where gastronomic excellence meets stunning settings.
Coco Bistro, nestled amidst palm trees, offers a fresh take on island cuisine, while Infiniti Restaurant & Raw Bar captivates with fusion-style dishes and breathtaking ocean views.
Seven, located at Seven Stars Resort, combines contemporary island cuisine with opulent surroundings, and Kitchen 218 showcases farm-to-table delights in a relaxed poolside atmosphere.
Opus Restaurant in Grace Bay impresses with diverse menus and an elegant dining experience. 
Indulge in the flavors of the islands and create unforgettable dining memories in these extraordinary establishments.
1. Coco Bistro: A Gastronomic Oasis
Nestled among lush, towering palm trees, Coco Bistro stands as a gastronomic oasis in the heart of Providenciales. It's not just the beautiful setting that wins over its guests, but a menu boasting a fresh take on island cuisine. The chef's masterful use of local ingredients infuses every dish with a sense of place, giving diners a chance to explore Turks and Caicos through each flavorful bite. From the conch spring rolls to the Caicos lobster tail, every plate narrates a delicious story of island life.
Yet, it's not solely the food that defines the Coco Bistro experience. The restaurant's ambiance is undeniably one of its key features. As twilight descends, the garden setting transforms into a serene, candlelit scene. The rustling of the palm leaves in the evening breeze accompanies your culinary journey, adding an extra touch of Caribbean magic to an already unforgettable dining experience.
Signature Dish: The Lobster Thermidor, made with succulent local lobster, is a crowd favorite and a must-try.
Location and Accessibility: Located in downtown Providenciales, it's a quick drive from most of the local hotels. Plenty of parking is available.
Price Range: Expect to pay around $30 – $50 for main courses.
Contact: +1 649-946-5369
Hours: It is open from 5:30 PM until 10:30 PM, Monday through Saturday.
2. Infiniti Restaurant & Raw Bar: Fine Dining with Ocean Views
Situated along the stunning Grace Bay Beach, the Infiniti Restaurant & Raw Bar offers more than just a meal – it's a spectacle for all the senses. Specializing in modern, fusion-style cuisine, the restaurant's menu is a canvas where creativity meets the freshest seafood and local produce. The raw bar, famous for its ceviche and oysters, sets a high standard that is gracefully met by the rest of the innovative menu.
The location and design of Infiniti Restaurant are just as remarkable as the food. Its striking architectural design, featuring the longest bar in the Caribbean, complements the unparalleled ocean views. Dining here as the sun sets, painting the sky with hues of orange, pink, and purple, provides an ambiance that is as much a part of the dining experience as the culinary offerings.
Signature Dish: The Seafood Paella here is legendary and highly recommended.
Location and Accessibility: Located on Grace Bay Beach, it's easily accessible from most of the beachfront resorts. Parking is available for those driving.
Price Range: Main dishes range from $35 – $55.
Contact: +1 649-946-5050
Hours: Open from 6:00 PM until 10:00 PM every day.
3. Seven: Oceanfront Dining and Innovative Cuisine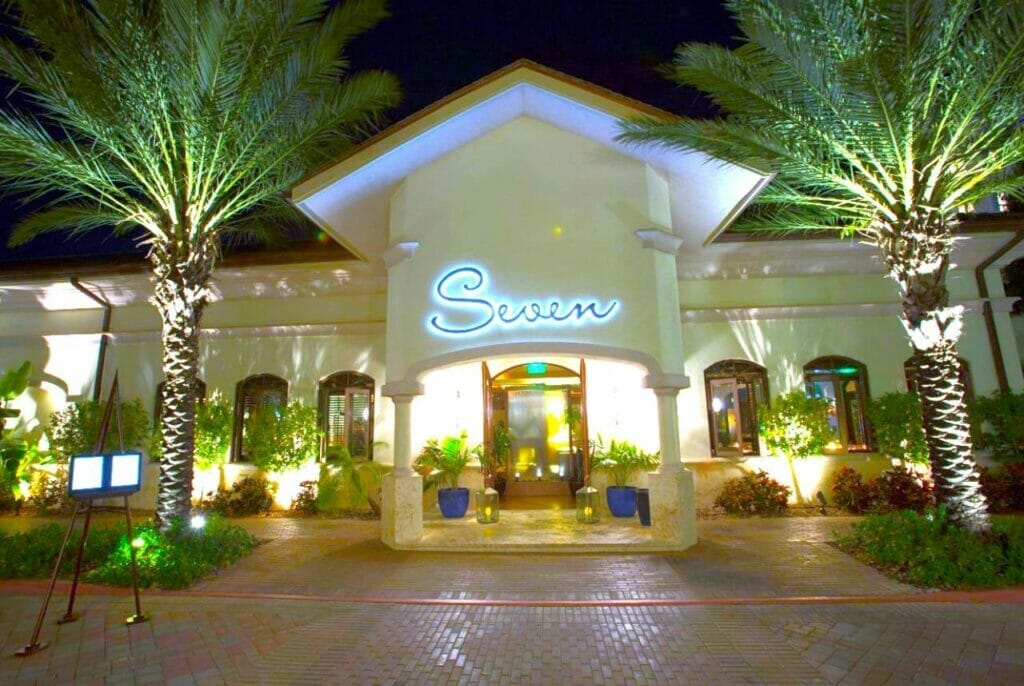 On the shores of Seven Stars Resort, Seven restaurant offers a dining experience that is just as luxurious as its surroundings. The menu, which leans towards contemporary island cuisine with a nod to international influence, is thoughtful and extensive. From fresh seafood to premium steaks, the dishes are designed to please the palate of even the most discerning gourmand.
The ambience at Seven is nothing short of opulent. The alfresco dining area presents diners with a majestic ocean view, while the interior's sleek design exudes sophistication. Whether it's sipping cocktails under the starlit sky or savouring a decadent dessert indoors, Seven ensures every aspect of your dining experience is memorable.
Signature Dish: The Seven Spiced Tuna is not only delicious but a treat for the eyes.
Location and Accessibility: Seven is located within the Seven Stars Resort on Grace Bay Road, with ample parking for visitors.
Price Range: Main courses are priced around $40 – $60.
Contact: +1 649-339-3777
Hours: Everyday from 7:00 PM till 10:00 PM
4. Kitchen 218: Farm-to-Table Delights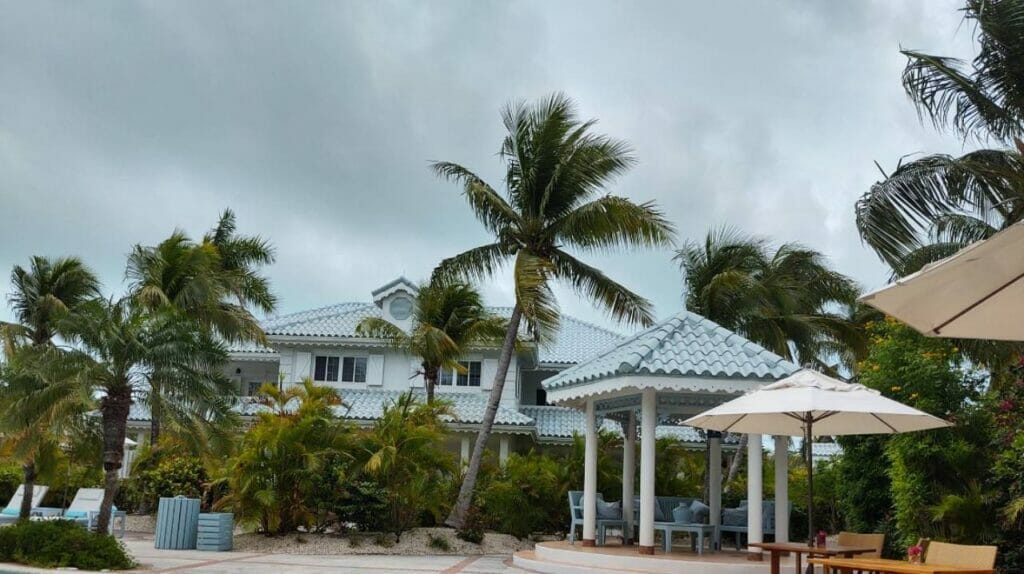 At Kitchen 218 in the Beach House, food is treated with reverence and creativity. The focus is on farm-to-table cuisine, blending traditional methods with innovative techniques. The seasonal menu, featuring organic, locally sourced ingredients, offers a true taste of Turks and Caicos. Each dish is crafted with care, demonstrating a passion for freshness and sustainability.
Kitchen 218's relaxed, inviting atmosphere is the perfect backdrop for its standout menu. Guests can enjoy their meals poolside, taking in the Caribbean air and the serene setting. With its approach to sustainable dining and a casual yet refined setting, Kitchen 218 offers a unique dining experience in the heart of Turks and Caicos.
Signature Dish: The Catch of the Day, prepared with locally sourced ingredients, is a standout choice.
Location and Accessibility: It's located at the Beach House on Lower Bight Road. Easy to reach from most central locations.
Price Range: Prices for main dishes range from $25 – $45.
Contact: +1 649-946-5800.
Hours: Open from 6:00 PM to 10:00 PM, Tuesday through Saturday.
5. Opus Restaurant: Elegant Dining in Grace Bay
At Opus Restaurant, elegance meets Caribbean charm. This eatery, which is a part of the Ocean Club Resort, is well-known for its extensive menu, which includes everything from tender steaks to the most recent seafood. Their wine list, one of the most comprehensive in Turks and Caicos, pairs perfectly with the culinary delights, making for an epicurean adventure.
The dining environment at Opus is both sophisticated and relaxed. Guests can choose to dine in the chic interior space or under the stars in the beautiful garden setting. Surrounded by tropical plants and lit by soft lanterns, the outdoor dining area offers a unique and romantic ambiance. Whether it's a special celebration or a simple desire for a superb meal, Opus provides a feast for the senses.
Signature Dish: The Grilled Lobster Tail is a signature dish and a testament to the restaurant's mastery of seafood.
Location and Accessibility: It's situated in the Ocean Club Resort, a convenient location for those staying in nearby resorts.
Price Range: Main courses usually cost between $30 – $50.
Contact: +1 649-946-5885
Hours: Open every day from 6:00 PM until 10:00 PM
FAQ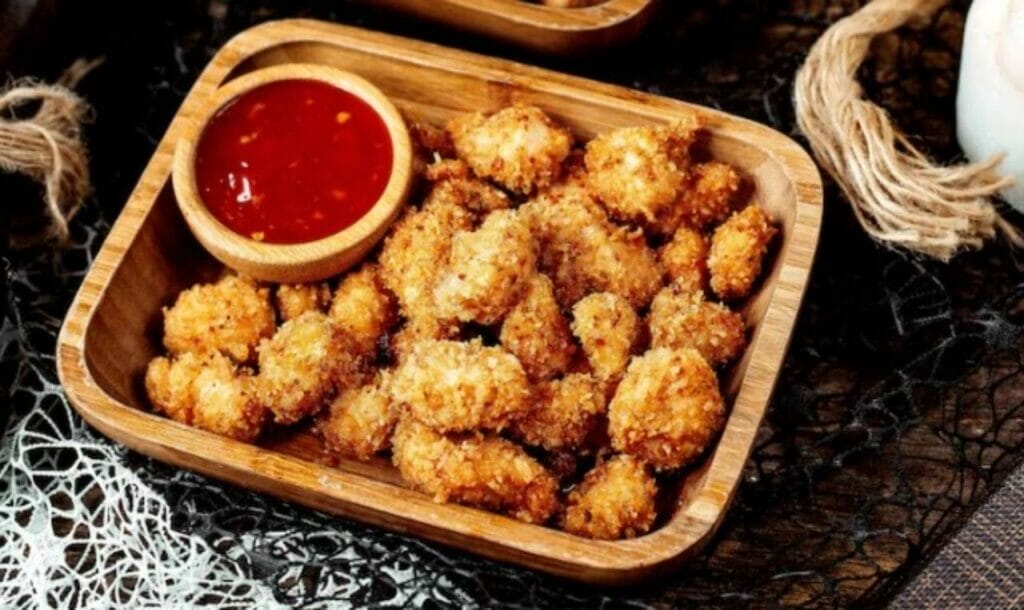 What Is Turks And Caicos Known For Food?
Turks and Caicos is known for its delectable seafood dishes that showcase the bounty of the surrounding Caribbean Sea. Freshly caught fish, including grouper and snapper, are popular choices, often prepared with local spices and flavors. Conch, a type of mollusk, is a local delicacy and a staple ingredient in many traditional dishes like conch fritters and conch salad. The islands also offer a variety of tropical fruits and vegetables, adding vibrant flavors to the culinary scene.
Is Dining Expensive In Turks And Caicos?
Dining in Turks and Caicos can be relatively expensive compared to some other destinations. The cost of dining out is influenced by factors such as the island's remote location and the importation of many food items. Additionally, the high quality of ingredients used in many restaurants contributes to the higher prices. However, there are dining options available at various price points, allowing visitors to find meals that suit their budget.
How Expensive Are Restaurants In Turks And Caicos?
Restaurants in Turks and Caicos generally fall into the moderate to high price range. Main dishes at premium restaurants may cost between $40 and $60 per person, but a typical lunch at a midrange restaurant might cost between $25 and $50 per person. It's vital to remember that taxes and service charges may be added to the total, in addition to factors like the restaurant's location, concept, and ingredients..