5 Best Restaurants in Barbados for Local Cuisine
Indulge in the vibrant flavors of Barbadian cuisine at top dining destinations. Starting with The Tides on the west coast (they're redefining Caribbean food), here are our picks for the best restaurants in Barbados for local cuisine:
| Restaurant | Location | Cuisine | Unique Features |
| --- | --- | --- | --- |
| The Tides | West Coast | Redefining Caribbean food | Quintessential Barbadian dining experience with stunning ocean views |
| Oistins Fish Fry | Oistins | Authentic Barbadian seafood | Vibrant street market experience with live music and fresh catch-of-the-day |
| Champers | South Coast | Fusion of Caribbean and international flavors | Artistic ambiance, stunning ocean view, creative twists on Bajan dishes |
| Brown Sugar | Bridgetown | Authentic Bajan cuisine | Barbados Planter's Buffet Lunch, plantation-style design |
| Naru | Hastings | Fusion of Caribbean and Asian influences | Creative blend of Bajan and Asian flavors, unexpected culinary surprises |
This table provides an overview of the 5 best local Barbados restaurants, highlighting their locations, cuisine specialties, and unique features. It offers valuable information for food enthusiasts looking to explore the vibrant flavors and culinary experiences that Barbados has to offer.
Keep reading to explore the rich culinary heritage of Barbados through these exceptional dining experiences.
1. The Tides
As the sun dips below the horizon and the Caribbean waves lap gently at the shore, the culinary journey in Barbados begins at The Tides. Located on the west coast, this restaurant is a stalwart of Barbadian cuisine, redefining how we perceive Caribbean food. From freshly caught barracuda served with local breadfruit chips to the hearty rum-infused beef tenderloin, the food here embodies the island's culture and flavors.
Imagine yourself indulging in exquisite cuisine as the tropical breeze ruffles your hair and the scent of the ocean fills your nostrils. This isn't just dinner, it's an experience – one that is quintessentially Barbadian, full of warm smiles, delightful service, and mouth-watering flavors.
2. Oistins Fish Fry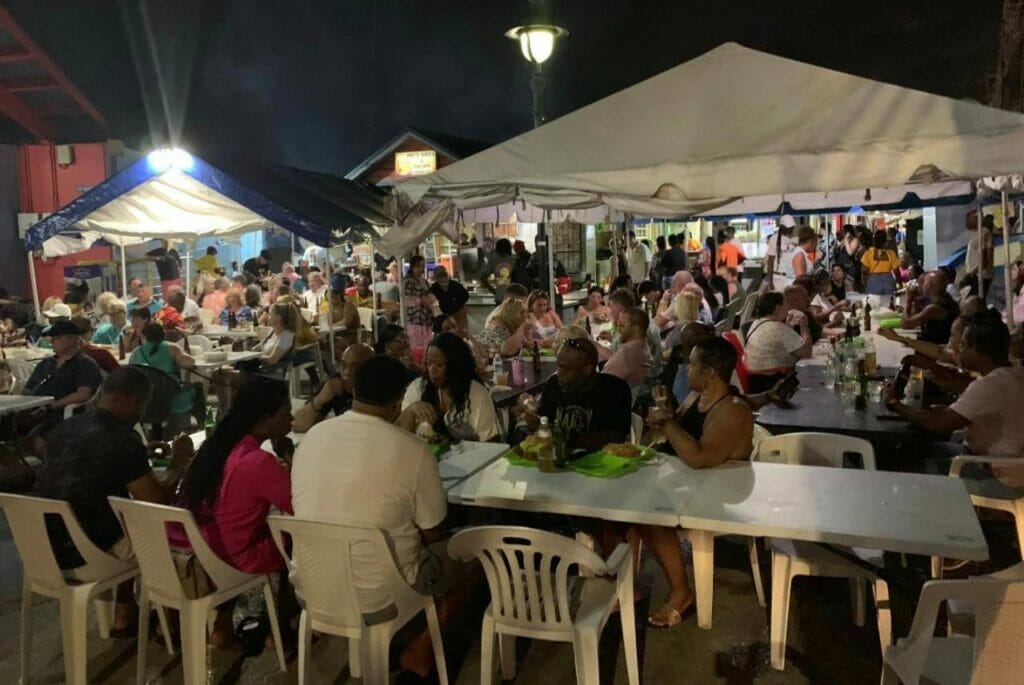 If it's a Friday night and you're looking for a hearty, authentic Barbadian meal, then Oistins Fish Fry is your place to be. This is not your typical restaurant. It's a vibrant street market that comes alive with grills sizzling, music blaring, and crowds mingling. Locals and tourists alike gather here for one thing: the fish.
Here, fresh catch-of-the-day options such as swordfish, marlin, and mahi-mahi are barbecued to perfection and served alongside a helping of traditional macaroni pie or coleslaw. As you relish your meal, you're serenaded by the harmonious rhythms of local calypso bands, making the experience even more unforgettable. Oistins Fish Fry is truly a melting pot of Barbados culture, local cuisine, and Bajan hospitality.
3. Champers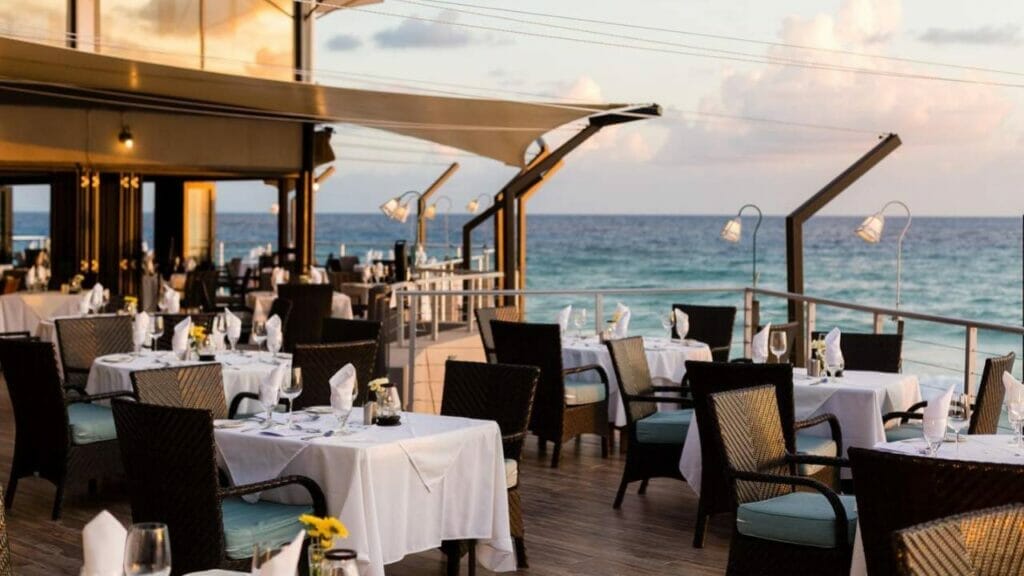 Nestled on the south coast of Barbados, Champers offers a fusion of Caribbean and international flavors. This family-run establishment prides itself on its artistic ambiance and stunning ocean view. But of course, it's the food that really takes the spotlight.
Here, you can taste an exciting array of dishes like herb crusted barracuda, flying fish pate, or plantain stuffed with spicy shrimp. The menu at Champers gives traditional Bajan dishes a creative twist, making it an exciting spot for anyone keen on a culinary adventure. It's an essential stop on the journey to understand the soul of Barbados cuisine.
4. Brown Sugar
For an authentic taste of Bajan cuisine, Brown Sugar is a must-visit. Renowned for its Barbados Planter's Buffet Lunch, this restaurant gives a nod to the island's rich history with its plantation-style design and offers a gastronomic experience like no other.
Bajan flying fish, Cou-Cou, pepper pot stew are just a few items from their vast buffet that not only tantalizes your taste buds but also gives you a peek into Barbadian culinary traditions. The beauty of Brown Sugar is that it's a place that manages to combine heritage, tradition, and innovation in a single meal.
5. Naru
If you thought Barbadian cuisine couldn't get any more exciting, Naru is here to prove you wrong. Showcasing the perfect blend of Caribbean flavors and Asian precision, this restaurant is all about fusion food. Picture sushi rolls with a Bajan twist or grilled Mahi Mahi served with wasabi mash – it's an unexpected but delightful surprise.
Situated on the bustling boardwalk of Hastings on the South Coast, Naru is a testament to the versatility and adaptability of Barbadian cuisine. It pushes boundaries, experiments with flavors, and still stays rooted in the local culture – much like Barbados itself.
FAQ
What Is Traditional Barbados Food?
Traditional Barbadian food, also known as Bajan cuisine, is a unique blend of African, Indian, Irish, Creole, and British influences. Signature dishes include Cou-Cou (cornmeal and okra), flying fish, and pepperpot stew, a slow-cooked, richly spiced meat dish.
What Is Barbados Traditional Food And Drink?
Cou-Cou with flying fish stands as the national dish of Barbados, while rum punch is the country's traditional drink. The country is also renowned for its fish cakes, macaroni pie, and sweet treats like conkies (cornmeal wrapped in banana leaves), all complemented by the world-famous Barbados rum.
Is Barbados Food Spicy?
While some dishes in Barbadian cuisine can be spicy, it is not universally so. The level of spice varies greatly from dish to dish and can often be adjusted according to personal preference. Dishes like pepperpot stew are traditionally spicy, but others, like Cou-Cou, are milder.
What Is The New National Dish Of Barbados?
The national dish of Barbados is Cou-Cou and Flying Fish. This combination has long been a staple of the local diet, with Cou-Cou made from cornmeal and okra, and the flying fish typically steamed or fried and served with a tomato-based sauce.
What Food To Take To Barbados?
While Barbados offers a wide array of local foods, visitors may consider taking snacks or special dietary items that might be hard to find on the island. It's generally recommended to try the local cuisine, which includes fresh seafood, local fruits, and traditional Bajan dishes.