4 Best Maui Dinner Cruises (2023 Update)
Dining in Maui shouldn't be anything less than spectacular, which is why I always recommend booking a sunset dinner cruise for your first or last night on the island. The views of the glittering sea pair well with any entree, and relaxing on the serene ocean while enjoying a delicious traditional Hawaiian meal isn't an experience you'd soon forget.
The best Maui Dinner cruises are Alii Nui Royal Sunset Sail, Trilogy Captain's Sunset Dinner Sail, Pride of Maui Sunset Luau Dinner Cruise, and Sea Maui Premium Sunset Cruise with Dinner. These cruises offer excellent service, open bars, and delicious food for an unforgettable night at sea.
In this article, I'll tell you about the best-rated sunset dinner cruises in Maui and explain what makes each one unique. All of these cruises offer an open bar, at least two hours of sailing time, multi-course and top-tier meals, and no less than 4.5-star reviews on all of the most popular travel sites, so you can't go wrong with any of them.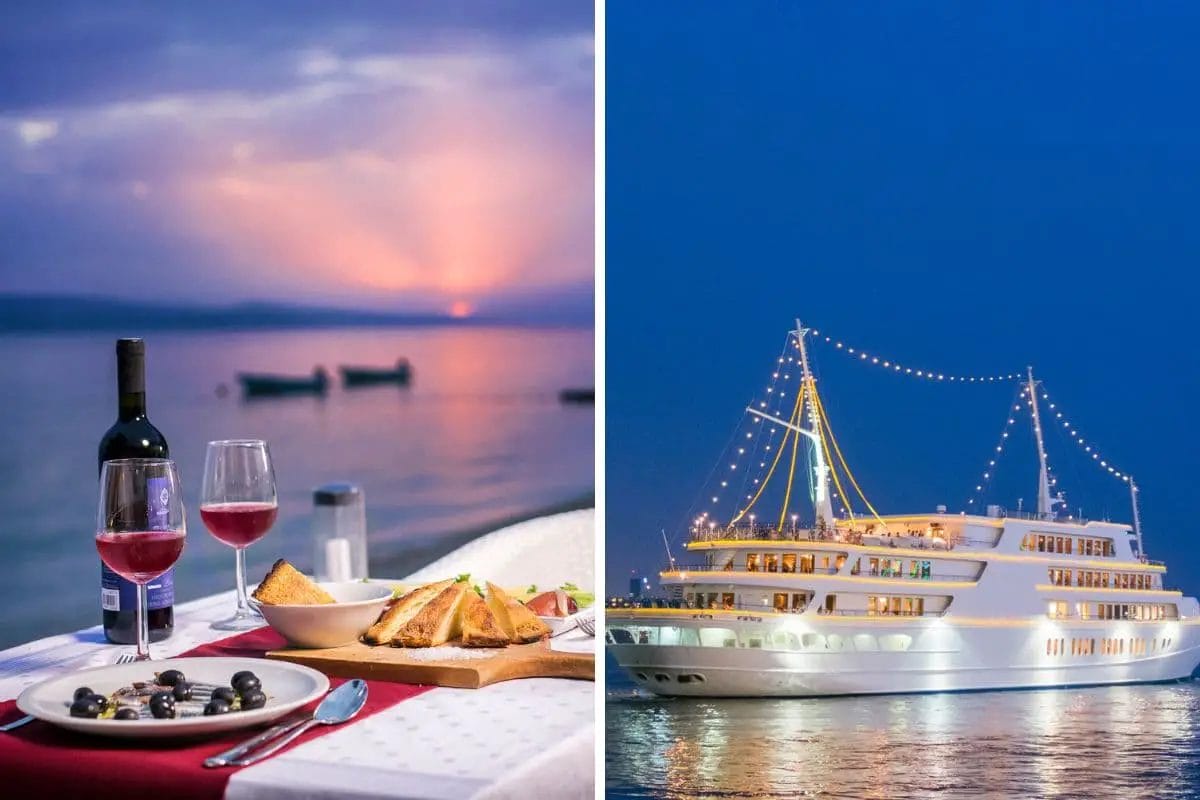 1. Alii Nui Royal Sunset Sail
Alii Nui's adults-only 2.5-hour Royal Sunset Sail, located in Ma'alaea, Maui, is the island's top dinner cruise. They offer luxury service, food, and accommodations, making for the perfect cruise for a special occasion.
Alii Nui puts their best foot forward right after you book with them, offering free transportation from your hotel or residence to the boat dock and back after the cruise. So, you can let loose, forget the taxi, and take advantage of the bar on board without worrying about driving home at night.
Once you step off the dock and into the Alii Nui Catamaran, the friendly and accommodating staff and long-time captain will make you feel like royalty.
Alii Nui has a spacious ship, but they always book it at half-capacity to ensure you have plenty of places to sit and walk around on board. They also offer a professional photographer on deck if you want to get photos of your special night on the sea.
You'll likely want to start with the open bar after you settle in, which has many options. Whether you prefer local beers, aged wine, cocktails such as Mai Tais and other rum or gin drinks, or fine scotch, their bar has something on tap.
Alii Nui's food is remarkable, which is rare when dining aboard a ship, even in Maui.
Once dinner is served, you'll have access to an extensive buffet with seasonal specialties such as Hawaiian Barbecue, pasta, seafood, salads, and seasonal veggies with vegan, gluten-free, and vegetarian options. Although you can always walk up to the buffet and ask the waitstaff to bring you more food, they also offer quick and superb table service.
Be sure to save some room for dessert, though, as the ship offers several decadent dessert options, including chocolate tuxedo cake, chocolate-covered strawberries, and cheesecake.
The crew's customer service is the cherry on top, with the boat staff and captain going above and beyond to ensure you have the best time possible. They'll make you feel right at home as soon as you get there, and during the cruise, they will do anything they can to make you feel more comfortable, from cleaning your sunglasses of ocean sprays to teaching you more about the sea and ship and getting you anything you want from the menu promptly.
Although this is the best sunset dinner cruise in Maui, there's one downside. The ticket prices are well above average for a dinner cruise, coming in at above $200 per person. However, these cruises consistently get 5-star reviews, and locals and tourists frequently express that the food, experience, service, drinks, and memories were worth every penny.
2. Trilogy Captain's Sunset Dinner Sail
Trilogy offers many different sunset cruises, but their best is the adults-only Captain's Sunset Dinner Sail, offering a 5-star, four-course meal all while sailing towards the sunset on a gorgeous, spacious catamaran.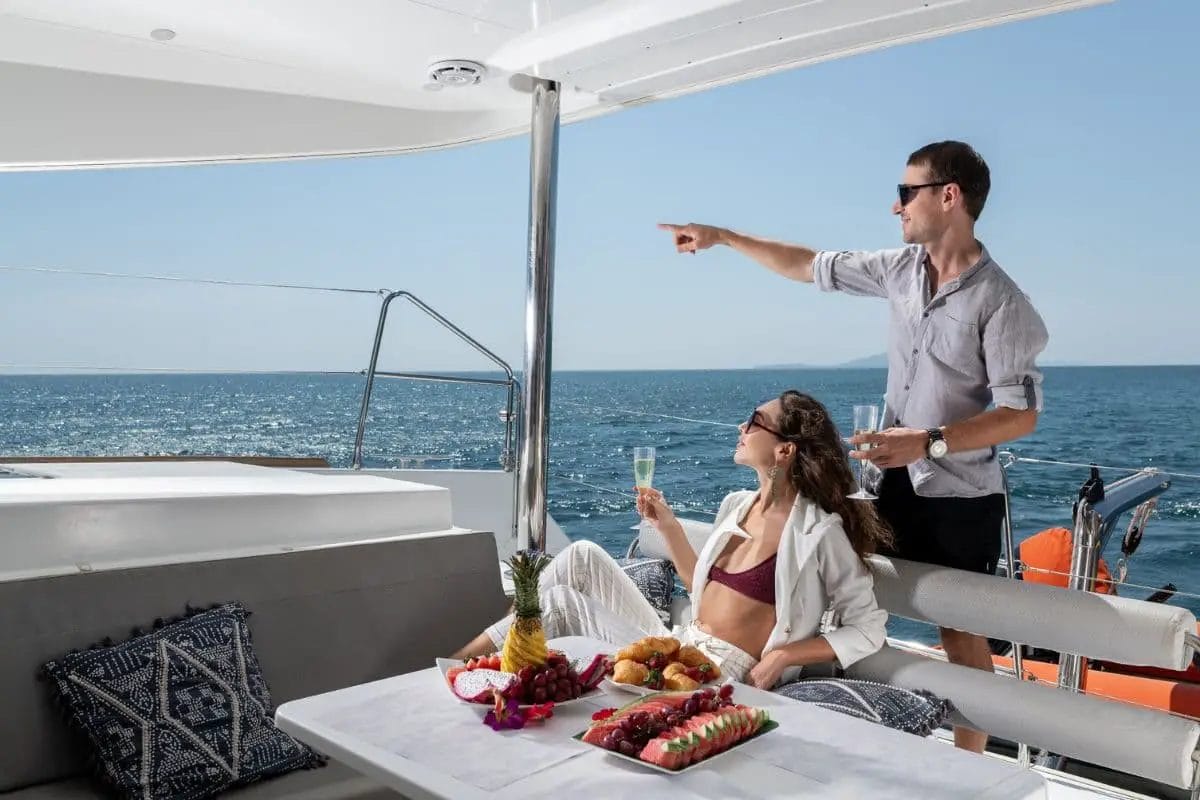 One marked benefit of sailing with Trilogy is that part of their proceeds go to the Blue 'Aina Reef Cleanup, an initiative dedicated to cleaning and preserving Maui's reefs and beaches.
This ship docks from Ma'alea and Lahaina and alternates ports every other day. So, regardless of which seaside town you choose to stay in, you can catch a cruise with Trilogy.
Trilogy's deck is gorgeous, with each small table placed to ensure that you always have the best views of the sunset and island. Their ships are spacious, but they usually only allow up to 15 passengers per trip for an intimate and relaxing experience.
After departing from the dock, the friendly and helpful staff will start serving from the ship's open bar. This cruise offers many drink choices, including specialty cocktails such as their famous 808 margaritas and Coco Tais. They also provide several wines, local craft beers, and virgin options, so they offer something for everyone.
Once it's time for dinner, the ship docks in a secluded cove where the crew will present you with your meal at one of their intimate two-top tables. Unlike many other dinner cruises, Trilogy offers four courses, including four different appetizers, salads, desserts, and one main dish you must select when you book your cruise.
Their main courses are limited but delicious, including:
Top sirloin steak.
Fire-grilled chicken.
Locally sourced fresh island fish.
Vegetarian pasta primavera with portobello mushrooms.
Their excellent table service and premium dishes make you feel like you're eating at an exclusive Michelin-star restaurant while floating in a secluded cove with views of the Hawaiian sunset.
After dinner, you'll sail out towards the sunset for the most breathtaking views in Hawaii.
To get a brief taste of what Trilogy's Captain's Sunset Dinner Sail has to offer, you should watch their promotional video on YouTube:
3. Pride of Maui Sunset Luau Dinner Cruise
Details and Booking: Maui Sunset Dinner Cruise
Dock Location: Ma'alea
Average Ticket Price: $170.00 for adults, $106.00 for children and teens
Family-Friendly
If you want more than fine dining and stunning views from your sunset cruise, pick this one. Pride of Maui offers a Luau dinner cruise, where you can watch a traditional Polynesian Luau. Pride of Maui's dancers will perform and teach you some moves after dinner, making this cruise unique and memorable.
The customer service at Pride of Maui is remarkable, and it's a family business. The dancers and staff, chefs, and captain are accommodating and friendly people who want to ensure you are comfortable and happy.
This cruise isn't like any other. Although you can expect the best, freshest food and gorgeous sunset views, it feels more casual and fun than a luxury dining experience. It's perfect for people who want more than just a quiet dinner on the sea since you'll get entertainment and a memorable, casual, energetic vibe here, too.
As soon as you depart from the dock, you'll have access to an open bar with cocktails such as mai tais, margaritas, daiquiris, and martinis, local craft beers on tap, red and white wine, rum, gin, whisky, tequila, and bourbon.
You can enjoy your beverages on the Pride of Maui's spacious, immaculate deck or step up to the observation tower for panoramic views of the sea, Maui, Moloka'i, Lanai, and Kaho'olawe. You'll find plenty of space to move around, as Pride of Maui only books their ship at half capacity to give you all the attention and space you could want while cruising on the sea.
During your voyage towards the sunset, Pride of Maui's kind and engaging dancers, Kimo and Maka, a married couple, will dance, sing, and perform for you in an intimate, small luau. They will also offer their hospitality, serving drinks at the bar and ensuring that everyone on board is comfortable. They make the whole cruise a more authentic Hawaiian experience, which gives this cruise a local flair that no other available cruise has.
The chefs at Pride of Maui also cook all of your food, from dinner to dessert, so everything is incredibly fresh. They offer local fare using local recipes. You'll be able to take as much gourmet cheese and crackers, Hawaiian ribs, coconut sweet potatoes, Shoyu chicken, stir-fried veggies, and fresh tropical fruit as you can eat.
They also offer seasonal, traditional Hawaiian desserts after dinner, so save a little stomach space if you can!
Although this cruise features an on-board luau, I still recommend attending a larger one while you're on the island. If you want to take in the booming drums, large groups of dancers, and unique musical instruments of Hawaii in full force, you may want to read my article on the Best Maui Luaus for Couples. [XX Best Maui Luaus for Couples]
4. Sea Maui Premium Sunset Cruise With Dinner Tour
Details and Booking: Sea Maui Sunset Dinner Sail
Dock Location: Lahaina
Average Ticket Price: $124 for adults, $104 for teens, $94 for children
Family-Friendly
Sea Maui is the best sunset dinner cruise for families or those seeking a casual and fun dinner cruise. This is a "barefoot cruise," where you can walk around on deck and enjoy front row sunset seats at one of their tables or beanbag chairs right at the bow and stern.
Unlike most dinner cruises, Sea Maui Picks you up for dinner from the sand at Ka'anapali Beach in Lahaina. You can check in and get more information about where the ship will pick you up at the Whaler's Shopping Center on the beach. Warning — you may get a little wet during the boarding process, but it's all part of the experience.
Sea Maui also validates your parking for up to four hours, so you won't have to pay extra for parking at Ka'anapali.
On board, the crew will be waiting for you, helping you settle in and address any questions you may have. The staff and captain are phenomenal, friendly, and engaging, adding quite a bit of fun to the trip.
As soon as everyone has made it on board, you have access to the ship's open bar, where you can enjoy a wide variety of drinks, including local beers, white or red wine, champagne, rum, bourbon, vodka, and signature cocktails such as Maui Mules. As a family-friendly ship, they also offer plenty of non-alcoholic beverages, including tropical juices.
Dinner is buffet-style, offering a four-course meal of fantastic and traditional Hawaiian foods such as local fish with herb gremolata, slow-cooked ribs, taro buns, corn saute, and vegetable tofu stir-fry. They use local ingredients and recipes in their dishes for an authentic Hawaiian menu.
The number of passengers aboard the ship never exceeds 49, so you'll have plenty of space to walk around, explore the deck, and enjoy your dinner and beverages in peace.