4 Best Places To Get Kalua Pork in Maui
Kalua pork is one of the oldest traditional Hawaiian dishes, and it's a slow-cooked pig that was once reserved only for the most elite men in Hawaiian society. However, today, you'll find it available at many restaurants for locals and tourists to enjoy in Maui, preserving and adding to the history of this authentic Hawaiian recipe.
The Best places to get Kalua Pork in Maui are Da Kitchen, L&L Hawaiian BBQ, Joey's Kitchen, and Aloha Aina BBQ. Some honorable mentions include Huli Huli Chicken, Tin Roof, and 808 Grindz Cafe.
In this article, I'll take you on a culinary tour of Maui's best-rated and loved spots for Kalua pork, giving you the details for each restaurant. Each one is in a different location and offers a unique menu and price point, but they all have close to 5-star reviews. So, no matter where you are and what you're looking for, there's an excellent spot for Kalua pork near you!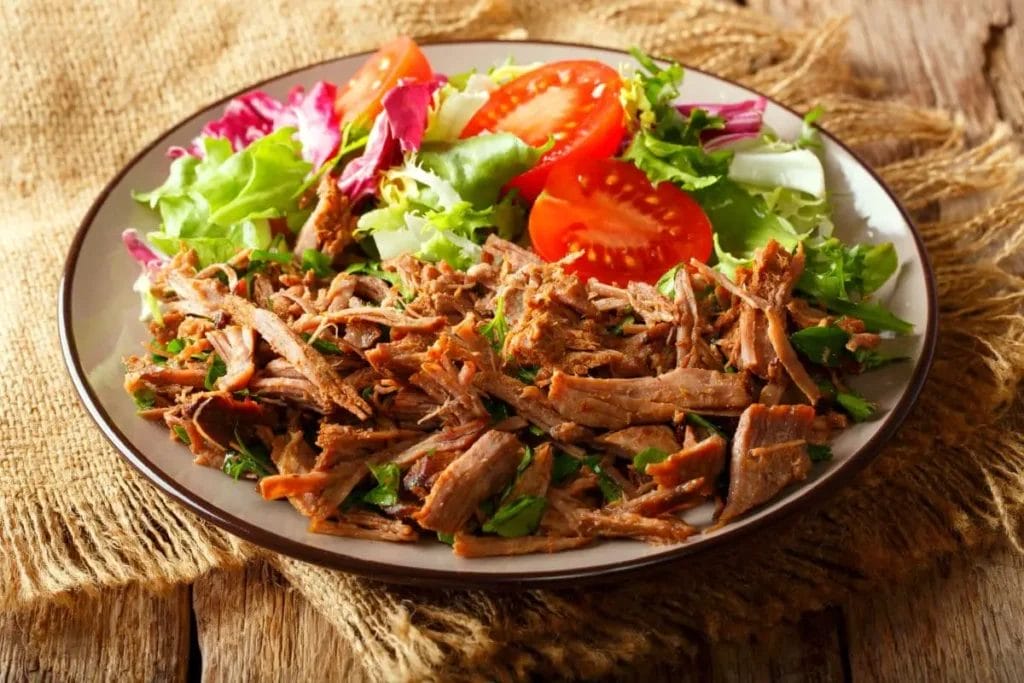 1. Da Kitchen
All the locals know that Da Kitchen in Kihei is the best place to get Kalua pork and other classic Hawaiian dishes.
This casual sit-down or to-go restaurant is across the street from Kihei Craft Fair – an open-air market where locals sell all kinds of things from 9 AM to 4 PM every day but Sunday. It's an excellent place for what I like to call a "digestive stroll" after filling up on Hawaiian pork, and it's also perfect for souvenirs since you'll be buying from local vendors.
In addition, it's just half a mile (0.8 km) from Waipuilani Park and Beach, which is an excellent place to relax for the day and take in the waves.
Da Kitchen offers large portions with both creative and traditional recipes. Their specialty is their Kalua Pork, which comes in so many ways it'll be challenging to settle on just one.
However, since they offer so many options, I recommend getting one of their combination plates, which include other traditional Hawaiian meats such as Kalua Pork, Chicken Katsu, Lomi Salmon, and Pork Lau Lau.
I recommend trying their fried spam musubi, one of the best things I've ever eaten. Wash your meal down with some POG juice for an authentic Hawaiian experience.
While their prices are a step up from Food Land or a truck, the enormous portions make their menu items quite a bargain. Plus, the quality and taste are immaculate.
2. L&L Hawaiian Barbecue
If you are looking for an inexpensive, quick place to grab some Hawaiian fare in any town in Maui, L&L is the place to go.
L&L Hawaii used to be a humble, plate lunch drive-in restaurant in Honolulu, but today, it's one of the few successful national chains offering Hawaiian food throughout the US.
As a chain, you can expect a fast-food-like atmosphere here, but it's one of those places you must go to while in Hawaii.
They have a fantastic menu, including classics like Kalua Pork with Cabbage, Loco Moco, and Chicken Katsu.
However, I recommend getting their seafood combination plate lunch, which comes with Mahi Mahi, fried shrimp, and your choice of another meat. Obviously, you should choose the Kalua Pork, which is by far the best thing on the menu!
All their entrees come with rice and mac salad or a tossed salad, so come here hungry.
Since this restaurant is one of the most successful franchises in Hawaii, you'll find at least one of these restaurants in all the major towns in Maui. If you want to find the nearest one, you may want to check with L&L's location map.
However, I recommend checking out the one near Kaanapali beach (the address I shared in the above table) as it has the highest user rating, and it also happens to be the one I went to, so I can vouch for the overall experience.
3. Joey's Kitchen
Joey's Kitchen in Lahaina offers a casual atmosphere with Filipino-Hawaiian fusion food, and they are a big hit among locals and tourists. Joey's is an excellent spot for getting any meal, and they have special menus for breakfast, lunch, and dinner.
It's just across the street from Napili Farmers Market, where you can shop for local produce, pastries, and art & craft items from 8 a.m. to 12 p.m. on Wednesdays and Saturdays before grabbing lunch.
After that, head north less than a mile to Honokeana Bay, one of the best places for snorkeling, swimming, and catching sight of marine wildlife.
Naturally, Joey's has some of the best Kalua Pork on the island, but it also has plenty of other incredible dishes on its menu. If you get here for breakfast, try the Kalua Hash, which includes Kalua pork, garlic fried rice, two eggs, and gravy. It's an incredible way to start the day, and you will have plenty of leftovers for lunch.
It's also a BYOB spot, so remember to bring drinks if you get here for dinner or want a boozy brunch.
While the location in Napili is the best-rated and the nicest to sit in, there's also a Joey's Kitchen in Kaanapali at 2435 Kaanapali Pkwy, Lahaina, HI 96761. You can call them at (808) 868-4474.
4. Aloha Aina BBQ
On Hana Highway in Haiku sits Aloha Aina BBQ, a locally-run BBQ truck on the famous road to Hana.
Since it's frankly almost in the middle of nowhere, it's the best place to stop during a long drive from Paia to Twin Falls and the Southern half of the island.
They offer all kinds of BBQ meats, fresh smoked and grilled on their huge Hawaiian-style BBQ for the most authentic flavor and consistency.
In addition to their Kalua pork, sold in single servings and by the pound, they have some fabulous grass-fed burgers, loco moco, Hulu Huli chicken, venison sausage, and BBQ sandwiches.
Order a side of pohole fern salad when you get your Kalua Pork. This dish is a Hawaiian classic, and you won't find it anywhere on the US mainland.
The prices here aren't as low as most food trucks, but their food is far better than you can imagine. Plus, the portions are substantial, so anything you get here is worth it.