6 Best Horseback Riding Tours in Aruba
Aruba is beautiful! Its sunny beaches, gorgeous attractions, and calm weather draw tourists to the island. But there's more – the array of fun-filled activities to enjoy in Aruba makes it a favorite destination for every type of visitor.
One such activity is horseback riding!
Whether you're a pro or a novice horse rider, you can enjoy this activity in Aruba. We've reviewed the best horseback riding tours in Aruba to help you make the best of your time here.
1. Natural Pool Horseback Riding Tour in Aruba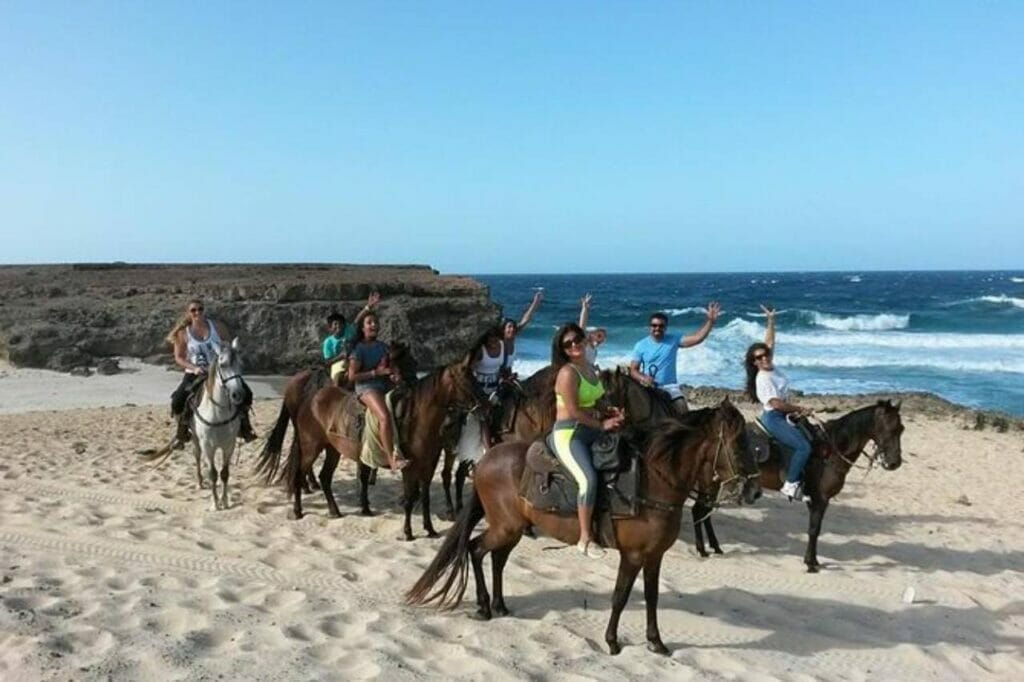 This 2½ hours horseback riding tour allows you to soak in Aruba's beautiful landscape. The tour matches you with a horse that suits your skill and experience while providing a horseback riding guide that takes you through Arikok National Park to a local swimming hole where you can cool off.
The tour includes hotel or port pick up and drop off and will take you through the rugged terrain of Aruba's interior and spectacular views. 
This tranquil riding path offers you enough view to appreciate the unspoiled nature around Aruba. It allows you to enjoy the desert scenery dominated by rock formations, cacti, and bushes.
Apart from taking you through Moro beach and the sand dunes, this tour also takes you to the natural pool, a breathtaking formation of volcanic rocks resembling a miniature mountain range. You can either relax or swim in the sheltered water before returning to your noble steer to begin your ride back.
2. Rancho Loco National Park: Arikok Horseback Riding
You can experience Aruba's wide shorelines and picturesque beaches with other enthusiastic tourists from the majestic vintage point of horseback.
The 2½ hours horseback riding tour allows you to see the landscape of Aruba off the beach and visit one of the island's highest points for photos. It includes hotel pick-ups and drop-offs, so you won't worry about time. 
The tour begins with a shuttle bus picking you up from your hotel and transferring you to a local ranch, where a guide matches you with a horse that suits your skills. The guide also gives instructions to help you get the best out of your tour experience.
Once set, the tour takes you through Arikok's stunning national park that features diverse terrains. The tour also takes you through the sand dunes of the shoreline to a natural pool where you can relax or take a dip if you want.
3. Sunset Horseback Ride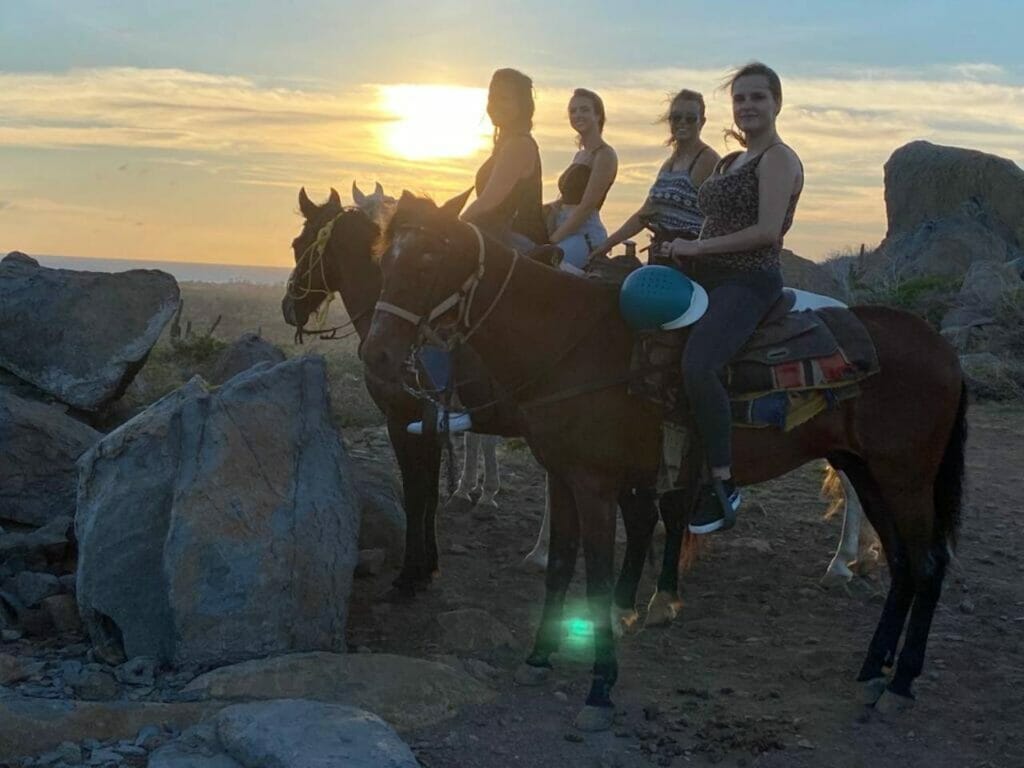 This horseback tour allows you to see Aruba's beautiful countryside attractions from a horseman's perspective. The tour lasts 1½ hours and ends with a magical view of the sunset from a hill.
Like many other Aruba horseback riding tours, this one is suitable for novice and experienced riders. The tour features a direct pick-up from your hotel or your cruise port before beginning the short trip to a local ranch. 
An experienced guide in the local ranch will introduce you to the rules and basic tips for a successful experience.
Once done with the introductory session, you can saddle your horse and venture into the trail lined with birds, vegetation, and lizards along the island's Northeast coast. There are also beautiful relaxation spots at the ranch where you can unwind and connect with other tourists after your tour.
Don't forget to come with a camera to capture all the beautiful experiences this tour offers you. 
4. Rancho Notorious Aruba
Expect Rancho to bring the expertise they are known for in horse management classes, competitions, and tour explorations to this tour. Rancho Notorious Aruba offers you an opportunity to explore Aruba's innermost beauty on an adventurous horseback tour.
Although a relatively small personalized tour, this tour offers more than a streamlined view of the island's finest sights. 
The availability of friendly, attentive, and multilingual certified guides makes the experience more personal. The tour is available for all skill levels, and the trails are perfect for different skill levels. Again, there's an available bus to pick up and drop tourists off in their hotels.
5. Aruba Horseback Riding Tour to Alto Vista Chapel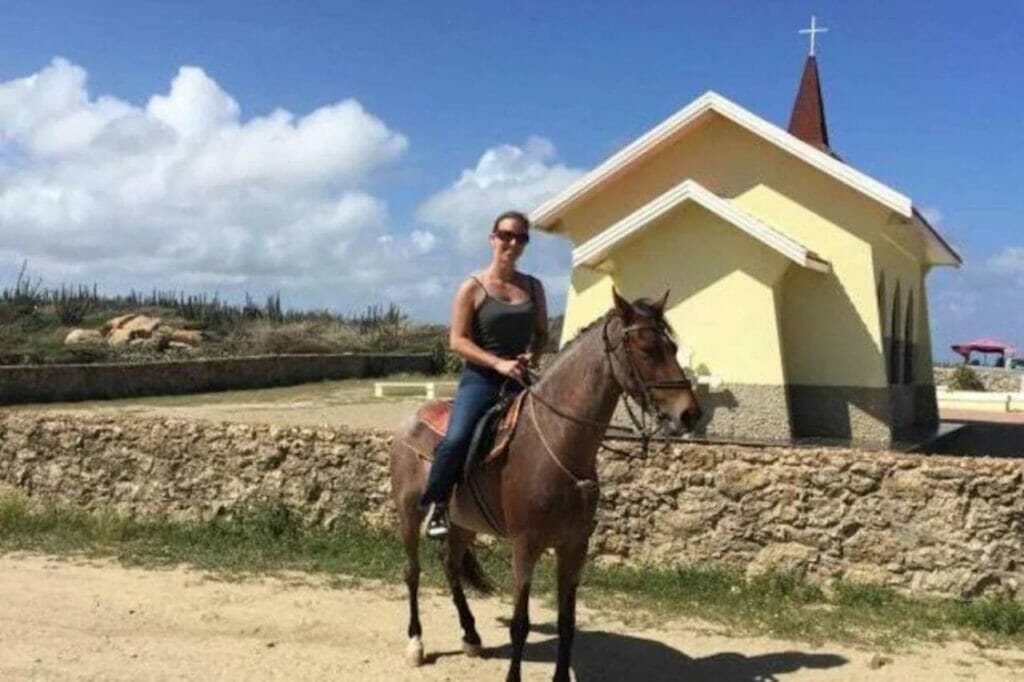 This tour offers you an excellent opportunity to ride on horseback through the 'Cunucu' or Aruban countryside with no streets or traffic. During the 2 hours tour, you'll see wildlife such as donkeys, iguanas, and parakeets on a unique countryside trail that leads to the chapel.
The tour also takes you through beautiful sites that can serve as photo ops before your stop at the Alto Vista Chapel.
With a guide by your side, novice riders will get all the attention and instructions they need to enjoy a peaceful ride, while experienced riders can gallop through the toughest terrains.
Beyond safety instructions, the riders' welcome guide also teaches about the Aruban countryside stops to prepare you for the sightseeing opportunities you'll experience.
An air-conditioned minivan provides Hotel/port pickup and drop-off, while you can join other tourists to enjoy fun and relaxation experiences during each stop.
6. Aruba Horseback Riding Tour to Hidden Lagoon
This horseback riding tour takes you through Aruba's finest natural wonders, allowing you to enjoy breathtaking sights with a small group of tourists.
The small group tour features a 1½ hour ride to the Urirama cove beach with attentive, friendly, multilingual guides who are mindful of your safety and enjoyment.
The availability of different exciting trails means there's something for everybody, irrespective of skill level. The tour stops at the Hidden Lagoon, a natural waterhole for birds, lizards, and such amid cacti-invested countryside typical to Aruba. 
We recommend this tour for families with children and beginner riders still struggling to get better at horseback riding.
You can also upgrade your tour to include a stop at Urirama Cove beach, an excellent location for group relaxation. The tour includes a complimentary pickup and drop-off at your hotel or cruise ship terminal.
4 Aruba Horseback Riding Tour Tips You Should Know 
Aruba equals adventure. Beautiful beaches, forests, mountains, and trails offer you an opportunity to enjoy endless adventures. However, if your definition of adventure is riding the tropical hills on a horse, you'll find the perfect horseback riding tours for you.
Guess what?
You also don't have to be a riding pro to enjoy a horse riding tour in Aruba. Here are four tips to help you enjoy your horseback riding in Aruba.
Wear proper horse-riding equipment
Should we emphasize this point?
Regardless of your preferred riding style, you don't want to show up wearing beach sandals, shorts, or a miniskirt. Proper footwear and long pants are essentials for your horse riding adventure. Low-heeled boots are typically recommended, although any close-toes shoes will still do the job. 
Avoid going with scarves, purses, or any accessories that can tangle in the reins, saddle, trees, or bushes. Lastly, we always recommend wearing a helmet.
Bond and inspire confidence
Horses are very sensitive animals, and their ability to perceive emotions makes it easy for riders to rub off their emotions on their horses. A horse would perceive when you're scared, shy, or confident and will react likewise.
Relax and approach a horse with confidence.
Pet it without giving off the feeling of fear. Also, note that sudden movements can startle your horse, so it's best to move gently but confidently around the horse. 
Perform a safety check
Most Aruba horseback riding tours feature professional guides charged with tourists' safety and comfort. But you still need to be safety-conscious yourself.
Tips like ensuring that a horse is properly saddled before hopping on it can go a long way to keeping you safe throughout your tour. 
Most of the tours we've reviewed above have the necessary safety riding equipment, with experienced guides that will instruct you and accompany you throughout your ride.
Choice: camera or phone
This is a memory you want to keep forever. Before hopping on a horse, you want to decide what's best for you. The choice should depend on the reason for the pictures. These days, phone cameras are incredibly high quality, so you won't miss much if you use your phone.
Conclusion: Horseback Riding in Aruba
Aruba is a bucket list destination. Beyond being a perfect backdrop for beautiful pictures, it also boasts incredible terrains that can be explored in many ways. Horseback riding is one of the common ways to explore these terrains.
The horses are magnificent, but you don't have to ride alone. Not when you can join one of the horseback riding tours we've reviewed in this article for a safe and enjoyable horse riding experience. We hope that list helps you find the adventure you desire, and don't forget to snap as many photos as possible.