7 Best Honolulu Water Activities
While Oahu boasts dense jungles, towering volcanoes, and quaint beach towns, the real appeal of spending time here is the sea. You'll never regret spending more time enjoying Honolulu's glowing blue oceans, packed with unique and endangered wildlife, during your stay on the islands. In addition, there are tons of water activities to do here, so there's truly something for everyone in Honolulu's waters.
The best Honolulu water activities are surfing, snorkeling, sailing and cruising, kayaking, submarine diving, and cage diving with sharks. Whale watching is also a fantastic activity if you come during the winter months when humpback whales migrate to Hawaii.
In this article, I'll tell you about all of the best water activities in Honolulu and give you some tips and recommendations along the way. So, let's dive right in and talk about the best aquatic adventures you can have in Honolulu.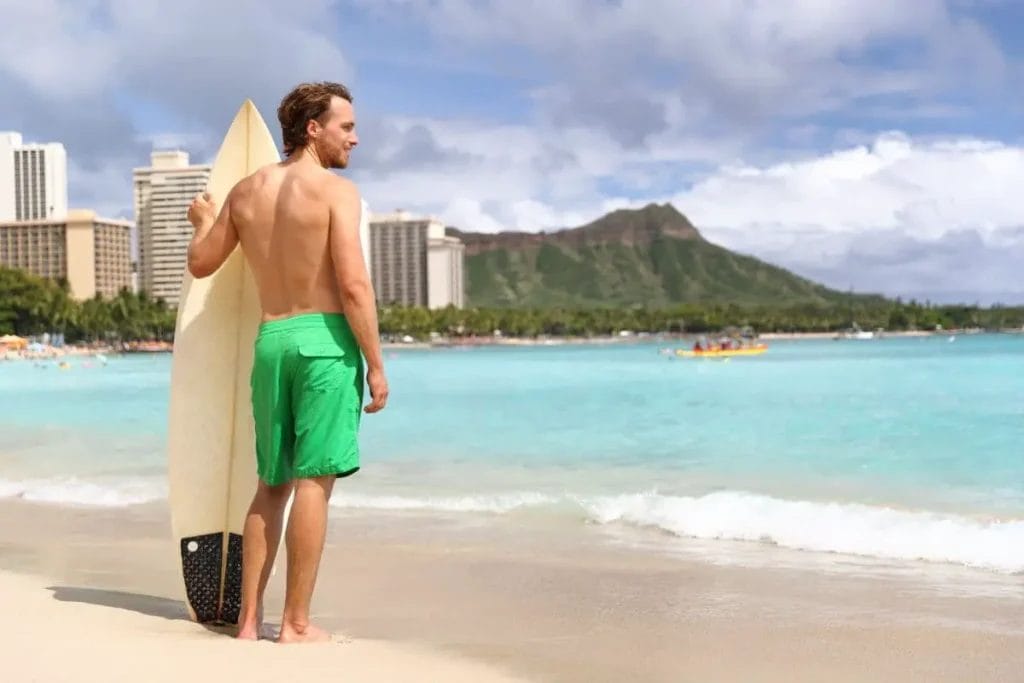 1. Surfing
Honolulu plays an influential role in the history of surfing, which makes catching some waves an essential activity during your stay.
Surfing has been a part of Hawaiian and Polynesian culture for thousands of years. Part of its success today is thanks to the Waikiki Beach Boys, led by Duke Kahanamoku, who created a revival of surfing in the early 1900s, helping the sport spread from Waikiki Beach to California and the rest of the world.
Whether you're a pro or have never touched a surfboard in your life, there are tons of opportunities for surfing in Honolulu. You can take a lesson or rent a board depending on your preferences.
The surf in Honolulu is best for beginners in summer when the water is warm, gentle, and steady. In addition, the waters on the south beaches in Honolulu are generally softer and more manageable for beginners to surf.
If you are interested in lessons, you might want to check out the Ty Gurney Surf School in Waikiki. This surf school is one of the best in Honolulu, and the classes are reasonably priced, especially for how good they are at getting you up on your board and out in the water!
However, wintertime offers rougher, taller waves for more experienced surfers, who find the strongest, tallest waves in the northern coastal regions in Honolulu. If you're looking to catch some intermediate-level waves, head to the Ala Moana Bowls or Kewalo Basin Park. Head to the Banzai Pipeline or Sunset Beach for the tallest, most advanced waves.
2. Snorkeling
If you look below the surface, Hawaii has incredible reefs and marine animals to share. From green sea turtles to brilliant corals to moray eels and triggerfish, taking a dip in one of Honolulu's marine reserves can give you a glimpse of something you'll never see anywhere else.
One of Honolulu's best spots to catch sight of the turtles is Turtle Canyon, just offshore of Kapiolani Beach in Waikiki. You'll have to charter a boat or take a tour to get there. I always recommend the tours because the guides know how to spot turtles, helping you get the best experience possible.
Sans Souci Beach is another great spot in Waikiki, as it is also a nature reserve where fishing is prohibited. The fish and turtles here are used to people swimming by, so you'll get some incredible views.
Snorkeling tours and trips can be a fantastic way to ensure you see as much wildlife as possible. Plus, they will provide you with snorkels and any other supplies you'll need for the trip, which eliminates the need for rentals.
If you want a guide to take you to Turtle Canyon, I recommend choosing Captain Max's Boat Tour's trip. The captain and staff here are very accommodating. They are experts at positioning the boat so you can see vast groups of turtles. Plus, if you don't see any turtles, you can ride again for free until you do!
3. Whale Watching
Whale watching is seasonal, and you can only catch sight of Hawaii's resident humpbacks during the winter months, usually lasting from December until May. During these months, the whales migrate to Hawaii to keep warm for the winter, bringing in thousands of enormous whales right to the coastline.
You can spot whales this season from almost any beach in Oahu, but if you want to get up close with the whales and see many more than you would from the shore, you may want to book a whale-watching cruise.
Cruises like Hawaii Nautical's Whale Watching Tour are a fantastic option for people visiting Hawaii to see the whales. Most people love this tour for the comfortable and smooth catamaran, reasonable pricing, and the staff, who know where to go to get the most whale sightings. You're also guaranteed to see at least one whale on this trip.
4. Sailing and Cruising
Honolulu has too many sailing and cruising opportunities to mention them all. Spending a serene day at sea is easy in Oahu, and you'll have the option to charter catamarans, go out on a sailboat, take a dinner cruise, hear live music while tipping back cocktails on a ship, and so much more.
However, if you don't plan on going for a turtle or whale tour, I recommend taking a sunset cruise during your stay in Honolulu. The sunset on the Hawaiian coastline is gorgeous, especially when you catch views of the glittering sea reflecting light onto Diamond Head, the city, and the neighboring islands.
5. Kayaking
Sea kayaking is an excellent way to kick back and get out on the water while in Oahu. Depending on where you boat, you can take advantage of roaring waves or gentle, tranquil waters.
I recommend launching your boat in Ke'ehi bay, where you can traverse gentle, beginner-friendly waters in the bright blue lagoon, dotted with small, lush islands. While this destination makes for a leisurely paddle and fun island-exploring adventure, it's also pretty close to the industrial center of Honolulu and the airport, so be prepared for an urban cityscape here.
A more serene place to kayak is Hanauma Bay, which is on the southern tip of Oahu — so it's not precisely in Honolulu. However, visiting this nature reserve is worth the drive, as you'll get to paddle alongside friendly reef sharks, green sea turtles, and reef fish in a majestic and tranquil environment. This spot also makes for incredible snorkeling and hiking, so it's a great place to spend the day.
However, if you go kayaking without a guided tour, be sure to exercise caution. Always bring extra water, wear sunscreen and a flotation device, and bring snacks. High tide can bring in waves, so being prepared is crucial.
Speaking of being prepared, you'll also want to wear some water shoes if you plan to explore as you kayak. That's why I've put together a list of some of the best water shoes for Hawaii here, which I chose based on my experiences moving from water to land — and back into the water — during my adventures. [XX Best Water Shoes for Hawaii]
6. Submarine Diving
If you're looking for something more unique than snorkeling or whale watching in Honolulu, I've got just the thing for you. Honolulu features a few submarine tours, where you can plunge into the water and catch sight of ocean debris, coral, deep-sea wildlife, and the vast spans of the ocean safely.
Tours like the hour-long Atlantis Adventures Submarine Tour are incredible. You won't soon forget the experience of coasting underwater, peering through their sub's large portholes, and catching sight of sharks, eels, turtles, dolphins, schools of reef fish, sunken ships, and planes 100 feet (30.48 m) below the surface.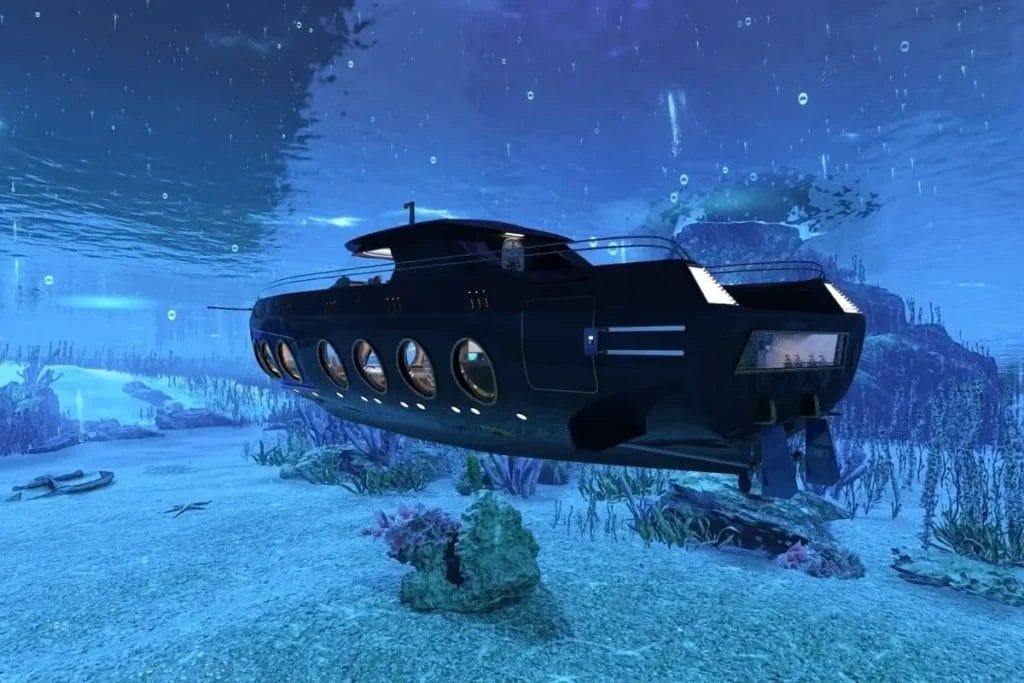 7. Cage Diving With the Sharks
If you're looking for an unusual and memorable water activity in Honolulu, look no further than a shark dive.
Hawaii's waters off the coast of Honolulu are home to Galapagos, sandbar, hammerhead, and tiger sharks, so you can expect to see many sharks during your dive. In addition, you might also see some turtles, tuna, mahi-mahi, and dolphins during your tour, making this an excellent excursion for people who appreciate all of Hawaii's marine wildlife.
If you want a safe and pleasant cage dive, I recommend North Shore Shark Adventures in Waikiki. This tour always has stellar reviews, and for a good reason. The dive is incredibly safe, and the staff will provide you with snorkels and the necessary gear. They also know all the best spots for shark sightings, and you are guaranteed to see at least one shark — though in most cases, you see at least ten.