5 Best Hiking Shoes for Hawaii
Finding the right hiking shoes is often an uphill challenge, but when you're planning to visit a location you've never been to, such as Hawaii, it gets even more challenging to predict what you will need for a good hike.
The best hiking shoes for Hawaii are the Salomon Men's Pathfinder Hiking Shoes and Salomon Women's Outline GORE-TEX Hiking Shoes. These lightweight shoes offer a comfortable fit, water-wicking properties, off-trail accessibility, and a versatile design that allows you to wear them anywhere in Hawaii.
The only instances in which I wouldn't recommend the Salomon Men's Pathfinder Hiking Shoes and Salomon Women's Outline GORE-TEX Hiking Shoes are if…
In this article, I'll tell you everything you need to know about picking a pair of hiking shoes to wear while you're in Hawaii. I'll give you a rundown of the features to look for in your hiking shoes and give you some recommendations based on what the locals and tourists have to say about hiking in the Aloha State. So, let's talk about hiking shoes and find the best pair for your stay in Hawaii.
These Salomon Pathfinders are the ideal closed-toed shoe for hiking in warm to slightly chilly weather. Although they are substantial hiking shoes with a 1-inch (2.54 cm) sole, they have a classic running-shoe look that isn't too bulky or heavy.
Because of their lightweight design, mid-sized treads, lace-up closure, and sweat-wicking fabric upper, they are the ideal all-around shoe to bring alongside some flip-flops or classic sandals. Although they likely aren't ready to take you to the caldera of Mauna Loa, they are suitable for some off-trail hiking.
Pros
Lightweight hikers. These hiking shoes feel like a good pair of sneakers and won't weigh you down. Plus, that means that you won't have to budget as much for space in your luggage.
Comfortable. Their contoured soles, bouncy bottoms, soft lower ankle support, and breathable upper will keep your feet in good shape, no matter how much hiking you do in Hawaii.
Versatile. These shoes can get you anywhere in Hawaii, from the airport to the dense forests in Kona. They are the ideal "walking shoe" that everyone always recommends you bring on your vacations, but they have the added benefit of great treads for hiking in slippery and muddy spots.
Suitable for off-trail hiking. Since these shoes offer protection without being too bulky, they are fantastic for trail running or making your own path in Hawaii's dense, rocky forests.
Cons
You must break them in. These shoes may feel tight when you get them, and many suggest upsizing by half a size. However, they fit true to size if you take the time to break them in.
These sleek, stunning trail runners are the perfect walking and hiking shoes for your time in Hawaii. They are lightweight, visually appealing, and superbly versatile. These hikers are suitable for on- and off-trail hiking and are perfect for walking around and sightseeing.
If you choose these, I recommend bringing some sandals or flip-flops for when you go to the beach.
These trail runners have a smaller but densely packed tread pattern for excellent grip that will keep your shoes from looking like soccer cleats. Likewise, they feature a soft, breathable, slightly stretchy Gore-Tex upper to keep your feet comfortable and cool.
Pros
Thick rubber sole. These hiking shoes have a very thick, bouncy rubber sole to absorb shock and minimize the effects of walking on rough and rocky terrain (which you'll find no shortage of in Hawaii!).
Lightweight. These shoes are incredibly light on your feet despite their cushioned rubber soles, which will keep your feet from feeling heavy after a long day of hiking and sightseeing.
Breathable and dries rapidly. These shoes are unbelievably water-wicking and dry within minutes, thanks to the flexible, moisture-wicking gore-tex upper.
Suitable for off-trails. Since these hikers have a turned-up rubber toe guard, multi-layered upper, and thick sole, they are the perfect shoe if you want to head off the trails and explore the tropical or temperate forests of Hawaii.
Cute. Although these shoes are practical, they are also quite aesthetically pleasing, which makes them all the more versatile. After all, it would help if you enjoyed wearing your shoes.
Cons
Narrow fit. Although people with narrow feet often share their excitement that they have finally found a hiking shoe that fits true to size, those of us with wider feet might have to order a half-size up to get the perfect fit with these shoes.
If you plan on taking long walks on the beach, trekking through the sandy desert areas of Hawaii, or venturing onto some of the many hiking trails in this state, I recommend bringing a pair of Chacos.
I might be biased in recommending these sandals for hiking in Hawaii. After all, I swear by my Chacos for walking almost anywhere on warm days. However, these sandals have a lot going for them, and I think you'll find that they make the perfect all-purpose hiking sandals during your stay in Hawaii.
I recommend these for women foremost since the women's Chacos are comfortable hiking sandals, but they have the additional benefit of blending in well with casual and semi-formal outfits.
However, men's Chacos, like these Chaco Men's Z2 Classic Athletic Sandals, are also a perfect choice if you want some versatile sandals to bring along on your trip.
Pros
Supportive. These sandals have sturdy arch support to keep your feet from aching after a long day of hiking and sightseeing.
Adjustable fit. Chacos are unique in that you can adjust each strap on the sandal to make each area of your shoe fit more tightly or loosely. So, if you have issues finding sandals that fit your feet correctly or experience swelling or blisters, these are your best options.
Thick soles. These Chaco sandals have a very dense rubber sole that protects your feet from rocks, coral, roots, and other sharp objects on your path.
Versatile. While these sandals are suitable for hiking, they are also ideal for walking around town, driving, going to the beach, or going out to eat. Their versatility and aesthetically pleasing design make them among the most versatile hiking shoes for your trip to Hawaii.
Slip-on design. It's about as easy to slip these sandals on and off as it is to put on some flip-flops, but you get the added security of a fastening strap to tighten down your shoe and lock it into place. This feature makes these shoes perfect for camping — or for just slipping on some shoes quickly before you head out of the hotel since it only takes seconds.
Breathable and quick-drying. Chacos make the ideal replacement for water shoes since their nylon and rubber components wick away moisture and dry very quickly. Their thick soles protect your feet from rocks while swimming in the ocean.
Plenty of designs. Chacos come in many colors, from plain black to beige to bright pink. If you want a more versatile shoe, I recommend going with a simple black or beige option, which will go well with a dress for a night out. However, the colorful designs are cute and make for a great statement piece in a casual outfit.
Cons
The treads aren't too deep. While these sandals have grippy rubber soles, the treads on the bottom aren't deep. For that reason, they can be slippery when hiking on rocks and in wet areas.
Limited protection. These sandals don't have a protective upper portion, making them less suited for walking in dense underbrush or other areas where your feet might get pricked.
Not warm. Chacos are sandals, and they don't offer any insulation. For that reason, you should not plan to wear them when hiking on Mauna Loa or Kea.
These Keen Men's sandals are more protective than Chacos, which makes them much more versatile. If you only plan to bring one type of shoe on your Hawaiian adventure, I recommend something like this.
These American-made Keen sandals are some of the best and most popular hiking sandals I've encountered. Unlike the Keen designs outsourced to China, these Rialtos generally last over ten years and include an all-leather upper for a truly durable sandal.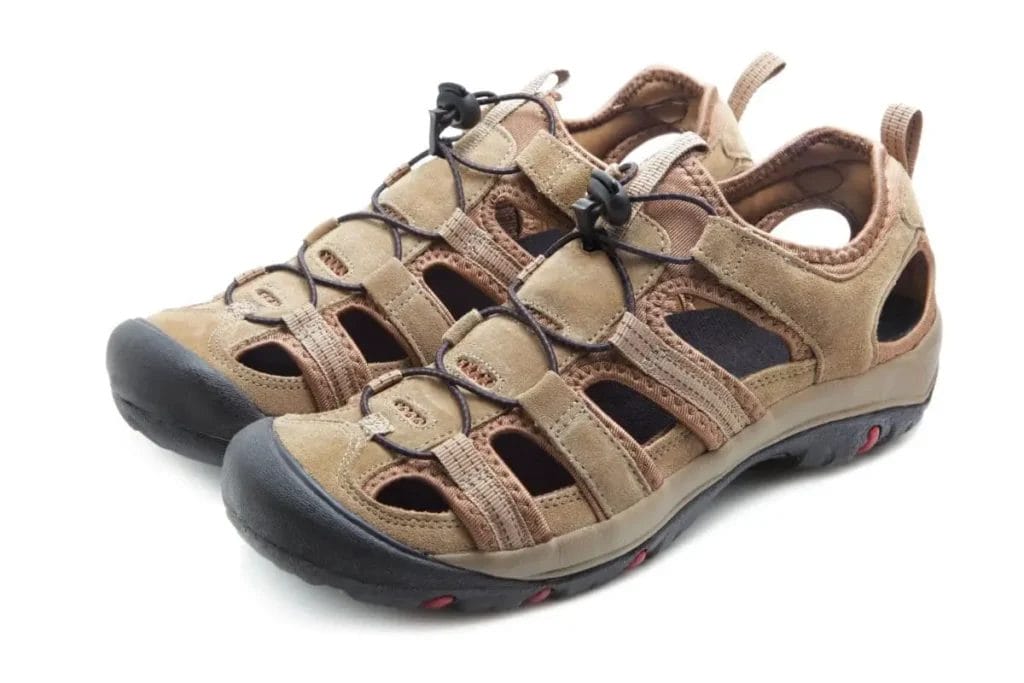 These Keens are perfect for hiking along trails, beaches, and even swimming since they are lightweight, fast-drying, and very protective.
Pros
Comfortable. Keen is one of the most trusted hiking shoe brands due to the superior comfort that its shoes offer. These sandals are no exception, as they are incredibly supportive and include soft interiors to ensure you never get blisters.
Adjustable, slip-on design. These shoes have an elastic lacing system on the front, which makes it easy to tighten and loosen your shoes throughout the day. In addition, this system allows you to slip them on in seconds, which is perfect for when you're in a time pinch or want to take your shoes off quickly to relax.
Thick sole. These Keens have thick, solid rubber soles that contour around your feet to keep sharp objects out.
Quick-drying and sweat-wicking. These sandals have plenty of ventilation, strategically placed on the sides and back of your feet to ensure you never get too wet or sweaty.
Closed toe design. Although these hiking shoes have ventilation holes in the sides, they have a closed rubber toe to keep rocks and plants from getting stuck in your shoes. While some sand or gravel may make its way in, its protection will keep your toes and feet safe, which is rare in a hiking sandal.
Great for walking anywhere. While these shoes are perfect for hiking, swimming, and hanging out at the beach, they are also ideal for walking around town, hanging out at the hotel, and sightseeing while you're on the islands. They take the best of the local Hawaiian flip-flop "slippahs" and a great hiking shoe to give you the most versatile kicks you could ever want while in Hawaii.
Cons
Not suitable for semi-formal or formal occasions. While these shoes are practical, they aren't ideal for nights where you might want to dress up. They are the best sandals for walking and hiking, but you should bring along some more formal shoes if you plan to have a fancy dinner or go to an event during your stay.
Not warm. While these offer more warmth than Chacos or flip flops, they aren't suitable for cold environments.
If you've made it here, you're probably looking for hiking boots worth lugging or wearing on the plane to Hawaii. As I mentioned above, hiking sandals or sneaker-like hikers won't cut it if you're planning on hiking at the more rugged destinations on the islands.
Mainly, you'll need something insulative, super thick-soled, and supportive to help you make it to the summit of Mauna Loa or Mauna Kea. You'll also need something that can stand up to the glass-shard-like lava rock in Hawaii's lava deserts if you plan to visit them.
Most Hawaiian hikers recommend the Keen Targhee Hiking Boots for these hikes. These boots come in men's and women's sizes and include ventilation patches to keep your feet from getting too sweaty or wet. In addition, they have ankle support, offer great traction, and provide cushioning to keep your feet comfy at any elevation.
Pros
Supportive. Although I didn't recommend these boots for casual trail hiking or walking around on the islands, they have a mid-rise to give you plenty of ankle support. For that reason, these are an excellent choice if you have a bad ankle or could use some extra cushioning while you walk around.
Ventilation patches for breathability. When hiking at these more rugged locations, you'll still want air circulation to keep your feet from getting too sweaty, especially in the colder areas. These boots are ideal for transitioning from warm to cool weather since they have smaller gore-tex vents, preventing moisture from accumulating in your socks.
Comfortable. Keen boots like these generally have a larger toe box and padded arch to give your toes air space without causing blisters. This design works very well when hiking in hot and humid Hawaii.
Thick soles with a rubber toe. These boots offer the perfect grip for hiking in Hawaii's on and off-trail destinations, and the reinforced rubber toe will keep rocks from affecting your pace. Likewise, their sturdy design will stand up to the sharp lava rocks in Hawaii.
Cons
Bulky. These boots are more cumbersome than hiking sandals or low-top shoes, so you'll probably want to wear them on the plane to Hawaii to keep your luggage from getting too heavy or running out of space.
Warmer than other shoes. Although these boots aren't the warmest that hiking shoes get, they are significantly more than the other shoes on this list, which may make you feel hot unless you're up atop one of Hawaii's volcanoes.
Factors To Consider
If you want to find the best hiking shoes for your trip to Hawaii, you might want to keep in mind the following factors:
Comfort
Versatility
Terrain
Waterproofness
Comfort
Comfort is the first and most crucial factor to consider when packing shoes for Hawaii. You won't want to go walking, much less hiking, anywhere if you don't feel comfortable in your shoes.
In determining comfort, you will want to look at the size, narrowness, and sole of your hiking shoes.
Since the size and narrowness depend on your foot size, I recommend trying on your shoes before buying them.
Even if you plan to purchase your hiking shoes online – which I highly recommend since it's significantly cheaper to buy most of them on Amazon — taking a day to try on shoes at a local shop will help you find the best fit for your foot. Then, once you know your size and what works for you, you can look for the best deals from your desk.
Although finding the right size is critical when determining comfort, you should also always opt for a thick, treaded sole when shopping for hiking shoes to wear in Hawaii.
Whether you're on the icy peaks of Mauna Loa or the muddy banks of ʻAkaka Falls, a good set of soles will keep you moving and protect your feet from the frequent and sharp volcanic rock on the Hawaiian islands. Since these rocks are everywhere, you want bouncy, rubbery, substantial soles to walk on when you're on the island.
Versatility
Packing shoes in your luggage can be a hassle, especially when it comes to clunky hiking boots. Not only are hiking boots large, but they can also be cumbersome, weighing down your luggage.
If you want to ensure that you will wear all of the items in your bag and keep from going over your luggage weight limit, you will probably want to pack one pair of versatile closed-toed walking shoes and one pair of sandals for your trip to Hawaii.
Luckily, you can find a pair of hiking shoes that can also serve as your sandals or closed-toed walking shoes.
Options such as trail runners, hiking shoes with a sneaker-like appearance, or versatile hiking sandals will get you a long way in Hawaii. You'll be able to wear any of these shoes for other activities such as sightseeing, traveling, beach-bumming, swimming, dining, and more.
As noted above, there are plenty of other reasons why choosing either hiking sandals or trail runners is your best bet. Still, it's worth mentioning that in some cases, you might want to bring a third pair of shoes – namely, supportive hiking boots, depending on where you plan to hike.
Climate and Terrain
Unlike most destinations, Hawaii is home to four different climate groups. Just on the islands, you'll have the chance to visit desert, tropical, temperate, and glacial climates.
With so many climates and different types of terrain, you'll have to think carefully about what shoes each area warrants.
Here's a rundown of some of the ideal types of hiking shoes for each of Hawaii's major climate groups:
Tropical: The humid tropical regions make up the outskirts and forests of most of the Hawaiian islands in areas like Kealakekua Bay, and the soil is sandy and damp here. These regions also have plenty of dense forests and stunning waterfalls. You'll want to wear closed-toed, sweat-wicking hiking shoes or thick-soled sandals to keep your feet cool and dry while ensuring that sand and stones don't get stuck inside your shoes.
Arid Deserts and Steppes: You'll find the desert climates of Hawaii on beaches such as Kua Bay and in lava fields such as Kaʻū Desert. Although these regions might not always look like deserts, they don't have enough rainfall to support forests. Hiking here consists of sandy soil, making thick-soled hiking shoes or boots the best choice.
Temperate: The temperate regions are incredibly humid and warm. This climate exists in places such as Waimea and around Mauna Kea. Lightweight hiking shoes or sandals are your best options here since the forested areas are not too dense, but you will want to keep your feet as cool and dry as possible.
Tundra/Glacial: Up atop Mauna Loa and Mauna Kea, the daytime temperatures fall in the 30°F to 50°F (-1°C to 10°C) range year-round. Because it is freezing and often snowy on these volcanoes, you'll want to wear sturdy hiking boots if you plan to visit.
Now that we've taken inventory of the climates you can expect to encounter on your Hawaiian hiking adventures, you might notice that your best, most versatile options will be trail runners or hiking sandals.
The only exception is if you plan to hike up to the polar tundra of Mauna Kea or Mauna Loa or hope to take a long walk on the lava deserts.
Hiking at high elevations in Hawaii warrants warm clothing and thick, insulated boots. On the other hand, the lava rock in the lava deserts can eat straight through soft-soled shoes and damage them permanently. So, for these destinations, plan to bring sturdy boots, as discussed above.
If you want to learn more about Hawaii's exciting and diverse climates to help you pack, you may find my other article on how cold it gets in Hawaii helpful.
Trail Type
Beyond the recommendations for the climate you plan to hike in, the types of trails you plan to walk will make a significant difference in the best shoes.
If you plan to stay on paved, sandy, dirt, or gravel trails, you can comfortably wear hiking sandals for the entirety of your stay in Hawaii. However, if you plan to do longer hikes in dense forests or travel off the beaten path, you will need closed-toed hiking shoes, trail runners, or boots.
So, think about the attractions on your itinerary and plan accordingly. If you hope to go to some of the most popular state parks, the routes will likely be clear and easy to navigate with just a substantial pair of sandals or lightweight hiking shoes.
Boots are a must if you plan to take a multi-mile journey into unpaved lava fields or summit a mountain.
Waterproofness
Although it might seem like packing a pair of waterproof hiking shoes is the way to go when planning a trip to Hawaii, such shoes lack breathability. Thus, these shoes will trap your sweat inside the shoe, leaving your feet wet and prone to blisters.
Therefore, I recommend opting for a hiking shoe that isn't waterproof but dries quickly. Again, lightweight trail runners and sandals are the winners in this category since they will protect your feet from blister-causing sweat and dry very quickly in case you get them wet.
However, yet again, the polar conditions atop Mauna Kea and Mauna Loa provide room for an exception. Waterproof boots with ankle support will keep your feet warm in these areas and ensure that snow does not make its way onto your socks.
Key Takeaways
Versatility is critical when looking for hiking shoes to wear while in Hawaii, which makes the lightweight, water-wicking, and supportive Salomon Men's Pathfinder Hiking Shoes and Salomon Women's Outline GTX W Hiking Shoes the best choices for men and women, respectively.
These shoes make the most sense when packing since they perform well in on and off-trail terrains, are lightweight enough to wear while sightseeing and are breathable enough to wear in the water. All you'll need are a pair of Hawaiian "slippahs" in addition to these hiking shoes, and your feet are set for the entire trip.