4 Best Chinese Food Restaurants in Honolulu
Honolulu's vibrant Chinatown is full of exciting things to see, do — and eat! If you're in the area and want to find some incredible Chinese food to round off a day of sightseeing, beach bumming, or hiking, then here's a list of the best places to try out.
The best Chinese food restaurants in Honolulu are Lam's Kitchen, Fook Lam, Chengdu Taste, and Kirin. Lam's is best for a budget-friendly casual meal, while Fook Lam's specialty is dim sum. Chengdu Taste is an excellent Szechuan spot, and Kirin offers a little bit of everything.
In this article, I'll tell you about the Chinese restaurants that Honolulu locals and tourists rave about and give you all the details you need to know before sitting down for a memorable meal. Whether you're looking for Cantonese cuisine on a budget, dim sum, or the spice of authentic Szechaun slow-cooking, there's a restaurant in Honolulu for you!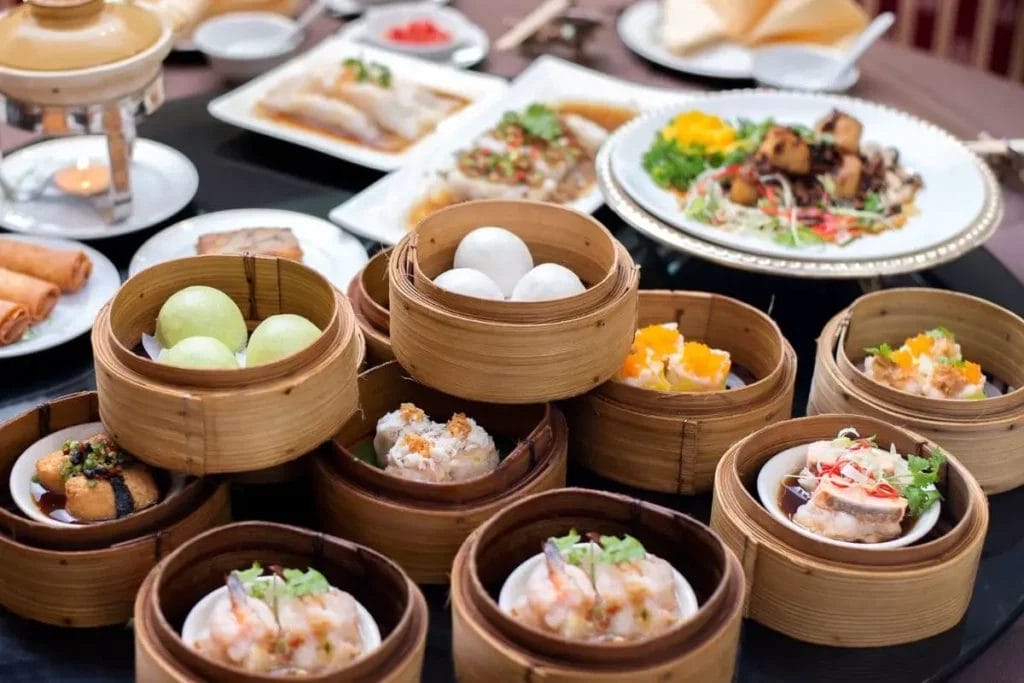 1. Lam's Kitchen
Lam's Kitchen is in the heart of Honolulu's Chinatown, right next to Honolulu's Arts District, where you will find many art galleries, local shops selling handmade Hawaiian goods, and the Hawaiian theater. It's the perfect place to stop by if you plan to spend the day touring Chinatown and the Arts District. It's also worth making a special trip for the food, which is both affordable and fantastic.
On the corner of N. Pauahi and Maunakea in Chinatown, you'll find Lam's Kitchen, a small, family-run restaurant with a very casual atmosphere and some of the best Chinese food you'll ever have.
Lam's Kitchen stands out because it offers authentic Chinese and Cantonese food, and all ingredients, from noodles to won tons, are made in-house. Because of the traditional recipes available on the menu, you'll see many locals and Chinese people eating here for lunch.
Lam's Kitchen is best known for its Look Funn – a Cantonese noodle dish. Many people rave about these noodles, which you can order with any kind of protein for a fresh, traditional, and tasty meal. A variety everyone loves is the beef tendon look fun, so give it a try if you can't decide.
Although the restaurant is small and the food is usually less than $10 a plate, Lam's has had consistent 5-star reviews since it opened, and everyone, from the Mayor to tourists, loves this spot for a filling and fantastic lunch or early dinner. So, stop by for a real taste of Honolulu's Chinatown.
2. Fook Lam Restaurant
Fook Lam is a fantastic, moderate-sized, casual Chinese dim sum restaurant located in the Chinatown Cultural Plaza in Chinatown, where you can explore Honolulu's Chinese cultural center before or after you sit down for a marvelous traditional lunch.
Fook Lam has some stellar reviews, and it has won quite a few awards from Honolulu Magazine. Despite its success — and huge menu — it's still a mom-and-pop shop, giving you an authentic feel and traditional food.
Fook Lam primarily brands itself as a traditional Chinese and Cantonese restaurant with staple dishes such as ribs over rice or noodles. However, the establishment is primarily famous among the locals for its absolutely delicious dim sum – which is a must-try if you decide to visit.
The staff will bring tons of different bao, salads, soups, and more straight from the kitchen on traditional dim sum carts, ensuring everything's always fresh and never reheated. They are always friendly and generous, and you'll get to try so many new things.
You should also make sure to snatch up some of their famous jin dui and wu gok before everyone else! You won't be able to get enough of them, I promise.
3. Chengdu Taste
If you want to add a little spice to your stay in Honolulu, head over to Chengdu Taste.
Chengdu Taste is a casual restaurant with an upper-class atmosphere. You won't need to dress up to eat here, but expect huge panoramic windows, a clean and well-decorated dining area, and excellent waitstaff. It's the perfect spot for a relaxing dinner or date night after spending the day at the nearby Magic Island, Ala Moana, or Kahanamoku Beach.
Although Chengdu Taste isn't in Chinatown, you'll still get generous servings of flavorful, authentic, and filling food here.
They specialize in Szechuan cuisine, so come prepared for some spicy food! There are a few mild options on the menu, but if you want to try real hot Szechuan food in Honolulu, this is the only place you should go.
You should always start your meal here with their dumplings, which are made in-house and taste fantastic. You might also want to try their toothpick lamb as your main dish, as it's their most popular — and, in my opinion, best — entree.
Although the price point is a little high, at around $20 per plate, it's well worth it. The servings are massive, so you should take some leftovers home or split your entree with someone else.
4. Kirin Restaurant
Kirin restaurant, which Google itself describes as "eclectic," offers a little bit of every Chinese cuisine, from dim sum to Cantonese roast duck. There's something for everyone here, whether you're looking for your favorite dish or want to try something new.
It's in the Hyatt Regency Waikiki Hotel, right by the Honolulu Zoo, and only a 2-minute walk from Waikiki Beach. It's the ideal place to fill up after a long day of soaking up some sun.
Although I generally avoid hotel restaurants, this one is different. The food there is authentic, and it even comes in Cantonese wooden bowls, baskets, and clay pots, so you can tell the chefs know what they are doing!
Although this restaurant is casual and has no dress code, the dining area is gorgeous, with an ambiance that makes it a great spot for a relaxing date night or a peaceful family dinner. Additionally, if you drop by for lunch, you can catch some freshly-made dim sum for a memorable meal before you hit the beach.
Although everything is fantastic here, I highly recommend trying something off their seafood menu if you come to Kirin for dinner. They source their seafood from local Hawaiian fishers, and it doesn't get any fresher! One of their fan favorites is their Crab Tai Shan since you can pick your crab straight from Kirin's in-house fish tank, and the amazing chefs will cook it up for you.
Kirin takes the number one spot on all of the restaurant reviews for Chinese food in Honolulu because it's not fusion food — it's the real deal. It's a favorite among Honolulu's local Chinese residents, but it's also a great pick for both tourists and locals who want a delicious, traditional Chinese lunch or dinner.