10 Best Beaches in Turks and Caicos (2023 Ranks)
Turks and Caicos, a stunning archipelago renowned for its diverse range of beaches, offers an unforgettable coastal experience. Here are the 10 best beaches in Turks and Caicos:
| Beach | Location | Key Features | Highlights |
| --- | --- | --- | --- |
| Grace Bay | Providenciales | Soft sands, crystal-clear waters, coral reefs | Pristine beauty, water sports, stunning sunset |
| Half Moon Bay | Providenciales | Serene retreat, crescent shape, shallow clear waters | Tranquility, snorkeling, horseback riding |
| Long Bay Beach | Providenciales | Ideal for kitesurfing, shallow warm waters | Thrilling water sports, horseback riding |
| Sapodilla Bay | Providenciales | Calm and shallow waters, family-friendly | Tranquil haven, safe for kids, stunning sunset |
| Governor's Beach | Grand Turk | Historical charm, remnants of the Duke of Marlborough's mansion | Historic intrigue, swimming, sunbathing |
| Pelican Beach | East Caicos | Abundance of wildlife, birdwatching, pelican colonies | Birdwatching, pristine beauty, secluded escape |
| Mudjin Harbor | Middle Caicos | Dramatic limestone cliffs, turquoise waters | Breathtaking cliffs, hiking, photography |
| Taylor Bay | Providenciales | Calm and serene, shallow waters, stunning sunset | Peaceful retreat, relaxation, mesmerizing sunset |
| Leeward Beach | Providenciales | Scenic beauty, luxury villas, ideal for yachting | Secluded luxury, yachting, natural beauty |
| Pillory Beach | Grand Turk | Secluded natural beauty, snorkeling, diving | Unspoiled charm, underwater exploration, relaxation |
With each beach offering its unique allure, Turks and Caicos promises an unforgettable beach experience for all travelers.
1. Grace Bay: A Paradise of Soft Sands and Crystal Waters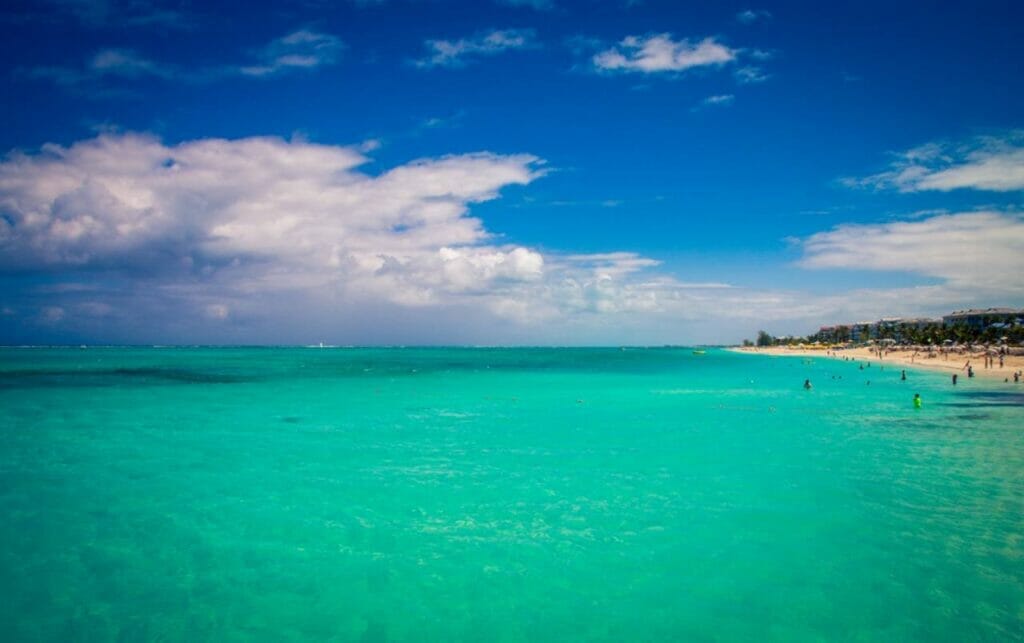 Step into the tropical paradise that is Grace Bay, where 12 miles of soft white sands meet crystal-clear turquoise waters.Due to its remarkable coral reef system, this beach not only has a beautiful shoreline but also serves as a sanctuary for a variety of diverse aquatic species.. Whether you're keen on snorkeling, diving, or simply swimming in the comfortably warm waters, Grace Bay offers an immersive experience.
Adding to its allure are the fantastic conditions for water sports. To get your heart pounding, partake in exciting sports such as paddleboarding, kayaking, sailing, or kiteboarding. If relaxation is more your speed, Grace Bay is flanked by luxurious resorts and chic beachfront eateries where you can unwind and soak in the ambiance. The stunning sunset, painting the sky in hues of orange, pink, and purple, caps off the perfect beach day. Grace Bay, with its unforgettable charm and beauty, is a must-visit beach destination on your Turks and Caicos itinerary.
2. Half Moon Bay: Serenity and Seclusion
Tucked away from the buzzing tourist trails lies the serene retreat of Half Moon Bay. This lagoon-shaped beach, named for its unique crescent shape, is a sanctuary of tranquility. The gentle rhythm of the waves washing over the soft, golden sands creates a soothing symphony, setting the scene for a calm and peaceful escape. The beach is beautifully unspoiled, letting you truly connect with the pristine nature of Turks and Caicos.
Half Moon Bay is not just about the tranquility; it's also about the stunning beauty. Its shallow, clear waters, ranging from a striking azure to a calming turquoise, meet the blue sky at the horizon, creating a spectacle that leaves visitors in awe. It's a haven for snorkeling, with vibrant coral reefs close to the shore housing a multitude of marine species. Away from the waters, the beach is fringed by lush vegetation, providing shade and adding to the serene ambiance. At Half Moon Bay, the cool sea breeze becomes your companion as you embrace the solitude and the unique beauty it offers. It's truly a hidden gem worth exploring.
3. Long Bay Beach: Ideal for Water Sports
If thrill and adventure is what you're seeking on your Turks and Caicos vacation, look no further than Long Bay Beach. Due to its ideal circumstances, this beach attracts water sports lovers from all over the world. Consistent trade winds coupled with warm, shallow waters create an environment that's just perfect for kitesurfing. Whether you're a seasoned pro or a beginner eager to learn, Long Bay Beach offers an unmatched kitesurfing experience. You won't soon forget the thrilling experience of skimming across the sea with the wind in your hair.
But the adventure doesn't stop at kitesurfing. Long Bay Beach has more to offer. Picture yourself horseback riding along the beach – it's a truly unique experience. There's something incredibly serene yet exciting about exploring the three-mile-long stretch of pristine white sand on horseback. Whether you're cantering in the shallow waters or exploring the coastal trail, the experience is magical. Furthermore, the beach's calm waters are also suitable for paddleboarding and kayaking. Long Bay Beach, with its blend of adventure and natural beauty, promises an unforgettable day of fun, thrill, and scenic charm.
4. Sapodilla Bay: Tranquil Turquoise Haven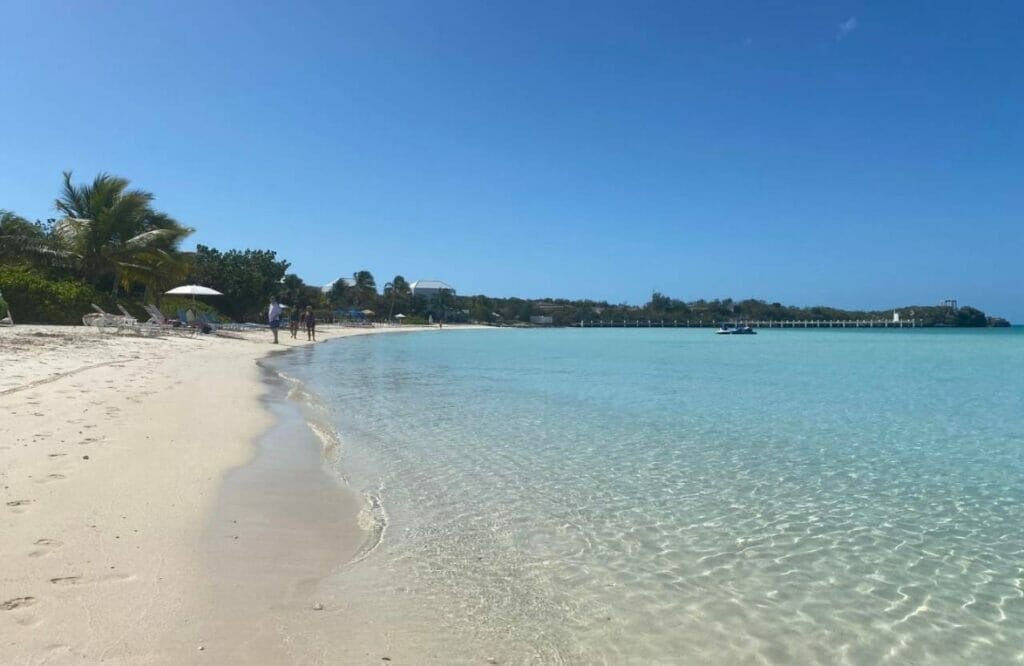 Welcome to Sapodilla Bay, a place where tranquility and natural beauty coalesce to create a haven that's perfect for families, especially those with small children. The beach, with its calm and shallow waters, provides a safe environment for little ones to frolic and play. But it's not just the safety aspect that makes it a hit with families. Young children are always fascinated by the sight of tiny fish swimming about in the bay's warm, turquoise waters because they are so transparent.
Yet, Sapodilla Bay is more than just a family beach.You may relax, take your time, and let the peaceful surroundings wash over you there.. The pristine, soft sandy beach, fringed by lush greenery and swaying palm trees, presents a picture-perfect scene straight out of a postcard. Enjoy a leisurely stroll down the beach as you feel the sea wind on your face and hear the soothing waves' regular ebb and flow. You can't help but experience a calmness that surrounds youPrepare to be mesmerized as the day comes to an end by the stunning sunset, which will paint the sky in a riot of hues. Sapodilla Bay is more than a beach; it's a tranquil escape that allows you to reconnect with nature in its purest form.
5. Governor's Beach: A Historical Gem
If you're looking for a beach with a twist of historical intrigue, Governor's Beach is the destination for you. This beach, which is located next to the former Governor's residence, offers a look into Turks and Caicos' colonial history. The remnants of the Duke of Marlborough's mansion, who was the governor in the 1700s, add a distinctive historic charm to the beach. It's fascinating to imagine the grandeur that once graced the now tranquil and serene spot.
But the historic allure of Governor's Beach is only one part of its appeal. Equally captivating is the beach's natural beauty. Framed by lush tropical vegetation, the beach features fine white sand that contrasts beautifully with the stunning hues of blue in the clear waters.Its abundant aquatic life makes it a fantastic location for swimming and snorkeling.The beach is also renowned for its serene atmosphere, which makes it the ideal location for relaxation and sunbathing. The beautiful balance of natural beauty and historical intrigue makes Governor's Beach a unique and memorable destination in Turks and Caicos.
6. Pelican Beach: Pristine Beauty and Wildlife
Pelican Beach, located on the uninhabited island of East Caicos, is an untouched paradise teeming with wildlife. This sanctuary is a birdwatcher's dream, housing an array of bird species. The beach derives its name from the flocks of pelicans that make their home here, adding a lively charm to the tranquil beach. The sight of these graceful birds diving for fish is quite a spectacle, so make sure to have your binoculars and cameras ready!
But it's not just the pelicans that call this beach home. You might also spot ospreys, terns, and a variety of other bird species. In addition to its feathered residents, Pelican Beach also offers stunning natural beauty. The pristine, untouched sands stretch out invitingly, meeting the azure waters of the Atlantic at the horizon. The remote and serene nature of Pelican Beach makes it an ideal escape for those seeking to connect with nature and wildlife.
7. Mudjin Harbor: Dramatic Cliffs and Turquoise Waters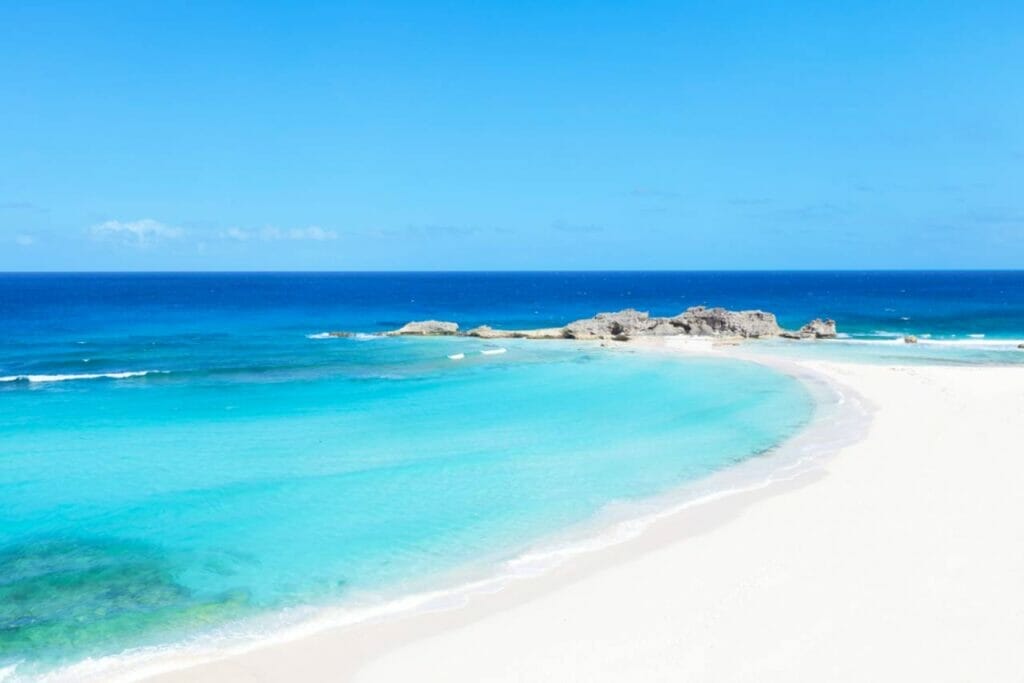 Welcome to Mudjin Harbor, a natural masterpiece showcasing the dramatic side of Turks and Caicos. This stretch of coastline is known for its striking limestone cliffs that rise majestically from the swirling turquoise waters. The contrast of the rugged cliffs against the gentle waters creates a breathtaking spectacle that's a feast for the eyes and a boon for photographers.
The beach at Mudjin Harbor isn't just for admiring, though. If you're up for some adventure, the beach offers fantastic opportunities for hiking. Trails along the cliffs provide stunning views of the coastline and the azure waters beyond. And after an invigorating hike, you can cool down with a refreshing dip in the sea. Whether you're an adventurer, a nature lover, or a photography enthusiast, Mudjin Harbor offers a unique and thrilling experience.
8. Taylor Bay: A Calm Retreat
Imagine yourself on a beach where time appears to have stopped and all you can hear is the soothing lull of the waves and the wind's whispering. Welcome to Taylor Bay, the epitome of calm and serenity. The beach features shallow waters and soft, silken sands – the perfect combination for a relaxed day out. It's a calm retreat where you can unwind fully and take in the serene ambience.
As the day wanes, Taylor Bay offers another stunning spectacle – the sunset. The sky is painted in hues of orange, pink, and purple as the sun sets, resulting in a fantastical scene. The calm waters reflect the vibrant hues, intensifying the spectacle. Make sure to stick around for this – it's a sight you wouldn't want to miss! Whether you're seeking tranquility or natural beauty, Taylor Bay delivers an experience that's sure to leave you enchanted.
9. Leeward Beach: Scenic Beauty and Secluded Luxury
Leeward Beach, which is tucked away along Turks & Caicos' breathtaking coastline, provides a totally enthralling experience by fusing natural splendor with seclusion. As soon as you step foot on this immaculate beach, you'll be met with the sight of stunning villas dotting the beachfront, each of which offers a private and opulent refuge for discriminating tourists.Visitors may revel in the height of luxury while surrounded by the natural beauty thanks to the premium environment and high-end amenities that are accessible here.
Leeward Beach also presents an excellent opportunity for those with a passion for yachting. The calm and crystal-clear waters of the beach provide the perfect playground for sailing enthusiasts, allowing them to explore the turquoise seas and discover hidden coves and secluded spots. Leeward Beach provides a harmonic fusion of extravagance and the untamed beauty of nature, making it an ideal location for anyone looking for a genuinely amazing beach experience. Whether you prefer to go off on a sailing expedition or simply lounge in the sun while enjoying a delicious cocktail..
10. Pillory Beach: Secluded Stretch of Natural Beauty
Tucked away on the serene island of Grand Turk, Pillory Beach stands as a hidden gem, beckoning travelers to discover its secluded stretch of unspoiled natural beauty.This beach offers a beautiful and peaceful ambiance, which is perfect for anyone seeking a moment of quiet meditation and relaxation away from the bustle and noise of more popular tourist destinations. You'll be mesmerized by the unspoiled charm of the area as soon as you set foot on the silky beaches and feel the calm air caress your skin.
Pillory Beach's allure lies in its simplicity and raw beauty. This beach offers snorkeling and diving aficionados a magical environment with its beautiful shoreline, clear seas, and a variety of marine life. Delve into the underwater realm and encounter a vibrant tapestry of coral reefs teeming with colorful fish, creating a captivating underwater spectacle. Pillory Beach offers an opportunity to disconnect from the stresses of everyday life and re-establish a connection with nature in its most unadulterated state, whether you decide to dive into the ocean's depths or just relax on the serene sands.
FAQ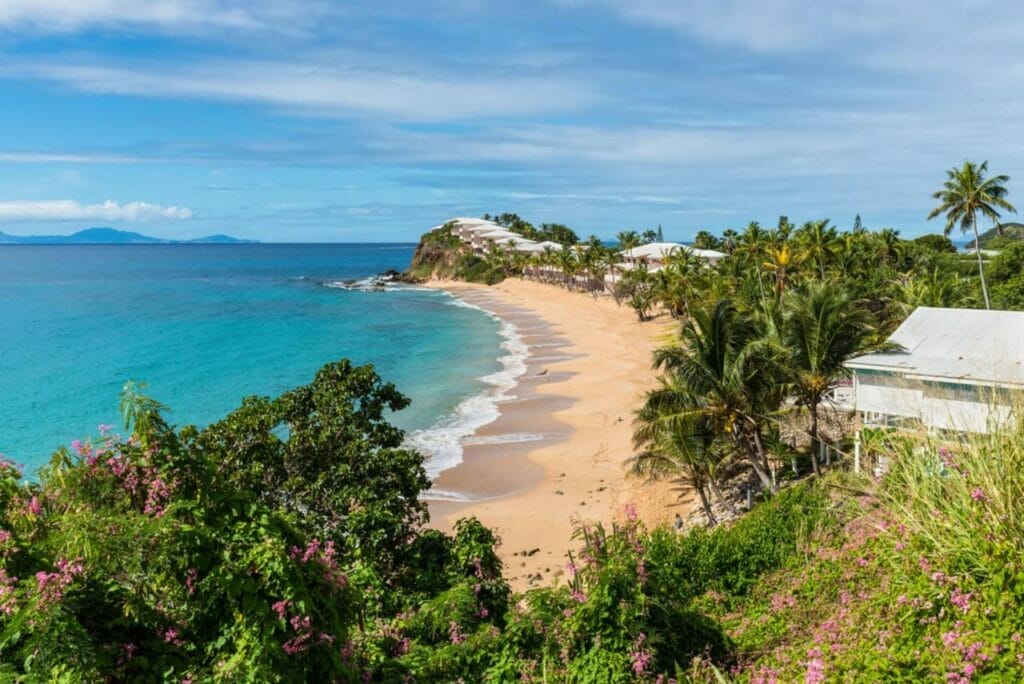 Which Part Of Turks And Caicos Has The Best Beach?
The nicest beach in the area is found at Grace Bay on the island of Providenciales in Turks and Caicos. With its pristine white sand stretching over 12 miles, crystal-clear turquoise waters, and gentle waves, Grace Bay offers an idyllic tropical paradise. It constantly ranks as one of the finest beaches in the world, drawing tourists with its unspoiled beauty, excellent swimming conditions, and selection of water sports.
What Is The Prettiest Island In Turks And Caicos?
Providenciales, commonly known as Provo, is widely regarded as the prettiest island in Turks and Caicos. It features stunning landscapes, including Grace Bay Beach, vibrant coral reefs, and the mesmerizing turquoise waters of Chalk Sound. Provo is the perfect location for individuals seeking both leisure and action since it provides a beautiful fusion of stunning natural scenery, opulent resorts, and a booming culinary scene..
Which Side Of Turks And Caicos Is Best To Stay?
The Grace Bay area on the island of Providenciales is the best side of Turks and Caicos to stay for most visitors. It is home to the renowned Grace Bay Beach, which offers a plethora of upscale resorts, restaurants, and entertainment options. A memorable and delightful visit to Turks and Caicos is guaranteed by the area's easy access to various water activities, including boat tours, scuba diving, and snorkeling..
Why Turks And Caicos Is The Best Beach?
Due to its unrivaled natural beauty, Turks and Caicos is known as one of the top beach resorts in the world. The islands boast pristine white sandy beaches, turquoise waters, and vibrant coral reefs, offering a picturesque tropical escape. Turks and Caicos offers a fantastic beach experience that enthralls guests from all over the world with its plethora of opulent resorts, variety of water activities, and peaceful atmosphere.