5 Best Beaches in Jamaica (2023 Ranks)
Escape to the Caribbean paradise of Jamaica and discover its stunning beaches. If you want to see the best beaches in Jamaica, start with the iconic Seven Mile Beach in Negril – where white sands meet azure waters, to the tranquil Doctor's Cave Beach in Montego Bay, known for its healing waters, each beach offers a unique experience.
Explore the secluded Frenchman's Cove near Port Antonio, where a river blends with the sea amidst lush greenery, or immerse yourself in the authentic culture of Treasure Beach on the south coast. 
Don't forget to visit James Bond Beach in Oracabessa Bay, a cinematic gem surrounded by crystal-clear waters and hosting vibrant music events. Embark on an unforgettable beach adventure and indulge in the beauty and diversity that Jamaica's coastline has to offer.
1. Seven Mile Beach
Nestled in the heart of Negril, Seven Mile Beach is one of Jamaica's most iconic and stunning coastlines. It's an excellent place for beachgoers looking for peace and quiet, with its length of white sand reaching as far as the eye can see. Spend your day sunbathing on the silky sand, or take a dip in the warm, azure waters; the options are limitless. In the evenings, the beach transforms into a vibrant hub filled with live reggae music and smoky barbecue stands, offering a unique Caribbean nightlife experience.
Local merchants along Seven Mile Beach provide a variety of activities such as jet skiing, parasailing, and horseback riding. Additionally, there are various beachfront resorts and restaurants lining the coast, providing an array of dining options and accommodations. With its unbeatable combination of natural beauty and entertainment, Seven Mile Beach encapsulates the ultimate Jamaican beach experience.
Local vendors often walk along the beach selling various goods. Remember to haggle, it's part of the local shopping culture!
Rick's Café is a must-see for anybody interested in the nightlife. It's known for its stunning cliffside views and daring cliff-divers.
2. Doctor's Cave Beach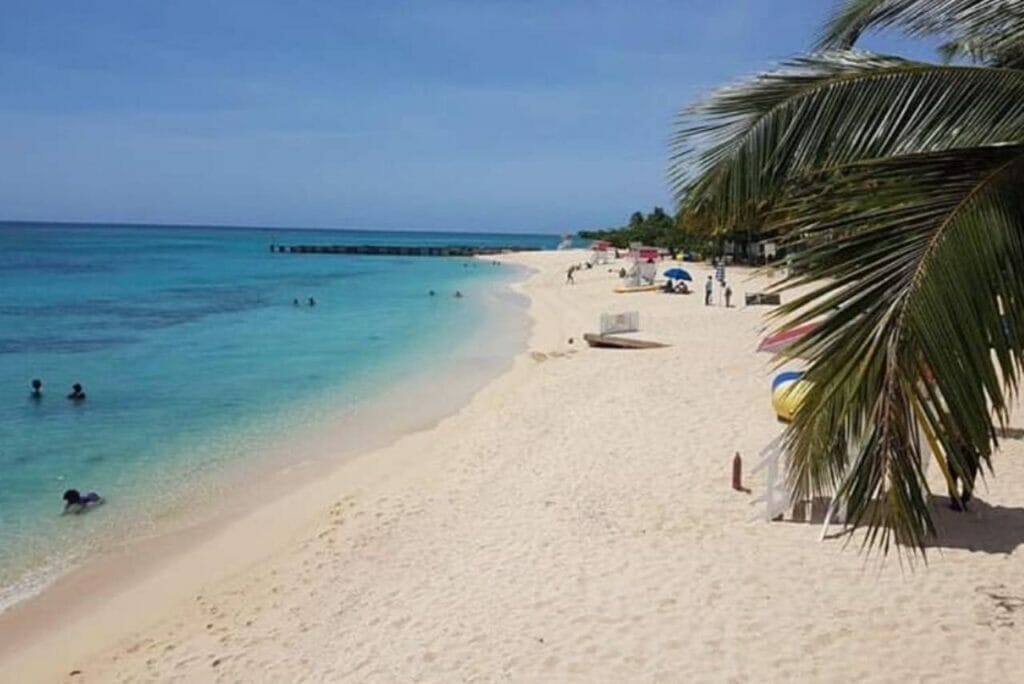 Situated in the heart of Montego Bay, Doctor's Cave Beach is a small yet charming gem. Its name comes from a now-submerged cave that was once accessible from the beach, and the belief held by a famous British osteopath that the waters here held curative powers. The turquoise seas are normally tranquil, making this a great place for swimming and snorkeling.
Doctor's Cave Beach Club, the main hub of activity, is a blend of modern amenities and natural beauty. Sun loungers, umbrellas, and a beach bar create a comfortable and enjoyable atmosphere. This beach also boasts a close proximity to Montego Bay's "Hip Strip," where you can explore a variety of shops, restaurants, and vibrant nightlife after a refreshing day on the beach.
Go early to avoid the midday rush and secure the best spot. This beach can get busy, particularly during high season.
Try the local fresh fruit smoothies from the beach bar – they're a delightful treat.
3. Frenchman's Cove
Tucked away near the town of Port Antonio, Frenchman's Cove is often referred to as the jewel of Jamaica's north coast. This quiet beach is where the river meets the sea, resulting in a distinct combination of chilly river water and warm ocean. The natural beauty of the beach, surrounded by thick flora, is very mesmerizing.
Despite its secluded nature, Frenchman's Cove isn't short on amenities. The beach offers a restaurant serving delectable Jamaican cuisine, as well as charming cottages for overnight stays. For the adventurous, a swing rope is often hung from a tree by the river – a fun way to plunge into the refreshing waters. Tranquil and picturesque, Frenchman's Cove is an ideal destination for those seeking a serene beach escape.
Don't miss the mouth-watering jerk chicken from the onsite restaurant.
Take a relaxing river rafting trip upstream; the cove's river is calm and perfect for a gentle adventure.
4. Treasure Beach
Treasure Beach, on Jamaica's south coast, is a group of fishing settlements stretched across a six-mile stretch of shoreline. It's the ideal spot to discover true Jamaican culture, with a more laid-back attitude than some of Jamaica's other beach resorts. You may mix with the people, eat delicious seafood, and relax on the sandy beaches.
Treasure Beach is also home to the annual Calabash International Literary Festival, attracting book lovers from around the globe. The area's black sand beaches, particularly Billy's Bay and Frenchman's Bay, are another unique feature, offering a different aesthetic than the typical Caribbean white sand beaches. Whether you're a culture vulture, a literary enthusiast, or a beach bum, Treasure Beach has something to offer you.
Be sure to explore the local fishing villages; they offer authentic insight into Jamaican culture.
If you're in the neighborhood during the Calabash International Literary Festival, you should go.
5. James Bond Beach
James Bond Beach is one of the most famous beaches in Jamaica. Located in Oracabessa Bay, got its name from the famous 007 film "Dr. No," which was shot in the area.
The beach is flanked on one side by crystal-clear sea and on the other by lush green mountains, providing amazing views. It's a great place for snorkeling because of the beautiful coral reefs abounding with marine life.
Aside from its cinematic connection, James Bond Beach is also known for its music events, including occasional concerts by local and international artists. The beach's facilities include a seafood restaurant, beach bar, and watersports rental shop. For a mix of pop culture history, outdoor adventure, and stunning natural beauty, James Bond Beach is a must-visit spot in Jamaica.
Look out for concerts and music events happening on the beach, they're a huge part of the beach's vibrant atmosphere.
Try out the local seafood cuisine at the beach's restaurant. The fish is often freshly caught, making for an exquisite dining experience.
Best Beaches in Jamaica FAQ
What Is The Nicest Beach In Jamaica?
The nicest beach in Jamaica is Seven Mile Beach, located in Negril. Seven Mile Beach, known for its pure white sand and crystal-clear turquoise seas, spans along Jamaica's western coast, providing magnificent sunsets and a variety of water sports. This beach is a popular location for travelers looking for leisure and a lovely tropical experience, thanks to its laid-back environment and magnificent natural beauty.
What Is Jamaica Most Famous For?
Jamaica is most known for its colorful reggae music, which began in the 1960s on the island. This genre, popularized by legendary musician Bob Marley, has become synonymous with Jamaica's cultural identity and has spread worldwide, influencing various music genres and promoting messages of peace, love, and social justice. Reggae has become a symbol of Jamaica's cultural brilliance due to its rich musical tradition and continuing worldwide appeal.
Where In Jamaica Is The Most Popular?
The most popular destination in Jamaica is Montego Bay. Montego Bay, located on the island's north shore, combines natural beauty, historical monuments, and opulent resorts. Montego Bay has established itself as a major holiday resort, attracting travelers from across the world seeking a blend of leisure and adventure, thanks to its magnificent beaches, active nightlife, and a broad choice of tourist attractions such as the famed Doctor's Cave Beach and the Hip Strip.