Aruba Beaches: 18 Best Beaches in Aruba (Out of 40)
Beach activities are some of the best things to do in Aruba, but even if you vary your activities while going to the same few beaches, things can start feeling repetitive. Fortunately, Aruba has 40 beaches, so you can visit one a day for a whole month and still have ten beaches left to explore. If you want to prioritize Aruba beaches, you probably want to start with the best beaches in Aruba…unless you're staying for 40+ days and can see them all!
The best beaches in Aruba are Eagle Beach for space, Palm Beach for a party atmosphere, Baby Beach for luxe seclusion, Boca Grandi for kite surfing, and Dos Playa for active as well as laid-back beachside plans.
In this article, you will find out the names and broad locations of all the beaches in Aruba. But first, you'll learn about the very best beaches in Aruba, including:
Palm Beach Aruba
Eagle Beach
Dunes Beach Aruba
Boca Grandi
Budui Beach Aruba
Dos Playa Beach
De Palm Island
Divi Beach
Arashi Beach
Blackstone Beach
Wariruri Beach
Flamingo Beach
Baby Beach
Rodgers Beach
Manchebo Beach
Grapefield Beach
Hadicurari Beach
Mangel Halto
1. Palm Beach Aruba
Palm Beach is one of the most recognizable and oft-visited islands in Aruba. It is known primarily for embodying everything luxe about a tropical vacation.
From trendy bars and dining spots that pepper the sandy strip to the turquoise waters that are ever-inviting to swimmers, there's plenty to love about Aruba's Palm Beach.
It is north of the Bubali Bird Sanctuary and south of Alto Vista. You can visit Palm Beach via cab or public transport. As a major tourist hub, it is integrated into the Aruban public and private transportation systems and tour routes.
If you visit this beach, you should check out the Palm Beach Plaza Mall, which houses a cinema, multiple eateries, and multiple shopping opportunities.
Aside from dining at locations like Azia and Moomba, you can engage in actual beach activities at Palm Beach Aruba. Some of these activities include snorkeling, sunbathing, and simply walking barefoot on the flat sandy coast of Aruba.
You must be mindful of tourist traps and overcrowding on the beach. While the beach is quite big with plenty of space, the evening tourist traffic can surprisingly offset it.
2. Eagle Beach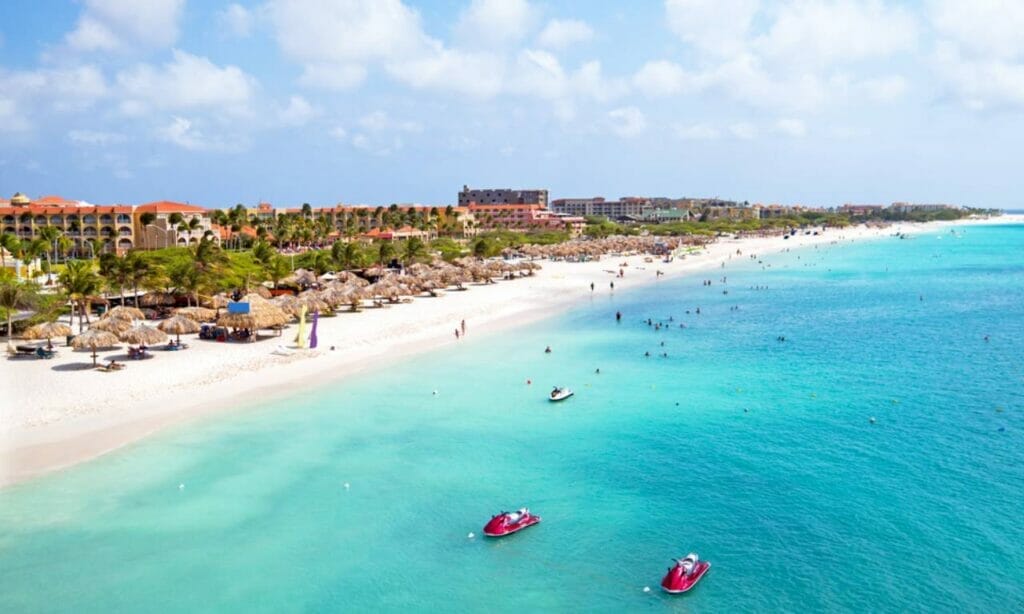 Eagle Beach Aruba is often mentioned in the same breath as Palm Beach. It is the second in tourist optimization despite being just as well known as Palm beach.
Aside from the exact location, the two beaches are different in size and vibe. Eagle Beach is the most spacious public beach in Aruba (at least in width). The Resort-rich beach is open to the public and is frequented by locals, tourists, and transit travelers alike. Still, it doesn't get as crowded as Palm Beach.
Where Palm Beach has highrise resorts u its vicinity, Eagle Beach has charming low-rise resorts spread across its massive land strip.
A favorite tourist activity in Aruba is joining jet skiing from eagle beach. You can rent jet skis and other water activities equipment from the rental spots on the beach. One of the perks of being on a resort-rich beach is that you have access to pay-to-play services designed for tourists.
3. Dunes Beach Aruba
Dunes Beach is completely different from eagle and palm beach, yet it is the best in its own way. It is secluded and largely undeveloped. It is a great spot if you want a private outing with your family and don't want to get the cookie-cutter tourist experience.
Remember that Dunes beach in Aruba isn't well-serviced. You will not really have access to on-the-spot amenities, so expect to take your own surfing equipment and picnic basket.
4. Boca Grandi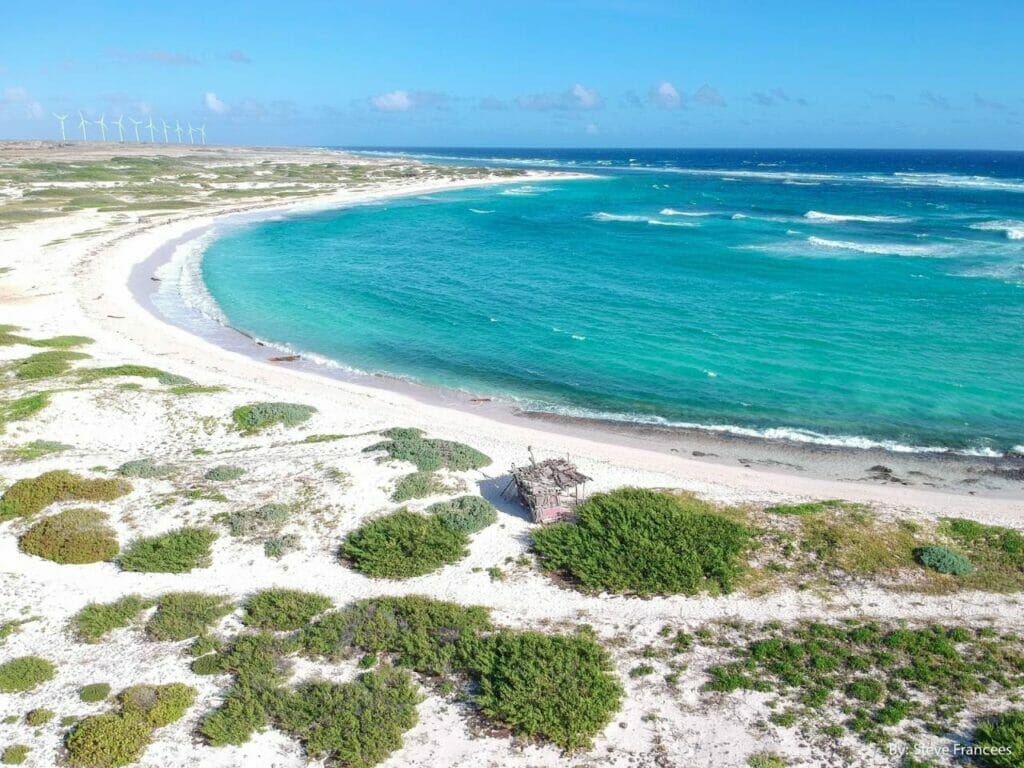 Boca Grandi ranks consistently among the top 5 beaches in Aruba because of it being synonymous with kite surfing. The concave beach has the perfect starting point for kite surfing. It also has strong winds servicing its atmosphere, which makes kite surfing possible.
Boca Grandi attracts active tourists who like to engage in water sports and beachside activities. Because of its popularity, you might expect Boca Grandi to have pristine walkable beaches. It isn't as airbrushed as mainstream beaches like Palm Beach.
There is plenty of sporadic greenery that leaves little room to actually sit and chill on the beach. Boca Grandi is not ideal for any beach activities that happen outside the water. For any water sports and activities (motorized or otherwise), Boca Grandi is pretty good.
5. Budui Beach Aruba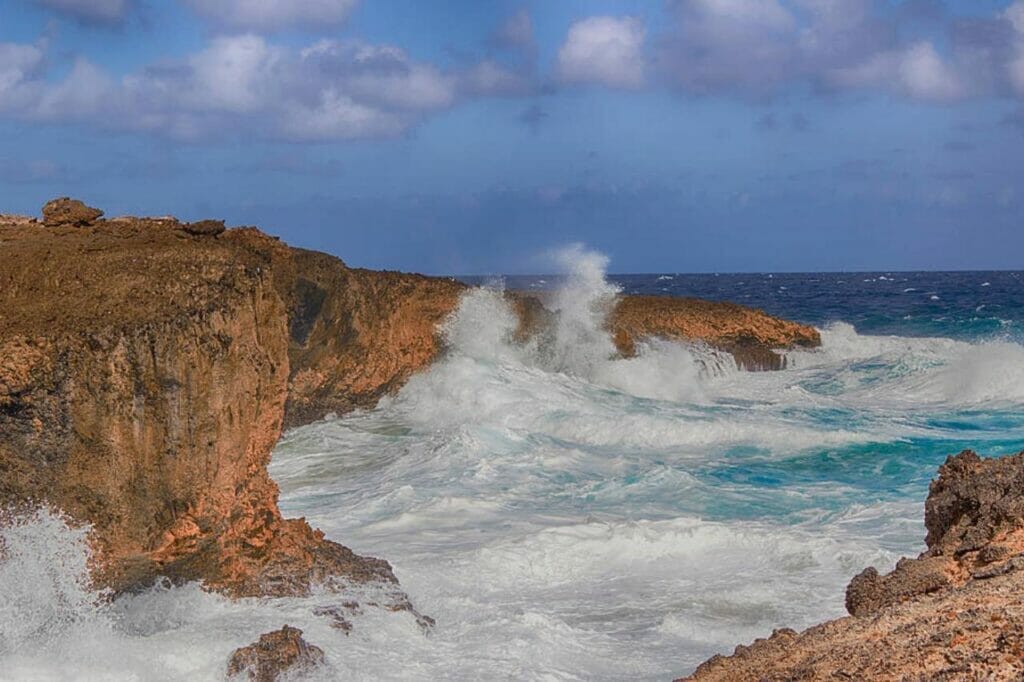 You will not find Budui in moat surface-level roundups because it is a unique bay that is akin to a secret pool. This cove is picturesque, private feeling, and well-serviced. Its best aspect is the contrast between the rocky arch and the water that rushes underneath it. Horseback riding is one of the best activities to partake in around the Budui Aruba area.
6. Dos Playa Beach
The Dos Playa beach is a set of twin coves, one of which is populated by surfers and the other by sunbathing enthusiasts. Because of their formation and position, the twin coves don't have identical currents.
One of the coves has waves that are 1 to 3 feet tall at different points of the year. The other remains relatively calm even in the hurricane season.
The type of tourists who visit Dos Playa are pretty self-reliant. As a result, most businesses that market to tourists choose to focus on other beaches.
Visit Dos Playa with your own snacks, loungers, or beach mats if you're into beachside relaxation and picnics. And carry your own surfboard if you want to go surfing. While there are surfboard rental spots in Aruba, not many are within walking distance from the twin coves.
7. De Palm Island
This is one of two private island beaches that are within Aruba (the country) but not on Aruba (the island). De Palm Island is unique in how it is optimized. With a full-scale meta-park that includes multiple rides, water parks, and beaches, De Palm Island is a must-visit destination for families.
Its day-pass set-up with an all-inclusive fun package makes it perfect for families because it excites the kids without stressing the parents.
Pay-per-ride type parks can be fun for kids, but each additional ride can add to the parents' financial stress. De Palm rides don't do that. With the all-inclusive pass, one can enjoy the only Zipline in Aruba and access multiple water activities like water slides and underwater helmet walk. While the kids enjoy the rides, you can get a paid cabana or chill on the sun loungers by the beach.
8. Divi Beach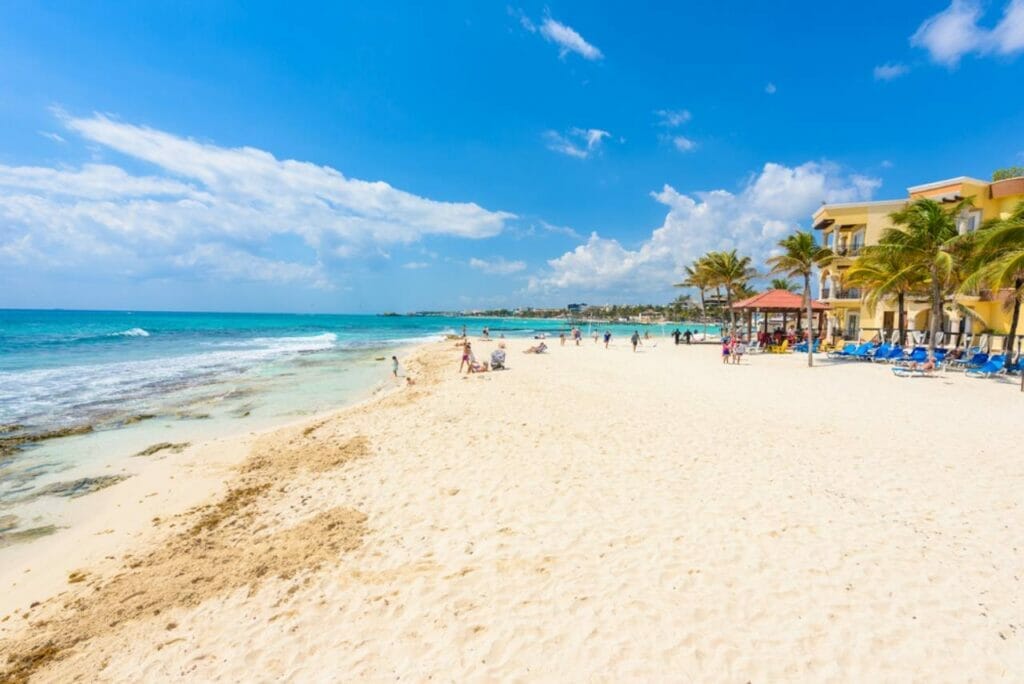 Most visitors have ranked this beach in their personal top 3 or top 5 beaches in Aruba. However, you will not see its name come up that often in old resources. That's because of the recent rebrand that it has undergone.
This beach used to be called Druif beach before Divi group's resort presence practically renamed the place. Now it is officially called Divi beach. But it isn't actually owned by the Divi resort. The resort just happens to be located on the beach.
Its presence, however, does benefit the beach, making it second to Eagle Beach and Palm Beach. While those beaches have resorts backed by different brands, Divi beach has a collection of 4 establishments, all backed by the same resort group.
One does not need to be a resident at a Divi resort to avail of the services at the beach. These include equipment rental, beach hut booking, and active watersport lessons.
9. Arashi Beach
Thatch beach umbrellas, white sand, and clear waters. Arashi beach is the definition of a tropical abode. The beach is breathtakingly pristine and surprisingly tourist-free, except during the peak months for tourism.
Arashi Beach in Aruba is most often visited by surfers and retirees who prefer seclusion.
The Arashi beach morphs once a year. For most of the year, it feels like a private sunbathing heaven for a Caribbean country club.
During the peak tourist season, it becomes a beach party destination. From March to June, the beach comes alive with music and the sound of dancing and conversation as soon as the sun begins to set. Even Palm beach and Eagle beach have spontaneous summer parties, but Arashi has ones that feel less crowded.
Overall, Arashi beach is great for two types of people at two different times of the year. It is excellent for those who prefer seclusion and peace, and it is also great for party animals. Regardless of the type of beachgoer you are, you should do your best to time your visit perfectly.
10. Blackstone Beach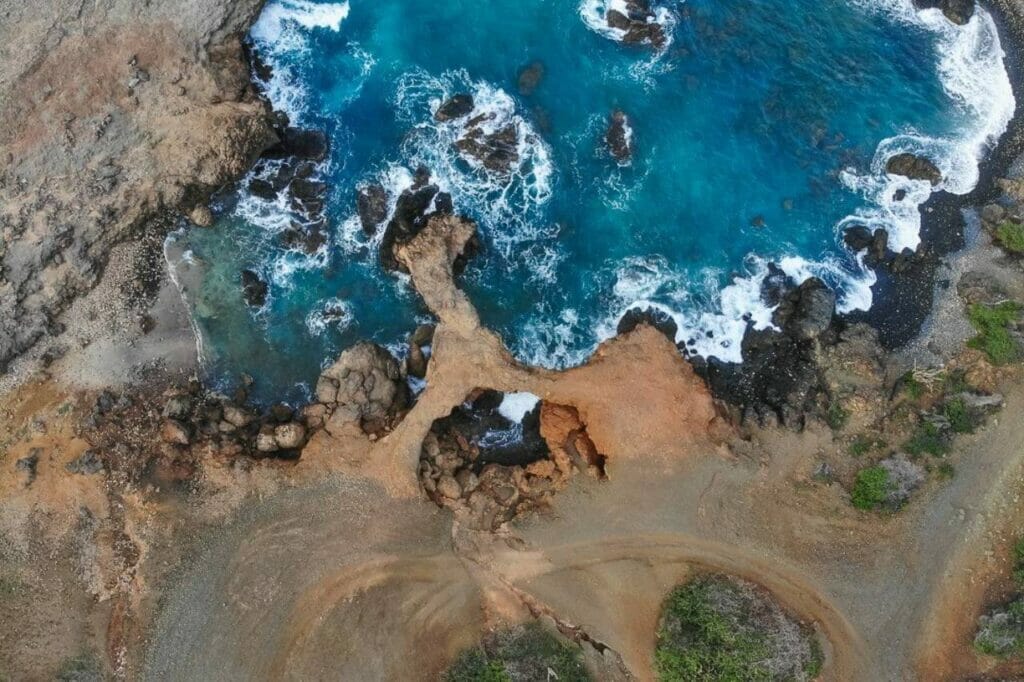 Aruba's Blackstone beach is a beach with character. Its banks are lined with black stones, and it features a cove as well as a rock formation that separates the sea into a small natural pool of sorts. While this "pool" isn't like Conchi, it is definitely swimmable.
What Blackstone beach isn't is walkable. It is a poor choice for a barefoot walk or a picnic. But it is a good one for swimming and for envy-inspiring photoshoots. Again the beach has a character that makes even average photos feel far more editorial.
11. Wariruri Beach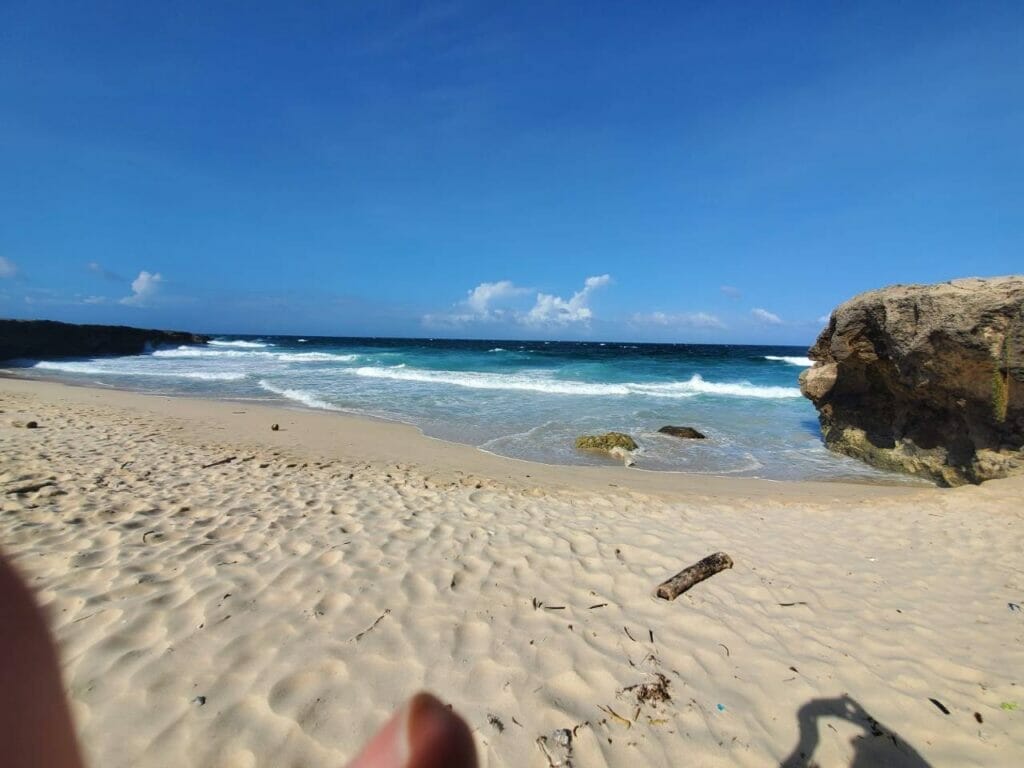 While it isn't a beach you would go to spend your entire day at, Wariruri beach is one of the best beaches in Aruba simply because of how different it is. Where most beaches are either peppered with pebbles or lined with natural white sand, this one is a rock formation that forms not only a shore but also a natural land bridge that goes over the water.
Aruba horseback tours often include this beach as a stop because tourists enjoy crossing the Wariruri land bridge.
Unfortunately, there's not much else there unless you bring your own equipment. With your own diving or snorkeling gear, you can have an adventure at pretty much any beach.
12. Flamingo Beach
If you're fond of flamingos, you're likely to encounter them in waters off of relatively secluded beaches in Aruba. But for guaranteed flamingo sightings, you must head over to Aruba's private islands.
The first is De Palm Island, already covered earlier, and the second is Renaissance Island, which has a dedicated flamingo beach.
Not only are majestic flamingos present throughout the year on the flamingo beach, but they are also not too eager to flee. They don't feel threatened by a human presence which leads to plenty of photo opportunities.
Among other amenities of the Renaissance island and flamingo beach are water-top hammocks and scenic waterfront dining opportunities.
13. Baby Beach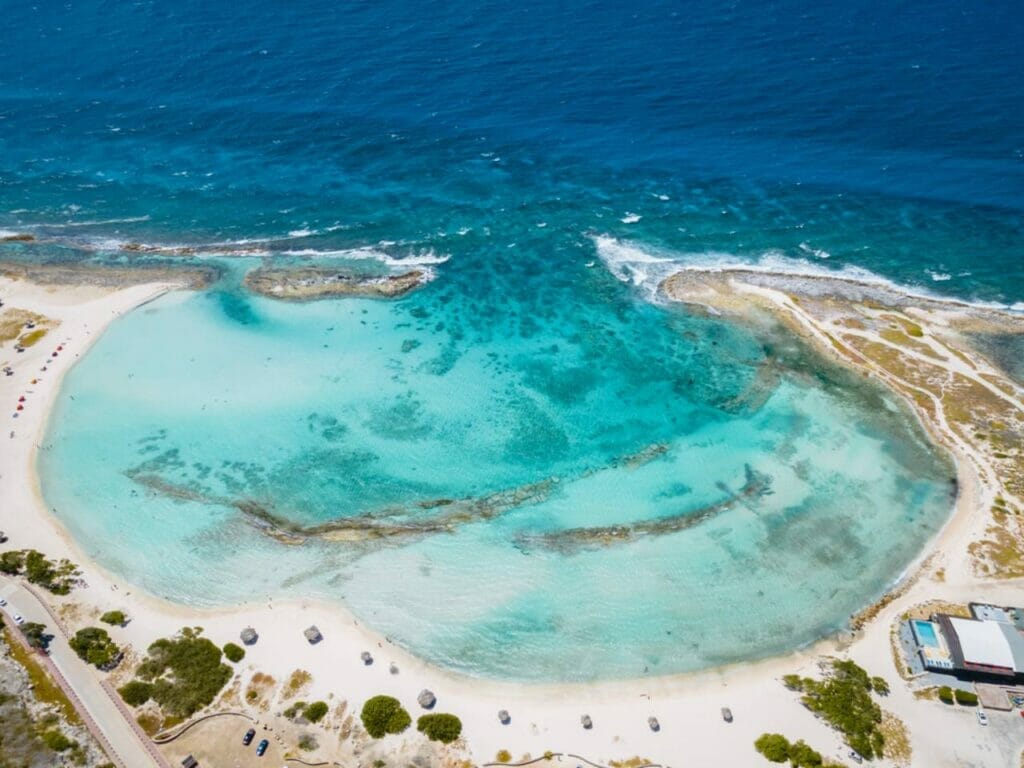 Baby beach is called that not just because of its relatively lower breadth but also due to its generally safe depth. It is a family-friendly spot with water that barely reaches the waist level. There's a reason behind Baby Beach having such harmless depth.
The actual beach has been carved into the land by creating a shallow crevasse. By creating a manmade (man-altered) lagoon, the authorities concerned forced the sea to expand, albeit on their terms.
The extent to which the baby beach is concave, the water is shallow and clear. Teenagers can play in it without their parents worrying too much. Adults who don't know how to swim can actually enjoy learning in this low-stakes environment. And if you're interested in a challenge, try surfing at Baby Beach.
14. Rodgers Beach
This beach is known officially as Nanki, and many tourists end up calling it "the beach with stairs." It has an iconic stone wall that is no longer than a picket fence and a staircase overrun by sand.
Rodgers beach is one of the only beaches that feels private while having some semblance of amenities.
Other "private-feeling" beaches can genuinely be entirely raw or abandoned. But Rodgers beach is different as it feels private yet has sailboards and roaming vendors. It just doesn't get crowded entirely because its vibe doesn't attract everyone.
It is ideal for middle-aged couples, ambiverts, and people who prefer to be left alone but also appreciate being able to socialize and engage in activities if they choose to.
15. Manchebo Beach
Lined with palm trees and peppered with beach umbrellas, Manchebo beach is home to a resort of the same name. As stated earlier, no beach on mainland Aruba is owned by a resort. Only private islands have beaches that are not owned by the government.
Manchebo beach is ideal for sunbathing. It has a luxe vibe and a friendly atmosphere. All of the paid services offered by Manchebo resort are also available to people who aren't staying at the resort but are willing to pay for certain services.
Most non-resident guests purchase food, while some pay for spa treatments, both of which are confined to the Manchebo beach resort and not the beach itself. Among the things you can enjoy at Manchebo beach are:
Relaxing in a hammock
Walk barefoot on the beach
Sunbathe
Swim in the sea
Go paddle boarding
Surf the waves if the conditions are right
16. Grapefield Beach
Grapefield Beach is a few minutes away from Boca Grandi. It is an unserviced beach visited by locals more often than tourists. Kitesurfing enthusiasts may know about it, but the general tourist public is usually not aware of Grapefield beach.
It has white sand and clear water that turns turquoise the deeper it gets. Among the activities you can enjoy at grapefield beach are surfing and kitesurfing, swimming, and snorkeling. Grapefield is a great spot for sunbathing if you don't mind using a beach mat.
Make sure you're aware of Aruban weather and sunlight before you make plans to head out to Grapefield beach. It is sunny when Aruba generally has cloudless weather. But whenever it starts raining more frequently, Grapefield has some of the cloudiest weather.
You should also pack your own food and water if you choose to picnic at this surfer-friendly beach because the only vendors around rent out active water sports equipment.
17. Hadicurari Beach
Because Aruba has a few dozen beaches, many of them have a similar vibe. When you start visiting different beaches on different days, you can notice them blend into each other. Beaches with distinct identities are rare and therefore must-visit. Hadicurari is one of the few beaches in Aruba with a completely unique atmosphere.
For starters, it is a beach that caters to active watersports enthusiasts and fishermen. Secondly, it has a seafood restaurant named, The Fisherman's Hut, which is also a nickname for the beach.
The combination of non-motorized water sports with fishing opportunities and a fresh seafood restaurant ensures that this niche-appeal beach blends different worlds by attracting people with different interests.
18. Mangel Halto
You will notice that beaches in Aruba have white sand and clear water. While that's an aesthetically appealing combination, it can get repetitive. Mangel Halto is unique because of ti mangroves, which produce an interesting site for snorkeling enthusiasts.
But if you don't want to dive and explore, you can also relax on its beautifully-crafted sundeck. It doesn't get crowded, so you have plenty of photo opportunities in relative seclusion. Overall, the beach is a haven for diving, swimming, and snorkeling enthusiasts.
Aruba Beaches: A Complete List
So there you have it, 18 of the best beaches in Aruba! We didn't have time to cover them all in detail, but here's a list of all 40 Aruba beaches:
Dos Playa
Boca Grandi
Boca Cura
Hadicurari Beach/ Fisherman's Huts
De Palm Island
Renaissance Island
Druif Beach
Rodgers Beach
Divi Beach (formerly Durif Beach)
Bachelors Beach
Manchebo Beach
Baby Beach
Boca Chiquito
Wariruri Beach
Eagle Beach
Uriama Beach
Mangel Halto
Dunes Beach
Boca Prins
Santo Largo Beach
Arashi Beach
Natural Pool
Boca Daimari
Budui (The secret pool!)
Savaneta Beach
Surfside Beach
Palm Beach
Boca Keto
Grapefield Beach
Andicuri Beach
Boca Catalina
Black Stone Beach
Westpunt Beach
Boca Grandi (Kite Beach)
Bushiri Beach
Boca Druif
Boca Pos di Noord
California Beach
Malmok Beach
Rincon
Aruba Beaches: Which Will You Visit in 2023?
Aruba has 40 beaches, with at least 20 of them being small, unserviced, or both. Palm Beach and eagle beach are the most recognizable ones but if you limit yourself to beaches that everyone talks about, you'll end up beaches everyone goes to.
To have a unique experience and story, you need to go to a great beach that isn't as exposed and saturated as Aruba's top beaches. The article above lists the best beaches in Aruba, including ones with mass appeal as well as ones with niche charm.