16 Best Barbados Beaches [Ultimate Guide]
In this comprehensive guide, we unveil the best Barbados beaches across various categories, ensuring an unforgettable experience for every beach enthusiast. Dive into this ultimate guide to discover…
Serene bathing beaches like Crane Beach and Carlisle Bay, perfect surfing havens like Soup Bowl and Freights Bay, tranquil sunbathing spots including Bottom Bay and Sandy Lane Beach, and snorkeling paradises like Folkestone Marine Park and Carlisle Bay.
Furthermore, we provide essential beach safety measures and valuable tips to ensure a worry-free and responsible exploration of Barbados' picturesque shores.
Best Beaches For Swimming
Barbados is blessed with an abundance of breathtaking beaches, each offering its unique charm and appeal. You're in for a treat if you enjoy swimming and are looking for the ideal location to cool down.
We'll examine Barbados' top bathing beaches, where you may take a leisurely dip in the turquoise seas that are crystal clear. Whether you're looking for gentle waves or a lifeguard presence, these beaches have it all. 
So grab your towel, lather on some sunscreen, and get ready to dive into the inviting waters of Barbados' finest swimming beaches:
Crane Beach: Crane Beach is a swimming enthusiast's dream with its calm pink beach, turquoise waves, and crystal clear waterways. Its gentle waves and lifeguard presence ensure a safe and enjoyable experience.
Carlisle Bay: Carlisle Bay, which lies in Bridgetown, is a well-liked destination for both locals and visitors. It's ideal for swimming and snorkeling because of the calm seas and stunning coral reefs.
Miami Beach: Situated on the south coast, Miami Beach boasts calm and clear waters, making it a family-friendly destination. Its pristine sandy shores provide ample space for sunbathing and relaxation.
Paynes Bay: Offering a mix of tranquility and vibrant marine life, Paynes Bay is a must-visit for swimmers. The calm waters are ideal for leisurely swims and snorkeling adventures.
Best Beaches for Surfing
A surfer's paradise, Barbados is known for producing waves of the highest caliber. You're at the correct place if you want to catch the perfect wave and enjoy the rush of surfing the waves. We'll examine more closely at Barbados' top surfing beaches in this section.
From powerful breaks that challenge even the most experienced surfers to mellow waves ideal for beginners, these beaches cater to surfers of all levels.
So wax up your board, strap on your leash, and head out to one of the best Barbados beaches for surfing:
Soup Bowl: Located on the east coast, Soup Bowl is renowned for its powerful waves, attracting experienced surfers from around the world. It provides thrilling opportunities for barrel rides and high-performance surfing.
Freights Bay: With its reef break and consistent swells, Freights Bay is popular among both beginners and experienced surfers. Its mellow waves offer a great learning environment.
Brandon's Beach: Situated on the west coast, Brandon's Beach offers a variety of breaks suitable for different skill levels. Beginners can take advantage of the smaller waves closer to the shore, while more experienced surfers can challenge themselves with larger sets further out.
Best Beaches for Sunbathing
When it comes to pure relaxation and soaking up the glorious Caribbean sunshine, Barbados' sun-drenched beaches are second to none.
The greatest beaches for tanning are those in this area, where you may relax, get a tan, and let the pressures of daily life wash away. Picture yourself lying on powdery white sands, feeling the gentle caress of the warm breeze on your skin. 
Whether you seek solitude on a secluded beach or prefer the amenities of a more bustling shore, Barbados has the perfect sunbathing spot just waiting for you:
Bottom Bay: Nestled between towering cliffs, Bottom Bay presents a secluded haven for sun-seekers. The pristine white sand and swaying palm trees create a tranquil ambiance.
Sandy Lane Beach: Known for its luxurious surroundings, Sandy Lane Beach offers a pristine stretch of golden sand, where visitors can bask under the warm Caribbean sun in style.
Mullins Beach: Mullins Beach, which lies on the west coast, is a well-liked area for tanning. Visitors can rent beach chairs and umbrellas while enjoying the gorgeous views and gentle sea breeze.
Best Beaches for Snorkeling
Under the sparkling surface of Barbados' clean seas, there is a fascinating undersea world teaming with a variety of marine life and beautiful coral reefs. You're in for a treat whether you enjoy snorkeling a lot or are keen to learn more about the ocean's beauties. We'll look into Barbados' top snorkeling beaches in this section.
From protected marine parks to shipwreck sites, these beaches offer unforgettable snorkeling experiences. These are the best snorkeling beaches in Barbados:
Folkestone Marine Park: Situated on the west coast, Folkestone Marine Park is a protected area offering a diverse marine ecosystem. Snorkelers can encounter colorful fish, coral formations, and even the occasional sea turtle.
Carlisle Bay: Aside from being great for swimming, Carlisle Bay is a treasure trove for snorkelers. Snorkeling among the wreckage strewn over the ocean floor is both unusual and mesmerizing.
Harrison's Cave Beach: Located in the eastern parish of St. Philip, Harrison's Cave Beach offers both scenic beauty and excellent snorkeling opportunities. Dive into the clear waters and discover a vibrant underwater world.
Best Beaches for Water Sports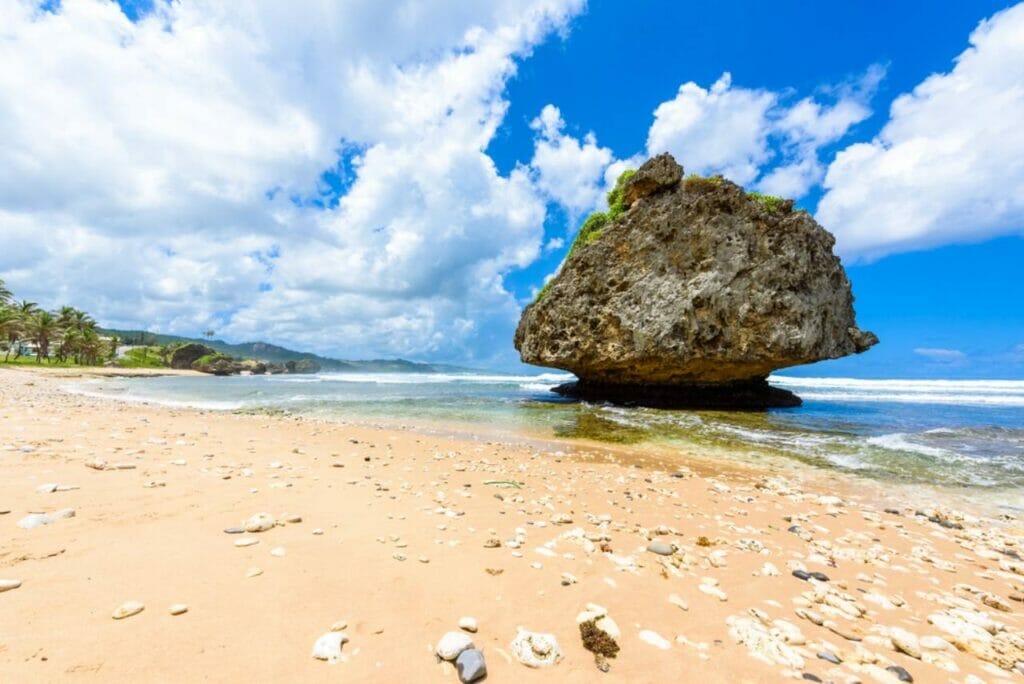 Barbados is a thrilling playground for fans of water sports as well as a place to unwind and find calm. You've arrived to the correct location if you're looking for an adrenaline rush and exhilarating aquatic activities. In this section, we'll explore the best beaches in Barbados for water sports.
If you enjoy windsurfing, kitesurfing, jet skiing, or parasailing, these beaches provide the ideal settings and amenities for you to partake in your preferred water sports.
Get ready to harness the power of the wind, conquer the waves, and make unforgettable memories in Barbados' best beaches for water sports:
Silver Sands: Known as the windsurfing capital of Barbados, Silver Sands offers consistent trade winds and perfect wave conditions for windsurfers and kitesurfers alike.
Dover Beach: Situated on the south coast, Dover Beach is a hotspot for water sports. Visitors can indulge in jet skiing, parasailing, and banana boat rides, adding excitement to their beach experience.
Bathsheba: With its powerful waves and dramatic scenery, Bathsheba attracts surfers, boogie boarders, and body surfers seeking an exhilarating ocean experience.
Barbados Beach Safety and Tips for Visitors
When venturing to Barbados' stunning beaches, it's important to prioritize safety and make informed choices to ensure a memorable and worry-free experience.
In this section, we will provide essential guidelines and valuable tips to help visitors navigate the beaches with confidence and safeguard their well-being.
From understanding water safety measures to protecting against the sun's rays and showing respect for the island's marine life and fellow beachgoers, we'll equip you with the knowledge and awareness necessary to make the most of your time on Barbados' picturesque shores. 
You may fully appreciate the beauty of the island's beaches while preserving a safe and sustainable environment for everyone to enjoy by adhering to these beach safety precautions and embracing responsible beach etiquette.
Water Safety: Provide information on understanding beach flags and what they indicate, how to identify rip currents, and general swimming safety tips.
Sun Protection: Offer advice on sun protection measures, including the use of sunscreen, seeking shade during peak sun hours, and staying hydrated.
Marine Life Awareness: Discuss encounters with marine life, such as sea turtles and coral reefs, emphasizing the importance of respecting and preserving the fragile ecosystems.
Beach Etiquette: Highlight beach etiquette guidelines, such as proper disposal of trash, avoiding disturbance of natural habitats, and being respectful of other beachgoers.
FAQ
What Is The Nicest Beach In Barbados?
One beach that consistently ranks high for its beauty and amenities is Crane Beach. With its exquisite pink sand, clear turquoise waters, and stunning cliffside views, Crane Beach offers a captivating setting for sunbathing, swimming, and relaxation. The beach is well-kept, and both residents and visitors alike love it for its natural beauty, quiet surf, and spotless surroundings.
Which Part Of Barbados Has The Best Beaches?
The west coast of Barbados, popularly known as the Platinum Coast, is recognized for having some of the nicest beaches in the Caribbean. The island of Barbados is endowed with beautiful beaches throughout. The west coast beaches, including Paynes Bay, Sandy Lane Beach, and Mullins Beach, boast powdery white sand, tranquil waters, and picturesque surroundings. Indulge in water sports, swimming, and sunbathing while taking in the opulent atmosphere and breathtaking coastline views.
What Is The Number One Beach In Barbados?
While opinions may vary, one beach often considered the number one beach in Barbados is Crane Beach. With its breathtaking beauty, pristine sand, and calm turquoise waters, Crane Beach consistently captures the hearts of visitors. The beach's serene atmosphere, dramatic cliff backdrop, and excellent amenities contribute to its reputation as a top-notch destination for relaxation, swimming, and enjoying the natural wonders of Barbados' coastline.
What Is Barbados Famous For?
Barbados is famous for its pristine beaches, warm hospitality, and vibrant culture. Known as the birthplace of rum, Barbados has a rich history and offers visitors the opportunity to explore historical sites like St. Nicholas Abbey and George Washington House. The island's lively music scene, lively festivals such as Crop Over, and delicious cuisine, including flying fish and cou-cou, further contribute to its fame as a vibrant Caribbean destination.
How Many Beaches Are In Barbados?
Barbados is home to approximately 70 stunning beaches, each with its unique charm and characteristics. From tranquil bays and secluded coves to lively shores with water sports activities, Barbados offers a diverse range of beach experiences. Whether you're seeking relaxation, snorkeling adventures, or thrilling waves for surfing, you'll find a beach to suit your preferences along the island's picturesque coastline.