5 Best Barbados Beaches for Water Sports
Barbados is a paradise for water sports enthusiasts, with its stunning beaches offering a wide range of thrilling activities. From the kiteboarding haven of Silver Sands to the surfer's paradise of Crane Beach, and the tranquil oasis of Miami Beach, there's something for everyone.
Whether you enjoy kiteboarding, surfing, jet skiing, snorkeling, or paddleboarding, Barbados offers the right beach to satiate your need for water activities.
Get ready to dive into the exhilarating world of water sports in this Caribbean gem.
1. Silver Sands: A Kiteboarding Haven
If you enjoy kiteboarding or have always wanted to try it, Silver Sands is the place to be. This beach on Barbados' southern coast is well-known for its perfect conditions for this thrilling water sport. With steady trade winds and a wide stretch of sandy beach, Silver Sands offers the perfect playground for kiteboarding enthusiasts of all levels.
Imagine harnessing the force of the wind and gliding through the crystal-clear waves, executing leaps and feats that will make your pulse race. Whether you're a seasoned kiteboarder or a beginner looking to take lessons, Silver Sands has the infrastructure and experienced instructors to ensure a safe and thrilling experience.
2. Crane Beach: A Surfer's Paradise
For those seeking the rush of riding the waves, Crane Beach is a must-visit destination. Located on the southeast coast of Barbados, this stunning beach is renowned for its powerful swells and consistent surf breaks. Surfers from around the world flock to Crane Beach to test their skills and experience the thrill of catching the perfect wave.
Picture yourself paddling out into the surf, feeling the adrenaline surge through your veins as you drop into a massive wave and ride it with grace and agility. Whether you're a seasoned pro or a beginner eager to learn, Crane Beach offers surf schools and rental shops to cater to all levels of experience. Don't miss the chance to catch the perfect wave at this surfer's paradise.
3. Dover Beach: Jet Skiing and Snorkeling Galore
If you're searching for a beach with a variety of water sports activities, Dover Beach is the place to go. This beach, located on Barbados' bustling south coast, is a hotspot for adrenaline seekers and water sports lovers. There are a variety of activities available to get your adrenaline racing and discover the underwater delights, ranging from jet skiing to snorkeling.
Hop on a jet ski and speed across the sparkling waters, feeling the wind in your hair and the rush of excitement as you navigate through the waves. If you prefer a more tranquil experience, grab your snorkeling gear and dive into the vibrant coral reefs teeming with colorful marine life. You might even spot a sea turtle or two gracefully swimming by. Dover Beach truly offers something for everyone, making it an ideal spot for families and groups with varying interests.
4. Bathsheba Beach: A Surfer's Dream and Natural Beauty
Bathsheba Beach, located on Barbados' rough east coast, is not just a paradise for surfers but also a gorgeous destination for nature lovers. This beach is known for its unique rock formations, including the famous Bathsheba Pools, formed by the eroded coral limestone. These natural pools create a stunning backdrop for surfers, who ride the powerful waves that crash against the rocks.
Surfers at Bathsheba Beach face the challenge of navigating the strong currents and powerful swells, making it a destination for experienced wave riders seeking an adrenaline rush. Take a time to admire the stunning beauty of the surrounds as you catch a wave and feel the overwhelming strength of the ocean beneath you. The combination of thrilling surf and natural wonders makes Bathsheba Beach an absolute must-visit for adventure seekers and nature enthusiasts alike.
5. Miami Beach: A Tranquil Oasis for Water Sports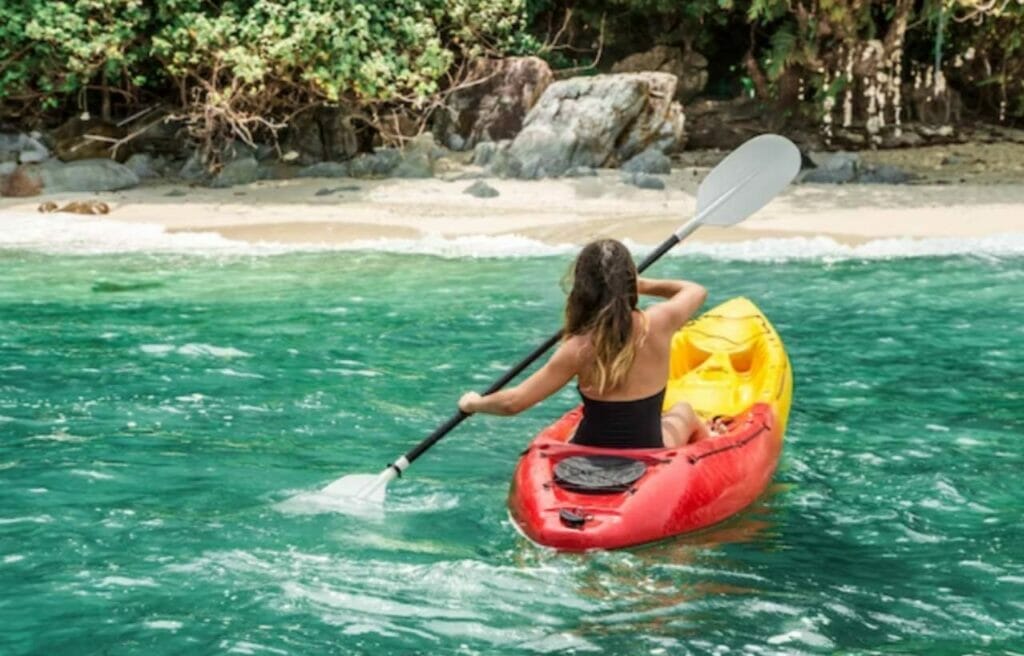 While the name might evoke visions of a bustling city, Miami Beach in Barbados offers a serene and laid-back atmosphere, perfect for those seeking a peaceful water sports experience. This beach on the south coast has calm waves, making it excellent for sports like paddleboarding, kayaking, and snorkeling.
Imagine floating through the calm waves on a stand-up paddleboard, feeling at peace as you explore the shoreline and take in the natural beauty. For those interested in exploring the underwater world, grab your snorkel and mask to discover vibrant coral reefs and a variety of colorful tropical fish.
FAQ
Which Beach Is Best For Water Sports In Barbados?
Silver Sands is considered the best beach for water sports in Barbados. Located on the southern coast, Silver Sands offers ideal conditions for kiteboarding with steady trade winds and a wide stretch of sandy beach. Whether you're a seasoned kiteboarder or a beginner looking to take lessons, Silver Sands provides the perfect playground for thrilling water sports activities.
Can You Swim In Barbados?
Swimming in Barbados is a popular and enjoyable activity. With its warm tropical environment and gorgeous beaches, the island provides various opportunities for swimming in the Caribbean Sea's crystal-clear turquoise waters. Visitors and locals alike can take a dip in the inviting waters of the many beaches scattered along the coastline of Barbados.
How Many Beaches Are In Barbados?
Barbados boasts an impressive 60 beaches spread across its 70-mile coastline. Each beach in Barbados offers its own unique charm and features, ranging from vibrant and bustling to secluded and tranquil. With so many beaches to select from, travelers may explore the many landscapes and pick their ideal area to relax, swim, or participate in water sports.