21 Best Aruba Beach Resorts (2023 Update)
Aruba is a great place for a destination wedding or a honeymoon trip. It is also a fun (albeit slightly expensive) country for solo trips and casual vacations. Among its best features are its sun-kissed beaches and turquoise water, but those aspects are common among all the Caribbean countries. What truly sets Aruba a class apart from the rest of the tropical islands is its hospitality. That's why the resort you choose for your vacation plays the most significant part in how you remember Aruba. So, what are the best Aruba beach resorts?
The best beach resorts in Aruba are Casa Del Mar Beach Resort for budget stays, Divi Dutch Village Beach Resort for families, Barcelo Aruba for couples, and Divi for activities. Look for spacious rooms, a beach view, and a variety of shops and facilities within walking distance.
In this article, you will find out the top 21 beach resorts in Aruba alongside the best things about each establishment. Towards the end, you will also discover how you can compare different establishments to select one that suits your needs.
But before we get to that, here are the best beach resorts in Aruba, at a glance:
Casa Del Mar Beach Resort 
The Ritz-Carlton, Aruba 
Playa Linda Beach Resort 
Barcelo Aruba 
Costa Linda Beach Resort 
Divi Dutch Village Beach Resort 
Divi Aruba Phoenix Beach Resort 
Divi Village Golf & Beach Resort 
Hyatt Regency Aruba Resort 
Ocean Z Boutique Hotel Aruba 
Bucuti & Tara Beach Resort (Eagle Beach) 
Aruba Beach Villas 
La Quinta Beach Resort 
Marriott's Aruba Ocean Club 
Manchebo Beach Resort & Spa 
Hotel Riu Palace Aruba 
Divi Aruba Phoenix Beach Resort 
Marriott's Aruba Surf Club 
Renaissance Aruba Resort (Flamingo Beach) 
Aruba Marriott Resort 
Hilton Aruba Caribbean Resort 
Amsterdam Manor Beach Resort
1. Casa Del Mar Beach Resort
Casa Del Mar is a great beach resort for budget vacationers, as it is a resort-cum-timeshare. Pieces of the property are privately owned, which opens up service variety. Some rooms are booked via Airbnb and have a different level of service. Others are managed by the Casa Del Mar resort management and have more of a standard vibe.
The resort has an apartment-block-style layout with a central courtyard and swimming pool. Poolside umbrellas, chairs, and loungers are available and the amenities list is pretty extensive. You can dine at one of the restaurants on the property or use the BBQing spots in the courtyard to serve fresh burgers to your friends and family.
It overlooks Eagle Beach, which is one of the three most popular beaches in Aruba. Being within walking distance from this beach gives you the choice of engaging in high-demand tourist activities at Eagle Beach, with the option of enjoying what the Del Mar establishment has to offer its patrons. And one of the most valuable amenities available to Casa Del Mar residents is the children's play area.
2. The Ritz-Carlton, Aruba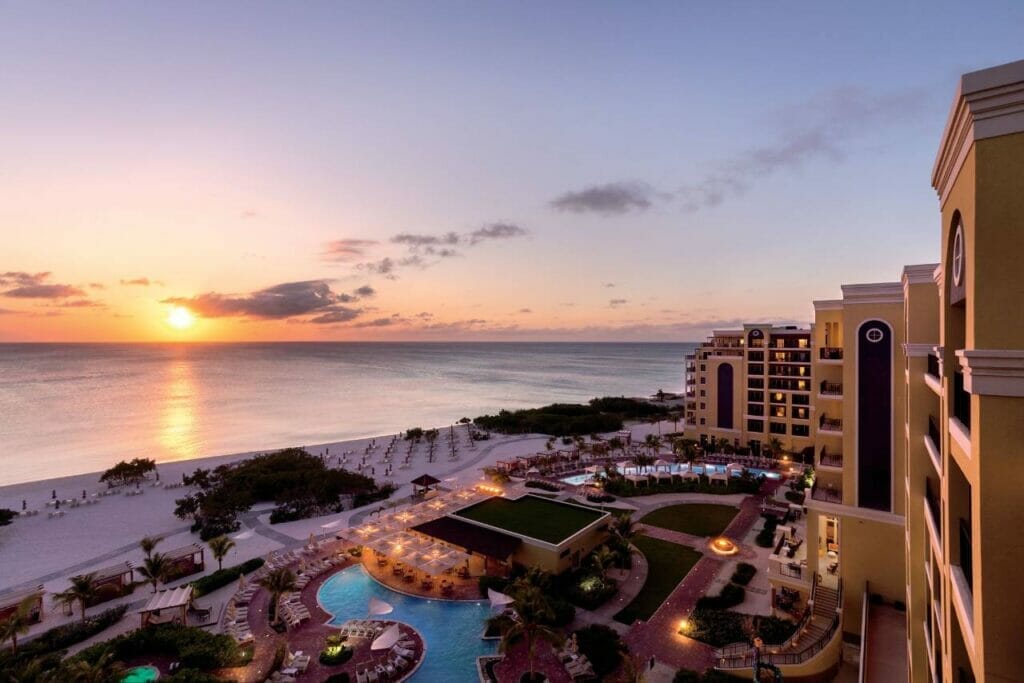 If the prospect of a budget vacation doesn't excite you as much as that of a bragworthy luxury stay, then you cannot aim any higher than the Ritz. Aruba's Ritz-Carlton is often referred to as the island's only luxury resort, though this claim is debatable. What's undoubtedly a fact is that the Ritz Carlton in Aruba offers peak luxury to its patrons.
The resort has two pools, spacious and well-designed rooms with most having an enviable view of the beach. It also has fine-dining establishments and a private beach for those who don't want the rush and congestion of peak tourist season.
The best part about the Ritz-Carlton Aruba is that it makes the indoors as interesting as the outdoors. And if you're not visiting during the March-to-June window of the year, Aruban weather can be unpredictable. For the Rtiz residents, though, a day in Aruba isn't a day wasted because they can have plenty of fun without heading out of the property.
3. Playa Linda Beach Resort
From contemporary decor to a minimalist color palate, the Playa Linda Beach Resort is a haven of aesthetic pleasure. It is a beach resort with unique stacked architecture, an engaging tourist activities program, and spacious sweets. Like most luxury resorts, it has two swimming pools and poolside amenities.
If yous stay at Playa Linda Beach Resort, though, you can enroll in the establishment's daily activities program. From water aerobics to halfcourt basketball, the daily activities schedule at Playa Linda is diverse and interesting. It is a great way to get introduced to other tourists casually.
Some rooms have art deco interiors, while others have contemporary decor. The suites have large glass windows that make them look even more spacious. You will love the lighting design of the place as it is quite visually pleasing.
The dining options at the resort include over three bars, a few cafes, and multiple restaurants that serve American food. Of course, most restaurants have a Caribbean lean, and you can enjoy fresh seafood and authentic tropical delights from restaurants like The Fishermen's Hut.
4. Barcelo Aruba
You'll enjoy your stay at Barcelo Aruba if you're a fan of community living. The entire resort is designed to maximize inter-tourist socialization. Everything fun about Barcelo is pan-patron and not private. From the Liv Casino to its swimming pool, which has an artificial waterfall, the shared spaces at Barcelo Aruba are well-thought-out.
That said, the private spaces are well-designed too. However, they're not very unique. Expect standard resort interiors with beach-view and decent lighting. Reviews of Barcelo very rarely cite interior issues but can refer to service problems. The best time to book a spot at Barcelo is when tourist interest in Aruba is generally low.
But regardless of when you book your stay at the establishment, you can expect beachside amenities, a jacuzzi with a view, and tropical fine dining.
5. Costa Linda Beach Resort
Costa Linda Beach Resort is a mid-budget establishment that is usually booked for its spacious apartments and homely courtyard. Multiple tourist tour businesses are located around its premises, so you can sign-up for a classic Aruba tourist experience within walking distance. However, that's not the main reason to book your stay at Costa Linda.
You should stay at Costa Linda if you like to relax by the beachside or around the pool. Where most resorts can get crowded, leaving some patrons without seating, Costa Linda's broad spread keeps this from happening. The beachfront portion of Costa Linda has plenty of tables and chairs with thatch umbrellas covering each table.
The loungers near the pool are comparatively limited, but you still have a better chance of being able to use them than the ones at other resorts. The suites at Costa Linda have two to three bedrooms, and most properties have a beach view.
6. Divi Dutch Village Beach Resort
Druif beach is now known as Divi beach, and multiple resorts backed by the Divi group take up the commercial space there. Three of the establishments in the Divi portfolio deserve to be mentioned here. And the first one is Divi Dutch Village.
This establishment is a low-rise resort with suburban-themed architecture. Its residents can use some of the facilities of its neighboring resorts because of the common conglomerate operating the druif-area resorts. Divi Dutch also has an admirable all-inclusive package that includes dining at its restaurants. Apart from its restaurants, its nighttime poolside vibe is also reviewed favorably.
You should stay at the Divi Dutch Village if you like the gated community lifestyle and want to engage in it in Aruba. The resort encompasses an entire neighborhood, and its architecture down to the alleys between the individual buildings, is different from general Aruban architecture.
7. Divi Aruba Phoenix Beach Resort
This Divi resort is different from the Dutch Village in multiple ways including building height. Where the Divi Dutch Village is a series of low-rise apartment blocks, the Divi Aruba Phoenix is a resort that comprises multi-story buildings with 240 rooms. The penthouse residents get the best view of the beach, while the lower-floor residents get a better view of the courtyard.
The Divi Aruba Phoenix has a very well-designed courtyard with two swimming pools and a wavy strip of paved land in between. The pool is adorned with lush greenery and multiple loungers. The fact that you can find a vacant lounger at almost any time is one of the best things about Divi resorts in general.
8. Divi Village Golf & Beach Resort
Each Divi resort differs from its counterparts in a handful of ways. What sets Divi Village Golf and Beach Resort is the golf course it owns. You can learn golf or simply play a few rounds at the 9-hole course. Aruba isn't a country with too many golf courses and its weather conditions explain why. This makes the golf course at Divi Village Golf and Beach Resort one of a handful in Aruba.
Aside from the Golf Course, there's plenty to rave about in this beach resort. First of all, it has several bars that are generous with their beverages and restaurants that offer a diverse range of delicacies. Next, the resort is planned like a city with central factors like its large swimming pool and multiple residential units.
But what makes Divi Village Golf and Beach Resort one of the best holiday establishments is the crowd it attracts. You'll notice that its guests are more sophisticated, less 'touristy,' and more laid back.
This affects the social atmosphere of the place quite positively. And if you miss the hustle and bustle of mass-market tourism, you can always step out to the public beach and enjoy the standard Aruba experience.
9. Hyatt Regency Aruba Resort
While the Hyatt Regency Aruba Resort doesn't have eccentric architecture, it does have a unique flavor. Its interiors and overall experience aren't too different from a regular Hyatt Regency establishment, but that's what you pay for. You don't book a stay at Hyatt Regency because you want something too different.
You book one because you want reliable, high-quality hospitality. And that's where this Regency resort excels.
It is one of the most positively reviewed resorts in terms of service, and it comes with everything you expect from a vacation resort in the Caribbean. Thatched roof umbrellas? Check. Sunloungers by the pool? Check. Restaurants serving fine Caribbean cuisine and fresh seafood? Check.
Hyatt Regency Resort in Aruba is also a part of the "World of Hyatt" rewards program, so you can earn loyalty points or redeem ones you've already earned when you stay at Hyatt Regency Aruba Resort.
10. Ocean Z Boutique Hotel Aruba
Hotel Chains are not everyone's cup of tea. On the opposite end of the grand hotel chain spectrum is the boutique hotel. The Ocean Z Boutique Hotel is one of the very few boutique establishments that have a beachfront location. Its architecture is reminiscent of large vacation rentals, and its all-white color scheme is reflective of contemporary minimalist sensibilities.
Other than chic interior and minimalist construction, the hotel has an aesthetic tile-lined above-ground pool and floor-to-ceiling windows that bring in plenty of light. The visual aspect of the stay is carefully managed, and the level of attention paid to the aesthetics is praiseworthy. But Ocean Z Boutique hotel offers more than its looks.
Among the hotel's popular features is its proximity to Palm Beach, Fisheman's Huts, and Boca Catalina. Residents get pool access and free WiFi, alongside a range of dining options.
11. Bucuti & Tara Beach Resort (Eagle Beach)
Bucuti & Tara Beach Resort is a 4-star establishment that is a stone's throw away from Eagle Beach. The resort is popular among honeymooners and young couples. It also offers a great beachside spot for destination weddings. If you visit Bucuti and Tara in March, you'll come across at least one wedding within the course of your stay.
The spaciousness of the resort's courtyard as well as that of its slice of the beach, make it a great place to host retreats. From cabanas for couples to beachside loungers for those looking to get their vacation tan, the resort offers much of what you'd expect from a waterfront hospitality establishment.
But what sets Bucuti and Tara apart is its inherently romantic atmosphere. The place has a youthful vibe, and an influx of young couples, honeymooners, and would-be weds throughout the year.
12. Aruba Beach Villas
While some people enjoy staying at a place that is abuzz with people and activities, others find luxury in solitude. And Aruba Beach Villas are designed to cater to the latter. These are a series of villas that fall under a single vacation rental business. Each villa features a small swimming pool and a waterfront location.
These villas are pretty much unserviced compared to high-end and even medium-tier resorts. But they do offer far more privacy and have far fewer restrictions. You can cook, barbeque, and order takeout while staying at Aruba Beach villas. While the beach is within walking distance from these villas, commercial establishments can be pretty far if you're not used to the country's public transport system.
13. La Quinta Beach Resort
La Quinta Beach Resort is a low-rise resort spread across the average span of three apartment blocks. It has a swimming pool and beachside location like most other resorts. But it is truly unique in its quality of service.
Your stay at La Quinta is going to have a local flavor and will feel like a more authentic Aruban experience. The resort is locally serviced, and the degree of attention its staff pays its patrons reflects that.
14. Marriott's Aruba Ocean Club
Bearing the prestigious and recognizable Mariott branding, Mariott's Aruba Ocean Club is a resort property with serviced apartments, dining options, and a waterfront location. Residents and guests at the club appreciate its tidiness and timely service. And Mariott regulars appreciate the points they can accumulate during their stay and on their spend at the Aruba Ocean Club.
15. Manchebo Beach Resort & Spa
Manchebo Beach is of the less crowded beaches of Aruba. The Manchebo Beach Resort and Spa is located on this beach and is pretty much the only establishment on this beach. It is ideal for tourists who like a social atmosphere but prefer not to be in crowded and congested spaces overrun by other tourists.
16. Renaissance Aruba Resort (Flamingo Beach)
Renaissance Island in Aruba is a small private island off the coast of Aruba. It is considered a part of Aruba (the country), but access to it is limited to guests staying at the Renaissance Aruba Resort and the ones who have a day pass.
If you stay at Renaissance Aruba Resort, you can access its many amenities, all of which are more exclusive than those of resorts in mainland Aruba.
On the mainland, all beaches are public beaches. But since Renaissance Island is a private island, its beach is private as well. Guests at the Renaissance Aruba Resort can visit Flamingo Beach, the island's private beach,, which has flamingos present throughout the year.
Final Thoughts: Best Aruba Resorts (on the Beach)
Aruba has 40 beaches, but not every beach has a resort. Most resorts are located around tourist-friendly and well-serviced beaches. As a result, many of them have similar location benefits. This leaves the resort choice up to factors other than the location and the proximity to water.
The best Aruba beach resorts have spacious rooms, decent interior design, and a range of in-establishment amenities. 21 of these resorts have been covered in the post above, and the criteria to decide a resort-resident fit has also been discussed.
Now you are ready to select a resort that matches your budget and expectations!