Best (and Worst) Time to Visit Aruba in 2023
Aruba is a dream destination for Caribbean vacations, beachside honeymoons, and evening parties. It is an island with year-round summer and plenty of sunshine and cigars for affluent retirees. But like any place, there are good and bad months in a year in Aruba. You should know which time of the year is best for you to visit Aruba so that the happy island doesn't disappoint you.
The best time to Visit Aruba is January to May. More specially, honeymooners can enjoy April while singles can find June to be more fun. While the best time to visit Aruba can vary depending on what you want out of your visit, September, as the worst time, is close to being universally valid.
Still, there are contexts where you are better off visiting Aruba in July. In this article, you will learn about the ideal conditions as well as the must-avoid conditions on the island. You will also find out the best and the worst time to visit Aruba for surfing, diving, exploring, and honeymooning, among other things. By the end of this post, you'll be confident about your vacation timing and have a better understanding of how Aruba changes throughout the year.
An Ideal Aruba Vacation: The Perfect Conditions To Aim For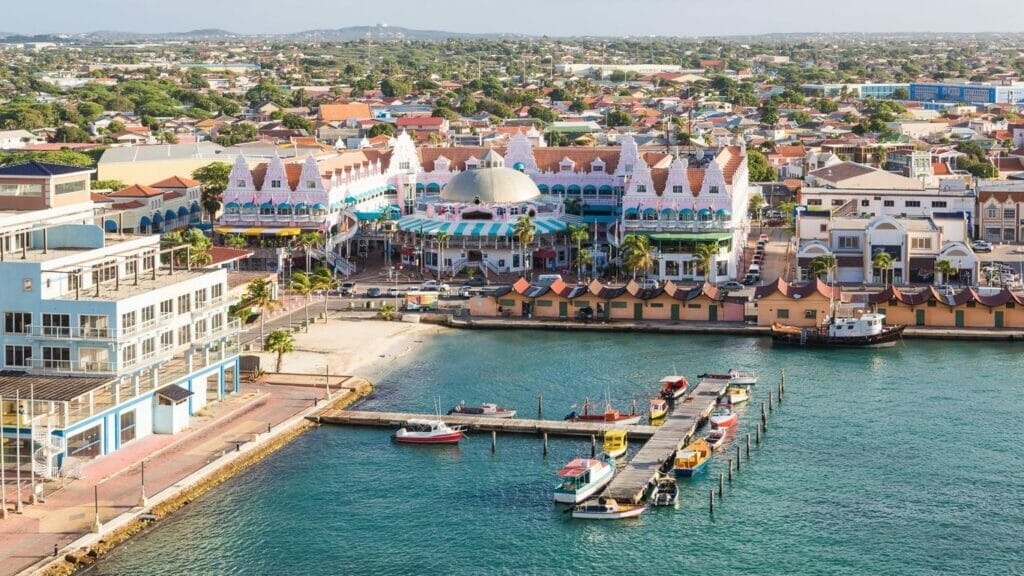 To start off, you need to have a list of factors that make Aruba vacations great. Once you know f these aspects, you just need to figure out when these are valid, and you'll have the perfect time to visit Aruba.
Clear Skies
When you visit Aruba, you don't want the sky to be cloudy because of two reasons. Firstly, clouds obstruct the sunshine for which most people visit Aruba. Secondly, the clouds don't do much to curb the extreme heat on the island.
Ideally, you want clear skies where you can watch birds, soak up the sunlight, and enjoy the summer breeze without the uncertainty that comes with a cloudy sky. A clear sky is your pass to enjoy the outdoors, provided that the sunlight isn't too harsh.
Sunshine
The Aruban sunshine is a welcome break from the gloomy skies of the Pacific Northwest, especially in the cooler seasons. However, the summertime sunlight on the island is extremely harsh. It can be a serious sunburn risk.
Ideally, you want the sunlight to have just the right intensity to be sunbathing-friendly. You want it to be good enough for pictures but not too harsh to tolerate. No matter which time of the year you visit Aruba, you will see highs and lows in the sunlight intensity during the day.
But depending on the season, the perfect hour to venture outside can vary. But usually, the period between 1 pm and 3 pm is the least optimal for sunbathing. And that brings us to the third factor: temperature.
Temperature
The temperature in Aruba is pretty high, with a 92°F summer and a 77°F winter "low." That's why Aruba is known as the "always summer Island."
Ideally, you'd want the temperature to be around 81°F, where you can appreciate the heat without risking a sunstroke. The good news is that Aruba has at least three months of optimal temperature.
From February to April, the temperature in Aruba ranges between 77°F and 89°F. This makes it perfect for sunbathing, surfing, and almost all outdoor activities commonly associated with Aruba. However, the problem with the perfect weather season in Aruba is that it draws too many tourists.
Less Crowding
An Instagram challenge showing the difference between tourist destination Instagram stories and reality has become quite popular. It has accomplished one thing for sure: exposing the fact that popular tourist spots are exhausting to visit.
Aruba might not be as crowded as the Louvre, but it is not as peaceful as the tourism ads show it to be. The best time to visit Aruba has to strike a balance between favorable weather conditions and low tourist footfall. Even extroverts can appreciate the benefits of low tourist traffic because with thinner crowds come bigger discounts.
Off-Peak Rates
As with any tourist destination, Aruba has a wide price range for different tourist activities throughout the year. The discount rate can be as steep as 50% during the slump season.
But the ideal time to go to Aruba isn't when Aruba stays are the cheapest. The best time is when the stays are slightly cheaper, but the overall experience of your Aruba stay is not adversely affected. Usually, whenever there are suspiciously steep discounts on hotel stays, chances are that there are other factors that make the vacation opportunity less appealing.
Figuring out all the possible problems that can keep your vacation in Aruba from being the best one it can be, is an excellent way to minimize disappointment.
Possible Problems In An Aruba Vacation
Whether you're trying to pinpoint the worst time to visit Aruba or are simply being mindful of what to avoid in Aruba, you might want to map out the possible problems that can come your way should you choose to go to the island nation.
Rain
Being a summer island, one would assume that Aruba would be the perfect place to get away from the chilly winter months. But Aruba is quite rainy, especially during the winter months. So, you must keep the rainfall/precipitation factor on your must-avoid list.
Crowding
Crowding is a common issue in Aruba during the peak tourist season. The problem with this problem is that it ruins an otherwise perfect situation. The most issue-free time to stay in Aruba becomes troublesome when too many people decide that it is the "perfect time" to visit Aruba. The consequences of this issue are mainly on the queues and the pricing.
Price Gouging
In tourism, price gouging is a practice of charging high prices not based on the value of a product or a service but on what an affluent customer can pay. It is also called the "tourist tax" but applies to first-world retirees as much as to tourists.
This can be a problem in Aruba throughout the year, but its intensity peaks during the high-traffic season.
Petty Theft
Also peaking during the high-traffic season is the crime related to wealth inequality in Aruba. You have to be cautious of pickpockets and purse snatchers whenever the island gets flooded with tourists.
Criminals try to make enough money to last them the three or so month tourist dip that comes during the summers.
Best And Worst Times To Visit Aruba For Honeymooners
The best time to Honeymoon in Aruba is April when the temperature is 79°F, and the prices are on a slight decline because of the upcoming conclusion of the peak tourist season. Aruba is good for honeymooners throughout the year except for a few months.
Okay, months to visit Aruba for your honeymoon: Usually, the best time to visit any honeymoon destination is right after the wedding. Fortunately, Aruba is okay to visit for honeymooners throughout the year except for the summer months, which are too harsh to be enjoyable.
The worst time to visit Aruba for your honeymoon is July to September, when the heat crosses 92°F, and you cannot step out for long. Aruba's outdoor experiences become limited and tiresome, though its indoor experiences can be deeply discounted.
Best And Worst Times To Visit Aruba For Singles
The best time to visit Aruba for singles is the peak tourist season, which ranges from February to April. Solo tourists during the month of February are often single and even looking for a vacation romance.
Singles looking to find a romantic partner who is also interested in traveling are a small category for which crowding is a perk instead of a drawback.
That's why the worst time to visit Aruba for singles is July and December, both of which are months when the island has far fewer tourists than its monthly average.
Best And Worst Times To Visit Aruba For Surfers
If you are a surfer, you probably detest perpetually calm waters. Fortunately, Aruban beaches aren't ever entirely calm. The average wave in Aruba is 1 to 4 feet tall, which is a pretty wide range for beginner and intermediate surfers. For advanced surfers, the best time to visit Aruba is during the hurricane season.
The hurricane season on the islands lasts from June 1 to October 31, depending on which coast you observe from. Overall, it is the hurricane season in the Caribbean that affects the waves and the break momentum in Aruba.
The best time to go surfing in Aruba is October to December for beginners and January to March for advanced surfers. The period between November to February is ideal for intermediate surfers.
There is no specific time that is the worst for surfing in Aruba, as there is a decent wave-height diversity across the various coasts and beaches of Aruba throughout the year.
Best And Worst Times To Visit Aruba For Divers
Where surfing is fun when the waves are rough, diving is suboptimal during storms. The worst time to dive in Aruba is at night during October. The sea is seriously stormy, and the water can be affected at depths of 300 feet, which is just short of the Statute of Liberty's height.
The best time to dive is during the brightly sunlit midday in May, when the sea is at its stillest. While the water temperature in Aruba is perfect during this month, the outside temperature is pretty extreme. That can work in your favor, though. Fewer tourists visit Aruba during this period because of the extreme heat, which means your stay is set to be cheaper.
Best And Worst Times To Visit Aruba For Explorers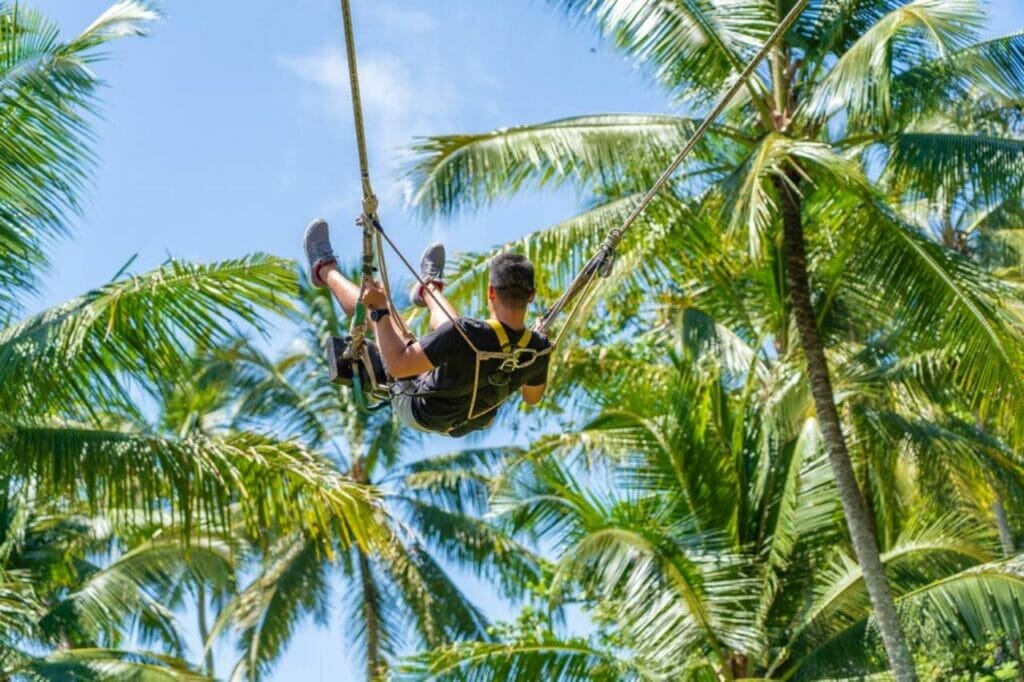 Explorers, unlike surfers and divers, want to have adventures on and off the land. This makes the March to May period ideal for them as the general atmosphere of the island is great, and the adventurous tourists can partake in almost every activity that the island has to offer. Check out the post on zip lining in Aruba for some context.
The worst time to visit Aruba as an explorer is the July through September period, when the sunlight is harsh, and the temperature is extreme. It is impossible to enjoy any outdoor activity for long, which confines tourists to indoor spaces like spas and malls.
Best And Worst Times To Visit Aruba For Beach Lovers
Beach lovers can visit Aruba whenever they want, but the best time to visit the island is when it isn't raining, and the sunlight intensity is perfect for sunbathing. Given that it rains the least in March and April and the temperature range during this period is 79°F to 89°F, it is fair to say that these months are perfect for beach lovers.
The worst time to visit Aruba for its beaches is when the rainfall and cloud cover ruins the beachgoing experience. Any that time is December, the rainiest month of the year with 9 days of full-day sunshine in the whole month.
Best And Worst Times To Visit Aruba For Dollar Stretchers
By now, it might seem like the answer is clear-cut: The best time to visit Aruba can vary based on what you want out of your visit, but the July to September period is unanimously the worst time to be visiting the island. But there is no such thing as a universally bad time to visit Aruba.
The best time to visit Aruba for dollar stretchers is the time when the affluent tourist population is disinterested in the island. And that's the June to September period, with August and September being the least expensive and the most unpleasant months on the island.
For the more sun-averse dollar stretchers. The November and December months are rainy, which is why tourists are slightly less interested in visiting Aruba. This disinterest incentivizes hotels and tour operators to lower their prices.
The worst time in Aruba for those saving money is the February to march period. During these months, tourism in Aruba is at its peak, and everything from hotel accommodations to local vendors' prices is marked up.
Best And Worst Times To Visit Aruba By Your Local Geography
Having established that different people can find Aruba appealing at different times based on their interests, it is time to look at how geography can affect Aruba's appeal. Here is how different seasons/months in Aruba attract different types of tourists.
February to May – American honeymooners visit Aruba during this period because March and April and considered the best months for a honeymoon. Since Americans make up 60% to 70% of Aruba's tourist traffic, the prices of hotels in Aruba are quite high. 
June to September – North Asian tourists visit Aruba during this period as they can appreciate its warmth. Pacific Northwestern Americans and Canadians can also enjoy this season in Aruba. 
October and November – Arabs and South-East Asian tourists enjoy the rainy months in Aruba. For tourists from dry countries, rainy weather is considered good. However, not many of them visit Aruba because of the distance of travel and the hot weather. 
December and January – This period is preferred by tourists from arab countries who want a combination of mild heat and rain and don't even mind a potentially cold country. That said, arab countries themselves draw more tourist traffic during winters compared to Aruba because they offer warmth and rain-free weather, for the most part.
When Should I Visit Aruba?
At this point, you understand that Aruba has something for someone at every point in the year. The question now is, what is the best time for you to visit Aruba? And this depends entirely on your situation, which is far from a one-dimensional one. So here is a nuanced take on when you should be visiting the happy island.
| You Are | And You Prefer | So You Should | Why |
| --- | --- | --- | --- |
| A newlywed | Budget holidays | Visit Aruba in January | Because the tourist interest in Aruba is low during this period, so there are steeper discounts |
| A newlywed | Expensive holidays | Visit Aruba in March | Because this is the peak honeymoon season. |
| A surfer | Big waves | Visit Aruba in October | Because the storms in the Caribbean cause challenging waves |
| A surfer | Easy breaks | Visit Aruba in April | The average wave height during this month is lower than 2 feet. |
| A solo tourist | Finding company | Visit Aruba in February | February is the month of romance because of Valentine's day. Solo tourists during this month are open to finding love. |
| A solo tourist | Being alone | Visit Aruba in December | Aruba is less crowded during December because of the rainy weather. |
| A beach lover | Extreme heat | Visit Aruba in August | Aruba has 9 hours of sunlight in August |
| A beach lover | Mild heat | Visit Aruba in February | Aruba has mild to moderate sunlight during this season |
| An explorer | Underwater and indoor exploration | Visit Aruba in August | During this month, prices are low, and the heat factor isn't as bothersome for those interested in driving and indoor adventures. |
| An explorer | Exploring the outdoors | Visit Aruba in March | During these months, Aruban weather is perfect for outings and |
Wrapping It Up
Aruba is a unique vacation destination that offers something different to each visitor. Most people come to Aruba to unwind and relax by the beach, but they don't all get the same cookie-cutter experience. Some find love while traveling solo in February.
Others bring their love and celebrate it with Caribbean spa sessions. Depending on what you want, there will definitely be good and bad times to visit Aruba. But no matter what time of the year it is, it is the best time to visit Aruba for someone.