Berlin vs. Amsterdam: Which Vacation Is Better?
Berlin vs. Amsterdam: It can be a tough choice to make when you have two culturally rich and vibrant cities to choose a vacation destination from. Berlin has a diverse culture and many museums, restaurants, and galleries. In its regal ambiance, Amsterdam offers you calm waters to travel on, greenery to bathe in, and beautiful streets.
The main difference between Berlin and Amsterdam is that Berlin is better if you want to experience its cultural flair, diverse art scenes, vibrant streets, classic architecture, and tumultuous history. Similarly, Amsterdam offers a lot in terms of landmarks, architecture, scenery, and culture. If you enjoy nightlife and festival activities, Amsterdam is where you want to be.
| Category | Berlin | Amsterdam |
| --- | --- | --- |
| Cost Range for 1 Week | $848 per person | $1,060 |
| Transportation | Public buses, Taxis, Trams, Trains, and Bicycles. | Buses, Trams, Trains, Metros, Ferries, Taxis, Bicycles. |
| Notable Attractions | Brandenburg Gate, Glass Dome of the Reichstag, East Side Gallery, Museum Island, Holocaust Memorial. | Museumplein, Anne Frank House, Van Gogh Museum, Herengracht, Jordaan District. |
| Weather | Cloudy, windy, and cold winters. Comfortable summers. | Summers are partly cloudy but pleasant, while winters are windy and cold. |
| Food and Drink | Eisbein, Bretzels, Senfeier, Kartoffelpuffer, Berliner Doughnuts. | Satay, Poffertjes, Mint Tea, Oorlog French Fries, Cod. |
| Activities for Kids | Zoo Berlin, Tierpark, Ausflüge ins Berliner Umland, Museum of Natural history, waldhochseilgarten Jungfernheide. | Artis, Nemo, The Historic Tram, The Blue Boat Pirate Cruise, Tony's Chocolonely, The Scheepvaartmuseum. |
| Nature Attractions | Sanddon-Garten Petzow, Planterwald, Kienbergpark, Wildlife Park Schorfheide with Climbing Park. | Keukenhof Flower Park, Forest Discovery Game, Waterland and Fishermen's Village, Artis Zoo. |
Berlin is a city that accommodates everyone, regardless of their cultural background. This diversity is the basis of its electric atmosphere. There is so much to see, so much to learn, that you'll find yourself scrambling for time to see it all.
Amsterdam leaves you wandering and wondering how a city so old could still be standing with so many people of different cultures.
Cost of Stay
Because Berlin is a flexible city that accommodates people of different social classes, it can be expensive or cheap, depending on your choices. High-end restaurants, hotels, and car rentals will be inadvisable for someone who's on a budget. However, more affordable options are available to make your vacation an enjoyable one.
Although Amsterdam is in a smaller country, the average cost of staying there for a week is more than Berlin. You may even find it more expensive, depending on your choice of lodging, transportation, and food. Luxury choices will cost more, while simpler choices will cost less, and you may get to experience the people's culture and originality more.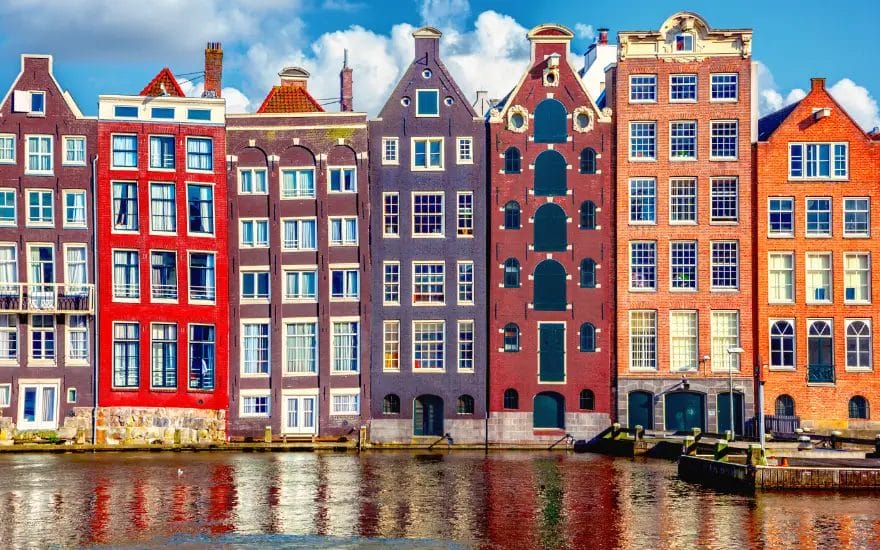 Best Affordable Hotels
Both Berlin and Amsterdam are great places for budget travelers. We can assure you that you'll find plenty of reasonably-priced accommodation options.
In Berlin, the Meininger Hotel Berlin Mitte Humboldthaus is a great place to stay. It has private rooms and mixed dorms for different needs. You also get a lounge, a kitchen, and free Wi-Fi. The Eastern Comfort Hostelboat is a budget hostel that lives up to its name. You can also try the Hüttenpalast Hotel, Almodóvar Hotel Biohotel Berlin, and the Dude Berlin-Mitte.
In Amsterdam also, you don't have to break the bank to enjoy a good vacation. We find the Meininger Hotel Amsterdam Amstel to be one of the most affordable hotels around in Amsterdam. Another option is the Hotel Espresso City Center. It is close to the largest green space in the city.
In Amsterdam, you can also try Hotel Dwars, Volkshotel, CitizenM Amstel, and Qbic Hotel WTC Amsterdam.
Main Attractions
Berlin offers tourists a reminder of the past mistakes in the Holocaust Memorial. The largest palace in Berlin, the Charlottenburg Palace, is close to the city center. Wander through its gardens and get lost in nature.
The infamous Berlin Wall has been replaced with Checkpoint Charlie, a constant reminder of the disparity between the east and the west. Now, cross the River Spree and check out all, if you can, the museums on the Museum Island.
Start experiencing the culture in Amsterdam from the Museumplein. The Museumplein is a square on which other sites of attraction like the Van Gogh's Museum that opened in 1973 and has more than 200 paintings, Concertgebouw where classical concerts are performed, and the Stedelijk Museum are located. The Museumplein hosts outdoor activities all year round.
From the square, ride your bike to the Anne Frank House and be enthralled by the story of Anne Frank, her diary, and the Secret Annex. Enjoy food from street vendors while you relax in Vondelpark.
Activities for Kids
An avenue for kids to learn and expand their knowledge of the world, visit the German Museum of Technology and the Museum of Natural history. For an appreciation of nature, take your kids to Ausflug in Berliner Umland and the Tierpark.
Nemo, a science museum in Amsterdam, is specially made to intrigue kids. In the city center zoo, Artis, kids will have fun watching animals roaming and flying freely. For adventure, the Blue Boat Pirate Cruise is available for them to go on treasure hunts.
Food and Drinks
There are plenty of German dishes to try in Berlin. One of the foods to try in Berlin is Apfelstrudel, a popular dessert made with sliced apples and raisins baked into a flaky, juicy crust. You should also try the currywurst, a sausage with ketchup covering and curry. Other popular foods include Bulette, equivalent to a hamburger, and Berliner doughnuts.
Pannekoeken, as they are called in the Dutch Capital, are thin pancakes filled with varieties ranging from cheese to banana or chocolate sauce. We absolutely think you should try one of those. While heading to the park, visit a street food vendor and purchase the war fries called Patatje Oorlog. It is usually served with mayonnaise owned by the Dutch.
Stroopwafels are also pretty good. You can end your day with a bottle of any beer of your choice. Amsterdam has them in abundance.
Weather
Amsterdam is almost always cloudy; it doesn't matter if it's summer or winter. The winters are harsh, windy, and cold, while the summers are pleasant. You can expect more sunshine and less rain in May.
In Berlin, rainfall is common throughout the year, with June and August experiencing the highest rainfall. The best time to visit Berlin for the weather is between May and October.
Safety
Berlin is relatively safe. It is one of the tourism destinations with a low risk of violence. However, crimes are committed in areas with a low tourist population. There is a possibility that your pocket could be picked, so stay alert and beware of scams.
In Amsterdam, safety might be of concern due to the prevalence of drug use and the number of bicycles on the road. The major crimes in Amsterdam are pickpocketing, knife crimes, and some more serious ones. You will enjoy a great vacation in Amsterdam if you avoid violent areas.
Transportation
Berlin is a big city with an efficient transportation system. The public transportation system is interlinked from east to west, which makes it confusing for a tourist. However, there are timetables to follow. Other transportation options include taxis, but they don't come cheap, and bicycles for navigating the streets for sightseeing.
Amsterdam has a straightforward public transport system. The city's neighborhoods are connected by trams, metro, ferry, and buses, all with a chip card you should purchase in advance. There are also cards with special privileges for visitors.
Conclusion: Berlin Vs. Amsterdam
Amsterdam and Berlin are two cities with so much to offer in terms of culture and arts. Berlin takes it further with its incredible technological capabilities. Both cities are great if you're looking to take your kids with you on vacation.
It is important to note that Berlin is safer than Amsterdam. Nightlife in Berlin is of enjoyment and fun, but Amsterdam's night parties can easily escalate into disturbance, especially when drugs are involved.
Don't roam the streets alone at night, and avoid the Red-Light District if you can.