Belize vs. Aruba: Which Is Better for Vacation?
Choosing a location for an upcoming holiday can be difficult if you have no previous experience to reflect on. If you are searching for the best getaway destination, many may ask which is a better location, Belize vs. Aruba? The answer may not be that simple, as each country has distinguishing benefits.
When comparing Belize to Aruba, active travelers prefer Belize, while Aruba suits more relaxed tourists. Belize is a tropical climate, while Aruba is a desert locale. The activities you plan for a vacation, along with other aspects, will help you decide on Belize or Aruba.
| Category | Belize | Aruba |
| --- | --- | --- |
| Cost Range for 1 Week | $468 per person USD | $1,832 per person USD |
| Main Attractions | Ambergris Caye, The Blue Hole, Placencia, Turneffe Islands Atoll, Caye Caulker, Mountain Pine Ridge Forest Reserve, Altun Ha Archeological Site | Oranjestad, Arikok National Park, the California Dunes and California Lighthouse, Aruba Aloe Museum and Factory, the Donkey Sanctuary |
| Food | International cuisine, Mexican-Caribbean cuisine, American, Latin American, and Central American cuisine, Japanese cuisine, Seafood, Euro-Caribbean menus, authentic Belizean cuisine. | Authentic Aruban cuisine, American cuisine, International cuisine, Fast-Food, European cuisine, Asian options, Italian and Spanish cuisine, Argentinian cuisine, Portuguese and Peruvian menus, Belgian and Dutch cuisines. |
| Weather | Hot and humid most of the year | Hot and dry most of the year |
| Safety | Petty crimes occur with tourists, credit card and ATM theft occur, never leave food and drinks unattended. Women should practice caution and never travel alone, LGBTQ2 travelers should avoid public displays of affection. | Petty crimes occur with tourists, avoid unpatrolled beaches after dark and unpopulated areas. Never leave valuables unattended. |
| Transportation | Busses, Water Taxis, Taxis | Taxis and Busses |
| Customs | Valid Passports are required, Tourist Visa not required for stays up to 30 days. Business and Student Visas are required for entry. Travelers may need to produce a return ticket and proof of funds to cover your stay. | Valid Passports are required, Tourist Visa not required for stays up to 30 days. Business Visas are not required. Student Visas and Work Permits are required. Proof of health insurance, return ticket, and funds to cover your stay are required. A completed Embarkation and Disembarkation card (ED-card) is needed. |
Both Belize and Aruba are great vacation spots giving visitors terrific places to stay and things to do in both locations. It is always a good idea to break down exactly what you are looking for in your upcoming holiday so you can make the best choice for both a fun and relaxing time away.
The expanded attributes below include cost, main attractions, food, weather, safety, and transportation to help you make an informed choice.
Cost of Stay
The cost of staying in a hotel is a substantial expense for any vacation.
Travelers want a clean, safe place to stay that is affordable, provides essential amenities, and is stress-free. Often you can find all of these attributes in lower-cost alternatives rather than choosing the higher-priced hotels advertised. With a little research, you are sure to find affordable accommodations in Belize or Aruba to suit any budget.
Affordability in Belize
For travelers on a budget, Belize is an attractive choice. The cost of hotels can vary significantly, depending on the available amenities and ratings. You can expect to pay anywhere from $68 up to $128 USD per night on average for a hotel in Belize. High-priced hotels are abundant for those tourists looking for high-class accommodations.
There are many affordable options in Belize for travelers on a budget, including:
Aruba's Affordable Accommodations
Aruba can be pricier for tourists, but there are still many affordable options for travelers. There are several reasonably priced hotels in the area, but for those tourists looking to save money, vacation home rentals can be the best route. You should budget anywhere from $50 up to $145 USD on average for lower-cost accommodations in Aruba.
A few of the best value options in Aruba for tourists include:
Finding alternative hotels in Belize or Aruba to suit any financial situation does not have to be a difficult task. Lower-cost hotels and vacation rentals give tourists more options to save money while still enjoying their stay in clean, safe accommodations.
Main Attractions
Belize Attractions
For travelers looking for adventure or activities, a Belize vacation could be the answer. From cave tours and barrier reef explorations to ziplines and horseback tours, you are sure to find something to fill your days. Its archeological history attracts visitors from all over the world.
This short video can give you a glimpse of what Belize has to offer visitors in beauty and adventure.
If you are interested in diving or snorkeling, these places could be for you:
The current culture and past civilizations are a great attraction for visitors in Belize. Some must-see historical spots in Belize include:
Must-See Attractions in Aruba
Aruba attracts regular visitors due to its warmer, predictable climate that lies outside of the Caribbean hurricane belt and isn't regularly affected by extreme weather. Activities including snorkeling and diving, and sailing or hiking, can give you an authentic Aruba adventure on your next vacation.
The video below showcases Aruba's natural beauty and some highlights of this colorful island.
Known for the stunning beaches, Aruba is a great place to relax and enjoy the scenery. Additionally, visitors looking for some excitement are sure to find it with the many wreck diving adventures, snorkeling, and swimming in a natural pool just on the coastline.
Visitors to Aruba are sure to enjoy the many attractions, including:
Food
Many world travelers favor the local cuisine in Belize. When traveling abroad, exploring the local cuisine is a must, especially in a locale like Belize. Popular dishes, including rice and beans, tamales, and Garnache, are just a few of the enticing food dishes to explore. For tourists looking for more traditional options, Belize has a host of options for any palate.
If you are staying in Belize, some top places to eat include:
Eating in Aruba can be an adventure itself. Stobas, or stews, are one of the most popular choices in this vacation destination. Praised as Aruba's national dish, Keshi Yena is simply a baked casserole of leftovers in a hollow Edam cheese rind. As an island, Aruba has some of the best seafood options available for locals and tourists alike.
Some fantastic options in Aruba to choose from are:
Weather
Belize is located south of Mexico and Guatemala to the south and the west. The Caribbean Sea is to the east, which gives it the rainforest environment and the 174 miles of the coastal barrier reef.
The peak tourist season is October until April. The average temperature in Belize during the dry season (January until May) is 73°-82°F (22°-28°C) and during the rainy season (June until mid-November, Belize temperatures can get up to 79°-86° F (26°-30°C). Hurricanes do affect Belize and can happen from July to October.
Aruba is an island located in the southern Caribbean Sea, north of Venezuela. Although it sits in the Caribbean, the climate is arid, dry, and desert-like. The average temperature in Aruba ranges between 84°-88°F (29°-31°C) and remains steady throughout the year.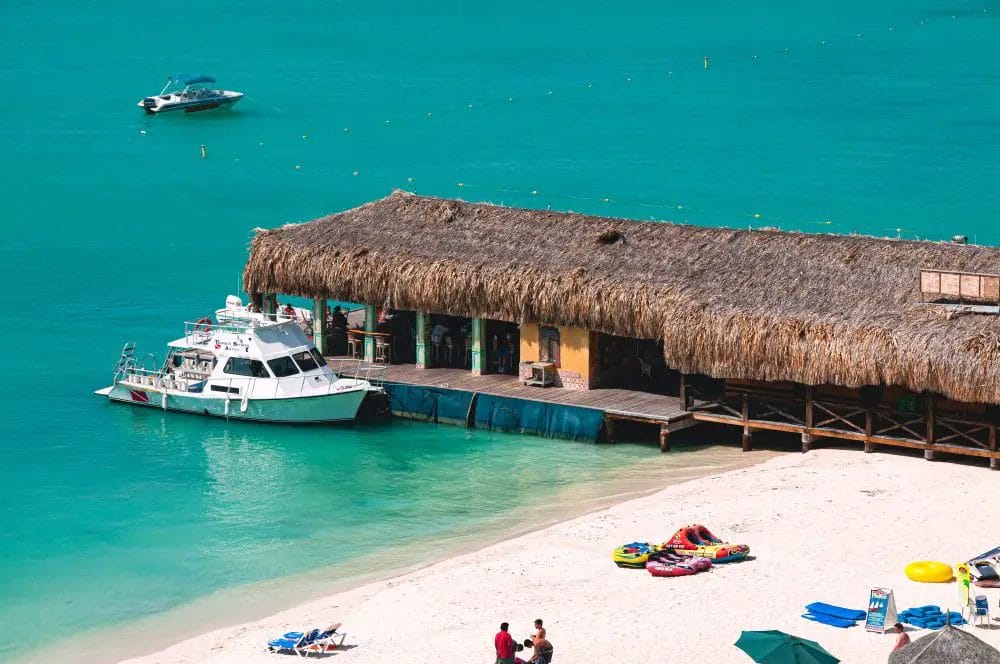 The peak tourist season for tourism is January until March, and the low season is April until August. Although Aruba's rainy season is typically from late-October to January, rain usually happens at night and only in small bouts.
Safety
Travelers should always be diligent on keeping themselves and their belongings safe while on vacation anywhere in the world. Often smaller destinations like Belize and Aruba will have petty criminals that target tourists regularly, so being aware of your surroundings is essential.
When comparing Belize to Aruba in terms of safety, there are more precautions travelers should be aware of when in Belize. Aruba does not have reports of as many petty or major crimes that Belize does, making it appeal more to female tourists or those traveling alone.
Transportation
There are a variety of ways to get around once you are in Belize. From local taxis, busses, water taxis, and car rentals, you can find your way around quite easily. Some tourists will book charter tours and private transfers while on vacation to make getting around easier.
Public transportation in Aruba is affordable and easy to use. The use of taxis is quite common through Aruba due to the small size of this island, so costs are quite inexpensive.
Conclusion: Belize vs. Aruba
Conducting some research on what features and qualities you want in your next holiday will help you decide between these two fantastic destinations. Historical adventures are abundant in Belize, while a temperate, relaxing location awaits you in Aruba.
You cannot go wrong with a vacation to Belize or Aruba. Both destinations can offer you beautiful scenery with once-in-a-lifetime experiences. Each location has a multitude of features that you cannot get anywhere else, so you will not regret your vacation to either of these popular vacation spots.