Barbados vs St. Lucia (2023 Showdown)
The Caribbean hosts some of the world's most iconic and luxurious holiday destinations. Whether traveling as a family or on your honeymoon, the Barbados and St. Lucia islands should be among your top choices. Here is a Barbados vs St. Lucia overview of what each island offers to help you plan your next vacation.
The main difference between Barbados and St. Lucia: Barbados is famous for its powdery white beaches of clear turquoise water and delicious Caribbean cuisine that you can wash down with a glass of world-class rum. St. Lucia is ideal for a nature-inspired holiday, courtesy of its lush rainforest, stunning waterfalls, and natural baths.
| Category | Barbados | St. Lucia |
| --- | --- | --- |
| Cost of Stay (USD) | Average hotel room rates of $150 per person | Average hotel room rates of $281 per person |
| Transportation | Bus, Car Rental | Taxi, Minibus, Car, Scooter |
| Notable Attractions | Downtown Bridgetown, St. Nicholas Abbey, Farley Hill National Park, Sunbury Plantation Great House | Pigeon Island National Park, Helicopter Tours, Marigot Bay, Castries Market, Fond Doux Plantation |
| Weather | Tropical climate with average annual temperatures of about 26.8 degrees Celsius | Tropical rainforest climate, with average day temperatures of 30 degrees Celsius and nighttime averages of 24 degrees Celsius |
| Food and Drink | Multi-cultural cuisine with African, Creole, European, and Indian influences. | A blend of French, East Indian, and British cuisine |
| Activities for Kids | Dover Beach, Barbados Museum & Historical Society, Harrison's Cave, Carlisle Bay | Virgin Cove, Splash Island Water Park, Anse Chastanet Beach, Atlantic Shores Riding Stables, Tet Paul Nature Trail |
| Nature Attractions | Andromeda Botanic Gardens, Welchman Hall Gully, Harrison's Cave, Animal Flower Cave | Edmund Forest Reserve, Torraile Falls, The Pitons, Sulphur Springs Park, Diamond Falls Botanical Gardens |
| Honeymoon Recommendations | Pebble Beach, Bathsheba Bay, Richard Haynes Boardwalk, Flower Forest | Rodney Bay, Cap Maison, Sugar Beach, Fort Rodney, Morne Coubaril |
Cost of Stay
Barbados has many accommodation options, including hotels, hostels, high-end villas, and Airbnb. These are available all year round, but you must check for availability during peak season. The average cost for a hotel room is about $150 per person per night. Airbnb is the cheapest accommodation option, with a private room as low as $17 a night. During your stay, you should consider Coconut Court Beach Hotel, All Seasons Resort, and Sea Cliff Cottage.
The average accommodation cost varies in Saint Lucia, depending on what side of the island you choose to stay on. The island's north side is the busiest, with the average room rates at about $273 per person. This is because the area is home to the Hewanorra International Airport and Pointe Seraphine Cruise Port. Room rates on the south of the island average about $106 per person, with accommodation options such as self-catering villas, resorts, and hostels. Key properties to consider when in St. Lucia include Calabash Cove, Cap Maison, Jade Mountain Resort, and Stonefield Villas.
Transportation
Barbados is a fairly small island occupying an area of about 430 square kilometers. This makes navigating the island easy, with the main means of transportation being taxis, rental cars, buses, and minivans. Public transport is the cheapest, with standard fares starting at $1. Ensure you have the local currency when using public transport because operators do not accept foreign currency. Renting a car is expensive at around $60 daily, but the convenience it offers is worthwhile.
The best way to navigate St. Lucia is by rental car, which costs about $56 for a full-size SUV. Public transport is unreliable due to the island's poor road network, which makes it difficult to explore the island's south area. Taxis are also a suitable alternative, with most operators doubling as tour guides. The average taxi fare is around $20 for a trip from Castries to Rodney Bay. Always confirm the currency the driver uses before boarding a taxi to avoid exploitation.
Notable Attractions
Barbados is mostly famous for its natural wonders, such as powdery white beaches, clear turquoise water, natural caves, and wildlife reserves. The island also has several historical landmarks, including churches, sugar mills, and UNESCO World Heritage sites. Downtown Bridgetown is also a popular tourist attraction. It features several iconic landmarks such as the National Heroes Square and the neo-Gothic style Parliament buildings.
Other notable attractions in Barbados include the St. Michael Cathedral, Nidhe Israel Synagogue, and Queen's Park, home to the 1000-year-old baobab tree. The Sunbury Plantation Great House is also worth a visit if you want to learn about the life of early settlers on the island. It features artwork from the 1660s, beautiful mahogany furniture, and a vast collection of horse-drawn carriages the settlers used to navigate the island.
Saint Lucia's most notable attraction is the drive-in volcano. It is located south of the island and is famous for its hot springs and sulfur mud baths. The Piton Mountains are also a huge draw for tourists, and several tour operators offer guided hikes to the peak of each mountain.
Saint Lucia is also home to some of the world's most beautiful beaches, with Anse Chastanet, Marigot Bay, and Rodney Bay regularly featured in travel brochures. The white and golden shores provide amazing photo backgrounds, and the clear waters are excellent for snorkeling and paddleboarding. Another highlight of the island is the Morne Coubrail and Fond Doux Plantations, where you participate in the chocolate-making process and taste your creations once complete.
Weather
The best time to visit Barbados is during the dry season, which runs from mid-December to mid-April. Temperatures average at around 30 degrees Celsius, and the cool sea breeze ensures a comfortable and serene environment. Despite the wet season between May and October, the rain usually gives way to sunshine, meaning your holiday remains unaffected.
St. Lucia enjoys a tropical rainforest climate with average annual temperatures ranging from 23 to 31 degrees Celsius. The best time to visit the island is from December to April, when the average temperature is a modest 26 degrees Celsius, and the trade winds constantly blow to refresh the island air. This period represents the high season, and you should book your trip early to avoid inconveniences.
Cuisine
Bajan cuisine draws influence from African, Portuguese, Indian, Creole, and British backgrounds. Most meals feature meat or fish with plenty of spices and herbs for flavor. It is also common for meals to be accompanied by a glass of rum. The island is home to Mount Gay Distillery, the world's best rum distillery since the 18th century, with world-class varieties like Mount Gay Rum Extra Old and Mount Gay Black Barrel.
A standard meal will cost you between $30 and $100, with the most famous dishes being Cou Cou and Flying Fish, Pudding and Souse, Macaroni Pie, and Roti. You can also enjoy authentic Bajan cuisine from the island's numerous food trucks and street restaurants. The Friday Fish Fry at Oistin's is a must-attend event, where $10 gets you a full plate of fish, rice, and a slice of macaroni pie.
St. Lucian cuisine combines East Indian, French and British delicacies. Most meals comprise seafood and meat, with bananas, ground tubers, and vegetables as accompaniments. The island is also famous for its beverage menu comprising fruit juices from golden apples, mangoes, starfruit, and tamarind. Other drinks you can anticipate when visiting Saint Lucia include local wines and rum punch.
Kids Activities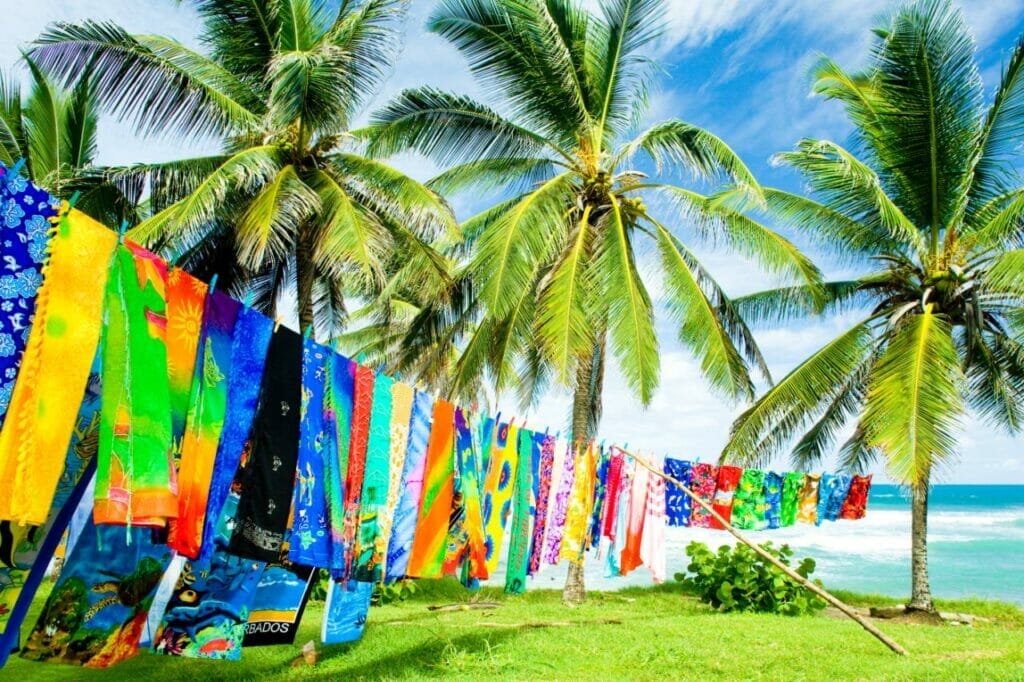 Barbados offers several family-friendly activities. Bathsheba Park and the Barbados Wildlife reserves are among the top attractions for families. These locations allow you to explore the island's pristine beaches and interact with the local wildlife, including green monkeys, black birds, iguanas, tortoises, and macaws.
You can also explore the Bajan coastline by booking an underwater tour with Atlantis Submarines Barbados in Bridgetown. A professional submarine crew takes your family to depths of about 150 feet, where you can watch native and exotic fish navigating the colorful coral reefs.
The Saint Lucian rainforest offers plenty of fun family activities. A hike along the Tet Paul Nature Trail presents iconic views of the island and the opportunity to interact with local wildlife and plant species. You can also take the Hotel Chocolat tour, where you and your family participate in the chocolate-making process and get to taste your creations.
Splash Island Water Park is also an ideal family-friendly spot. It features numerous water sports activities like inflatable courses, water slides, and diving. Tree Top Adventure Park offers zip-lining in the rainforest, which is home to the longest and fastest zip lines in the Caribbean.
Honeymoon Recommendations
Barbados is a prime destination for honeymooners. With over 70 miles of natural coastline, the island offers all-inclusive private suites and picturesque landscapes to capture your most intimate moments. You can also tour the Flower Forest, a 53-acre botanical heaven featuring different species of indigenous and exotic plants, with one blooming regardless of the time of year you visit.
The Richard Haynes Boardwalk is also a hotspot for newlyweds. This 1.6-km stretch offers views of Barbados' natural landmarks, including Hastings Rocks and the pristine Accra Beach. You can wind down the evening by enjoying soothing music and delicious meals from the Tapas and Naru Restaurants, also located along the boardwalk.
With offerings like Love Nest Butler Suites and Serenity, there is no doubt Saint Lucia is the top honeymoon destination in the Caribbean. The island offers high-end honeymoon packages through its resorts, ranging from 5-star accommodations to natural spa treatments in the rainforest.
The island also boasts some of the world's best beaches, with areas like Marigot Bay always featured in travel catalogs. Other activities to consider for your honeymoon include Saint Lucia and Gros Islet Friday night street parties. You will enjoy authentic Saint Lucian cuisine, drink lots of rum, and dance to the most popular Caribbean and international tracks.
The Caribbean region is truly one of the world's best holiday destinations catering to every tourist. You can unleash your adventure side by trekking the Saint Lucian rainforest or enjoying a sun-kissed vacation on the pristine beaches of Barbados. Either way, the region is safe for tourists, and you can still have a fabulous time regardless of your budget.