Barbados vs. Bermuda: Which Island Is Better for Vacation?
Barbados vs. Bermuda: Vacationing on an island always sounds like a fantastic idea. There are sandy beaches to explore, tons of water activities, and interacting with the locals is quite refreshing. When looking for the best islands for a getaway, you might find yourself choosing between Bermuda and Barbados.
Barbados and Bermuda are both great for a beach experience. Barbados is home to the most vibrant festivals if you're looking for a fun-filled adventure that will allow you to party till you drop. Bermuda is a better choice for anyone looking for a historical experience and adventure.
| Category | Barbados | Bermuda |
| --- | --- | --- |
| Cost Range for 1 Week | $2,104 | $1,151 |
| Main Attractions | Bathsheba Bay, St. Nicholas Abbey, Hunte's Gardens, Barbados Concorde Experience, Oistins, Richard Haynes Boardwalk, Bottom Bay Beach, Harrison's Cave | Horseshoe Bay Beach, Hamilton, National Museum of Bermuda, Bermuda Underwater Exploration Institute, Royal Naval Dockyard, Gibb's Hill Lighthouse |
| Weather | Hot sunny summers with tropical rain showers. Hurricane season runs from June through November | High humidity during the summer, which runs from May to November. Winter records lower temperatures but is still comfortable enough for various water activities |
| Transportation | Rented cars, taxis, government-operated buses | Buses, mopeds, scooters and taxis |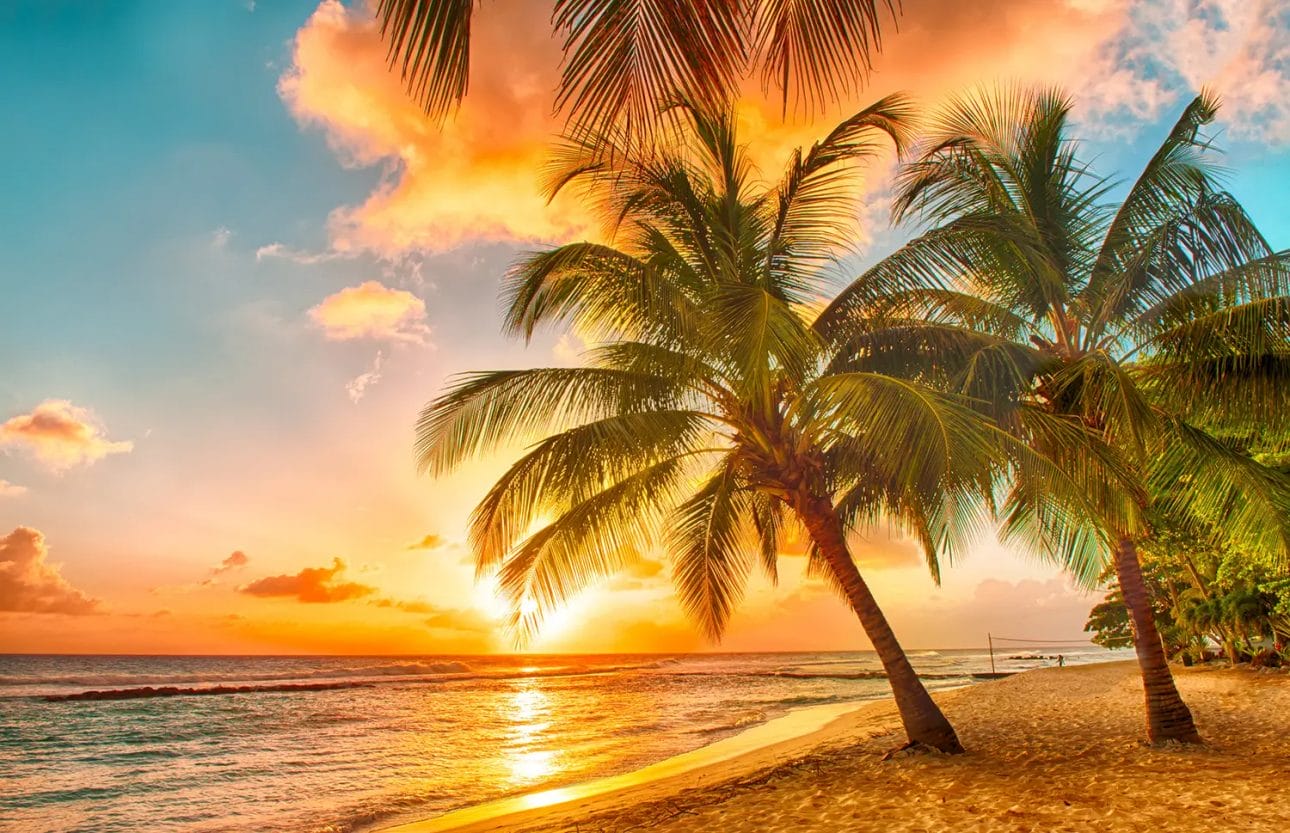 Barbados Vs. Bermuda: The Basics
Barbados is an island country in the Caribbean region of North America. The popular tourist destination is well-known for its tropical beaches, fantastic surf and is rum's birthplace.
Barbados is one of the best Caribbean destinations, and getting away on this island is a fantastic experience. Interacting with the locals will help you discover just how much the singer, Rihanna, is an icon in her island country.
On the other hand, Bermuda is a British overseas territory found in the North Atlantic Ocean and is well known for the Bermuda triangle.
Like Barbados, the island presents different activities to keep you occupied during your stay. The pink sandy beaches are especially to die for, and the codfish breakfast on Sundays with the locals is a tradition you must be part of, at least once.
Cost of Stay
The cost of staying on the two islands will depend on the activities you plan to engage in, where you're staying, and the kind of food you eat. But generally, Barbados is the more expensive island. It even ranks first among the most expensive islands in the Caribbean.
On average, the daily costs per person will be $76 on meals and $24 on Barbados' local transportation. For accommodation, a hotel for one person would averagely cost $188, while a couple would typically spend $375 on the hotel price.
The cost of a stay in Bermuda would be $78 and $45 daily on food and transportation, respectively. Hotels are much cheaper than in Barbados, with the average spend per couple being $84. Therefore, vacationing in Bermuda is a better option if you're looking to cut costs.
Where to Go
Whether you'll be in Barbados for the weekend or an entire week, you should head over to Bathsheba Bay, especially if you like an adventure. It is located along the rugged Atlantic Coast and gives a picturesque view of the ocean. Although swimming is prohibited because of the rock formations, the bay is popular among expert surfers.
While in Barbados, be sure to stop by St. Nicholas Abbey, which dates back to the 1600s. An afternoon stroll in the Hunte's Gardens will give you insight into the island's horticultural majesty. If technology fascinates you, the Barbados Concorde Experience in the Grantley Adams International Airport will be one for the books.
Other places worth checking out on the island include the Animal Flower Cave, Oistins, and the 1.6-kilometer Richard Haynes Boardwalk along Hastings Rocks.
While in Bermuda, the pink sandy beaches of Horseshoe Bay Beach are a must-see. The place can get crowded, so be sure to get there early enough before everyone starts flocking in. If you're bringing kids along, they'll love building sandcastles and boogie boarding. For increased safety, head on over to the Port Royal Cove, which has warm and shallow waters.
Everyone who heads over to the island has heard of the mysteries of the Bermuda Triangle. If the mysterious phenomenon fascinates you, you're going to love the Bermuda Underwater Exploration Institute. Here, you get to unravel the secrets of the ocean and whet your curiosity.
Ensure you catch the sunrise at Gates Bay before exploring the underground crystal and fantasy caves and wander through the unfinished church in St. George's.
Weather
One of the reasons why people flock to the Caribbean islands is because of the lovely weather.
Barbados weather is quite lovely, and the island enjoys about 3000 sunshine hours annually. Summer months are characterized by hot sunny days and tropical rain showers.
The hurricane season on the island runs from June to November. However, the island hasn't had any severe storms in about half a century. The weather on the island is drier and less humid between December to mid-April. These months are when most people visit the island, so if you stay at this time, you may end up spending more.
Bermuda's climate falls under the 'subtropical' category. The island has comfortable summer months between May and October. However, the sunny days can get quite unbearable thanks to the high humidity.
Winter runs from December through March. Although the temperatures drop significantly, scuba diving and snorkeling are some of the most engaging activities during this time. April is springtime on the island, which comes with the humpback whale migration – a sight to behold.
Like Barbados, summer is the busiest time in Bermuda, and you'll find tons of activities to engage in during this time.
Transportation
Your best bet for getting around Barbados is using a car. Preferably, rent your own instead of hiring a taxi. Although the government sets cab fare, it can be quite expensive, especially if you are continually moving during your stay there. However, it's an excellent way to explore the island without worrying about getting lost.
Renting a car on the island requires that you're over 21 years and have three years of driving experience. Remember to keep left on the roads.
Government busses are also an affordable and viable option. Most of them pass by popular hotels, which is quite convenient. You can spot them by their yellow stripes on the blue body and usually have the destination displayed on the front. Therefore, getting on the wrong bus wouldn't be a worry.
Unlike in Barbados, you don't have the option of renting a car in Bermuda. The best way to get around on this island would be to use the buses. The routes cover almost the entire island, and you can get a bus schedule in any of the visitor centers. You could choose to hire a taxi, but the cab fares will skyrocket your vacation budget.
Moped and scooters are better options for getting around the crazy traffic. If you aren't afraid of the narrow roads and blind curves, you could hire a motorbike so you can get around much faster. You only need to have your helmet and be over 18 years to do so.
Final Thoughts: Bermuda Vs. Barbados
Well, there you have it, an in-depth comparison of two popular island destinations; Barbados and Bermuda.
If you're thinking of heading over to any of the two, we hope this article has helped. Ultimately, your choice between the two will depend on what activities you want to take part in, where you want to go, what time you want to visit, and your budget.
Whichever the case, a vacation on an island is an excellent idea, and once you have picked your destination, come up with your travel itinerary and start packing!