Barbados Trip Planning From A to Z (2023 Guide)
Planning a trip to the stunning island of Barbados? Look no further! With the help of this thorough guide, you will have access to all the information you require to make your trip unforgettable.
| Topic | Information |
| --- | --- |
| Getting There | Air travel: Grantley Adams International Airport is the primary air transportation hub. Sea travel: Bridgetown Cruise Terminal is a popular stop for many cruise lines. |
| Best Time to Visit | Peak Season: Mid-December to mid-April for dry weather and warm temperatures. Off-Peak Season: June to November for lower prices and fewer crowds. Festivals and Events: Crop Over Festival (June to August) and Barbados Food and Rum Festival (November). |
| Accommodations | Luxury Resorts: Sandy Lane, The Crane Resort. Mid-Range Hotels and Boutique Accommodations: Treasure Beach by Elegant Hotels, Sugar Cane Club Hotel & Spa. Budget Accommodations and Guesthouses: The Pirate's Inn, Melbourne Inn. Vacation Rentals: Apartments, villas, and holiday houses. |
| Must-See Attractions | Bridgetown: Explore the capital and visit Independence Square, Parliament Buildings, Garrison Savannah, and more. Harrison's Cave: Take a tram ride through a stunning limestone cavern. St. Nicholas Abbey: Tour a historic plantation and rum distillery. Carlisle Bay: Enjoy beautiful beaches and snorkeling. |
| Bajan Cuisine | National Dish: Cou-Cou and Flying Fish. Street Food: Fish cakes, macaroni pie, Pudding and Souse. Sweet Treats: Coconut bread, guava cheese. Rum: Visit local rum shops or distilleries like Mount Gay or St. Nicholas Abbey. |
| Where to Eat | Explore upscale dining options on the west coast. Enjoy beachfront restaurants on the south shore. Experience Oistins Fish Fry for a local, lively atmosphere. |
But don't leave yet…we're just getting started!
This comprehensive guide provides you with lesser-known travel tips on various aspects of planning a trip to Barbados, including transportation options, the best time to visit, accommodation choices, must-see attractions, local cuisine, and dining recommendations.
Getting to Barbados
Any Barbados trip planning starts with figuring out the best way to reach this beautiful island. And fortunately for you, there are a ton of alternatives to consider.
By Air
Your journey to Barbados most likely begins at Grantley Adams International Airport, situated in Seawell, Christ Church. The primary air transportation hub for the island, having links to several places across the globe. Numerous significant airlines use the airport, including American Airlines, British Airways, and Caribbean Airlines.
It's crucial to think about if a direct trip best matches your needs or whether you would prefer a journey with a few stops in between, which is frequently a less expensive alternative. You'll find a range of possibilities, from direct routes from cities like Miami, London, and Toronto, to one-stop connections from more distant locations.
When you arrive, there are several alternatives for getting to your lodging at the airport, including taxis, rental vehicles, and buses.
By Sea
Don't overlook the allure of the open sea.
For those who enjoy leisurely travel and stunning views, a cruise to Barbados could be an unforgettable experience. The Bridgetown Cruise Terminal is a favorite stop for many cruise lines journeying through the Caribbean.
Major cruise lines like Royal Caribbean, Carnival, and Norwegian Cruise Line regularly dock in Barbados. These cruises often include other Caribbean islands on their itineraries, giving travelers the opportunity to explore multiple destinations on one trip.
Depending on the time of year, you may also find repositioning cruises that include Barbados in their journey. These cruises change their homeport and offer extended voyages at reduced rates, an excellent option for those with flexible schedules.
Choosing your mode of arrival ultimately depends on your personal preferences, travel style, and budget. Some prefer the speed and convenience of air travel, while others enjoy the slow-paced luxury that a cruise offers. Whichever way you choose, the charm and beauty of Barbados await you.
Best Time to Visit Barbados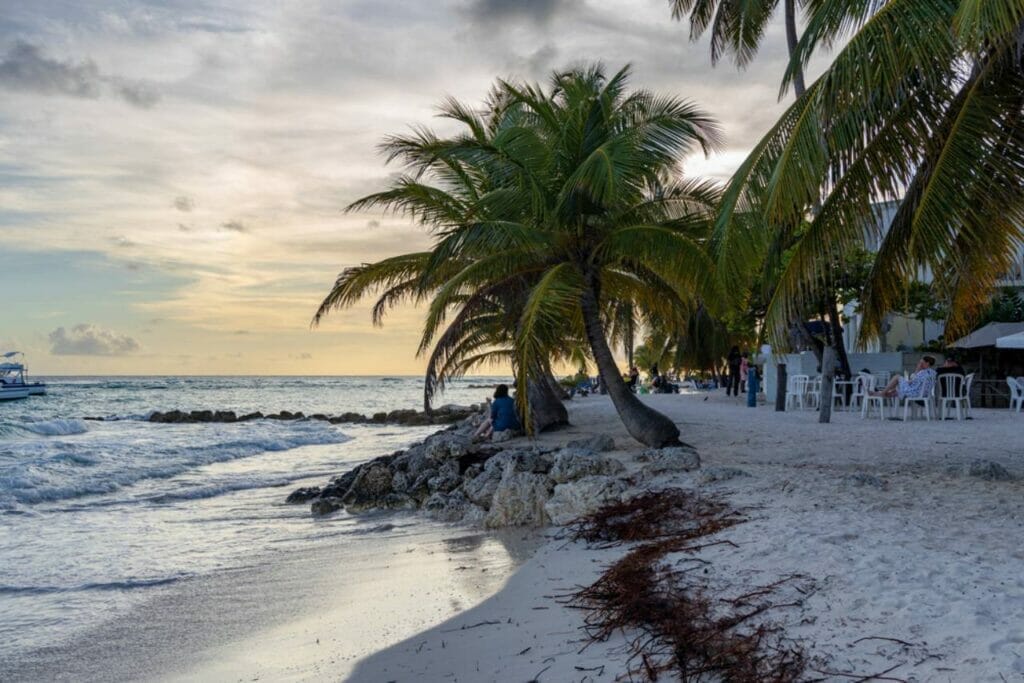 Although Barbados, with its idyllic tropical environment and breathtaking scenery, welcomes visitors all year long, there are specific seasons of the year when a visit to this island may be even more enjoyable.
Peak Season
The peak tourist season in Barbados runs from mid-December to mid-April. This is when the island enjoys its dry season, with less rainfall and plenty of sunshine. Daytime temperatures during this time frame normally range from the upper 70s to the mid 80s (°F), making it a warm and pleasant time of year.
However, with the peak season comes higher prices for flights and accommodations, and popular attractions can get crowded. Booking your ticket and lodging far in advance is thus advised if you intend to go during this time.
Off-Peak Season
The island's rainy season, which lasts from June to November, is also the off-peak period. Rain showers are often brief and quickly give way to sunshine. Since Barbados is situated in the eastern Caribbean, it often avoids the worst effects of the current Atlantic hurricane season.
One advantage of traveling during the off-peak season is that prices for flights and accommodations are usually lower, and the island is less crowded. This might be the perfect time for budget travelers or those looking for a quieter vacation.
Festivals and Events:
If you're interested in local culture and festivities, plan your visit around Barbados' popular events. The Crop Over Festival, usually held from June to the first Monday in August, is a celebration of the sugar cane harvest featuring music, dancing, and a grand parade.
In November, the island hosts the Barbados Food and Rum Festival, where you can indulge in local cuisine and enjoy the world-renowned Bajan rum. Sports enthusiasts might want to time their visit to coincide with the Sandy Lane Gold Cup horse race in March or the Barbados Surf Pro international surf competition in April.
Deciding when to visit depends on what you're looking for in your Barbados trip. This island offers something for everyone at any time of the year, whether it's warm beach days, cultural immersion, or inexpensive vacation.
Accommodation Options
There are several lodging alternatives available in Barbados for every kind of visitor and price range. You may find everything you're looking for in Barbados, whether it's an opulent hideaway, a cozy hotel, or a guesthouse that's affordable.
Luxury Resorts
Barbados is home to a variety of opulent resorts for people who desire to enjoy in the greatest luxuries. These establishments offer lavish accommodations, impeccable service, and high-end amenities. Some of the top choices include Sandy Lane, a world-renowned resort on the island's west coast known for its luxurious rooms and spa, and The Crane Resort, perched on a cliff with stunning views and historic charm.
Mid-Range Hotels and Boutique Accommodations
Consider one of the numerous affordable mid-range hotels or a boutique hotel if you want comfort without paying luxury prices. These places offer good value for money with comfortable rooms and standard amenities. Treasure Beach by Elegant Hotels is a charming boutique option, offering an intimate setting with beachfront suites. Another option is Sugar Cane Club Hotel & Spa, a quiet, adult-only resort tucked away in the lush hills of Barbados.
Budget Accommodations and Guesthouses
Budget-conscious travelers will be pleased with Barbados' selection of affordable guesthouses and hostels. These accommodations offer basic amenities at a lower cost, and often give a more local, authentic experience. The Pirate's Inn in Hastings and the Melbourne Inn near Oistins are popular options with budget travelers.
Vacation Rentals
Apartments, villas, and holiday houses may all be rented for a vacation in Barbados if you like the conveniences of home. These are excellent choices for families or groups and are frequently more affordable for stays of a longer duration. Numerous solutions are available on websites like Booking.com and Airbnb to meet a range of demands and price points.
What you hope to gain from your trip to Barbados will also affect where you stay. The Platinum Coast on the west coast is renowned for its tranquil seas, breathtaking sunsets, and opulent resorts. The south coast offers a more lively vibe with its bustling nightlife and variety of dining options. The east coast is less developed and a haven for surfers and nature lovers.
Must-See Barbados Attractions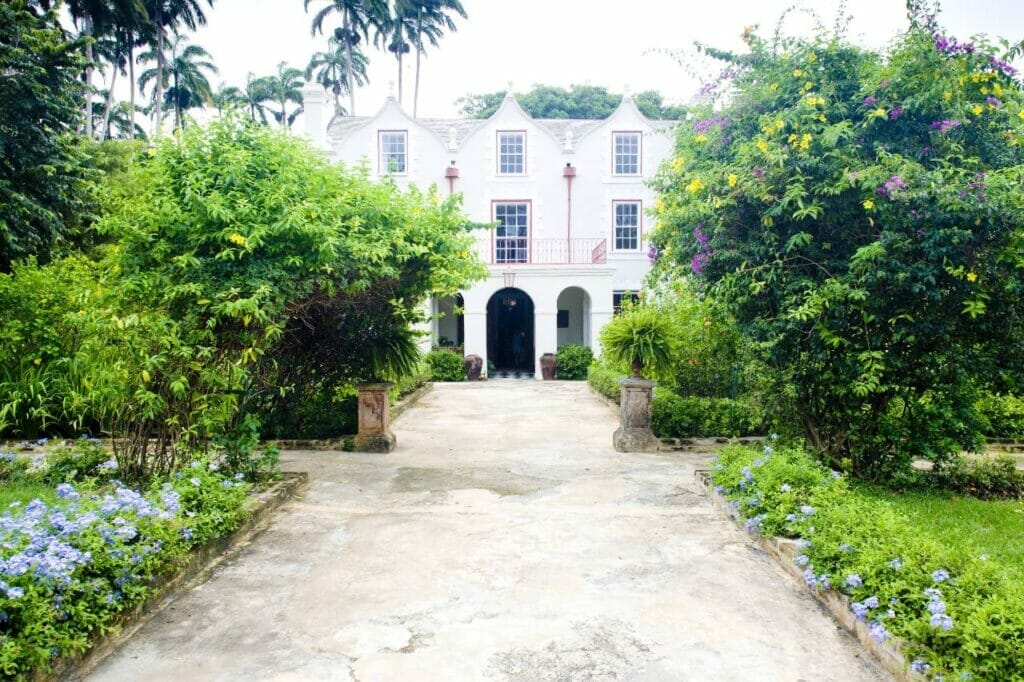 Barbados provides a range of activities that are suitable for all kinds of visitors because to its magnificent natural beauty, extensive history, and vibrant culture. The island is bursting with attractions that you shouldn't miss, whether you're a history fan, a lover of nature, or a beach enthusiast.
Bridgetown
As the island's capital and commercial center, Bridgetown is a must-visit. Explore its bustling streets and markets, and be sure to visit the iconic Independence Square and the Parliament Buildings, the third oldest legislature in the Commonwealth. A UNESCO World Heritage site, Bridgetown also features historic sites like the Garrison Savannah area and the Nidhe Israel Synagogue, one of the oldest synagogues in the Western Hemisphere.
Harrison's Cave
One of Barbados' most popular tourist attractions, Harrison's Cave is a crystallized limestone cavern featuring stunning stalactites and stalagmites, clear streams, and deep pools. A tram ride takes you through this incredible underground landscape, making for an experience like no other.
St. Nicholas Abbey
Located in Saint Peter, St. Nicholas Abbey is one of the oldest surviving plantations on the island. The Jacobean-style plantation mansion, constructed in the 1650s, provides a window into the island's lengthy past. Today, the plantation produces award-winning rum, and visitors can enjoy a guided tour of the house, rum distillery, and the beautifully maintained gardens.
Carlisle Bay
For beach lovers, Carlisle Bay is not to be missed. This stunning, crescent-shaped bay boasts clear turquoise waters and white sandy beaches. With several shipwrecks and a wide variety of aquatic life, it's also a great place for snorkeling.
Animal Flower Cave
The Animal Flower Cave, which located on the island's north shore, provides breathtaking views of the Atlantic Ocean. The cave, accessible by guided tours, features sea anemones (also known as 'animal flowers') and natural, saltwater pools perfect for a refreshing dip.
Andromeda Gardens
Botany enthusiasts will love the Andromeda Gardens. Tropical and subtropical flora may be seen all around this six-acre botanical park in Bathsheba. Wander through the beautiful paths and enjoy the peaceful surroundings.
Bajan Cuisine
The rich and diverse local cuisine of Barbados, also known as Bajan cuisine, is an unmissable part of any visit to the island. With an array of dishes rooted in African, Indian, Irish, Creole, and British culinary traditions, you're in for a real treat.
National Dishes
Your culinary journey must start with the national dish of Barbados: Cou-Cou and Flying Fish. Cou-Cou is similar to polenta or cornmeal, made with cornmeal and okra, while the flying fish is usually stewed with a spicy and tangy sauce. This delightful pairing is a testament to the island's rich cultural heritage and its abundant marine life.
Street Food Favorites
For a casual bite, look for popular street foods like fish cakes – deep-fried balls of salted cod and dough – and macaroni pie, a Bajan take on macaroni and cheese, often spiced up with hot sauce or ketchup. Pudding and Souse, a dish made with pickled pork and sweet potato pudding, is a Saturday tradition in Barbados and can be found at various roadside vendors.
Sweet Treats
For something sweet, try a slice of coconut bread, also known as 'sweet bread.' Made with grated coconut, flour, sugar, and other ingredients, it's a Bajan dessert staple. Another must-try is the guava cheese, a fudgy fruit preserve made with guava pulp and sugar.
Rum
And let's not forget about Barbados' most famous export: rum. Rum is widely recognized as having originated in Barbados, where there is no shortage of locations to try it. Visit a local rum shop for a taste or tour one of the island's distilleries, like Mount Gay or St. Nicholas Abbey, to learn more about the production process.
Where to Eat
Everyone can find something to enjoy in Barbados, whether they like fine dining or a more relaxed atmosphere. The west side of the island, sometimes known as the "Platinum Coast," is well-known for its upscale dining establishments, while the south shore is well-known for its laid-back beachfront restaurants. For a truly local experience, check out Oistins Fish Fry, an open-air market that comes alive every Friday night with vendors serving freshly grilled fish and live music.
FAQ
How Many Days Do You Need In Barbados?
A stay of about 7 to 10 days is recommended for a trip to Barbados. This duration allows ample time to explore the island's diverse attractions, from its historical sites in Bridgetown to its stunning natural wonders like Harrison's Cave and the Animal Flower Cave, as well as time to relax on its beautiful beaches.
How Do I Plan A Trip To Barbados?
Planning a trip to Barbados begins with determining the best time to visit based on your preferences for weather and events. Next, book your flights and choose accommodations that suit your budget and lifestyle. Outline an itinerary that includes must-see attractions, local cuisine, and perhaps some local events or festivals. Don't forget to consider transportation options for getting around the island.
Is Barbados Expensive To Vacation?
Although Barbados can accommodate a variety of budgets, it is typically regarded as a mid-to-high priced resort. The amount you'll spend may vary depending on the occasion, lodging style, meals, and activities you choose. For example, luxury resorts and fine dining restaurants will add more to your travel budget than guesthouses and street food.
What Is A Good Time To Go To Barbados?
Barbados' dry season, which lasts from mid-December to mid-April, is the ideal time to come since there is less rain and it is warm and comfortable outside. However, if you're interested in local culture and festivities, consider timing your visit around popular events such as the Crop Over Festival in the summer or the Food and Rum Festival in November.