The Beauty of Barbados Topography
Have you ever considered what makes Barbados such a special place to visit? It's not just about the sun, sea, and sand, let me tell you that. The island's topographical features are just as enchanting!
In this blog post, we'll explore the various natural and man-made landmarks and attractions that make Barbados a fascinating place to visit. So, let's navigate around Barbados topography and see what awaits us!
This table highlights the main topographical regions of Barbados:
| Region | Description | Notable Attractions |
| --- | --- | --- |
| Western "Platinum" Coast | Calm, turquoise waters and white sandy beaches | Sandy Lane Beach, Paynes Bay Beach |
| Eastern Coast | Wild and rugged with dramatic cliffs and pounding surf | Bathsheba Beach, Soup Bowl |
| Scotland District | Rolling hills and lush valleys with diverse wildlife | Cherry Tree Hill |
| Limestone Caves | Subterranean limestone caves showcasing the island's rich history | Harrison's Cave, Animal Flower Cave |
| Mangrove Forests and Wetlands | Unique ecosystem home to various species of birds, fish, and other wildlife | Graeme Hall Nature Sanctuary |
| Lighthouses | Historic lighthouses offering stunning views of the surrounding landscape | South Point Lighthouse, Barbados Concorde Experience |
A Brief Geological History: The Making of Barbados
The fascinating geological history of Barbados has contributed significantly to the island's unique topography. Formed over millions of years, Barbados is primarily composed of coral limestone, which was pushed up from the ocean floor by tectonic activity.
The island's formation is closely tied to the Atlantic and Caribbean tectonic plates' movements, with the latter subducting beneath the former. As a result, Barbados has experienced a series of uplifts and erosional processes that have shaped its current landscape.
From its rugged coastlines and lush valleys to its intricate network of caves, the geological history of Barbados has left a lasting imprint on the island's topography.
The Coastal Contrasts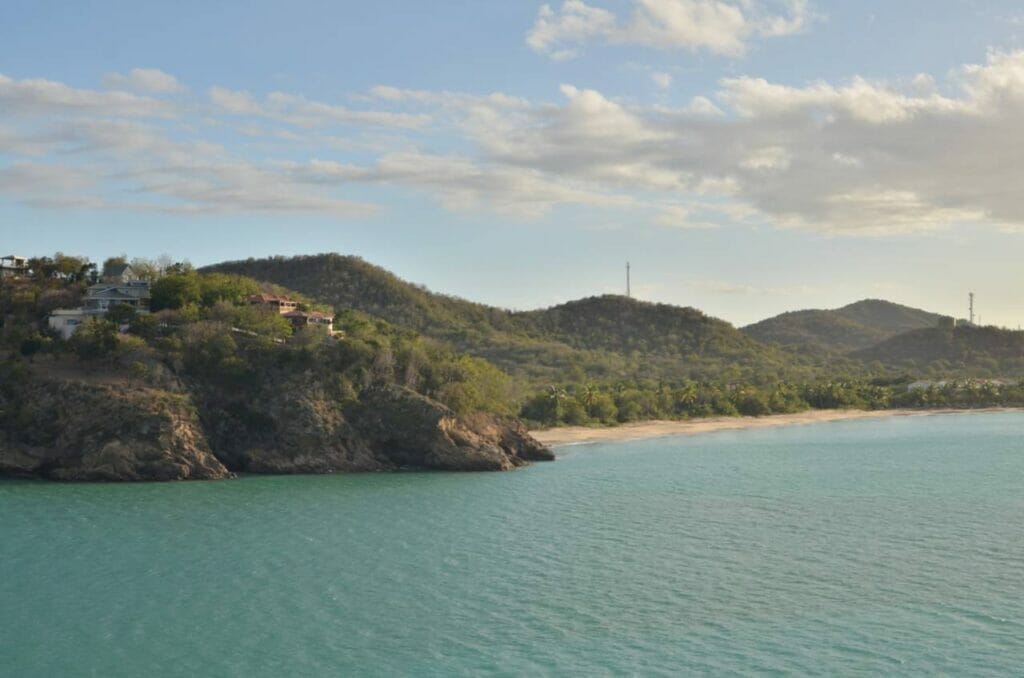 The contrast between Barbados' eastern and western beaches is among its most notable topographic features.
The western side, known as the Platinum Coast, features calm, turquoise waters that gently lap against the pristine white sandy beaches. Tourists who want to unwind and enjoy the sun should visit this side.
On the other hand, the eastern coast is wild and rugged, with dramatic cliffs and pounding surf. With activities like surfing, hiking, and discovering secluded coves, this part of the island is perfect for anyone looking for a more adventurous experience.
Bathsheba Beach: A Surfer's Paradise
Bathsheba Beach on the eastern coast is a must-see if you enjoy surfing or simply admire the unadulterated majesty of nature. With its large boulders and powerful Atlantic waves, this beach is a surfer's dream come true.
Barbados Travel Tip: When visiting, make sure to check out the famous Soup Bowl, a renowned surf spot that has attracted surfers from around the world.
The Rolling Hills and Valleys
Rolling hills and lush valleys may not come to mind when you think about Barbados, but that is exactly what you'll find in the interior of the island.
The Scotland District, named after its resemblance to the Scottish Highlands, is the perfect place to explore this aspect of Barbados topography.
This region gives nature lovers the ability to fully experience the island's natural beauty because of its breathtaking views and diverse wildlife.
Cherry Tree Hill: A View to Remember
Barbados Travel Tip: Cherry Tree Hill, an 850-foot-high vantage point, provides one of the most breathtaking views on the island.
Mahogany trees that were planted in the 18th century to take the place of the local cherry trees flank the road that leads up to it.
The panoramic view from Cherry Tree Hill encompasses both the eastern and western coasts, as well as the lush sugar cane fields and tropical rainforests.
The Underground Wonders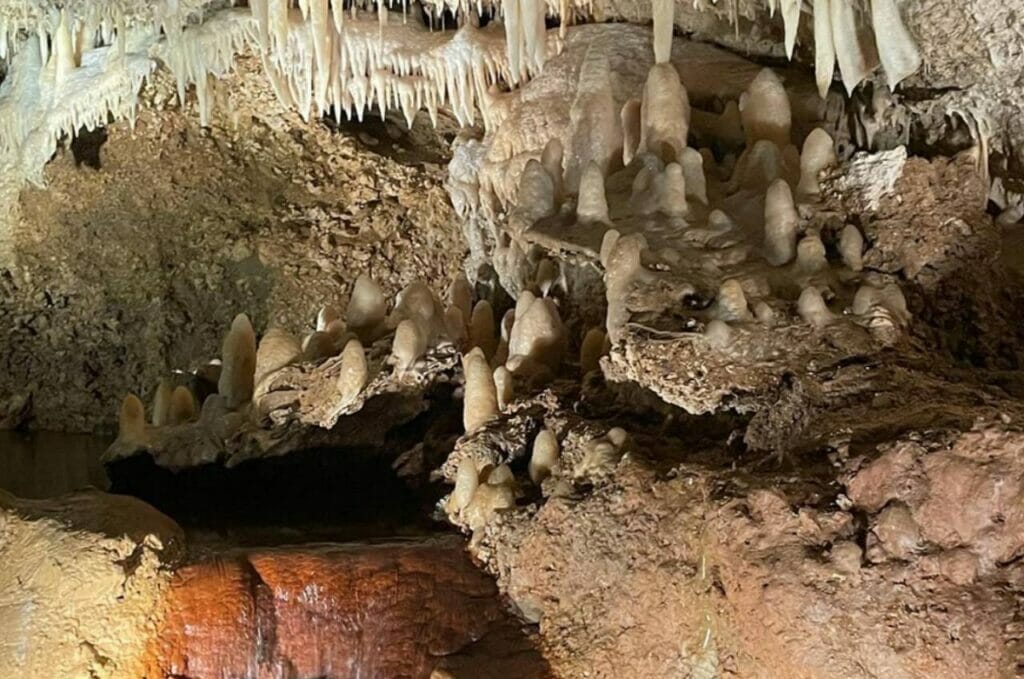 Barbados is home to a fascinating network of limestone caves, formed by the island's unique geological makeup. These subterranean wonders are not only a testament to the island's rich history but also provide exciting adventures for tourists.
Harrison's Cave: A Journey Into the Earth
Harrison's Cave, which bears the name of Thomas Harrison, a significant landowner in the 18th century, is one of the island's most well-known caves.
Crystal-clear streams, cascading waterfalls, and breathtaking stalactite and stalagmite formations may all be found at this amazing underground site.
Barbados Travel Tip: A tram tour takes you through the cave, where you can marvel at the beauty of this natural wonder while learning about its formation and history.
Mangrove Forests and Wetland Areas: A Unique Ecosystem
Barbados is home to several mangrove forests and wetland areas that play a crucial role in the island's ecosystem. These unique habitats provide a safe haven for various species of birds, fish, and other wildlife, while also helping to protect the coastline from erosion.
The Graeme Hall Nature Sanctuary, located in Christ Church, is one of the most notable examples of these ecosystems. 
Barbados Travel Tip: Visitors can explore this tranquil oasis through guided tours, witnessing the diverse flora and fauna that call the mangroves and wetlands their home.
The Iconic Lighthouses
As an island nation, Barbados has a long history of guiding ships to safety with its numerous lighthouses. These historic structures not only offer a glimpse into the island's maritime past but also provide stunning views of the surrounding landscape.
South Point Lighthouse: A Beacon of History
The oldest lighthouse in Barbados is South Point Lighthouse, which was built in 1852 and is situated at the southernmost point of the island. Originally constructed in England and shipped to Barbados in pieces, the lighthouse stands at 89 feet tall and is painted in vibrant red and white stripes. For a breathtaking 360-degree panorama of the island's southern coast, visitors can go to the top.
FAQ
What Is The Topography Of Barbados?
The topography of Barbados is characterized by contrasting coastlines, rolling hills, and underground limestone caves. The island's diverse landscape includes the serene western coast with its white sandy beaches, the rugged eastern coast with dramatic cliffs, and lush green valleys in the interior.
What Are The Major Geographical Features In Barbados?
Major geographical features in Barbados include the Platinum Coast on the western side, the wild eastern coast with its rocky shoreline, the Scotland District's rolling hills, and a network of subterranean limestone caves, such as Harrison's Cave. Additionally, Barbados is home to several historic lighthouses and man-made landmarks.
Is Barbados Considered Tropical?
Due to its location in the tropics, more especially in the Lesser Antilles of the Caribbean, Barbados is referred to as tropical. There are distinct wet and dry seasons, rich flora, and a wide variety of fauna on the island all year round.
Where Is Barbados Located Geographically?
Geographically speaking, Barbados is a member of the Lesser Antilles island group and is located in the eastern Caribbean. It is the Caribbean island that is furthest east, located around 100 miles (160 kilometers) east of the Windward Islands.
What Is The Surface Area Of Barbados?
The surface area of Barbados is approximately 166 square miles (431 square kilometers), making it one of the smaller Caribbean islands. Despite its relatively small size, the island's diverse topography offers a variety of natural and man-made attractions for visitors.
Why Is Barbados Above Sea Level?
Barbados is above sea level due to its unique geological formation, which primarily consists of coral limestone. This coral limestone was pushed up from the ocean floor by tectonic activity over millions of years, creating the island's varied topography that rises above the surrounding sea.
In Conclusion: The Wonders of Barbados Topography
From its contrasting coastlines and rolling hills to its underground caves and historic landmarks, the Barbados topography has something for everyone.
You'll learn to appreciate Barbados' extraordinary natural beauty and fascinating history as you discover the island's distinctive traits.
Whether you're a tourist seeking relaxation and adventure or a topography enthusiast looking to delve deeper into the island's landscape, Barbados will undoubtedly capture your heart.