How to Plan a Romantic Getaway to Barbados
Escape to Barbados, the ultimate romantic destination, where pristine beaches and luxurious resorts await. Sandy Haven Resort on the west coast offers intimate tranquility, while Cobblers Cove blends old-world charm with modern elegance. The Crane Resort perched on a cliff presents a truly lavish experience.
Explore enchanting beaches, indulge in couples' activities like sunset cruises and horseback riding, and savor world-class dining at The Cliff. Unwind with spa treatments, embark on nature adventures, and capture precious moments.
Barbados is a paradise for couples seeking love and romance. And this guide is everything you need to plan the perfect romantic escape to Barbados with your honey.
Best Romantic Hotels and Resorts
Sandy Haven Resort
Nestled on the breathtaking west coast of Barbados, Sandy Haven Resort provides an idyllic escape for couples seeking tranquility and luxury. With its intimate ambiance, pristine white-sand beach, and stunning ocean views, this boutique hotel offers a haven for romance. Picture yourself strolling hand in hand along the shore as the sun sets in hues of orange and pink, creating a mesmerizing backdrop for your love story.
Cobblers Cove
Situated on the platinum west coast, Cobblers Cove is a haven of refined elegance. This historic property blends old-world charm with modern comforts, offering spacious suites and secluded gardens where you can unwind together. Indulge in a couples massage at the on-site spa or take a leisurely dip in the sparkling pool. Cobblers Cove sets the stage for an intimate retreat where you can create cherished memories.
The Crane Resort
For a truly luxurious experience, The Crane Resort presents a blend of old-world charm and modern sophistication. Perched on a cliff overlooking the turquoise waters of Crane Beach, this iconic resort offers a range of elegant suites and private villas. Imagine sipping champagne while lounging in your private plunge pool, gazing out at the magnificent Caribbean Sea. The Crane Resort epitomizes romance at its finest.
Couples Activities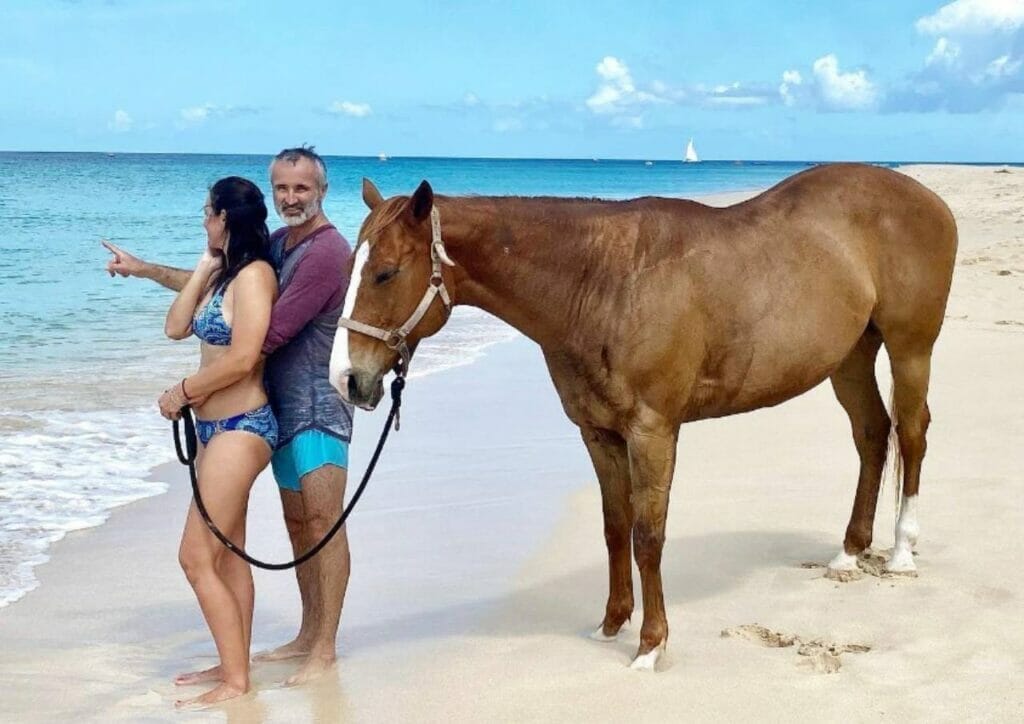 Catamaran Sunset Cruise
Embark on a romantic sunset cruise along the picturesque coastline of Barbados. Feel the gentle sea breeze as you sail into the golden hour, surrounded by the warm hues of the sky. Snuggle up with your partner while sipping a glass of champagne, and let the mesmerizing beauty of the ocean create an enchanting backdrop for your love story.
Horseback Riding on the Beach
Experience the thrill of horseback riding with your loved one along the pristine shores of Barbados. Trot along the powdery sands, feel the rhythmic motion of the horse beneath you, and take in the breathtaking coastal scenery. As you ride hand in hand, the sense of adventure and connection will deepen, creating lasting memories.
Moonlit Beach Picnic
Indulge in a romantic moonlit beach picnic, where you can savor a delectable spread under the starry night sky. As you relish the flavors of local cuisine, the sound of the waves crashing gently in the background, you'll create an intimate and unforgettable experience. The soft glow of candlelight and the serenade of the ocean will set the stage for a truly magical evening.
Romantic Dining Options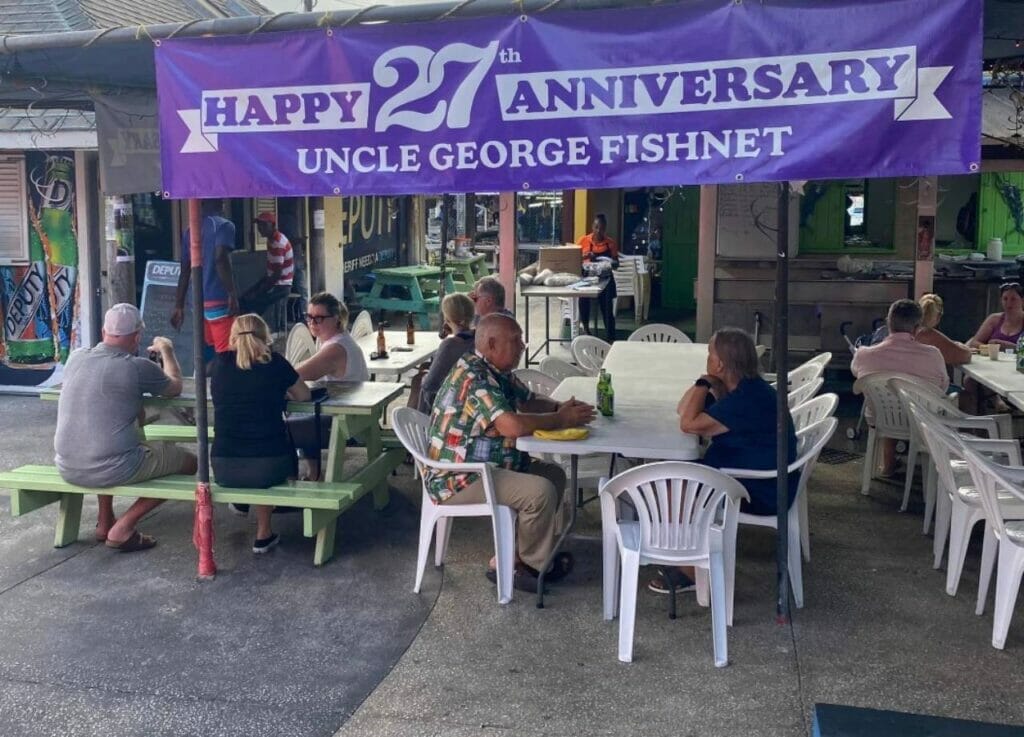 The Cliff
Known for its world-class cuisine and breathtaking cliffside location, The Cliff is an absolute must for couples seeking a romantic dining experience. Immerse yourself in an enchanting ambiance as you dine under the stars, with the soothing sounds of the waves below. Indulge in exquisitely crafted dishes that blend international flavors with Caribbean flair, and let your taste buds dance in delight.
Oistins Fish Fry
For a more laid-back yet vibrant dining experience, head to Oistins Fish Fry. This bustling open-air market is a beloved local hotspot, offering an array of fresh seafood grilled to perfection. Join the lively atmosphere, grab a plate of mouthwatering grilled fish, and sway to the rhythm of live music. It's the perfect spot to immerse yourself in Barbadian culture while enjoying a relaxed and flavorsome evening with your partner.
Exploring Romantic Beaches
Barbados is renowned for its pristine beaches, each offering a unique charm and romantic atmosphere. Here are some of the most enchanting beaches that couples should explore:
Bottom Bay
Tucked away on the southeastern coast, Bottom Bay presents a secluded haven for couples seeking privacy and breathtaking natural beauty. Imagine walking hand in hand along the cliffside, descending to the stunning crescent-shaped beach with its powdery white sands, azure waters, and majestic palm trees swaying in the breeze.
Crane Beach
Considered one of the world's most beautiful beaches, Crane Beach offers a romantic setting that will leave you in awe. As you and your partner walk along the soft pink-tinged sands, admire the dramatic coral cliffs and gentle turquoise waves. Take a dip in the inviting waters or simply relax on the shore, basking in the sun's warm embrace.
Pebbles Beach
Located near Bridgetown, Pebbles Beach is a popular choice for couples seeking a mix of tranquility and convenience. This idyllic stretch of shoreline offers calm waters perfect for swimming and snorkeling. Find a spot under the shade of a swaying palm tree, unwind on a beach towel together, and let the cares of the world melt away.
Indulging in Spa and Wellness
Barbados is a paradise for rejuvenation and relaxation. Pamper yourselves with luxurious spa treatments and wellness experiences:
Santosha Wellness Center
Situated in the serene countryside, Santosha Wellness Center offers a holistic sanctuary where couples can unwind and rejuvenate. Indulge in couples' massages, soothing facials, or invigorating yoga sessions, all designed to promote harmony and well-being. Let the tranquil surroundings and skilled therapists transport you to a state of pure bliss.
Ocean Wellness Spa
Located within a luxurious beachfront resort, Ocean Wellness Spa offers an array of indulgent treatments inspired by the healing power of the ocean. From couples' massages overlooking the sea to revitalizing body scrubs using local ingredients, this spa invites you to immerse yourselves in a world of serenity and relaxation.
Venturing into Nature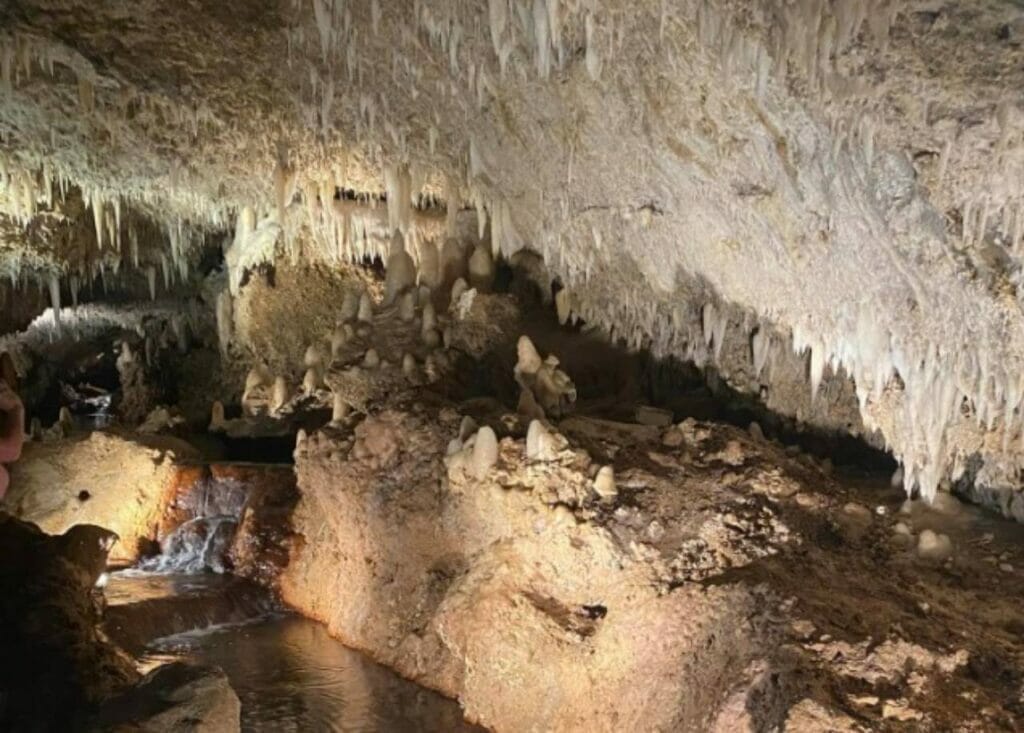 Barbados is not only a beach paradise but also boasts stunning natural landscapes and diverse ecosystems. Here are some nature-inspired activities for adventurous couples:
Harrison's Cave
Embark on an underground adventure at Harrison's Cave, a magnificent limestone cavern filled with stalactites, stalagmites, and crystallized formations. Hold hands as you board an electric tram and journey deep into the heart of the cave, marveling at its natural wonders. The ethereal atmosphere and awe-inspiring formations will create an unforgettable experience.
Animal Flower Cave
Located on the northern tip of Barbados, the Animal Flower Cave offers a fascinating exploration of natural beauty and marine life. Descend into the cave and discover its crystal-clear rock pools, home to delicate sea anemones. Breathtaking views of the crashing waves and rugged cliffs await you outside, providing a romantic backdrop for a truly memorable outing.
Capturing Memorable Moments
Preserve the magic of your Barbados romantic getaway with these suggestions for capturing memorable moments:
Sunset Photoshoots
Hire a professional photographer for a sunset photoshoot on the beach. As the golden hour paints the sky with hues of pink and orange, let the photographer capture your love and connection against the backdrop of the stunning Caribbean sunset. These photos will serve as cherished keepsakes of your time together in paradise.
Underwater Adventures
Barbados is a paradise for snorkeling and diving enthusiasts. Consider an underwater photoshoot, capturing your joyous moments as you explore vibrant coral reefs and encounter colorful marine life together. With waterproof cameras or the assistance of a professional underwater photographer, you can immortalize your underwater escapades and treasure them for years to come.
FAQ
Is Barbados Good For Couples?
Barbados is an exceptional destination for couples seeking romance and relaxation. With its pristine beaches, luxurious resorts, and enchanting sunsets, the island sets the perfect stage for a romantic getaway. From intimate dinners by the sea to exhilarating couples' activities, Barbados offers a wealth of experiences that will create cherished memories for couples.
Is Barbados A Romantic Destination?
Barbados is widely recognized as a dreamy and romantic destination. With its idyllic beaches, warm tropical climate, and captivating natural beauty, the island exudes romance at every turn. Whether indulging in candlelit dinners, taking sunset strolls along the shore, or enjoying couples' spa treatments, Barbados offers an ambiance that is undeniably romantic.
What Part Of Barbados Is Best To Stay?
The west coast of Barbados, often referred to as the "Platinum Coast," is considered the best area to stay for its luxurious resorts, stunning beaches, and upscale dining options. This region offers a range of romantic accommodations, including boutique hotels and world-class resorts, ensuring a memorable stay with easy access to picturesque beaches and vibrant coastal towns.
Is 7 Days Enough For Barbados?
While Barbados offers a wealth of experiences, seven days provides a good amount of time to explore the island's highlights. Visitors can enjoy leisurely beach days, discover historical sites, indulge in local cuisine, and engage in various activities. However, to fully immerse in the island's charm and take advantage of all it has to offer, longer stays are recommended.
What Is The Most Luxurious Part Of Barbados?
The parish of St. James, located on the prestigious west coast, is renowned for its luxurious offerings, making it the most opulent part of Barbados. Here, you'll find upscale resorts, elegant villas, and exclusive dining experiences. The region's pristine beaches, coupled with its refined ambiance, attract discerning travelers seeking the utmost luxury and indulgence.