How to Plan the Perfect Barbados Honeymoon
For couples seeking the perfect romantic honeymoon, Barbados stands out as an idyllic destination known for its natural beauty and warm hospitality. To ensure an unforgettable Barbados honeymoon experience, selecting the ideal romantic hotel is crucial.
No pressure or anything. 🤯
From secluded hideaways to luxurious beachfront resorts, Barbados offers a diverse range of options that cater to every couple's desires. These handpicked hotels not only provide luxurious accommodations but also create an intimate and enchanting ambiance, guaranteeing that your honeymoon memories will last a lifetime.
Additionally, Barbados offers private beaches, sunset cruises, couples' activities, culinary delights, adventurous escapades, and blissful wellness retreats, ensuring that every moment of your Barbados honeymoon is filled with romance, excitement, and relaxation.
Here's a quick-start guide for your honeymoon in Barbados:
| Honeymoon Activity | Description |
| --- | --- |
| Romantic Hotels | Serenity Resort & Spa, Sandy Lane, Cobblers Cove |
| Private Beaches | Crane Beach, Bottom Bay, Gibbs Beach |
| Sunset Cruises | Sunset cruises offer a romantic experience with breathtaking views and marine encounters |
| Couples Activities | Catamaran snorkeling, romantic beach picnics, and island excursions |
| Dining | Barbados is a culinary paradise with top-rated restaurants offering Caribbean and international flavors |
| Adventure | Zip-lining through treetops and snorkeling with marine life |
| Wellness Retreats | Couples' treatments, yoga on the beach, and tranquil spa experiences |
Best Romantic Hotels for Your Barbados Honeymoon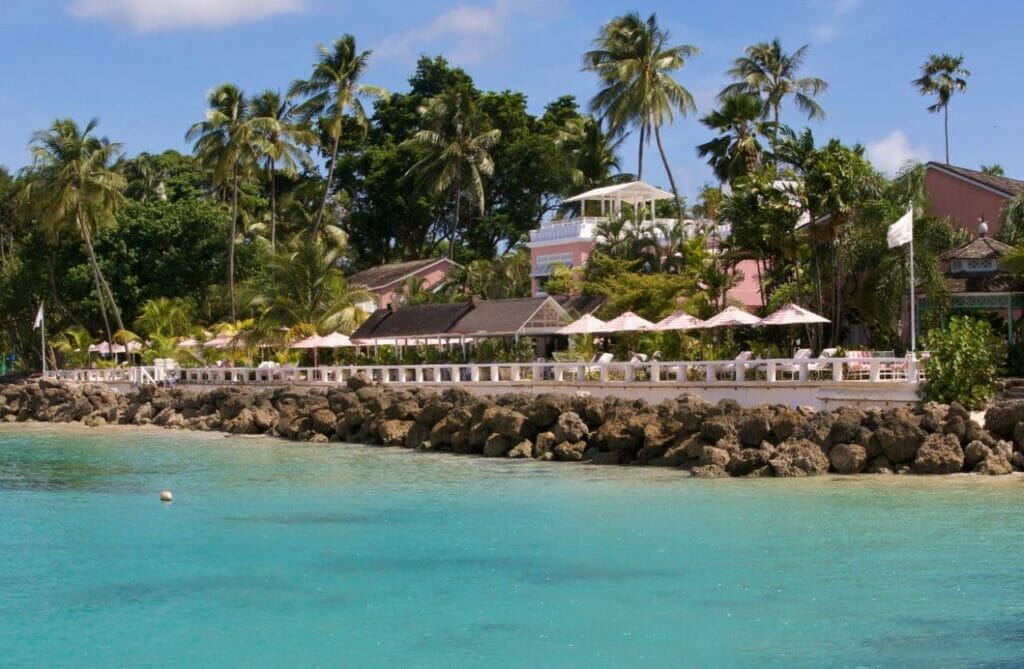 For couples looking for a romantic honeymoon, Barbados, which is renowned for its natural beauty and kind friendliness, is the ideal place. To make your stay truly unforgettable, it's crucial to choose the perfect romantic hotel. From secluded hideaways to luxurious beachfront resorts, Barbados offers an array of options that cater to every couple's desires.
These handpicked hotels not only provide luxurious accommodations but also set the stage for an intimate and enchanting experience, ensuring that your honeymoon memories last a lifetime.
Serenity Resort & Spa
Serenity Resort & Spa, located on Barbados' beautiful East Coast, provides honeymooners with privacy and elegance. The elegant suites and villas provide breathtaking ocean views, private plunge pools, and personalized service, ensuring an intimate and romantic ambiance.
Sandy Lane
Known for its opulence and world-class amenities, Sandy Lane is a haven for honeymooners seeking refined luxury. From stunning suites and villas to a private white sandy beach, you'll be treated like royalty. Indulge in couples' spa treatments, enjoy candlelit dinners under the stars, and create cherished memories together.
Cobblers Cove
Located on the platinum west coast of Barbados, Cobblers Cove is an exquisite boutique hotel that exudes charm and elegance. The intimate atmosphere, lush gardens, and personalized service make it an ideal choice for honeymooners. Relax on the secluded beach, savor gourmet dining experiences, and revel in the serenity of this hidden gem.
Private Beaches
Imagine strolling hand in hand along powdery white sands, with the gentle sound of waves lapping at your feet and the sun casting a golden glow on your skin. Barbados boasts an abundance of private beaches that offer seclusion and serenity, allowing you to create your own little slice of paradise.
Escape the crowds and indulge in intimate moments with your partner amidst breathtaking natural beauty. These private beaches offer the ideal setting for romance, where you can soak up the sun, cool down in the beautiful waters, and just enjoy one another's company in peaceful isolation. They range from quiet coves to secret bays.
Crane Beach
This picturesque beach, located on the southeastern coast of Barbados, offers seclusion and tranquility. With its soft pink sand and dramatic cliffs, it provides a breathtaking backdrop for romantic walks and quiet picnics.
Bottom Bay
Tucked away on the southeast coast, Bottom Bay is a hidden gem that offers privacy and natural beauty. This quiet beach offers the ideal backdrop for a romantic day in paradise, surrounded by soaring cliffs and swaying palm palms.
Gibbs Beach
Located on the prestigious west coast, Gibbs Beach offers pristine white sands and crystal-clear turquoise waters. Its calm and uncrowded atmosphere makes it an ideal spot for honeymooners seeking privacy and serenity.
Sunset Cruises
There is something undeniably magical about watching the sun dip below the horizon, casting vibrant hues across the sky as you sail the tranquil waters of Barbados.
Sunset cruises offer a romantic experience like no other, where you can witness nature's awe-inspiring spectacle in the company of your loved one. You'll feel calm and romantic as the boat cruises around the sparkling Caribbean Sea.
Whether you choose a luxurious catamaran or a traditional sailboat, these cruises provide the perfect setting to toast to your love, savor delectable cuisine, and create cherished memories against the backdrop of a breathtaking sunset.
Unforgettable Views
As the sun sets over the Caribbean Sea, the sky transforms into a breathtaking canvas of vibrant colors. From the deck of a sunset cruise, you'll have a front-row seat to witness this natural spectacle and capture stunning photos together.
Romantic Ambiance
Sunset cruises often provide an intimate setting with soft music, candlelit dinners, and the gentle sway of the boat. Toast to your love with a glass of champagne as you sail into the sunset, creating memories that will last a lifetime.
Marine Encounters
Keep an eye out for playful dolphins or graceful sea turtles as you cruise along the coast. These encounters with Barbados' marine life add an extra touch of magic to your sunset experience.
Couples Activities
Barbados is not simply a place to unwind – it also provides a wide range of activities that enable couples to make priceless memories together.
Whether you're seeking adventure or cultural experiences, there is something for every couple to enjoy. From thrilling water sports and exhilarating island excursions to immersing yourselves in the vibrant local culture, Barbados provides endless opportunities for you and your partner to embark on exciting adventures hand in hand.
Engage in activities that spark joy and connection, creating a honeymoon filled with shared experiences and unforgettable moments.
Catamaran Snorkeling Tours
Explore the vibrant underwater world of Barbados hand in hand. Join a catamaran snorkeling tour and discover colorful coral reefs, tropical fish, and maybe even swim with sea turtles. The exhilaration of exploring the marine wonders together will create cherished memories.
Romantic Beach Picnics
Escape to a secluded beach and indulge in a romantic picnic for two. Many hotels and tour operators offer customized picnic packages, complete with delicious cuisine, a cozy setup, and stunning views. Enjoy the privacy and serenity of a beachside picnic while savoring each other's company.
Island Excursions
Discover the wonders of Barbados together by embarking on island excursions. Visit the famous Harrison's Cave, explore the historic capital of Bridgetown, or hike through the lush rainforests of Barbados. Exploring the island hand in hand will deepen your connection while creating lasting memories.
Experiencing Culinary
Barbados is a culinary paradise, tantalizing the taste buds of honeymooners with its rich flavors and diverse cuisine. From delectable seafood feasts to fine dining establishments, the island offers a plethora of dining experiences for couples seeking a culinary adventure. Indulge in romantic meals at top-rated restaurants, where the ambiance is as exquisite as the flavors.
Immerse yourselves in the vibrant local food scene and savor must-try dishes that showcase the island's culinary heritage. From fresh seafood delicacies to mouthwatering fusion creations, Barbados promises to delight your palate and create a truly memorable dining experience.
The Cliff
Perched on a cliff overlooking the turquoise waters, The Cliff offers a magical dining experience. Enjoy a fusion of Caribbean and international flavors while surrounded by candlelight and the sound of crashing waves. Don't miss their signature dish, the seared scallops with plantain and vanilla bean puree—a true delight for the senses.
Oistins Fish Fry
For a more laid-back and local experience, head to the Oistins Fish Fry. Join the vibrant atmosphere of this popular Friday night event, where you can savor freshly grilled seafood, mingle with locals and other visitors, and dance to the rhythm of calypso music. Be sure to try the mouthwatering flying fish—the national dish of Barbados.
Adventurous Escapades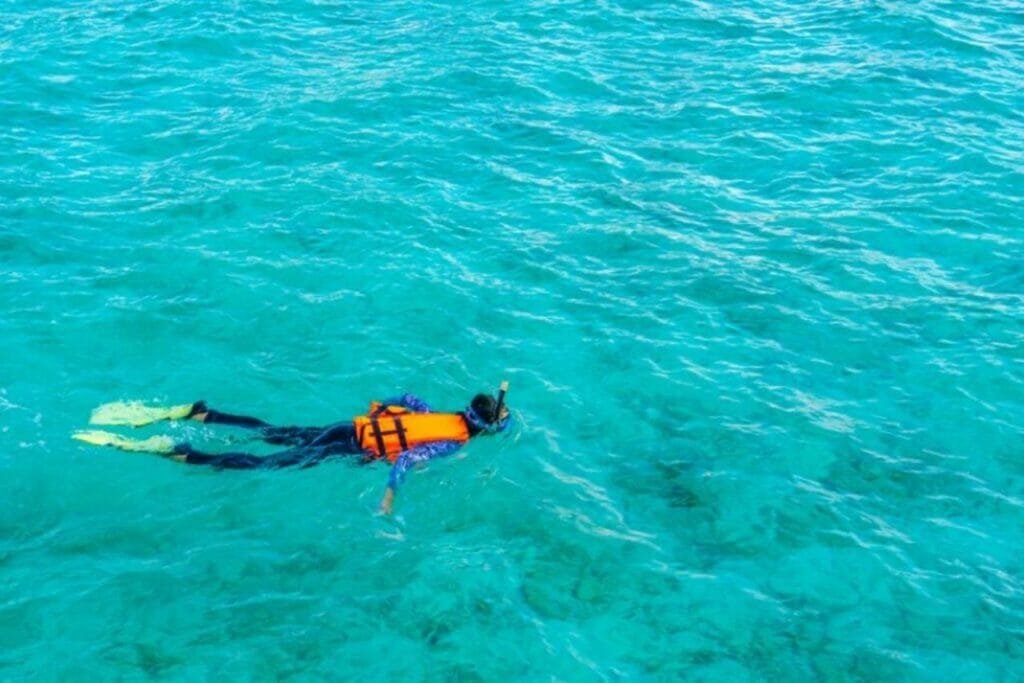 For couples who seek an adrenaline rush and a break from the ordinary, Barbados offers thrilling adventures that add an extra dose of excitement to your honeymoon.
From soaring through treetops on exhilarating zip-lining courses to exploring vibrant underwater worlds while snorkeling with marine life, there are plenty of heart-pounding activities to ignite your sense of adventure.
Take to the skies on a helicopter tour and witness the island's beauty from above or dive into the ocean's depths for unforgettable scuba diving experiences.
Barbados provides the perfect playground for adventurous honeymooners, creating moments of exhilaration and bonding that will stay with you long after your trip.
Zip-lining through the Treetops
Embark on a thrilling zip-lining adventure at Aerial Trek Zipline Adventures. Soar through the lush tropical forest, taking in breathtaking views of the island's natural beauty and enjoying an exhilarating experience together.
Snorkeling with Vibrant Marine Life
Dive into the crystal-clear waters of Carlisle Bay and explore a vibrant underwater world. Snorkel hand in hand, encountering colorful coral reefs, tropical fish, and maybe even swimming alongside gentle sea turtles. It's an adventure that will create lasting memories.
Blissful Wellness Retreats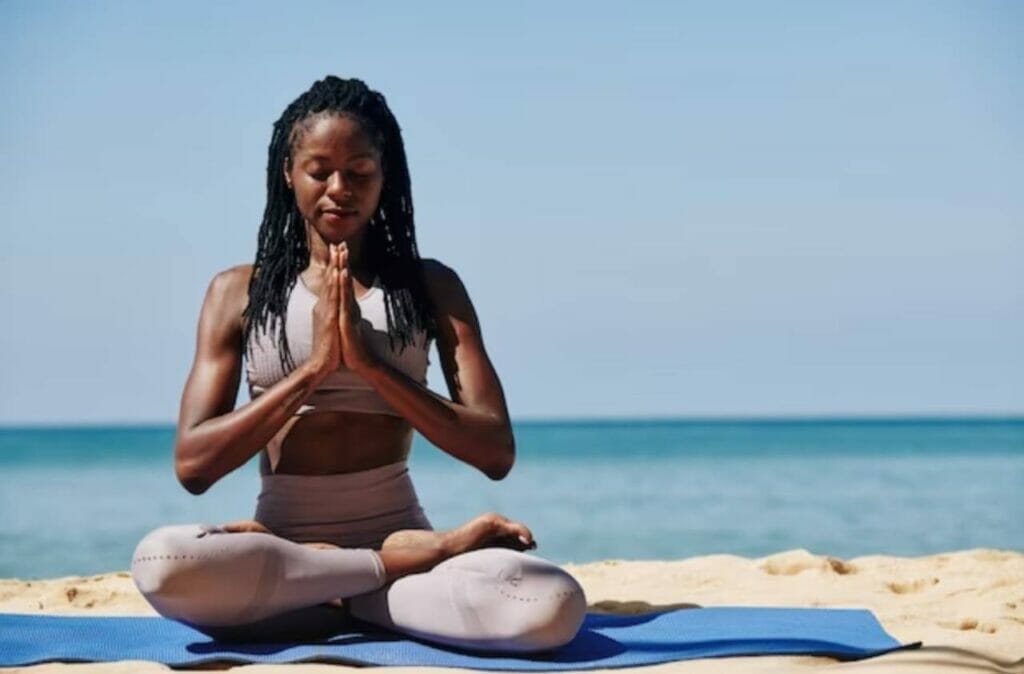 Honeymoons offer a chance to unwind, reenergize, and re-establish contact with your body, mind, and soul in addition to being a romantic getaway. With its lovely health resorts, Barbados provides a haven of peace where couples may get away from the strains of everyday life and lose themselves in a world of quiet.
Indulge in couples' treatments that combine traditional therapies and modern techniques, allowing you to unwind and find harmony together.
Enjoy the natural beauty of the island while practicing yoga or meditation, and let the relaxing sounds of the ocean wash away any remaining stress. Barbados' wellness retreats offer the perfect sanctuary for couples seeking relaxation and rejuvenation, creating a blissful and holistic honeymoon experience.
The Spa at Coral Reef Club
Escape to this tranquil oasis and indulge in couples' treatments that combine traditional therapies with modern techniques. Experience deep relaxation with massages, body wraps, and facials, or take part in yoga or meditation classes amidst lush gardens.
Yoga on the Beach
Immerse yourselves in the serene beauty of Barbados' beaches with a private yoga session. Allow the gentle sound of waves and the warm tropical breeze to enhance your practice, leaving you feeling rejuvenated and connected.
FAQ
Is Barbados Good For Honeymoons?
Barbados is an excellent destination for honeymoons. Barbados provides the ideal fusion of rest, romance, and adventure for couples looking for an amazing honeymoon with its immaculate beaches, opulent resorts, beautiful sunsets, and a broad selection of activities and experiences.
How Much Does A Honeymoon Cost In Barbados?
The price of a honeymoon in Barbados might change based on the length of the trip, the lodging option, the activities chosen, and eating preferences. For a weeklong honeymoon in Barbados, couples should budget between $5,000 to $10,000, which includes travel, lodging, food, and some activities. However, the budget can be adjusted to suit individual preferences and desired level of luxury.
What Is Barbados Like For A Honeymoon?
Barbados is a dream destination for a honeymoon. The island offers stunning natural beauty, pristine beaches, warm hospitality, and a vibrant culture. Couples may take leisurely strolls along the beach, treat themselves to opulent spa services, see beautiful sunsets, savor delectable cuisine, and participate in a range of activities including snorkeling, catamaran excursions, and touring historical sites. Barbados provides the perfect setting for a romantic and memorable honeymoon experience.
Is The Caribbean Good For A Honeymoon?
The Caribbean is an ideal choice for a honeymoon. The Caribbean offers a romantic and enticing setting for couples with its picture-perfect tropical scenery, clear waters, stunning beaches, and opulent resorts. Whether you desire secluded beach getaways, vibrant nightlife, adventurous water sports, or simply relaxation in a serene setting, the Caribbean offers diverse options to create an unforgettable honeymoon experience. The region's warm climate, hospitality, and natural beauty make it a popular choice for honeymooners seeking a tropical paradise.