Barbados Group Travel: How to Plan the Perfect Group Trip to Barbados
Barbados is the ideal destination for a group adventure filled with relaxation, exploration, and camaraderie. With stunning beaches, captivating experiences, diverse cuisine, and vibrant nightlife, Barbados offers something for every group. But planning the perfect Barbados group travel…
Well, it involves considering accommodations, activities, dining, nightlife, and transportation.
From beachfront villas to thrilling activities and local dining experiences, the island guarantees unforgettable memories. Convenient transportation options like private van hire or public buses make exploring easy.
Follow our practical tips for a seamless Barbados group trip.
Group-Friendly Barbados Accommodations: Where to Stay Together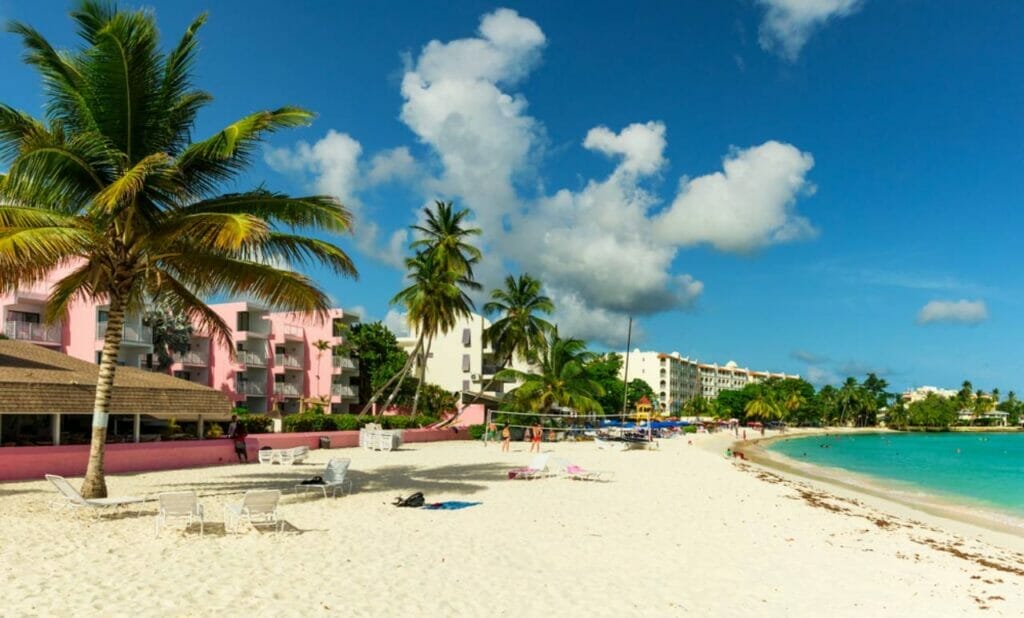 Selecting the perfect accommodation plays a pivotal role in ensuring an unforgettable group journey. Barbados presents an array of possibilities tailored to accommodate groups of any size and inclination.
Whether you yearn for beachfront villas that offer idyllic vistas, roomy condos that provide urban convenience, or opulent resorts that pamper your senses, Barbados caters to every budget and preference.
Here, we present a handpicked selection of remarkable options to enhance your group's experience:
1. Beachfront Villas
Indulge in the ultimate group getaway by renting a private villa right on the pristine Barbados beaches. Imagine waking up to the sound of waves and enjoying breathtaking views from your own terrace.
Here are our top 3 picks:
Villa Sandalo: Get ready to make a splash with your group at Villa Sandalo! This beachfront beauty on Sandy Lane Beach is perfect for those who love the sun, sand, and a dash of luxury. With its spacious digs and direct beach access, you and your crew can frolic in style. Picture yourselves sipping coconut drinks by the private pool or playing beach volleyball with the ocean as your backdrop. Villa Sandalo will have your group saying, "Seas the day!"
The Dream Villa: Calling all dreamers and beach bums! The Dream Villa in Barbados is here to make your group vacation a reality. Located on the picturesque West Coast, this place is like stepping into a fairytale—except with better cocktails. Lounge by the private infinity pool, soak up the sun on the pristine beach, and indulge in luxurious amenities that'll make your friends jealous. Get ready for group selfies that'll make other vacationers say, "We want to join your dream team!"
Coral Cove Villas: Seeking a slice of paradise for your group escapade? Look no further than Coral Cove Villas in the Paynes Bay area. These beachfront gems are the epitome of beachside bliss and are perfect for your squad. Take a dip in your private plunge pool, enjoy the stunning ocean views, and dance in the sand like nobody's watching (except maybe a few seagulls). With Coral Cove Villas, your group will have a "shell" of a time in Barbados!
2. Condos and Apartments
Opt for spacious condos or apartments that provide ample room for everyone in your group. With multiple bedrooms, fully equipped kitchens, and communal living spaces, you'll have all the comfort and convenience you need.
3. All-Inclusive Resorts
If you prefer a hassle-free experience, consider staying at one of Barbados' all-inclusive resorts. These resorts offer a range of amenities, including pools, restaurants, and activities, ensuring that everyone in your group has a fantastic time.
Here are 3 all-inclusive resorts in Barbados for your group to consider:
Sandals Barbados: Calling all party people! Sandals Barbados is the all-inclusive resort that knows how to keep your group entertained. Get ready to sip on fancy cocktails, indulge in gourmet feasts, and dance the night away like nobody's watching (except maybe a few talented resort staff members). With its luxurious accommodations, stunning beachfront location, and adults-only ambiance, Sandals Barbados will have your group saying, "We've found paradise… and it serves unlimited drinks!"
Turtle Beach by Elegant Hotels: Looking for an all-inclusive resort where your group can make a splash and have a "shell" of a time? Turtle Beach is your answer! With its family-friendly atmosphere and exciting activities, this resort promises endless fun for all ages. From building sandcastles on the beach to engaging in friendly water sports competitions, your group will create memories that will leave you laughing for years to come. Just don't forget the sunscreen, or you might end up with some colorful souvenirs!
Waves Hotel & Spa by Elegant Hotels: Seeking a group getaway that's equal parts relaxation and rejuvenation? Waves Hotel & Spa has you covered. Picture your squad indulging in soothing spa treatments, striking yoga poses with questionable flexibility, and savoring healthy meals together. You'll feel refreshed, revitalized, and ready to take on the world—well, at least until the next buffet opens. So gather your zen-seeking comrades and prepare for a group trip that'll leave you feeling "wave"-tastic!
Activities: Explore the Beauty of Barbados Together
In Barbados, an enchanting destination brimming with captivating experiences, your group will find a wealth of exhilarating activities to ensure endless entertainment throughout your stay.
Prepare to be enthralled as we present a selection of must-try experiences that will leave lasting memories:
Catamaran Cruises: Embark on a catamaran adventure and sail along Barbados' stunning coastline. Enjoy snorkeling in crystal-clear waters, swimming with sea turtles, and savoring a delicious onboard lunch. It's an ideal activity for groups seeking relaxation and adventure.
Island Safari: Explore the natural wonders of Barbados on an exhilarating island safari. Hop into an open-air jeep and venture into lush forests, visit hidden caves, and soak in breathtaking panoramic views. This thrilling expedition will create memories that your group will cherish.
Water Sports: Barbados is a paradise for water sports enthusiasts. Engage in thrilling activities like jet skiing, paddleboarding, or surfing. Take group lessons or challenge each other to friendly competitions. Don't forget to capture those epic moments for the ultimate bragging rights!
Dining Options: Savor the Flavors of Barbados Together
Barbados is a culinary paradise, where flavors from African, Indian, and European traditions intertwine to create a vibrant tapestry of cuisine. Prepare your taste buds for a tantalizing journey as we invite your group to explore the island's diverse and group-friendly dining scene. Here are some exceptional establishments that will elevate your culinary experience in Barbados:
Immerse yourself in the vibrant atmosphere of Oistins Fish Fry, a beloved local hotspot that has become a must-visit destination. This bustling open-air market showcases the island's deep-rooted love for freshly grilled seafood. Join the lively festivities as you stroll through the colorful stalls, where skilled vendors expertly prepare an array of mouthwatering seafood dishes. From succulent grilled fish to juicy shrimp and lobster, every bite is a celebration of Barbados' coastal treasures. With live music setting the rhythm, Oistins Fish Fry offers a perfect blend of culinary delights and cultural immersion, creating unforgettable moments for your group.
No visit to Barbados is complete without indulging in the world-famous Bajan rum. Seek out one of the traditional rum shops scattered across the island, where your group can bask in the laid-back ambiance and savor the rich flavors of Barbados. These local establishments provide the ideal setting to unwind and enjoy the company of your fellow travelers. Sip on expertly crafted rum cocktails, ranging from classic recipes to innovative concoctions, while immersing yourself in the warmth of Bajan hospitality. Pair your drinks with flavorful local snacks, such as fish cakes or flying fish cutters, for a true taste of the island's culinary delights.
Barbados invites you to indulge in its vibrant culinary scene, where each dining experience is a celebration of the island's cultural diversity and natural abundance. From the lively atmosphere of Oistins Fish Fry to the laid-back charm of rum shops and the picturesque settings of beachfront restaurants, your group will savor the finest flavors that Barbados has to offer.
Nightlife: Experience Barbados' Vibrant After-Hours Scene
Barbados comes alive after dark, offering a vibrant nightlife that caters to the varied tastes of your group. Whether you're seeking lively party scenes or a more relaxed atmosphere with live music, the island has options to suit every preference. Here are some popular choices that will elevate your group's evening adventures:
St. Lawrence Gap, known as "The Gap," is a lively street lined with bars, clubs, and restaurants, creating an energetic atmosphere where you can dance to Caribbean beats and enjoy themed parties that cater to diverse musical preferences. Another option is Harbour Lights, a beachfront hotspot that offers a unique nightlife experience. Dance under the stars to live performances and indulge in beach barbecues, feeling the sand between your toes.
Whether you choose the vibrant ambiance of St. Lawrence Gap or the beachfront charm of Harbour Lights, Barbados guarantees unforgettable nights filled with excitement and lasting memories.
Transport: Getting Around the Island as a Group
Getting around Barbados as a group is a breeze, thanks to the diverse transportation options available. Whether you prefer the convenience of private transportation or the local flavor of public buses, there's a mode of transport to suit your group's needs. Here are the options to consider:
Private Van Hire: Renting a private van or minibus is an excellent choice for group travel in Barbados. It provides the flexibility to create a customized itinerary, ensuring that you can explore the island's attractions and hidden gems at your own pace. With a private vehicle, you have the freedom to venture off the beaten path, visit remote beaches, and enjoy the breathtaking landscapes. Plus, traveling together in a private van allows for seamless coordination and camaraderie among your group.
Public Buses: Barbados boasts an extensive and affordable public bus system that offers a unique way to experience local life while getting around the island. Jump aboard the vibrant buses and immerse yourself in the sights, sounds, and rhythms of Barbados. Although it may get a bit crowded during peak hours, riding the public buses allows you to interact with friendly locals, witness the vibrant culture firsthand, and gain a deeper understanding of the island's daily life.
Whether you choose the convenience of private van hire or the authentic experience of public buses, both options ensure that your group can navigate Barbados efficiently and comfortably. Plan your transportation strategy based on your group's preferences, itinerary, and desired level of exploration. With reliable transportation at your fingertips, you can embark on unforgettable adventures and discover the wonders of Barbados together.
Practical Tips for Group Travel: Making Your Trip a Seamless Success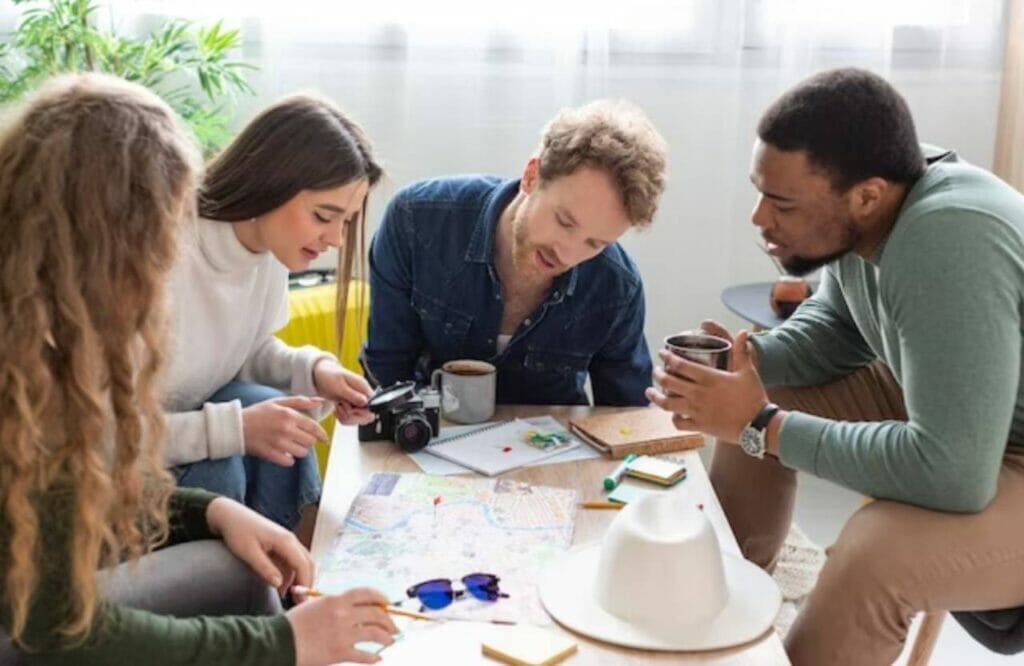 Group travel requires careful planning and coordination to ensure a seamless and enjoyable experience. Here are some practical tips to keep in mind when organizing a group trip to Barbados:
Group Itinerary: Develop a well-structured itinerary that balances group activities and individual free time. Consider everyone's interests and preferences when selecting attractions, excursions, and dining options. Having a clear schedule will help manage expectations and ensure that everyone gets the most out of their Barbados experience.
Transportation Arrangements: Arrange transportation in advance to accommodate the size of your group. Whether it's renting a private van, using public transportation, or hiring a local driver, make sure you have reliable and efficient means of getting around the island.
Group Dining Reservations: For popular restaurants or group dining experiences, make reservations ahead of time to secure a table that can accommodate your group. This will prevent any last-minute disappointments and allow you to enjoy memorable meals together.
Communication and Safety: Establish clear communication channels within your group to ensure everyone stays connected during the trip.
FAQ
How Do I Make An Itinerary For A Group Trip In Barbados?
To create an itinerary for a group trip in Barbados, start by identifying the group's interests and preferences. Research the island's attractions, activities, and events, and prioritize the ones that align with your group's interests. Consider the duration of the trip and allocate time for relaxation and spontaneous exploration. Plan transportation, accommodation, and dining options that accommodate the group's needs. Flexibility is key, allowing for adjustments and free time. Remember to communicate and involve the group in the itinerary planning process to ensure everyone's satisfaction.
How Do I Plan A Trip To Barbados?
When planning a trip to Barbados, consider the following steps. First, determine the duration of your stay, typically a week or more to fully experience the island. Research and select the activities and attractions that interest you, such as exploring pristine beaches, visiting historical sites, and enjoying local cuisine. Choose accommodations that suit your preferences and budget, whether it's a beachfront villa, luxury resort, or cozy guesthouse. Plan transportation, either by renting a car or using public buses and taxis. Finally, review travel requirements, including passports, visas, and any necessary vaccinations, and book your flights accordingly.
How Do I Plan An Overseas Trip With A Group?
To plan an overseas trip with a group, follow these steps. Start by determining the destination and purpose of the trip. Establish a budget and consider group size and dynamics. Research the destination's attractions, accommodations, and transportation options. Create an itinerary that balances group activities and free time. Communicate with the group to gather input and address individual preferences. Coordinate logistics, including flights, accommodations, and transportation. Consider travel insurance for the group's protection. Stay organized, keep track of important documents, and ensure clear communication throughout the planning process.
How Many Days Are Good For Barbados?
To fully appreciate the wonders of Barbados, a trip of at least five to seven days is recommended. This duration allows ample time to explore the island's stunning beaches, delve into its rich history, indulge in its vibrant culinary scene, and partake in various activities and attractions. However, the ideal length of stay ultimately depends on your preferences and the depth of experience you desire. Extending your visit to ten days or more allows for a more relaxed pace and the opportunity to discover lesser-known gems.