Barbados Budget Travel Guide (19+ Tips)
In this Barbados budget travel guide, you will discover affordable accommodations, free activities, and local culinary delights in the Caribbean paradise.
From charming guesthouses and apartment rentals to camping off the beaten path, there are budget-friendly options for every traveler. Enjoy pristine beaches, explore lush landscapes, and immerse yourself in vibrant cultural festivities—all without breaking the bank.
Sample delicious street food, shop at local markets, and take advantage of reliable public transportation. With these tips, embark on an unforgettable and wallet-friendly adventure in Barbados.
Cheap Accommodation Options
Barbados, a paradise in the Caribbean, is often associated with luxury. Yet, the truth is, it's entirely possible to find affordable accommodation if you look beyond the resorts. Here are a few ideas to help you maximize your financial resources.
Guesthouses
Guesthouses are a charming alternative to pricey hotels. They offer a glimpse into local life, often with the comfort of home-like amenities. Melrose Beach Apartments Inc. in Worthing, for example, provides clean, cozy rooms for around $55 per night. Just a quick walk away, you can relax on the sandy stretch of Worthing Beach or explore local dining options.
Other guesthouses, like Cherry Tree Apartments in St. James, are known for their friendly staff and tranquil surroundings. Here, you can soak up the Bajan sun by the pool or enjoy a barbeque in the lush garden without breaking your budget.
Apartment and Villa Rentals
Finding an apartment or villa that fits your budget is now simpler than ever thanks to services like Airbnb. There are several possibilities, ranging from contemporary flats in Bridgetown to seaview homes in St. James. Having your own space not only offers privacy but also allows you to save money by preparing your own meals in a fully equipped kitchen.
For instance, Rockley Golf & Country Club offers studio apartments within a gated community, complete with kitchen amenities and access to a golf course, tennis courts, and a swimming pool. All of this is often available at a fraction of the cost of a hotel room!
Camping
While not as popular in Barbados, camping can be an exhilarating way to immerse yourself in nature while saving on accommodation costs. Locations like Cole's Cave offer an off-the-beaten-path experience that adventurous travelers might find appealing.
Do keep in mind that camping is less regulated in Barbados, and it's essential to seek permission from the landowner or relevant authorities before setting up camp. It's also advisable to camp in groups and secure your belongings properly for a safe and enjoyable outdoor experience.
Free or Low-Cost Activities
From golden beaches to cultural festivals, Barbados offers a plethora of free or low-cost activities that can add fun and memorable experiences to your trip without straining your budget. Here is a closer look at some of these choices.
Beach Fun
Barbados is renowned for its stunning beaches, and the beauty of it is that beach access is free.
One of Barbados' biggest beaches, Browne's Beach, with tranquil, crystal-clear waters ideal for swimming and snorkeling. Without spending a dollar, you may take pleasure in making sandcastles with the kids, taking a leisurely stroll down the coast, or indulging in a cool swim in the clear waters.
Contrarily, Freights Bay is a surfer's paradise. It's recognized for its reliable waves and is situated on the South Coast, making it a great place for both beginning and advanced surfers. Surfboard rental shops are available nearby for those who didn't pack their gear.
Explore Nature
Barbados has more to offer than just beaches. For a minimal fee, nature enthusiasts can explore the island's lush, green landscapes.
Welchman Hall Gully, for instance, is a must-visit. For a small entrance fee, you can enjoy a peaceful walk through a tropical forest, admire the unique limestone formations, and if you're lucky, spot green monkeys in their natural habitat.
Cultural Festivities
Bajan culture is vibrant and engaging. Barbados holds a number of cultural events throughout the year, many of which are free or extremely inexpensive to attend.
The Oistins Fish Festival is a local tradition celebrating the fishing community. It features a variety of activities, including fish boning competitions, boat races, and street dancing. You can indulge in fresh seafood, listen to local music, and enjoy the lively atmosphere.
Similarly, the Crop Over Festival is a historic summer celebration that marks the end of the sugar cane harvest. It's filled with colorful parades, music, and dance. Although some events require tickets, many activities are free and open to the public, providing a wonderful insight into the island's rich cultural heritage.
Budget-Friendly Eateries
Barbados is not just about beautiful beaches and vibrant culture; it also boasts a rich culinary scene that can be enjoyed without going over your budget. Here's how you can savour the Bajan flavours without splurging.
Street Food
One of the best ways to experience authentic Bajan cuisine is by trying street food. It's not only delicious but also very pocket-friendly. Must-try local delicacies include fish cakes, a tasty deep-fried snack made from salted cod and local herbs, and macaroni pie, a Bajan comfort food similar to mac and cheese but with a Caribbean twist. Roadside vendors and food stalls in bustling areas like Oistins or Bridgetown are great spots to sample these and other local treats.
Food Markets
Food markets are great places to become acquainted with the regional culinary scene on a budget. These markets offer a wide variety of fresh produce and locally made products at reasonable prices.
Brighton Farmers Market, for instance, is a weekly event where local farmers and artisans sell their products. You can buy fresh fruits and vegetables, homemade bread, jams, or even artisanal cheese. It's not just about shopping, though. The friendly atmosphere, live music, and communal breakfast make the experience even more delightful.
Rum Shops
Rum shops, traditional Bajan bars, are a cultural institution in Barbados. More than just places to enjoy a variety of rum-based beverages, they often serve hearty, inexpensive meals.
Picture yourself at a quaint rum shop, digging into a chicken roti or a plate of pudding and souse (a local dish made with pickled pork and sweet potato pudding) while sipping on local rum. With lively conversations with friendly locals thrown in, it's a unique, budget-friendly dining experience that you shouldn't miss.
Navigating Public Transportation
Moving around in Barbados doesn't need to be expensive. The island boasts a reliable public transportation system that includes buses, minibuses, and route taxis, often referred to as "ZRs".
A ride costs around $1 USD, regardless of the distance.
Since the system spans the majority of the island, getting from one place to another is simple and reasonably priced.
Barbados Travel Tip: Be prepared for a lively journey; local buses in Barbados are famous for their vibrant music and charismatic conductors!
Seasonal Travel Tips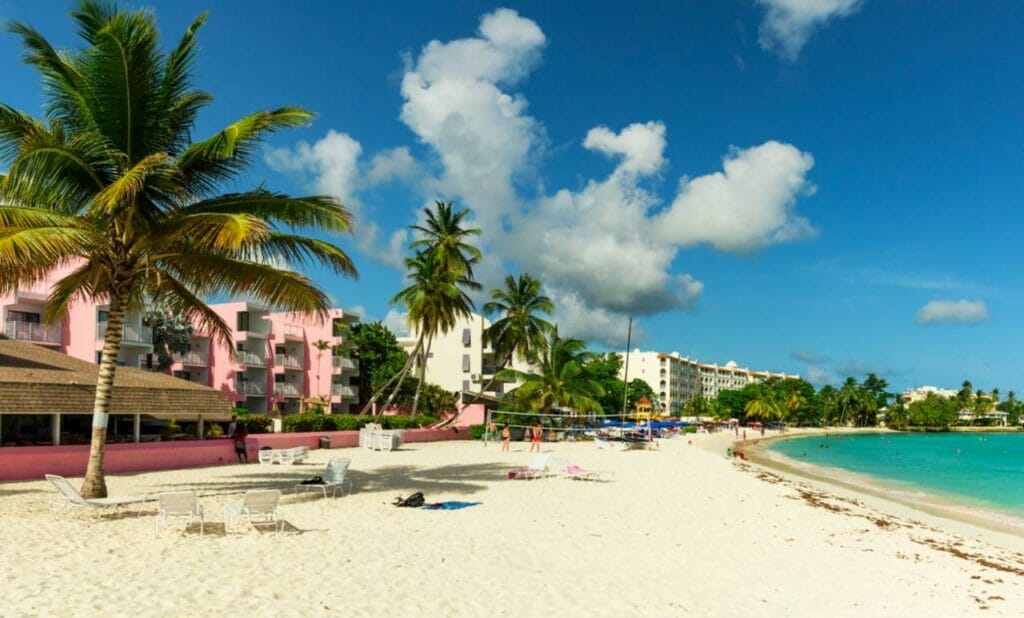 Timing is key when planning a budget trip to Barbados.
The most costly period to travel is often during the peak tourist season, which lasts from mid-December to mid-April.
To get better deals on Barbados flights and accommodations, consider planning your trip during the off-peak season, usually from June to November.
You'll also benefit from fewer crowds at popular tourist spots.
Do keep in mind, though, this period coincides with the hurricane season, although Barbados rarely gets hit directly.
Budget-Friendly Shopping
Looking for a memento to remember your trip, or perhaps gifts for loved ones back home? Barbados offers budget-friendly shopping options.
Check out local markets such as Cheapside Market in Bridgetown for unique and affordable finds. From local crafts to freshly picked fruits, these markets offer an array of items that reflect Bajan culture.
Additionally, Chattel Village in Holetown is a charming spot offering locally made crafts, art, and clothing.
Money Saving Tips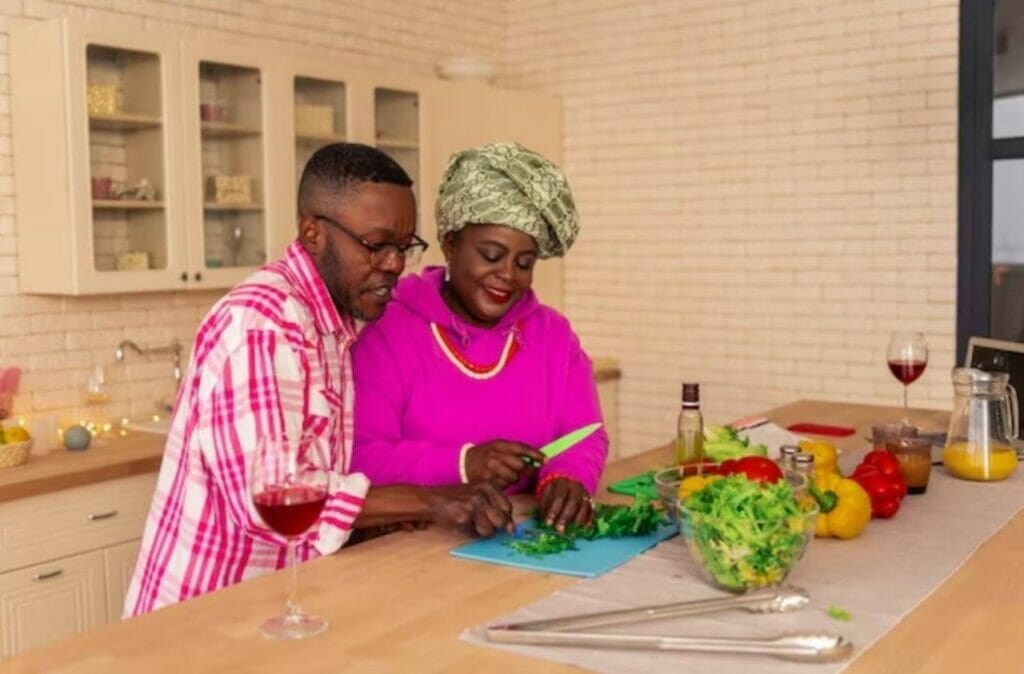 Enjoy the local festivals: Barbados is known for its lively local festivals like the Crop Over summer festival or the National Independence Festival of Creative Arts. These activities are a terrific opportunity to become acquainted with the community because many of them are free.
Experience natural beauty: From the stunning Andromeda Botanic Gardens to the captivating Hunte's Gardens, nature's bounty in Barbados is largely accessible for a small fee or even free.
Cook your own meals: With various local markets offering fresh produce, consider cooking your own meals to save on dining out. Plus, it's a great opportunity to experiment with local ingredients!
Understanding Travel Insurance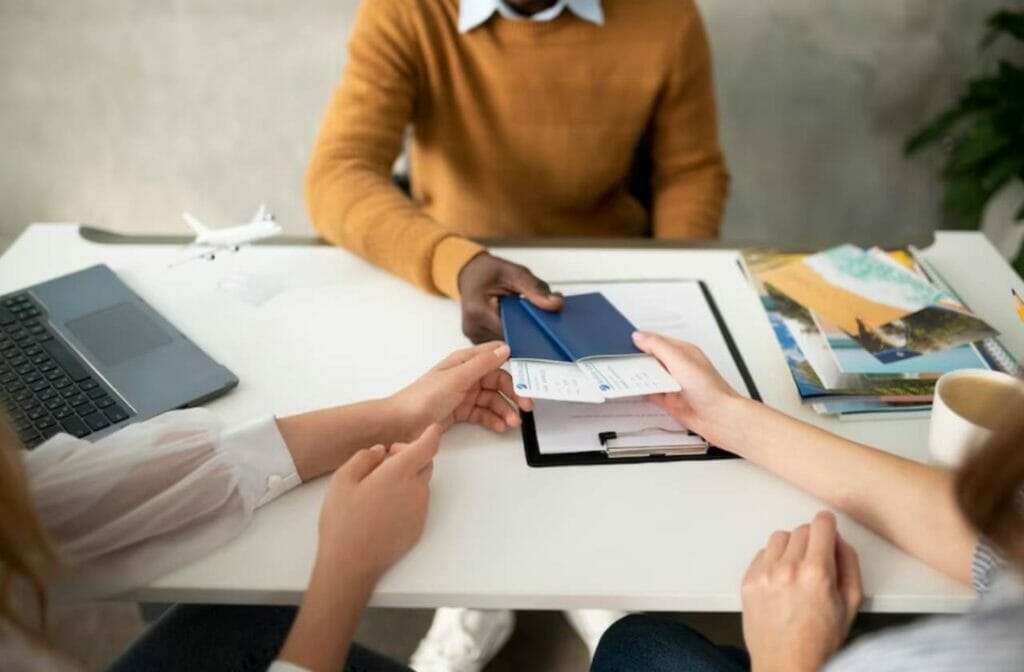 While this might seem like an extra expense at first, securing travel insurance can actually save you from unforeseen expenditures that could blow your budget.
Whether it's a last-minute trip cancellation, a medical emergency, or loss of luggage, travel insurance offers peace of mind during your travel.
Find a plan that meets both your demands and your budget.
Staying Connected on a Budget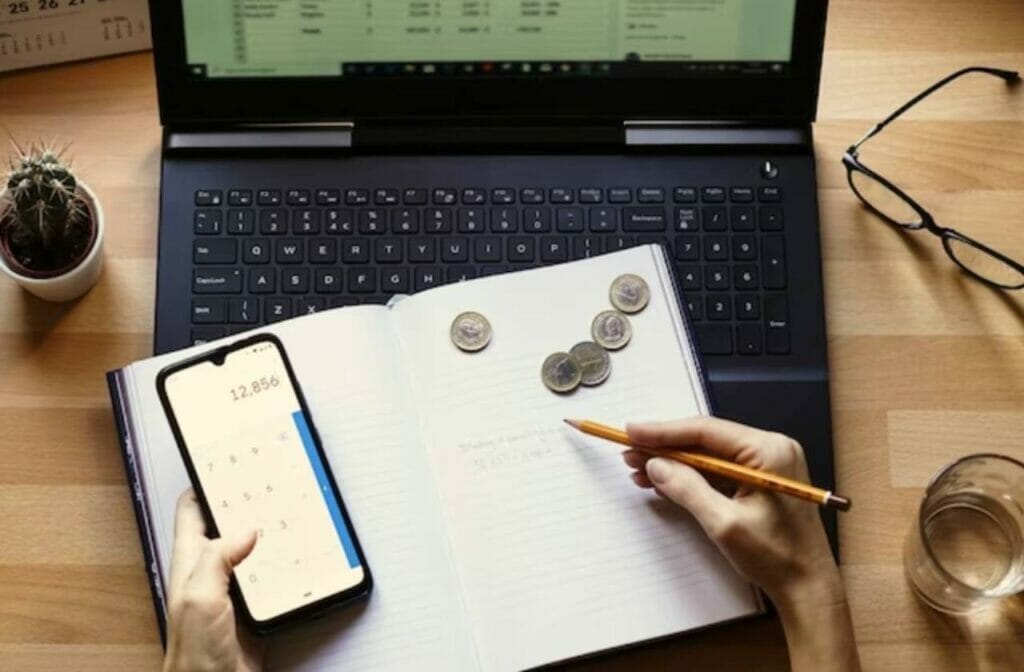 Staying connected while traveling doesn't have to cost a fortune. Consider buying a local prepaid SIM card upon arrival.
Companies like Flow and Digicel offer cost-effective data plans, allowing you to navigate maps, keep in touch with loved ones, or even share your sun-kissed selfies on social media without worrying about steep roaming charges.
Safety Tips for Travelers
Barbados is one of the safest Caribbean islands, but as with any travel destination, it's important to take basic precautions.
Avoid isolated areas after dark, keep an eye on your belongings in crowded places, and be cautious of any unsolicited help or overly friendly approaches.
In case of emergency, dial:
211 for the police
311 for an ambulance
511 for the fire department
Safety should always come first, and being mindful of your surroundings may help to ensure a stress-free holiday.
Remember, "budget travel" doesn't mean skimping on experiences. Making wise decisions is the key to enjoying everything that Barbados has to offer. So pack your bags and get ready for an unforgettable adventure in Barbados!
FAQ
Is Barbados Affordable To Visit?
Barbados offers a diverse range of experiences to suit various budgets. While traditionally associated with luxury travel, the island has numerous budget-friendly accommodation options, cost-effective eateries, and free or low-cost activities, making it accessible for budget travelers.
How Expensive Is It To Travel In Barbados?
The cost of travel in Barbados can vary widely based on your choices. Luxury resorts, high-end restaurants, and premium experiences can make it a pricey destination. However, budget accommodations, local eateries, and a plethora of free activities can considerably lower travel expenses, catering to budget-conscious travelers.
Is Barbados An Expensive Holiday?
Barbados can be an expensive holiday destination if you choose high-end accommodations, dine at upscale restaurants, and indulge in premium experiences. Nevertheless, with careful planning and budget-friendly choices like local guesthouses, street food, and free beaches, you can enjoy a holiday in Barbados without breaking the bank.
How Much Money Should I Take To Barbados For A Week?
The amount of money required for a week in Barbados can vary greatly based on your personal preferences and lifestyle. A budget traveler could get by with around $700-$1000 for a week, covering accommodation, meals, transport, and activities. However, those seeking a more luxurious experience should anticipate a higher budget.
Is Barbados A Cheap Country?
Due to its image as a luxurious destination, Barbados isn't typically categorized as a "cheap" country, but it does provide a range of alternatives for visitors on a budget. Affordable accommodations, cost-effective dining options, and a range of free or low-cost activities make it possible to experience Barbados without excessive spending.
Is 7 Days In Barbados Enough?
A week in Barbados provides ample time to explore the island's diverse offerings. This duration allows for beach relaxation, exploration of local markets and cultural sites, nature walks, culinary adventures, and participation in local events, offering a well-rounded and immersive experience of Barbadian life.