Barbados All-Inclusive Resorts (2023 Travel Tips)
Finding your ideal all-inclusive resort in Barbados is a personalized endeavor. It depends on your preferences, budget, desired amenities, and holiday style. In this comprehensive Barbados all-inclusive resorts guide, we help you get started with:
Conducting thorough research, compare prices, read reviews, and consider the resort's proximity to local attractions. 
Whether you seek a tranquil retreat or an adventure-filled getaway, finding the perfect fit will ensure an unforgettable experience.
Step 1: Choosing the Perfect All-Inclusive Resort
The perfect fit will largely depend on your preferences and what you want out of your holiday. A resort that aligns with your budget, offers the amenities you desire, is situated in a location that you find appealing, and supports the kind of holiday you're envisioning – be it a peaceful escape or an activity-filled adventure – is crucial.
Questions to ask yourself include:
Are you in search of a serene hideaway or an energetic hotspot?
Do you prefer a family-oriented setting or a romantic sanctuary?
Answering these will lead you to a resort that best suits your needs.
It's essential to conduct thorough research before making a decision – scrutinize reviews, compare prices and packages, and assess each resort's vicinity to local attractions.
We recommend that you opt for resorts that uphold transparent pricing policies and boast solid reputations for customer satisfaction. Always remember, 'all-inclusive' should signify that everything is indeed included in your package.
Best Barbados All-Inclusive Resorts for Families
When it comes to family-friendly resorts in Barbados, several properties lead the pack with their thoughtful amenities, variety of family activities, and dedication to making family vacations unforgettable.
Here are two notable examples:
Turtle Beach by Elegant Hotels
This resort is highly sought-after by families due to its extensive array of kid-centric amenities, including:
Kids' Club: Children can join the Flying Fish Kids' Club, which organizes a myriad of engaging activities, keeping the little ones entertained and allowing parents to enjoy some downtime.
Spacious Suites: The resort offers spacious suites that are perfect for families, offering plenty of room for everyone to unwind and relax.
Beachfront Location: Turtle Beach is ideally located right on the shore, providing direct access to the beach for fun-filled family days in the sun and sand.
Dining Options: With multiple on-site restaurants, families have a variety of meal options to choose from, catering to even the pickiest of eaters.
Sea Breeze Beach House
Known for its family-oriented services and amenities, this resort ensures a fun-filled family vacation with features such as:
Family Suites: Specifically designed to cater to the needs of families, these suites provide ample space and necessary amenities for a comfortable stay.
Kids' Club Activities: The resort's kids' club offers a range of activities that not only entertain but also educate children about Barbadian culture and nature.
Water Sports: With the all-inclusive package, families can indulge in a plethora of water sports, including paddleboarding, kayaking, and snorkeling, providing fun experiences for the entire family.
Multiple On-site Restaurants: The resort houses several restaurants, offering a diverse range of culinary options to suit all family members' tastes.
Both of these resorts go the extra mile to ensure families feel welcome, relaxed, and entertained throughout their stay, making them top choices for family-oriented all-inclusive vacations in Barbados.
Luxury All-Inclusive Resorts in Barbados
Luxury vacations are all about relaxation, indulgence, and top-tier services, and Barbados is home to a number of resorts that encapsulate this ethos.
Here are two exceptional luxury all-inclusive resorts in Barbados:
Sandy Lane
Sandy Lane exudes luxury and elegance, offering guests an all-inclusive experience that goes above and beyond the standard. It offers:
Professional Golf Courses: Golf lovers will appreciate the three professional golf courses within the resort. These include the Old Nine and two 18-hole courses designed by Tom Fazio: the Green Monkey and the Country Club.
Spa Treatments: The all-inclusive package at Sandy Lane extends to their luxurious spa, where guests can enjoy a variety of rejuvenating treatments.
Exceptional Service: Sandy Lane prides itself on its top-tier service, ensuring every guest is treated with the utmost attention and care.
Water Sports: For those seeking adventure, the resort offers a range of water sports that are included in the all-inclusive package.
The House by Elegant Hotels
This adults-only resort is perfect for those seeking tranquility and sophistication. The House offers:
Beachfront Dining: Guests can enjoy meals against the backdrop of stunning beachfront views, adding an extra layer of luxury to the dining experience.
Complimentary Jet-lag Massage: Upon arrival, guests are treated to a complimentary jet-lag massage, setting the tone for a relaxing and pampering stay.
Personal Ambassador Service: This unique service provides guests with personalized attention, catering to their every whim and need during their stay.
Adults-Only Atmosphere: The House is an adults-only resort, ensuring a tranquil environment ideal for relaxation and romance.
Whether it's the elegance of Sandy Lane or the tranquil sophistication of The House, these resorts offer luxury experiences that make your stay in Barbados truly unforgettable.
Beachfront All-Inclusive Resorts with Water Sports
Barbados, with its beautiful beaches and crystal-clear waters, offers a playground for those who love water sports.
Here are two Barbados all-inclusive resorts with water sports:
Tamarind by Elegant Hotels
This resort offers a range of water sports activities, all included within the all-inclusive package:
Snorkeling: Explore the mesmerizing underwater world of Barbados, with its colorful coral reefs and diverse marine life.
Kayaking: Experience the tranquility of the sea as you paddle along the Barbadian coastline.
Stand Up Paddleboarding: A fun and accessible activity that's also a great workout.
The Club Barbados Resort & Spa
This beachfront resort provides an assortment of water sports for its guests:
Windsurfing: Harness the power of the wind and experience the thrill of gliding over the Caribbean waves.
Water Skiing: Enjoy the adrenaline rush of skimming the water's surface behind a speedboat.
Reef Fishing: Try your hand at catching some of the local marine life.
All-Inclusive Resorts for Couples and Romantic Getaways
Barbados offers several all-inclusive resorts that cater to couples seeking a romantic getaway:
Sandals Royal Barbados
Offering a romantic all-inclusive experience with features such as:
Private Soaking Tubs: Each balcony features a private soaking tub, perfect for intimate moments.
Beachfront Butler Service: For an added layer of luxury and personalization, a butler service is provided on the beachfront.
The SoCo Hotel
This adults-only all-inclusive resort provides:
Unlimited Premium Beverages: Enjoy your favorite drink, whether it's a refreshing cocktail or a glass of fine wine.
Daily à la Carte Meals: Indulge in breakfast, lunch, and dinner from an à la carte menu, ensuring a culinary experience tailored to your taste.
Motorized Water Sports: Add some adventure to your romantic getaway with a variety of thrilling water sports.
Budget-Friendly All-Inclusive Resorts in Barbados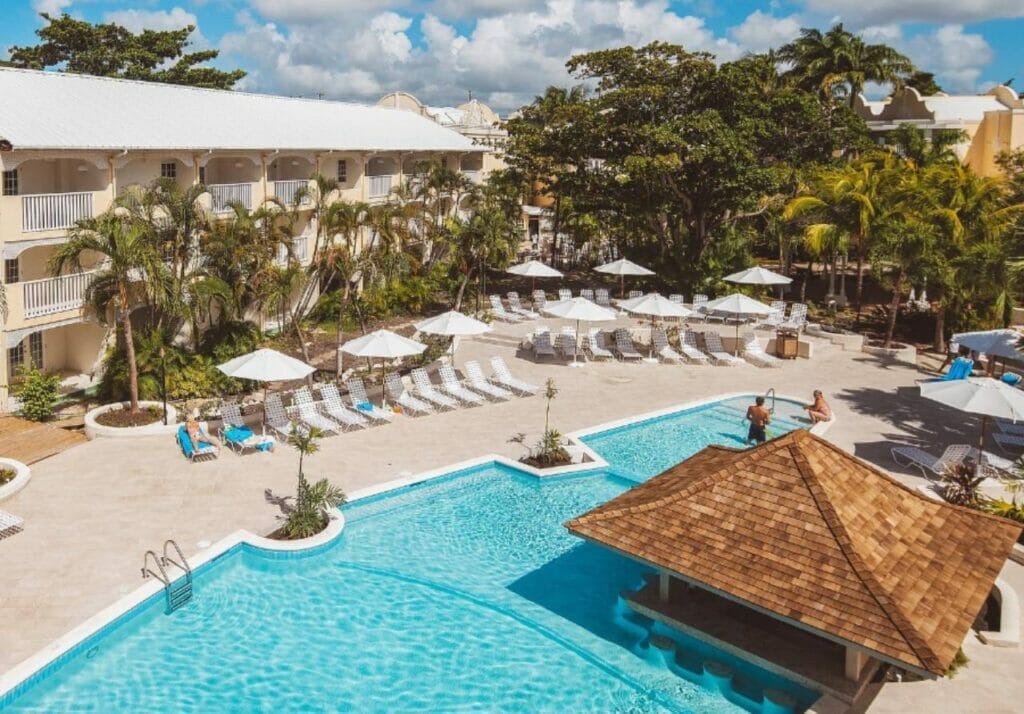 Even if you're budget-conscious, Barbados has several resorts that offer an excellent all-inclusive experience:
Sugar Bay Barbados
Despite its affordability, this resort offers a variety of amenities:
Multiple Dining Options: With five on-site restaurants, you'll never run out of new dishes to try.
Water Sports: Enjoy activities such as kayaking, snorkeling, and boogie boarding.
Kids' Club: The little ones will stay entertained at the on-site kids' club.
Mango Bay Hotel
A budget-friendly resort with amenities such as:
Comfortable Accommodations: Though the rooms are compact, they are comfortable and well-appointed.
Beachfront Location: Enjoy direct access to the beach and the beautiful Caribbean Sea.
Entertainment: Nightly entertainment is included, ensuring every night is a fun-filled experience.
Exploring the Culinary Delights at All-Inclusive Resorts
Part of the joy of traveling is immersing yourself in the local cuisine, and the all-inclusive resorts of Barbados deliver this experience in style.
Crystal Cove by Elegant Hotels, for instance, combines the best of both worlds, offering a fusion of international and local cuisines.
Their ocean-view restaurant creates an enchanting atmosphere, where each meal is accompanied by a scenic panorama of the blue sea meeting the sky at the horizon. From traditional Bajan dishes, prepared with the freshest local produce, to international favorites, the culinary journey here is both extensive and immersive.
In the same vein, the Colony Club by Elegant Hotels places a strong emphasis on its farm-to-table philosophy, serving dishes crafted from locally sourced ingredients.
This commitment to freshness and sustainability is not only palpable in the flavors of their food, but it also forms the crux of their dining experiences. Here, you'll find themed dining events that spotlight various culinary traditions and styles, creating a diverse and ever-changing menu to delight the palate.
For those interested in delving deeper, the resort also hosts cooking demonstrations. This offers guests an inside look into the creation of Bajan dishes, inviting them to learn from skilled chefs and even take home a piece of Barbados's vibrant culinary culture.
Exciting Activities and Amenities Offered by All-Inclusive Resorts
Barbados all-inclusive resorts go above and beyond to provide a broad range of activities and amenities that cater to all kinds of interests.
Take Waves Hotel & Spa, for example, where a tranquil ambience is created through their yoga classes. This is a fantastic opportunity to rejuvenate your body and mind while absorbing the stunning views around you.
If golf is more your style, Sandy Lane is an excellent choice. With its high-class golfing facilities, enthusiasts can enjoy a round or two in a beautifully manicured tropical setting.
In addition to these, many resorts focus on presenting unique experiences that expose guests to the local culture and heritage. This includes mixology classes, where you can learn how to make Barbados' famous rum punch, or art and craft displays featuring local artisans.
Many resorts even have live entertainment, ranging from traditional Barbadian music and dance performances to international acts. Always take a glance at the resort's activity calendar when you arrive to make sure you don't miss out on these enriching experiences.
Planning Tips for Your All-Inclusive Resort Vacation in Barbados
When planning your trip to an all-inclusive resort in Barbados, it's important to start with a comprehensive list of your must-have and nice-to-have features. Whether it's a certain type of room, specific amenities, or certain activities, this list will help you identify a resort that aligns closely with your expectations.
Remember to carefully check what's included in the all-inclusive package and ask about any potential additional costs that might come up, like resort fees or premium dining surcharges. This way, you can avoid any unexpected surprises and make sure your vacation stays within your budget.
Timing is another crucial factor in planning your Barbadian trip.
The high season in Barbados runs from mid-December to mid-April, coinciding with dry, sunny weather and a vibrant social scene. However, this is also when the island is busiest and prices are highest.
If you're looking for a more peaceful vacation experience and potentially better deals, consider traveling during the shoulder seasons.
From late April to June and from November to mid-December, the weather is still generally pleasant, but the crowds thin out significantly. This can result in a more relaxed vacation where you can enjoy all that Barbados has to offer at a slower pace.
Barbados All-Inclusive Resorts FAQ
What does all-inclusive mean in Barbados?
In the context of Barbados resorts, all-inclusive means a single payment covers lodging, meals, drinks, and often a variety of activities and amenities. The specifics can vary from resort to resort, but generally, all-inclusive packages aim to provide a worry-free vacation experience where virtually everything is included.
What Is The Nicest Area To Stay In Barbados?
The West Coast, often referred to as the Platinum Coast, is renowned for its luxurious resorts, pristine beaches, and calm turquoise waters. Towns like Holetown and Speightstown offer a blend of local charm, high-end shopping, and gourmet dining options. However, the nicest area to stay will depend on individual preferences regarding activities and atmosphere.
Is It Expensive In Barbados?
Barbados is known for its range of accommodations and activities to suit various budgets, but it tends to be on the pricier side compared to other Caribbean destinations. High-end luxury resorts, gourmet restaurants, and activities like golf and water sports can add up. However, with careful planning, budget options, and all-inclusive packages, a trip to Barbados can be made more affordable.
Is Sandals Barbados Worth The Money?
Sandals Barbados offers a luxury all-inclusive experience, with upscale accommodations, gourmet dining options, extensive amenities, and top-notch service. The value for money is often perceived as high due to the quality of the experience provided. However, the resort's value can be subjective and should be evaluated against personal preferences, expectations, and budget.