Bahamas Nightlife: From Local Pubs to High-End Casinos
Are you prepared to explore Nassau, the capital and spirit of the Bahamas, and its thriving nightlife? Get ready for an unforgettable adventure as you navigate the bustling streets and discover the hidden gems that make the Bahamas nightlife scene truly come alive. 
From dancing the night away at the celebrity-filled Aura Nightclub to sipping on tropical frozen daiquiris at the laid-back Daiquiri Shack, there's a spot for every taste and preference. Don't forget to immerse yourself in the lively street festivals and dazzling Junkanoo parades that showcase the rich heritage and traditions of this vibrant city.
Prepare to enjoy Nassau's unique nightlife, which combines high-energy excitement with genuine cultural immersion.
Nassau Nightlife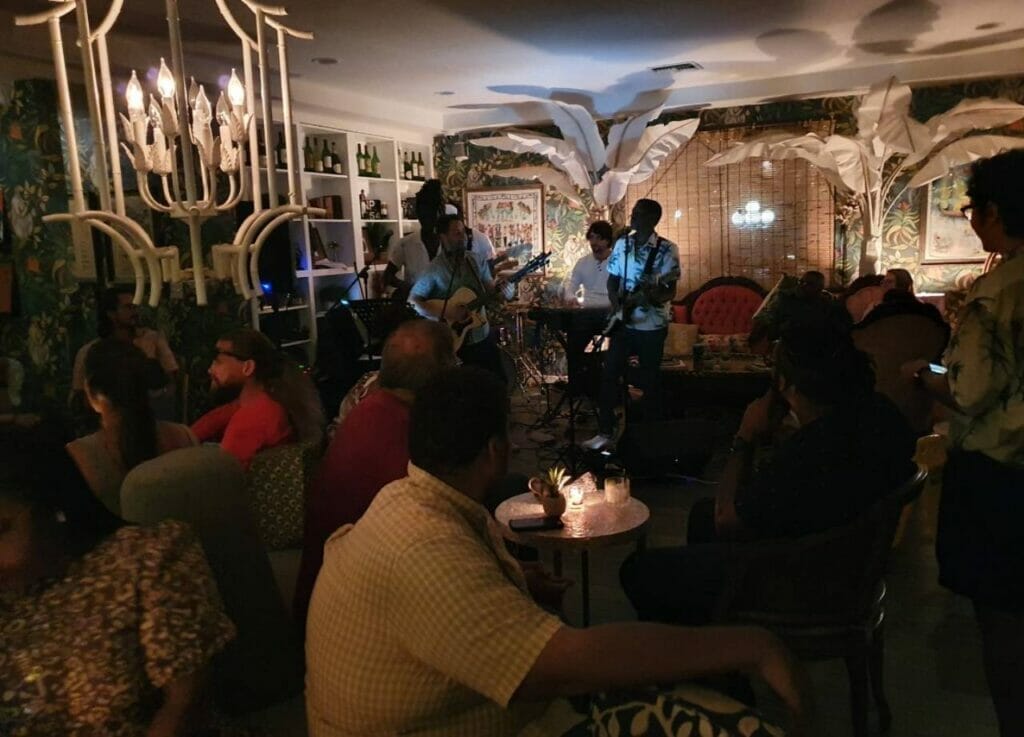 The vibrant nightlife of the Bahamas may be found on the crowded streets of Nassau, the Bahamas' capital and largest city. Nassau, recognized for its dynamic culture and varied attractions, has a nightlife scene to suit all preferences. There is something for everyone, from lively nightclubs pulsing to the pulse of live music to rooftop pubs giving sweeping views of the city.
One of the top picks for an unforgettable night out is Aura Nightclub at the Atlantis. With its celebrity DJs and high-energy atmosphere, Aura offers an unmatched nightclub experience. Dance the night away to the latest hits and enjoy signature cocktails in this sleek and stylish venue.
The Daiquiri Shack, on the other hand, is a must-go to for anyone seeking a more relaxed ambiance. Here, you'll find the best frozen daiquiris in town in a relaxed and friendly environment. Sip on refreshing flavors like strawberry, mango, or piña colada while enjoying the company of friends or making new ones. The Daiquiri Shack is the perfect spot to unwind and soak in the vibrant ambiance of Nassau.
Don't miss the vibrant street festivals like the weekly Fish Fry at Arawak Cay. Filled with music, dancing, and delicious local food, it offers an authentic experience of Bahamian nightlife. Sample mouthwatering dishes such as conch fritters, fried fish, and Bahamian macaroni and cheese, all while immersing yourself in the lively atmosphere of this bustling gathering.
Similarly, vibrant Junkanoo parades, often taking place late at night, are a dazzling spectacle of Bahamian culture that adds a unique touch to Nassau's nightlife. Join the lively procession of costumed dancers, vibrant music, and elaborate floats as they fill the streets with energy and excitement. The Junkanoo parade is a must-see event that showcases the rich heritage and traditions of the Bahamas.
Whether you're seeking a high-energy nightclub experience or a more laid-back and authentic cultural immersion, Nassau's nightlife has it all.You may choose a memorable experience that meets your interests among its wide variety of locations and activities.
Nightlife in Grand Bahama
In contrast to the vibrant energy of Nassau, Grand Bahama offers a more tranquil and serene nightlife scene.That doesn't make it any less exciting. From beachside bonfires to live performances, the nightlife in Grand Bahama will surely capture your heart.
Port Lucaya Marketplace, the epicenter of Grand Bahama's nightlife, is a must-visit. After the sun sets, the marketplace comes alive with live Bahamian music and performances. You can indulge in delicious seafood, shop for souvenirs, or simply enjoy the lively atmosphere. You may also engage in traditional Bahamian dances on select nights, immersing yourself in the local culture.
For those seeking a more relaxed evening, Grand Bahama's beach bars offer the perfect setting. Sip on a tropical cocktail as you watch the sunset over the ocean at spots like Banana Bay Beach Bar.Enjoy your favorite drink while feeling the pleasant ocean wind and listening to the calming murmur of the waves. These beach bars provide a laid-back ambiance that allows you to unwind and embrace the island's natural beauty.
Alternatively, join a beach bonfire party at Taino Beach, where locals and tourists come together to celebrate life with music, food, and storytelling. Gather around the warm crackling fire as you listen to captivating tales and enjoy live music performances. This unique experience offers a chance to connect with others and create lasting memories in a magical beachfront setting.
Grand Bahama's nightlife may be more serene compared to Nassau, but it offers a different kind of charm and tranquility. Whether you explore the lively atmosphere of Port Lucaya Marketplace or unwind at a beach bar or bonfire party, you'll discover that Grand Bahama has its special allure after dark.
Local Pubs
Immersing yourself in the local pub scene is an excellent way to experience the authentic culture of the Bahamas. Bahamian pubs offer more than just drinks; they provide a glimpse into the country's vibrant culture, warm hospitality, and incredible music scene.
The Cricket Club: This traditional English pub in the Bahamas offers a cozy atmosphere and a taste of authentic British pub culture. Traditional pub cuisine including fish and chips, bangers and mash, and shepherd's pie are available. Catch live sports broadcasts on big screens and cheer on your favorite teams alongside friendly locals. Sip on a wide selection of beers, including local and international brews, as well as classic pub cocktails.
Pirate Republic Brewing: Located in Nassau, this craft brewery is a must-see for beer lovers. Try a variety of artisanal beers, such as lagers, IPAs, stouts, and pale ales, all of which are made locally with high-quality ingredients. Learn about the brewing process from grain to glass by taking a tour of the brewery with a guide. Pirate Republic Brewing also hosts regular events, live music performances, and beer festivals, creating a vibrant and lively atmosphere.
John Watling's Distillery: Step back in time at this historic distillery housed in a beautifully restored 18th-century building. Learn about the art of rum production during guided tours and indulge in rum tastings featuring a variety of flavors and ages. The distillery's handcrafted rums have gained international recognition and are made using traditional methods. Explore the charming surroundings, including the picturesque gardens and the historic Buena Vista Estate.
Graycliff Restaurant and Cigar Company: This iconic establishment is not only known for its gourmet dining but also for its exceptional cigar production.Enjoy a great dining experience in a sophisticated environment with a varied selection of foods from across the world and the Bahamas made by award-winning chefs. After your meal, visit the onsite cigar factory to witness skilled artisans rolling cigars by hand. Learn about the art of cigar making and sample some of their premium cigars.
Bahamian Cookin': For a true taste of Bahamian cuisine, head to Bahamian Cookin'. This local pub-style eatery serves up traditional dishes bursting with flavor. Try conch fritters, cracked lobster, or Bahamian-style fried chicken, accompanied by sides like peas and rice or macaroni and cheese. The lively atmosphere, warm hospitality, and authentic Bahamian flavors make it a favorite spot among locals and visitors alike.
Fish Fry at Arawak Cay: Experience the vibrant local culture and indulge in delicious seafood at the famous Fish Fry at Arawak Cay. This lively area is lined with colorful shacks serving up a variety of freshly cooked seafood, including conch salad, grilled fish, shrimp, and lobster. Enjoy your meal in a casual outdoor setting, accompanied by live music and the lively energy of the locals. To experience the tastes of the Bahamas and interact with the local population, you must go there.
Bahamas Casinos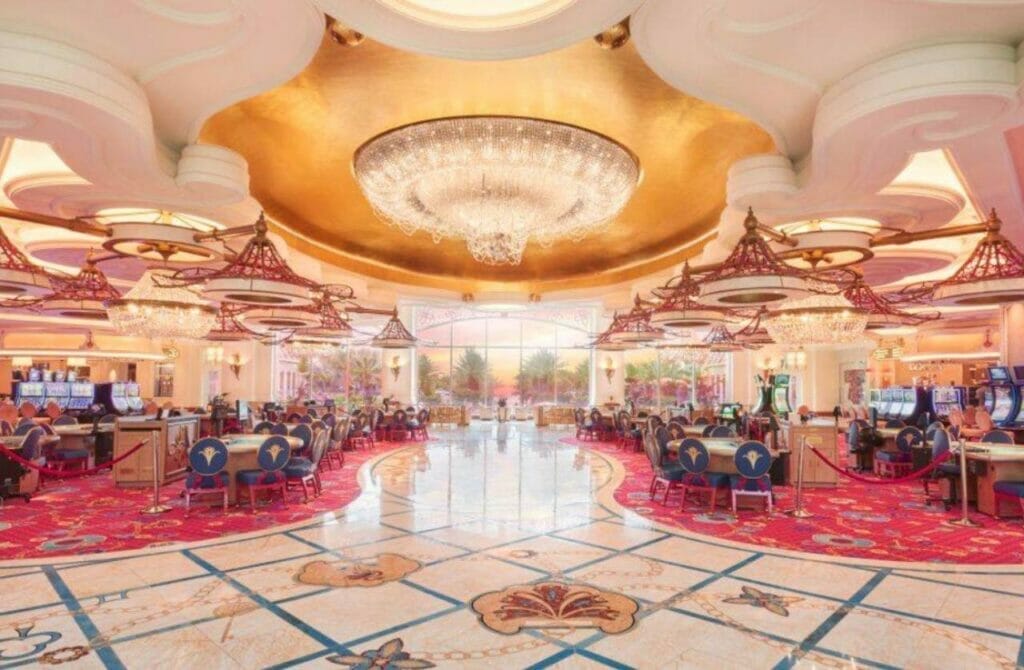 When it comes to high-stakes excitement, the Bahamas is no stranger to the game. Its glittering casinos draw a crowd that enjoys the thrill of gaming along with the sophistication of world-class establishments.
Atlantis Casino: Located on Paradise Island, Atlantis Casino is a world-renowned destination for gaming enthusiasts. There is something for everyone with a range of over 700 slot machines and 85 gaming tables, including baccarat, blackjack, poker, and roulette. The casino's striking architecture, featuring magnificent glass sculptures and artwork, adds to the overall ambiance. What sets Atlantis apart is its unique marine habitat, allowing guests to enjoy the thrill of gaming while surrounded by stunning underwater exhibits and marine life.
Baha Mar Casino: As the Caribbean's largest casino, Baha Mar Casino provides an unparalleled luxury gaming experience. Players can try their luck at a variety of games at the casino's over a thousand cutting-edge slot machines and one hundred gaming tables, including blackjack, craps, roulette, and more. The casino's opulent setting, complete with chandeliers, elegant decor, and a sophisticated atmosphere, creates a truly lavish environment. Visitors can also enjoy live entertainment, world-class dining options, high-end shopping, and luxurious accommodations within the Baha Mar resort complex.
Treasure Bay Casino: Situated at Grand Lucayan in Grand Bahama, Treasure Bay Casino offers an intimate and inviting atmosphere for casino enthusiasts. This Vegas-style casino features a wide range of games such as video poker, blackjack, roulette, and slot machines. The friendly and attentive staff ensures a pleasant gaming experience for all visitors. Apart from the casino, guests can also enjoy the resort's stunning beachfront location, relaxing pool areas, and various dining and entertainment options.
Crystal Palace Casino: Nestled within the Wyndham Nassau Resort on Cable Beach, Crystal Palace Casino provides an exciting gaming experience in a tropical setting. Blackjack, roulette, and poker are just a few of the table games and slot machines that are available at the casino. While taking use of the resort's lovely beachfront setting and facilities like swimming pools, restaurants, and live entertainment, guests may try their luck.
Island Luck Casino: With multiple locations throughout the Bahamas, Island Luck Casino offers a convenient and thrilling gaming experience. Whether you're in Nassau, Freeport, or other major cities, you can find an Island Luck Casino nearby. The casinos feature a variety of slot machines and table games, and the vibrant atmosphere and friendly staff create an enjoyable gaming environment. Additionally, Island Luck Casino hosts special events, promotions, and live entertainment to enhance the overall experience for guests.
The Casino at Bahamia: in Freeport was formerly one of the largest and most popular casinos in the Bahamas, offering a range of gambling options like as slot machines, table games, and poker. Although it is presently closed for maintenance, when it reopens, it will be thrilling to play, so keep a look out for when it does.
Safety Tips for Nightlife in the Bahamas
Exploring the Bahamas' nightlife can be an exciting and enriching experience. However, it's crucial to bear in mind a few safety precautions to guarantee a smooth and fun night out.
Keep your personal things near to you and be constantly aware of your surroundings, especially in busy places, to prevent pickpocketing.While Bahamians are known for their friendliness and hospitality, it's still important to avoid accepting drinks from strangers or leaving your drink unattended.
When it comes to beach parties or outdoor events, ensure you respect the local environment. Don't venture too far into the ocean after dark, as currents can be stronger than during the day. Keep an eye on weather reports, especially during hurricane season, which runs from June to November.
Even while the majority of places to eat and drink in the Bahamas are friendly, it's always a good idea to inquire about the dress code before entering an exclusive casino or nightclub.. Finally, keep the contact details of your accommodation and local emergency services handy, just in case.
Transportation Options
Getting around the Bahamas during nighttime is fairly easy and convenient, with a variety of transportation options available. In the urban areas like Nassau or Freeport, taxis are a popular mode of transport. They are easily accessible and reliable but ensure the driver uses the meter or negotiate the fare before starting the journey to avoid overcharging.
Renting a car might be a fantastic choice for people who value a more flexible schedule. Remember to drive on the left side of the road in the Bahamas; if you are used to driving on the right, this may take some getting used to.
Public transportation, mainly in the form of minibuses known as "Jitneys", is also available but they typically stop running after 7 pm. For late-night outings, it's advisable to arrange a taxi or a private car.
Another popular and fun way to explore the nightlife, especially in the more compact areas, is by foot. Areas like downtown Nassau or the Port Lucaya Marketplace in Grand Bahama are pedestrian-friendly and walking can be a pleasant experience under the starlit Caribbean sky.
To guarantee your safety, always abide by local laws and traditions whether you're driving or walking. As a rule of thumb, if an area seems deserted or if locals advise against going there after dark, it's better to steer clear. Safety should always be a priority when enjoying the nightlife in the Bahamas.
Bahamas Nightlife FAQ
Does Bahamas have good nightlife?
The Bahamas are well known for their exciting nightlife, which provides a wide variety of experiences to suit all preferences.. From high-energy nightclubs with celebrity DJs to laid-back beach bars and cultural street festivals, the Bahamas has something for everyone. Whether you're seeking a thrilling casino experience or a relaxed evening sipping cocktails while watching the sunset, the Bahamas' nightlife scene is sure to impress.
What island in the Bahamas has the best nightlife?
The most active and varied nightlife may be found in Nassau, the capital and largest city of the Bahamas. It is considered the hub of entertainment, featuring an array of nightclubs, rooftop bars, street festivals, and casinos. With its bustling streets and lively atmosphere, Nassau offers a dynamic and exciting nightlife experience that caters to all preferences.
Is Bahamas a party city?
While the Bahamas is known for its lively nightlife, it is not solely a party city. While Nassau offers a thriving party scene, other islands like Grand Bahama and the Out Islands provide a more serene and tranquil ambiance for those seeking a different kind of nightlife experience. The Bahamas strikes a balance between vibrant entertainment options and the opportunity to appreciate the natural beauty and cultural heritage of the islands.