Bahamas Invasive Species: A Growing Threat
In the tropical paradise of the Bahamas, a silent invasion is underway, threatening the delicate balance of its unique ecosystems. Once introduced to these pristine islands, invasive species are wreaking havoc on local flora and animals, changing ecosystems, and posing an increasing danger to biodiversity.
As the warm waters and lush landscapes continue to attract visitors from around the world, the Bahamas now faces a pressing challenge: combating the relentless spread of these unwelcome intruders before irreparable damage is done.
From voracious predators to rampant plant species, the battle against invasive species has become a crucial concern, demanding urgent action to protect the natural wonders that make the Bahamas a true Caribbean gem.
Understanding Invasive Species
It is critical to understand what invasive species are and how they alter ecosystems in order to grasp the harm they bring. Non-native organisms that are brought into an environment where they do not naturally reside are known as invasive species. Often brought in unintentionally by human activities such as international trade or travel, these species can multiply rapidly and outcompete native species for resources.
They disrupt the natural balance, altering habitats, and causing harm to the local biodiversity. Invasive species in the Bahamas might include plants, animals, insects, and even microbes. Understanding the mechanisms by which invasive species establish themselves and spread is vital in order to effectively address this growing problem.
Major Invasive Species in the Bahamas
The Bahamas faces numerous invasive species challenges, both on land and in its marine environments. One notable example is the Australian Pine (Casuarina equisetifolia), introduced in the 19th century for erosion control and as a source of timber. However, this fast-growing tree has proven to be highly invasive, forming dense forests that outcompete native vegetation and altering the natural coastal landscape.
Another invasive species of concern is the Lionfish (Pterois volitans). Originally from the Indo-Pacific region, the Lionfish was likely introduced into the Caribbean through the aquarium trade. Since there are no natural predators in the area, its population has expanded and is devastating coral reefs and local fish species.
These are just two examples of the many invasive species threatening the delicate balance of the Bahamas' ecosystems.
Additional examples of invasive species in the Bahamas include:
Green iguanas (Iguana iguana): Green iguanas were first brought to the Bahamas as pets, where they now have healthy numbers. They compete with native reptiles for resources and vegetation, and their burrowing habits can damage infrastructure and disrupt natural habitats.

Feral cats (Felis catus): Domestic cats that have become wild and feral pose a significant threat to native bird populations in the Bahamas. They prey on native species and contribute to the decline of endangered and endemic birds.

Red lionfish (Pterois volitans and Pterois miles): Alongside the lionfish, the red lionfish is also a major invasive species in the Bahamas. It shares the same Indo-Pacific origins as the lionfish and lacks any natural predators in the Caribbean. Their rabid appetites and quick reproductive rates have caused native fish populations to decline and coral reef ecosystems to be disturbed.

Brazilian pepper (Schinus terebinthifolius): This invasive plant species was introduced to the Bahamas for ornamental purposes but has since spread aggressively. Brazilian pepper forms dense thickets, outcompeting native vegetation and reducing biodiversity. Its dense growth also poses a fire hazard.

Cuban treefrog (Osteopilus septentrionalis): This nocturnal amphibian was accidentally introduced to the Bahamas and has become invasive. The Cuban treefrog preys on native frog species, disrupting local ecosystems and contributing to the decline of native amphibians.

African tulip tree (Spathodea campanulata): Originally introduced as an ornamental plant, the African tulip tree has become highly invasive in the Bahamas. It forms dense stands, shading out native vegetation and altering the structure and composition of native forests.
These invasive species pose significant ecological and economic threats to the Bahamas' delicate ecosystems and require ongoing management and control efforts to mitigate their impacts.
Impact on Native Biodiversity
The invasion of non-native species can have severe consequences for the native biodiversity of the Bahamas. Invasive species are now fiercely competing with native plants and animals that have developed over time to adapt to certain environments and ecological niches. This competition often leads to a decline in the populations of native species, as they struggle to survive and reproduce in the presence of invasive competitors.
The ecosystem's delicate equilibrium is upset, and the extinction of local species may have ripple consequences up and down the food chain. In addition to direct competition, some invasive species also bring new diseases, parasites, or predators that the native species are ill-equipped to handle. Because of this, the fragile web of life in the Bahamas is in danger, which might have devastating effects on the long-term ecological health of the area.
The impact of invasive species on native biodiversity in the Bahamas can be summarized as follows:
Competition for resources: When it comes to scarce resources like food, water, and nesting locations, invasive species frequently outcompete native species. This competition can lead to reduced reproductive success and population declines among native species.

Disruption of ecological interactions: Invasive species can disrupt established ecological interactions and relationships within the ecosystem. For instance, if an invasive plant species displaces native plants, it may affect the availability of food supplies for native insects, birds, and other wildlife as well as pollination networks.

Habitat modification: Invasive species can affect the habitats' physical characteristics and species composition, which can impact ecological processes. For instance, invasive plants can form dense stands that shade out native vegetation, reducing biodiversity and altering habitat suitability for native species.

Predation and predation pressure: Some invasive species, such as predatory fish like lionfish, can exert high predation pressure on native species that have not evolved defenses against them. This can lead to population declines and even local extinctions of native species.

Disease transmission: Invasive species may introduce new diseases, parasites, or pathogens to native populations that have not evolved resistance to them. This may cause disease outbreaks among local species, which might cause population losses and make them more vulnerable to external dangers.

Genetic hybridization: Invasive species can occasionally hybridize with native species, which can result in genetic assimilation or the loss of distinctive genetic features and adaptations that are crucial for the survival of local populations.

Ecosystem services: The loss or decline of native species due to invasive species can have cascading effects on ecosystem functions and services. For instance, a decrease in pollinators may impede native plant reproduction, which in turn may reduce the availability of food for both people and other species.
It is crucial to actively manage and control invasive species in the Bahamas to minimize their impacts on native biodiversity and preserve the unique ecological heritage of the region. This requires ongoing monitoring, prevention measures, and targeted eradication or control strategies to mitigate the negative effects of invasive species on native ecosystems.
Control Measures
A complex strategy that includes prevention, early identification, and efficient management techniques is needed to solve the invasive species problem. Prevention involves strict regulations and measures to minimize the introduction of invasive species through international trade and travel. Early detection programs are crucial to identifying and responding to new invasive species before they become established.
Additionally, management efforts include methods such as mechanical removal, chemical control, and biological control using natural predators or parasites of invasive species. These strategies, coupled with public education and awareness campaigns, are essential in mitigating the impacts of invasive species and preserving the delicate balance of the Bahamas' ecosystems.
Future Perspectives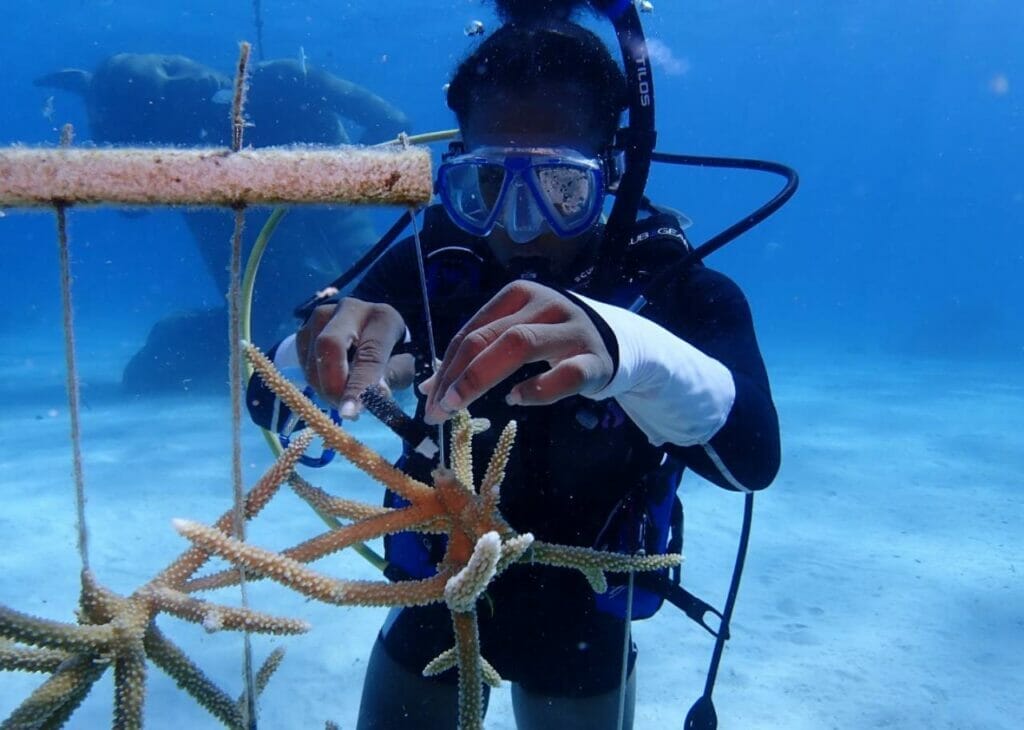 The battle against invasive species in the Bahamas is ongoing, and the future depends on collective action and environmental stewardship. To counter this rising problem, the government, local communities, scientists, and tourists all have a part to play. Strict regulations and effective monitoring must be in place to prevent the introduction of new invasive species.
Research and ongoing monitoring programs are vital to understanding the extent of the problem and developing targeted management strategies. Public education and awareness campaigns can foster a sense of responsibility and encourage responsible tourism practices that minimize the risk of spreading invasive species. Together, we can protect the Bahamas' distinctive biodiversity and make sure that future generations may continue to enjoy its natural beauties.
Ongoing Research and Conservation Efforts: Collaborative Solutions
To fight this rising threat, scientists, conservation groups, and governmental institutions have teamed up to undertake research and put preemptive measures into place. The Bahamas National Trust (BNT), a nonprofit organization devoted to the conservation and management of the nation's natural resources, is one noteworthy project.
The BNT has been actively involved in invasive species management, conducting research to understand the ecological impacts and collaborating with local communities to develop effective control strategies. Their efforts have produced fruitful collaborations with universities, research centers, and governmental organizations, which have sparked the development of fresh ideas and the exchange of information and experience.
Another noteworthy effort is the establishment of the Bahamas Reef Environment Educational Foundation (BREEF), which focuses on marine conservation. BREEF has been actively engaged in addressing invasive species, particularly those affecting the delicate coral reef ecosystems. Through education and outreach programs, BREEF raises awareness among the local community, visitors, and policymakers about the impact of invasive species on marine biodiversity.
The foundation also promotes sustainable practices and supports research aimed at understanding the interactions between invasive species and coral reefs. Collaborations with international conservation organizations have further expanded their reach and effectiveness, contributing to the development of comprehensive strategies for invasive species management in the Bahamas.
These ongoing research and conservation efforts demonstrate the commitment of various stakeholders in the Bahamas to tackle the invasive species challenge head-on. By working together and sharing knowledge, they are making significant strides towards understanding the dynamics of invasive species and implementing successful initiatives for their control and eradication. Through these collaborative solutions, the Bahamas is paving the way for innovative approaches and inspiring others to take action in preserving the natural beauty and ecological balance of this magnificent archipelago.
Bahamas Invasive Species FAQ
What is the invasive plant in the Bahamas?
The most prevalent invasive plant species in the Bahamas is the Casuarina equisetifolia, commonly known as the Australian pine or ironwood. This fast-growing evergreen tree was introduced to the islands for erosion control purposes but has spread rapidly, outcompeting native vegetation and altering coastal ecosystems. Its dense foliage and shallow root system contribute to soil degradation and hinder the growth of indigenous plant species.
What invasive marine species is causing problems in the Bahamas?
The invasive lionfish (Pterois volitans and Pterois miles) has become a significant concern in the marine ecosystems of the Bahamas. Originally native to the Indo-Pacific region, these venomous and voracious predators were likely introduced to the Atlantic through aquarium releases or accidental escapes. With no natural predators in the region, lionfish populations have exploded, preying on native fish and disrupting coral reef communities. Their rapid proliferation poses a severe threat to the ecological balance and biodiversity of Bahamian waters.
What animals are native to the Bahamas?
The Bahamas is home to a diverse array of native animals. Some notable native species include the Bahamian hutia (Geocapromys ingrahami), a small tree-dwelling rodent endemic to the islands, and the Bahama parrot (Amazona leucocephala bahamensis), a colorful parrot subspecies found primarily in Abaco and Inagua. Other native animals of the Bahamas include the Bahama woodstar (Calliphlox evelynae), an endemic hummingbird species, and the Bahamian curly-tailed lizard (Leiocephalus carinatus), a reptile known for its distinctive tail shape. These native species play vital roles in the ecological functioning and natural heritage of the Bahamas.