Bahamas First Trip Guide (2023 Edition)
Embarking on your first adventure to the stunning islands of the Bahamas is an experience filled with excitement and anticipation.
This thorough guide is here to help you arrange the perfect holiday, whether you're enthralled by the crystal-clear blue seas, anxious to explore the beautiful coral reefs, or simply desiring a calm beach hideaway.
From choosing the ideal time to visit and deciding on the best islands to explore, to uncovering hidden gems and indulging in the local cuisine, we've got you covered. 
Prepare to be enthralled by the spectacular beauty and rich cultural legacy of the Bahamas as we share important advice and insights to make your first vacation an unforgettable one.
Choosing Your Island
The Bahamas are an archipelago of over 700 islands and cays, each having its own distinct personality and attraction. Choose an island that corresponds to your interests and expectations for your first trip to the Bahamas. Nassau, the capital, is a bustling hub filled with history, shopping, and vibrant nightlife. Here, you'll find iconic sites like the Queen's Staircase and the Atlantis resort. If you're more into nature and tranquility, the Out Islands, also known as the Family Islands, offer pristine beaches and incredible biodiversity. Each island offers unique experiences, so research each one to see which fits best with your vacation goals.
Exploring multiple islands can be an exciting venture, especially for the more adventurous. Island hopping is relatively easy, thanks to a network of ferries and flights. For instance, Grand Bahama Island offers a mix of historic charm, modern attractions, and ecological wonders. You could enjoy a morning swim with the pigs at Crystal Beach, then take a short flight or ferry to Nassau for a delightful evening of fine dining and dancing.
Exuma: Known for its stunning turquoise waters and the famous swimming pigs at Big Major Cay.
Eleuthera: A paradise for beach lovers with its pink sand beaches and hidden coves.
Abaco Islands: Ideal for boating enthusiasts with its picturesque harbors and sailing opportunities.
Andros: The largest of the Bahamas islands, perfect for nature lovers and adventure seekers with its vast national parks and blue holes.
Bimini: A popular fishing destination with opportunities for deep-sea fishing and snorkeling.
Cat Island: Rich in history and culture, with charming settlements, historical sites, and the highest point in the Bahamas, Mount Alvernia.
Long Island: A haven for divers, featuring stunning underwater caves and the famous Dean's Blue Hole, the world's deepest saltwater blue hole.
Harbour Island: Famous for its pink sand beaches, upscale resorts, and laid-back atmosphere.
San Salvador: Historically significant as the first landfall of Christopher Columbus in the New World, with beautiful beaches and great diving spots.
Great Exuma: Offers a combination of luxury resorts, water sports, and the stunning Exuma Cays Land and Sea Park.
Accommodation Options
Accommodation in the Bahamas caters to a range of preferences and budgets, from luxurious resorts to budget-friendly guesthouses. High-end options like the Baha Mar or the Atlantis in Nassau provide world-class amenities and unparalleled beach views. These resorts are often all-inclusive, offering dining, entertainment, and activities within the resort price.
Alternatively, if you're seeking a more authentic or budget-friendly experience, consider vacation rentals or charming guesthouses. Platforms like Airbnb offer a wide variety of rentals, from beachfront cottages on Eleuthera Island to apartments in the heart of Nassau. Many of these accommodations provide the chance to live like a local, offering insights into Bahamian life that large resorts can't match.
Baha Mar: A luxurious resort complex in Nassau offering multiple hotels, a casino, golf courses, spas, and various dining options.
Atlantis Paradise Island: A renowned resort with a water park, marine habitat, aquariums, multiple pools, restaurants, and entertainment options.
Sandals Royal Bahamian: An adults-only, all-inclusive resort in Nassau, known for its romantic atmosphere, private offshore island, and top-notch amenities.
Grand Hyatt Baha Mar: A high-end resort within the Baha Mar complex, offering spacious rooms, a private beach, multiple pools, and a range of dining options.
British Colonial Hilton Nassau: A historic hotel located in downtown Nassau, featuring a private beach, pool, on-site restaurants, and proximity to local attractions.
Pink Sands Resort: A boutique luxury resort on Harbour Island, famous for its pink sand beaches, elegant cottages, and tranquil ambiance.
Cape Santa Maria Beach Resort: A secluded beachfront resort on Long Island, offering private villas, a pristine white sand beach, and access to diving and snorkeling spots.
The Dunmore: A stylish and upscale resort on Harbour Island, featuring beachfront cottages, a pool, a restaurant, and personalized services.
Rock House Hotel: A boutique hotel in Dunmore Town on Harbour Island, known for its charming accommodations, ocean views, and intimate atmosphere.
Vacation rentals and guesthouses: Numerous options available on platforms like Airbnb, ranging from cozy beach houses and cottages to apartments and villas in various locations across the Bahamas.
Flight and Transport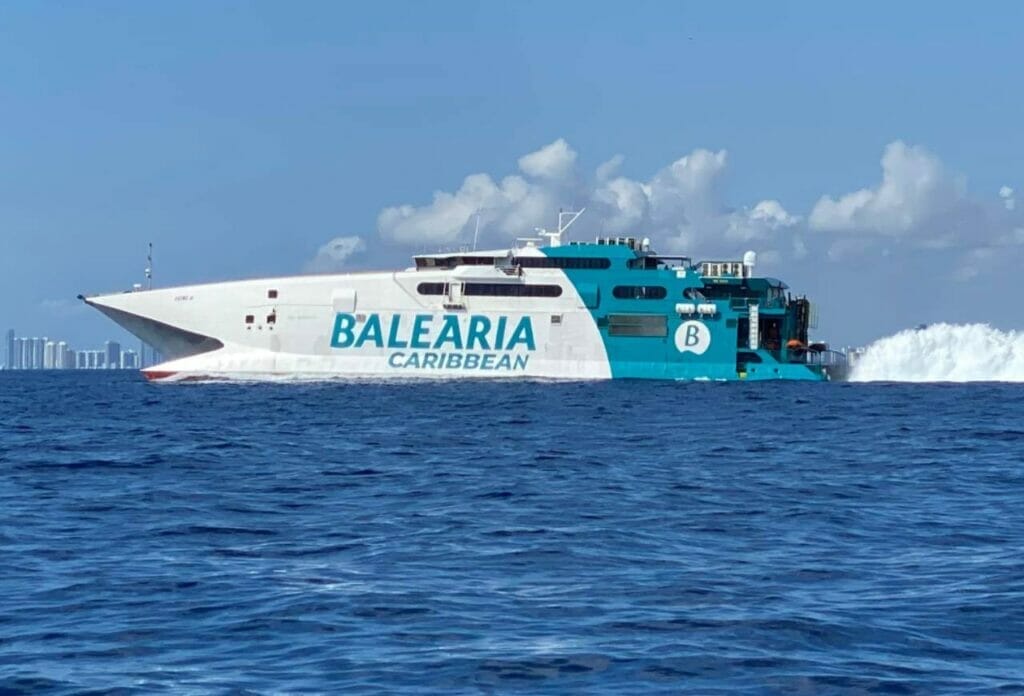 Many foreign airlines now provide direct flights to Nassau and Grand Bahama Island, making it simpler than ever to visit the Bahamas. When booking, consider mid-week flights for the best rates. Once you arrive, inter-island travel is available through domestic flights or ferries. Bahamasair, the national carrier, operates regular flights between major islands, while a network of ferries, like the Bahamas Ferries, provides a scenic option for hopping between closer islands.
On the islands, taxis and rental cars are the most common transportation methods. Do remember, driving is on the left side in the Bahamas. Biking can also be a delightful way to explore smaller islands like Bimini or Harbour Island, while in larger urban areas, using the local bus, known as Jitneys, can be both an economical and cultural experience.
Essential Travel Tips
There are a few important things to remember while planning your first vacation to the Bahamas. First, the Bahamian dollar is the national currency, and it is tied 1:1 to the US dollar. You can use both currencies interchangeably. Credit cards are widely accepted, but having cash on hand is useful for small vendors.
Lastly, the Bahamas is a tropical country, so don't forget your sun protection. Beyond your sunscreen and hats, remember to stay hydrated, especially if you're indulging in the local rum-based cocktails. And most importantly, Bahamians are known for their friendly nature. If you need instructions or want to learn more about the culture of the island, don't be afraid to strike up a discussion. Embrace the local saying, "It's better in the Bahamas!"
Bahamian Cuisine and Dining
The culinary scene in the Bahamas is a delectable combination of rich tastes and fresh ingredients, making it a foodie's dream. Seafood is a staple, with conch, a local shellfish, featured prominently in Bahamian cuisine. It may be found in salads, soups, and fritters. Also, don't miss the chance to try the Bahamian national dish, 'Cracked Conch.' Dining out offers a range of experiences, from sophisticated restaurants in Nassau to the charming, laid-back 'Fish Fry' shacks where locals hang out.
Another culinary highlight is the Bahamian 'Peas n Rice,' a savory and hearty side dish commonly paired with fried fish or chicken. If you have a sweet tooth, indulge in the delicious Guava Duff, a dessert that beautifully embodies the tropical vibe of the islands. Local beverages include the popular Kalik and Sands beers, and for the adventurous, the potent Bahamian rum punch. A trip to the Bahamas isn't complete without diving into its culinary delights!
Cracked Conch: A must-try dish featuring tenderized and breaded conch meat, typically served with a tangy dipping sauce.
Bahamian Conch Salad: A refreshing salad made with diced conch, onions, peppers, tomatoes, citrus juice, and spices, served as a popular appetizer.
Bahamian Stew Fish: A flavorful fish stew made with various local fish, tomatoes, onions, peppers, and spices, often served with rice or grits.
Bahamian Boiled Fish: A classic meal composed with fresh fish, potatoes, onions, peppers, and spices cooked in a delicious broth.
Johnny Cake: A Bahamian version of cornbread, usually served as a side dish or snack, with a slightly sweet and fluffy texture.
Guava Duff: A delightful Bahamian dessert made with guava jam rolled inside sweet dough, steamed or boiled, and served with a warm butter rum sauce.
Goombay Smash: A popular Bahamian cocktail made with Bahamian rum, pineapple juice, orange juice, and grenadine, often garnished with a pineapple slice and a cherry.
Sky Juice: A refreshing Bahamian drink made with coconut water, gin, and condensed milk, served over ice.
Conch Fritters: Deep-fried dough balls with chopped conch, peppers, onions, and spices, served as a tasty appetizer or snack.
Bahamian Rock Lobster: A local delicacy, often grilled or served in savory dishes, showcasing the succulent flavor of Bahamian lobster.
These are just a few dishes from the varied and delectable Bahamian cuisine. Exploring local restaurants, street food vendors, and fish fry spots will provide you with an array of culinary delights to savor during your visit to the Bahamas.
Activities and Attractions
The Bahamas brims with activities and attractions suitable for all types of travelers. The Bahamas is a diver's paradise, with the world's second-largest coral reef and a plethora of aquatic life. You can snorkel in the clear waters, swim with pigs in Exuma, or explore the mesmerizing blue holes. The Andros Barrier Reef, Thunderball Grotto, and Dean's Blue Hole are must-visit spots for diving and snorkeling.
On land, history buffs can visit the historic forts and colonial buildings in Nassau or take a walk through the Garden of the Groves in Grand Bahama. For a unique experience, visit the pink sands of Harbour Island or the awe-inspiring limestone caves of Lucayan National Park. The Bahamas has something for everyone, whether you're an adrenaline addict, a nature lover, or a history buff.
Swimming with Pigs: A popular and unique experience in Exuma, where you can swim and interact with friendly pigs at Big Major Cay.
Snorkeling and Diving: Explore the vibrant underwater world of the Bahamas, with opportunities to snorkel or dive among colorful coral reefs, tropical fish, and even shipwrecks.
Blue Holes: Discover the mystical underwater sinkholes known as blue holes, such as Dean's Blue Hole on Long Island or the Blue Holes National Park on Andros Island.
Boat Tours and Excursions: Take a boat tour to explore the Exuma Cays, visit secluded islands, or go on a fishing excursion to catch some of the Bahamas' prized game fish.
Nassau Historic Sites: Visit historic landmarks like Fort Charlotte, Fort Fincastle, and the Queen's Staircase in Nassau to delve into the Bahamas' colonial past.
Paradise Island: Explore the iconic Atlantis resort, with its Aquaventure Water Park, marine habitat, and the opportunity to swim with dolphins.
Lucayan National Park: Wander through this natural wonderland on Grand Bahama Island, featuring stunning white sand beaches, mangrove forests, and the enchanting Gold Rock Beach.
Eleuthera and Harbour Island: Relax on the pink sand beaches of Harbour Island, visit the picturesque Glass Window Bridge, or explore the captivating natural beauty of the Queen's Bath on Eleuthera.
Swimming with Sharks: For thrill-seekers, embark on a shark diving adventure to observe these majestic creatures up close while guided by professionals.
Bonefishing: The Bahamas is known for its excellent bonefishing opportunities, especially in the Abaco Islands and Andros Island, attracting anglers from around the world.
These are just a selection of the numerous activities and attractions available in the Bahamas. Whether you want to explore the spectacular marine life, immerse yourself in history and culture, or simply relax on gorgeous beaches, the Bahamas has something for everyone.
Culture and Customs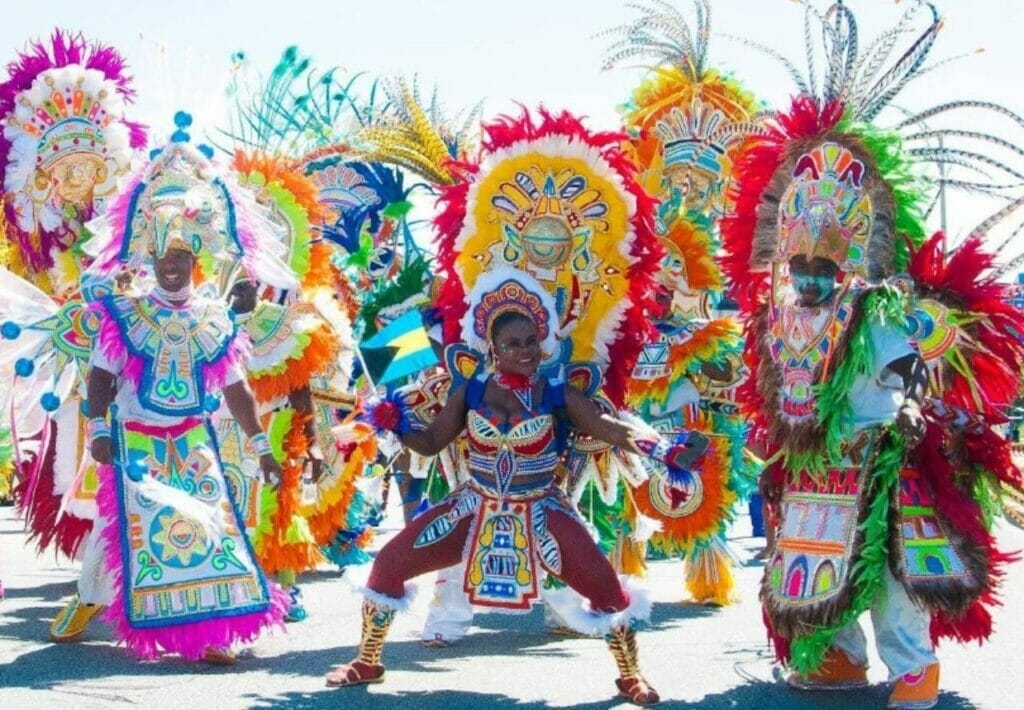 The culture of the Bahamas is a dynamic blend of African, European, and indigenous elements. Music plays a central role, with traditional forms like Junkanoo, rake-n-scrape, and Goombay echoing in the streets during festivals. Bahamians are recognized for their friendliness and kindness, so don't be afraid to strike up a casual chat.
Respect for local customs is essential. For instance, dress codes are quite conservative, especially in churches and small towns. Tipping is customary in the Bahamas, typically 15-20% for good service. Understanding these cultural nuances can help ensure a respectful and enriching experience.
Climate and Best Time to Visit
The Bahamas enjoys a tropical savannah climate, meaning warm temperatures year-round. The optimum time to travel, however, is determined on your objectives.
December to April is the peak tourist season, with pleasant weather and less rainfall. These months are perfect for beach activities and water sports.
If you want to avoid the crowds, consider visiting between May and November.
Keep in mind that this period falls within the hurricane season, although storms are generally predictable, and severe hurricanes are relatively rare.
Off-peak season can be a terrific time for budget-conscious tourists because hotel and airfare rates are reduced. Keep an eye on the weather forecasts, prepare appropriately, and you'll have a terrific first vacation to the Bahamas!
Bahamas First Trip FAQ
Which Bahamas island is best for first-time visitors?
Nassau, the capital of the Bahamas, is often considered the ideal starting point for first-time visitors. With its stunning beaches, vibrant culture, and convenient accessibility, Nassau offers a range of attractions to suit diverse interests. Explore the captivating history of the island at landmarks like Fort Charlotte or indulge in luxury resorts along Cable Beach. Don't miss the chance to venture to nearby Paradise Island, home to the world-renowned Atlantis Resort and stunning marine exhibits.
What do I need to know before going to the Bahamas?
Before heading to the Bahamas, it's essential to know that the official language is English, making communication convenient for many travelers. The local currency is the Bahamian dollar (BSD), but U.S. dollars are widely accepted. Pack lightweight, breathable clothing appropriate for the tropical temperature, as well as basics like as sunscreen and bug repellant. Furthermore, become acquainted with local customs and traditions, such as the warm Bahamian greeting of "Hello, how are you?" as a popular manner of greeting.
How much does the average Bahamas trip cost?
The cost of a Bahamas vacation can vary based on a number of criteria, including the length of stay, kind of lodging, activities, and eating choices. A reasonable budget for a week-long trip to the Bahamas, excluding international flights, might vary from $2,000 to $4,000 per person. This estimate covers accommodations, meals, transportation, and some excursions. However, luxury options and high-end activities can significantly increase the overall cost. It is advisable to plan and budget accordingly to ensure an enjoyable and stress-free experience.