Bahamas Beaches Guide: Finding the Perfect Paradise
Looking for a slice of beach heaven? Look no further than the mesmerizing shores of the Bahamas. With its crystal-clear waters and powdery sands, this tropical paradise is a beach lover's dream come true.
Whether you're in Nassau, Grand Bahama Island, or the Out Islands, there's a beach for every preference. Imagine lounging on the popular Cabbage Beach with its inviting waters or exploring the underwater wonders of Jaws Beach. 
Seeking tranquility? Saunders Beach is your serene escape.
Want luxury and amenities? Cable Beach awaits with its lavish resorts.
And for a secluded and romantic setting, Love Beach is perfect. From pink sands to hidden gems, the beaches of the Bahamas promise beauty, serenity, and a true tropical paradise.
Beaches in Nassau
Nassau, the vibrant capital of the Bahamas, is home to a collection of stunning beaches that cater to every beachgoer's desires.
From the popular Cabbage Beach on Paradise Island, with its clear waters and inviting sands, to the adventurous Jaws Beach, where divers can get up close with sharks, Nassau offers a diverse range of coastal delights.
For those seeking tranquility, Saunders Beach provides a serene escape, while Cable Beach entices with its luxurious resorts and beachside amenities. Love Beach offers a secluded and romantic setting, and a visit to Blue Lagoon Island promises an extraordinary beach experience coupled with dolphin encounters. Nassau truly offers a beach paradise for every traveler.
Cabbage Beach
Located on Paradise Island, Cabbage Beach is a stunning destination known for its crystal-clear waters and soft sandy shores. It's a popular spot for sunbathing and swimming, although it can get busy, so arriving early is recommended to secure a prime spot. The beach offers a picturesque setting for beach walks and water activities.
Jaws Beach
Named after the famous film shot here, Jaws Beach is a paradise for divers and snorkelers. It is home to the "Shark Arena," where adventurous divers can encounter majestic sharks up close. Despite its thrilling name, the beach is also family-friendly, with shallow waters and amenities such as picnic facilities, making it a great place for a day of relaxation and adventure.
Saunders Beach
For those seeking a peaceful retreat away from the crowds, Saunders Beach offers a serene and tranquil experience. This less-visited beach provides an idyllic setting for unwinding and enjoying the natural beauty of Nassau. With amenities like picnic tables and a playground, it's also a wonderful spot for families to enjoy quality time together in a quiet and scenic environment.
Cable Beach
Stretching along the northern coast of Nassau, is another notable beach destination in the area. This pristine beach offers a wide expanse of powdery sand and clear turquoise waters, perfect for swimming and sunbathing. Cable Beach is also known for its luxury resorts and beachfront amenities, including water sports activities and beachside bars and restaurants.
Love Beach
Located on the western side of Nassau, is a hidden gem that offers a more secluded and romantic atmosphere. With its pristine white sand and calm waters, it's an ideal spot for couples looking for a peaceful escape. Love Beach also offers excellent snorkeling opportunities, with vibrant coral reefs teeming with marine life just offshore.
Blue Lagoon Island
For a unique beach experience, consider visiting the Blue Lagoon Island. Accessible by boat, this private island boasts stunning beaches surrounded by crystal-clear turquoise waters. Visitors can relax on the soft sands, go for a swim, or engage in exciting water sports such as kayaking and paddleboarding. Blue Lagoon Island also offers encounters with friendly dolphins, making it a memorable destination for families and animal lovers alike.
Beaches in Grand Bahama
Grand Bahama is a haven for beach enthusiasts, boasting a collection of stunning beaches that cater to various preferences and interests.
From the awe-inspiring Gold Rock Beach with its expansive sandy shoreline and underwater cave system, to the family-friendly Taino Beach with its playground and delicious local food, visitors are spoiled for choice.
Those seeking tranquility can find solace at Fortune Beach, while adventure awaits at Barbary Beach and the vibrant Lucayan Beach. And for snorkeling enthusiasts, the vibrant coral reefs of Deadman's Reef offer an unforgettable underwater experience. Whether you're seeking relaxation, adventure, or natural wonders, Grand Bahama's beaches have it all.
Gold Rock Beach
Located in Lucayan National Park, Gold Rock Beach showcases an awe-inspiring sight of a vast sandy shoreline that seems to extend into the ocean during low tide. It's a natural wonder that resembles a beautiful sand carpet. For the adventurous at heart, the beach is also surrounded by an extensive underwater cave system, providing an exciting opportunity for exploration.
Taino Beach
Named in honor of the Bahamas' original inhabitants, Taino Beach is a family-friendly destination offering something for everyone. Along with its pristine sandy playground, the beach features barbeque pits, creating the perfect setting for a fun-filled picnic with loved ones. Visitors can also indulge in the weekly "fish fry" event, where they can savor the delectable local delicacies. The calm waters make Taino Beach an excellent spot for swimming and provide a chance to encounter marine life.
Fortune Beach
Stretching for five miles, Fortune Beach is a serene and secluded oasis, providing a peaceful retreat away from the crowds. This tranquil beach derives its name from a shipwreck that was discovered here and rumored to hold a valuable fortune. For those seeking tranquility and privacy, Fortune Beach is the ideal destination. Additionally, the beach is home to Banana Bay, a fantastic beachfront restaurant offering a delightful dining experience with breathtaking views of the ocean.
Xanadu Beach
Known for its crystal-clear turquoise waters and powdery white sand, Xanadu Beach is a paradise for beach lovers. Its picturesque setting, framed by swaying palm trees, creates a postcard-perfect scene. Visitors can lounge on the soft sands, take refreshing dips in the inviting waters, or simply bask in the sun while enjoying the soothing sound of the waves.
Paradise Cove Beach
Nestled on the southwestern coast of Grand Bahama, Paradise Cove Beach lives up to its name with its idyllic surroundings. This secluded beach offers a peaceful and romantic atmosphere, making it a popular choice for couples and honeymooners. The pristine shoreline is dotted with shady palm trees, providing a shady respite from the sun, and the gentle waves make it a great spot for snorkeling and swimming.
Barbary Beach
For those seeking a more active beach experience, Barbary Beach offers a range of water sports and recreational activities. This vibrant beach is a hub for kayaking, paddleboarding, and jet skiing, allowing visitors to embrace their adventurous side. The beach is equipped with facilities for beach volleyball and beachside picnics, making it a fantastic spot for a day of fun and sun-soaked excitement.
Lucayan Beach
Located near the popular Port Lucaya Marketplace, Lucayan Beach is a vibrant and lively stretch of sand. This beach offers a mix of relaxation and entertainment, with beach bars, cafes, and shops nearby. Visitors can lounge on the beach chairs, sip on tropical cocktails, and enjoy live music playing in the background. The beach is also a hub for water sports, with opportunities for snorkeling, parasailing, and banana boat rides.
Deadman's Reef
Adventure seekers and snorkeling enthusiasts should not miss out on Deadman's Reef. This beach is known for its vibrant coral reefs, teeming with colorful marine life. Snorkelers can explore the underwater world and encounter tropical fish, sea turtles, and even stingrays. The beach itself is serene and offers a peaceful escape, with stunning views of the reef and the clear, azure waters.
Beaches in the Out Islands
The Out Islands of the Bahamas are a haven for beach lovers, offering a diverse array of breathtaking coastal landscapes.
From the captivating Pink Sands Beach in Eleuthera, with its powdery pink sands and turquoise waters, to the tranquil Tropic of Cancer Beach in Exuma, known for its snorkeling opportunities and vibrant marine life, these beaches offer unforgettable experiences. Long Island's Dean's Blue Hole Beach entices divers with its world-renowned blue hole, while beaches like Cape Santa Maria Beach in Long Island and Treasure Cay Beach in Great Abaco provide secluded stretches of pristine sands and serene atmospheres.
Whether you're seeking adventure or relaxation, the beaches of the Out Islands promise beauty, tranquility, and a true tropical paradise.
Pink Sands Beach, Eleuthera
Eleuthera's Pink Sands Beach is a captivating sight, with its three-mile stretch of powdery pink sands that create a stunning contrast against the crystal-clear turquoise waters. This unique beach owes its pink hue to the presence of microscopic coral insects, creating a mesmerizing natural phenomenon that attracts visitors from around the world.
Tropic of Cancer Beach, Exuma
Situated precisely on the latitude line marking the Tropic of Cancer, Tropic of Cancer Beach in Exuma offers not only breathtaking views but also a paradise for snorkeling enthusiasts. With its pristine white sands and translucent waters teeming with vibrant marine life, this beach provides an unforgettable experience and a chance to interact with the friendly local creatures.
Great Guana Cay Beach, Abaco
Great Guana Cay in the Abaco Islands is home to one of the most pristine and picturesque beaches in the Bahamas. With its soft, sugary white sands stretching for miles and the shimmering turquoise waters, this beach is a paradise for beachcombers and sun worshippers. The tranquil atmosphere and breathtaking natural beauty make it an ideal spot for a peaceful getaway.
Cape Santa Maria Beach, Long Island
Nestled on the northwestern coast of Long Island, Cape Santa Maria Beach is a secluded stretch of powdery white sand and azure waters. With its calm and gentle waves, it provides a serene setting for swimming and snorkeling. The beach is also famous for its stunning sunsets, offering a romantic backdrop for couples seeking a romantic escape.
Treasure Cay Beach, Great Abaco
Treasure Cay Beach in Great Abaco is renowned for its mesmerizing beauty and pristine surroundings. This award-winning beach boasts powdery white sands and crystal-clear turquoise waters that invite visitors to take a refreshing dip or simply bask in the sun. With its serene ambiance and breathtaking vistas, Treasure Cay Beach is a true treasure waiting to be discovered.
Fortune Beach, Grand Bahama Island
Situated on Grand Bahama Island, Fortune Beach is a hidden gem known for its pristine white sands and calm turquoise waters. This secluded beach provides a serene escape from the bustling tourist areas, offering a tranquil setting for sunbathing, beachcombing, and swimming. It's the perfect spot to unwind and enjoy the natural beauty of the Bahamas.
Lighthouse Beach, Eleuthera
Lighthouse Beach, located at the southern tip of Eleuthera, offers a breathtaking coastal escape. With its untouched beauty and dramatic cliffs, this beach is a photographer's dream. The powdery white sands and turquoise waters create a stunning contrast, while the iconic lighthouse adds a touch of charm to the landscape. Lighthouse Beach is a must-visit destination for those seeking natural splendor and tranquility.
Hidden Gems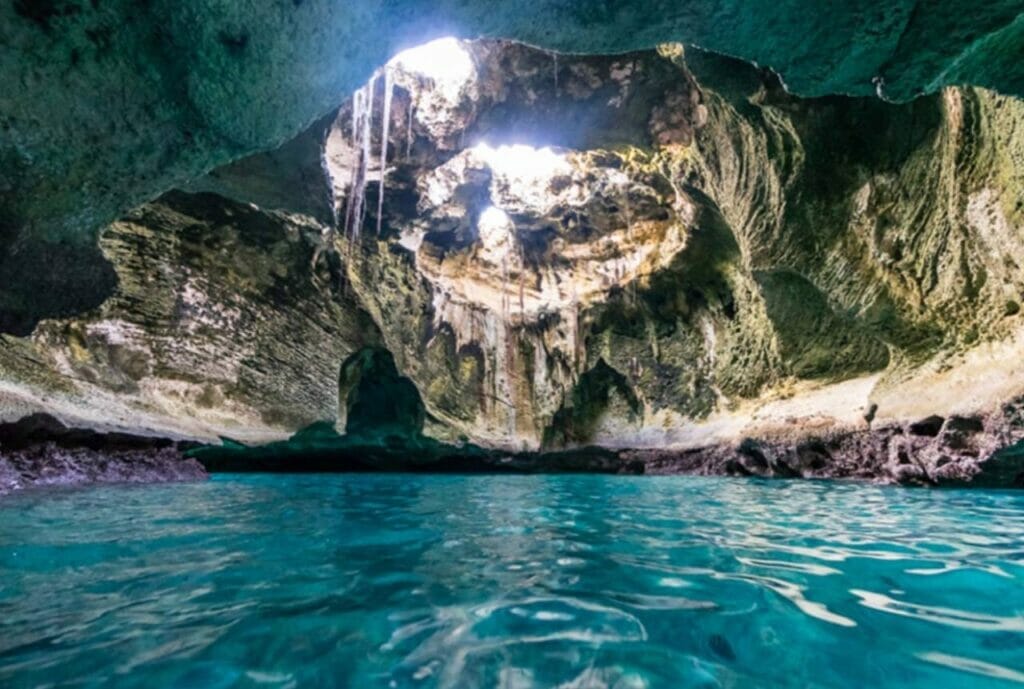 The Bahamas is also full of lesser-known, enchanting spots. At the top of the list is Lover's Beach in the settlement of Gregory Town, Eleuthera. This secluded, romantic beach offers a quiet escape from the more tourist-centric areas. Its stunning sunset views make it an ideal spot for couples.
Next is Fernandez Bay on Cat Island. This private beach is accessible to guests of the Fernandez Bay Village resort. It's an unspoiled paradise where visitors can enjoy clear, shallow waters and an abundance of marine life. With a little luck, you might even spot a stingray or two!
Lastly, there's Sandy Point Beach located in the far south of Abaco. It's often overlooked due to its remote location, but this serene beach offers a long stretch of white sand and calm, crystal-clear waters. It's a splendid spot for long walks, picnics, and bird watching, truly a hidden gem in the Bahamas' crown.
Additional Hidden Gems in the Bahamas:
Gold Rock Beach: Situated in Lucayan National Park on Grand Bahama Island, this beach is often referred to as the "welcome mat" of the island. It features a long stretch of pristine white sand, shallow turquoise waters, and beautiful coral reefs. During low tide, visitors can walk out for miles and explore the stunning sandbars.
Dean's Blue Hole: Located on Long Island, this natural wonder is the world's second-deepest underwater sinkhole. It offers a unique experience for divers and snorkelers, with its deep blue waters and diverse marine life. The surrounding cliffs and lush vegetation add to the breathtaking beauty of this hidden gem.
Bimini Road: Found near Bimini Island, this underwater formation has intrigued researchers and divers for years. Believed to be remnants of an ancient civilization, the submerged stones create a pathway along the ocean floor, earning it the name "Bimini Road." Exploring this mysterious site provides a fascinating glimpse into the island's history.
Thunderball Grotto: Situated near Staniel Cay in the Exumas, this picturesque cave system gained fame after being featured in the James Bond film "Thunderball." The grotto offers an otherworldly experience, with crystal-clear waters, vibrant marine life, and stunning rock formations. Snorkeling or swimming through the caves is a must-do for any adventurer.
Stocking Island: Located across Elizabeth Harbour from George Town in Great Exuma, Stocking Island is a peaceful oasis known for its untouched beaches and lush landscapes. Visitors can relax on pristine shores, explore nature trails, and even interact with friendly stingrays at the famous Chat 'N' Chill beach bar.
Inagua National Park: Found on the island of Great Inagua, this national park is a haven for bird enthusiasts. It is home to the largest breeding colony of West Indian flamingos, making it a paradise for birdwatching. Visitors can witness the graceful pink birds in their natural habitat and explore the park's diverse ecosystems.
Bahamas Beaches FAQ
What is the nicest beach in the Bahamas?
The Bahamas is renowned for its breathtaking beaches, but one that stands out as one of the nicest is Pink Sands Beach on Harbour Island. With its soft, powdery pink sand stretching for miles, this beach offers a mesmerizing blend of natural beauty and tranquility. Its crystal-clear turquoise waters and picturesque surroundings make it a paradise for beach lovers and a top choice for travelers seeking an unforgettable coastal experience.
What is the prettiest part of the Bahamas?
While beauty is subjective, the Exumas archipelago is often considered the prettiest part of the Bahamas. This stunning chain of islands boasts pristine beaches, vibrant coral reefs, and mesmerizing turquoise waters. The Exumas' idyllic scenery, including the famous swimming pigs of Big Major Cay and the breathtaking Thunderball Grotto, has captivated visitors from around the world. Its untouched natural beauty and remote charm make it a must-visit destination for those seeking paradise on Earth.
Can you swim in the Bahamas beach?
Swimming in the beaches of the Bahamas is an absolute delight. With its warm, inviting waters and favorable climate, the Bahamas offers ideal conditions for swimming year-round. The beaches are generally safe for swimming, but it is important to be aware of local conditions and follow any posted guidelines or warnings. Visitors can enjoy the pleasure of swimming, snorkeling, and exploring the diverse marine life that thrives in the clear, azure waters of the Bahamas' pristine beaches.