Aruba Weather in June (2023 Update)
Aruba is a heavenly island known for its year-round summer climate. If you want to take a budget vacation on the island, June is among the cheapest months to fly and stay in Aruba. But it might not be a great idea to spend your actual summer holidays in a place where it is always summer.
Aruba weather in June is arid and hot, with 9 hours of sunlight and temperature between 80°F and 90°F. It is too hot to enjoy outdoor activities in the daytime, but evenings can be fun and festive. The first week of June is the best one in the month for a trip to Aruba.
Month
Average High Temperature (F)
Average Low Temperature (F)
Average Precipitation (inches)
Average Sunshine (hours/day)
Average Water Temperature
(F)
May
85
80
0.6
8
81
June
90
80
0.6
9
82
July
90
80
1.2
10
81
In this article, you will learn more about the specifics of vacationing in Aruba in June in the context of weather. You'll learn more about how the temperature can affect your itinerary and the things you can do in the June weather.
Most importantly, you'll learn what not to do. By the end of this post, you'll be clear about whether you should visit Aruba in June and what you should do to make the most of your time there if you choose to visit.
Aruba Temperature In June
The temperature in Aruba in June is some of the highest during the year for the island. The mercury rises up to 90°F on some days, making the midday heat unbearable.
The harshness of the Aruba heat limits visitors from enjoying outdoor activities and exploring opportunities. However, towards the evening, the temperature can drop enough for one to enjoy a short outing. You should book an airconditioned hotel apartment close to the place you want to explore.
Sunshine In June In Aruba
Aruba has 9 hours of sunlight every day in June. This means you get one whole hour of extra sunlight during this month compared to an average day on the island. The only month that has more daylight than June is July, which is the hottest month in Aruba.
The positive side of having longer days is that you can enjoy sunbathing later in the day and can take beautiful pictures because of a long golden hour. The golden hour is the last hour before the sun starts to disappear. It has golden light that is perfect for sun-kissed selfies. During June, the Golden hour effect stretches across an hour and a half in the evening.
Rainfall In Aruba In June
While high temperature is what lowers the tourist demand for Aruba in the summer, rainfall hinders tourism in the winter. Since the month of June falls squarely in the summer season, rainfall isn't as serious an issue.
There are 0.6 inches of precipitation in Aruba in June, with an average of 3 rainy days during the month. The rainfall is actually welcome by the residents and visitors alike as it comes with much-needed cloud cover and cools the island.
Packing for a June Stay in Aruba
When you pack for a stay in Aruba during the month of June, you have to be prepared for extreme heat. Here are the essentials you must not forget to pack for your June trip to Happy Island.
Anti-UV Sunglasses
The sunlight in Aruba is pretty harsh during this month. Anti-UV sunglasses like Retro Rewind Polarized Sunglasses can protect your eyesight. More importantly, you don't have to squint at everything during the daytime. This particular pair is among the highest-rated UV shades on Amazon, with 4.5 stars on a 5-star scale from over 9000 reviews and ratings.
A Beach Hat
A beach hat can help you look fancy during mildly warm weather. But in June, it is actually an essential that protects your head from direct sunlight and can cover your eyes, minimizing the need for shades at all times. You can get a beach hat like Furtalk Panama Hat from Amazon for pretty cheap or can buy one for $50 at one of Aruba's beaches.
A Portable Umbrella
You might be wondering why an umbrella would be necessary during one of the driest months in Aruba. You need an umbrella in Aruba to protect yourself from harsh sunlight. The Repel Travel Umbrella can be easily folded and packed. It is also pretty versatile and durable, so it can be used once your trip is over.
70 Spf+ Sunscreen
While 50 SPF sunscreen works for most summer trips, Aruba's particularly arid climate and hot June weather make a 70SPF+ sunscreen a must-have for anyone who is at even a slight risk of getting sunburns. The Neutrogena Beach Defense sunscreen is actually one of the best-reviewed body-care products of any kind on Amazon, with over 94% of 6000 customers giving it 4.5 stars on a 5-star scale.
A Handheld Fan
Depending on how much time you want to spend outdoors, you might want to pack a handheld fan like the GUSGU Portable Fan. It is a great product that takes away the burden of having to fan yourself manually. It might not have much use beyond your Aruba vacation if you live in a cold state. In middle America, as well as the northeast, you can find it being helpful well after your vacation is over.
A Refillable Water Bottle
Finally, you need an insulated water bottle like Contigo Snapseal Insulated Travel Mug, so you can have cold water on the go whenever you go out. The heat might be tolerable, but it will slowly dehydrate you.
Having The Snapseal Travel Mug with you ensures that you keep replacing the fluids you lose. You can also get Liquid IV with you in case you experience dehydration on your trip.
What NOT To Do In Aruba In June
Going to Aruba in June can be a budget-friendly choice, but it can also put a damper on your vacation experience. Here are the things you need to avoid doing when you vacation in Aruba during the summer.
Do Not Go Out In The Daytime Without Appropriate Cover
When you head out to the beach or take a stroll outside, remember to have appropriate cover. This can be an umbrella or a hat. As long as you protect your head from direct sunlight, you're going to be fine.
Aside from protecting your head, you need to protect your eyesight as well. Wear shades to avoid the harsh glare of the summertime sunlight.
Don't Pack Thick Clothes Or Fabrics That Get Stained Easily
Aside from keeping your head out of direct sunlight, you need to make sure your wardrobe does more to protect you from the June heat in Aruba. One way to ensure that your clothes are Caribbean-compatible is to pack light articles.
Don't wear clothes that are too suffocating. More importantly, be mindful of the sweat-friendliness of the fabrics you choose. The last thing you want is to walk around wearing sweat-stained clothes hours after the sweat's gone.
Don't Build An Exclusively Outdoor Itinerary
The 90°F weather in Aruba in June isn't ideal for outdoor activities. That doesn't mean that you can't enjoy outdoor activities at all. You just have to fill up 70% of your itinerary with indoor activities, so you have something to do at midday. All your outdoor activities can take place in the evening and the morning time.
Don't Take Your Children Or Pets To Aruba In June
There's no way around children's vulnerability to extreme heat. Avoid taking your kids and pets to Aruba in June. They will be annoyed and might graduate to being annoying. More seriously, their health and safety might be at risk.
Don't Drink Too Much Coffee
Finally, you must avoid dehydrating beverages like coffee because the weather in Aruba is quite dehydrating in June. If you drink more than 2 cups of coffee, you will most likely get sick.
Best Things To Do In Aruba In June
Most of the activities you'll truly enjoy in Aruba during the summers are indoor activities. Still, you can go out, but you should avoid planning events and activities that require you to stay outdoors for extended periods in June.
Here are the best things you can do in Aruba during an early summer visit:
Visit the Windcreek Seaport Casino – The Windcreek Seaport Casino has a great party atmosphere, and the buzz of casual gambling starts in the evening. It is a fun place to visit for low-cost gambling and can be a great experience if you don't get carried away.
Check out the national archeological museum – This can be an educational trip with helpful guides. It is not as Instagrammable as the Oranjestad but is definitely a memorable spot for an enthusiastic learner.
Shop at the renaissance mall – Renaissance Mall is a classic tropical destination mall, offering a slice of Americana while you're away from home. Many local brands are also available alongside global heavyweights like LV.
Go diving at Jane Sea – You can take a diving tour at Jane Sea, an underwater wreck that is covered in the reef. It is a great sight, especially when you're up close.
Get a massage at the Mandara Spa – When you're too tired to head out, relax at Mandara Spa, which offers a host of treatments and massages for men and women.
Buy a souvenir at Cosecha – Cosecha is an art gallery and crafts center in Oranjestad, which showcases handmade items from Aruba locals. You can buy paintings and crafts there and support the local economy.
Sunbathe on the beach – Aside from all the indoor activities, you always have the beach in Aruba. You can soak in the sun and relax at one of Aruba's multiple scenic beaches late in the evening.
Soak in the morning sun – You can also rise early and watch the sunrise on the island. It appears to come out of the water, which is a sight many tourists fail to see because they go to bed at 4 am.
June Vacation in Aruba FAQs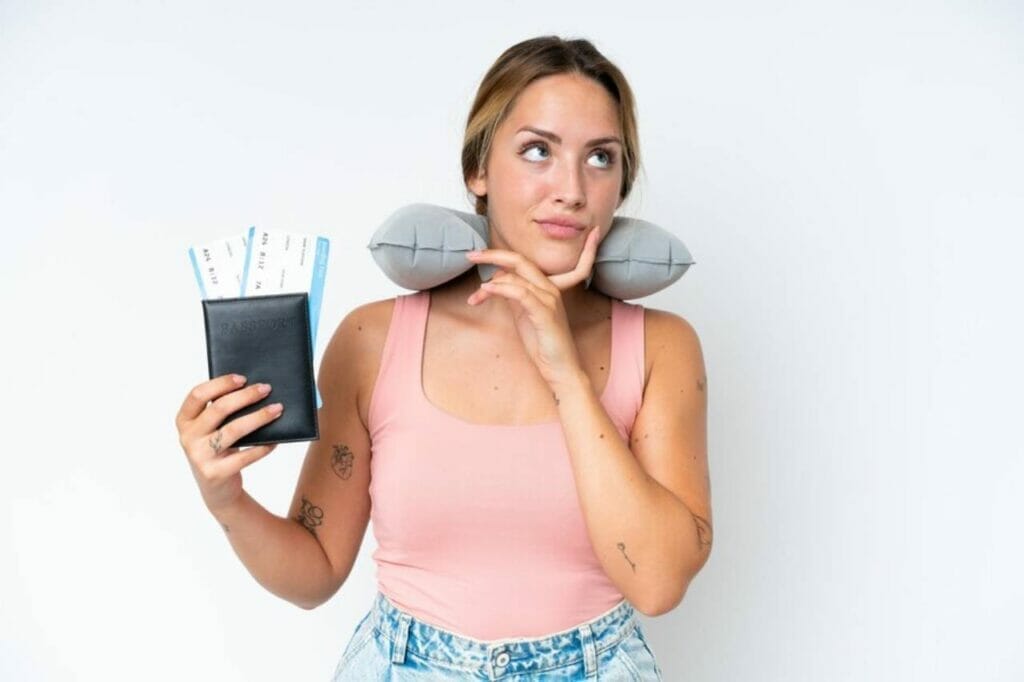 Is June a good time to go to Aruba?
June is not a good time to go to Aruba from a tourist perspective. It is, however, a good time to visit the island if you need to have meetings, indoor parties, or a budget getaway of no more than a few days. The longer you stay in Aruba in June, the more its hot weather becomes a liability.
Can you swim in Aruba in June?
You can swim in Aruba in June as the water is not hot and is actually refreshing. In fact, during June in Aruba, swimming is the only outdoor activity that doesn't actively raise your body temperature.
Water is welcome as it helps you cool down. And swimming is one way to drench yourself in an otherwise dry month.
How rainy is it in Aruba in June?
It is pretty dry in Aruba in June, which is the second driest month in Aruba, behind July. The average rainfall in June is no more than 0.6 inches. It has a total equivalent of 3 days of rain. Over the entire month, you might encounter 4 to 6 showers, which will neutralize the heat temporarily.
Is it sunny in Aruba in June?
It is very sunny in Aruba in June. You get 9 hours of sunlight and a 90-degree peak temperature in the daytime. Your sunbathing plans should move to the evening, as the midday sun is too harsh.
What month is the cheapest to go to Aruba?
July is the cheapest month to go to Aruba, with a slightly more expensive June, which is still one of the cheapest months to visit the island. Hotel prices are down 30% to 50% during this period.
June's first week has low prices without the intolerable weather. That's why tourists should try to book their vacations earlier in the month instead of later. The later it gets in June, the hotter Aruba is. The final week of June is almost as hot and arid as the first week of July.
Final Thoughts: Is June a Good Time to Visit Aruba?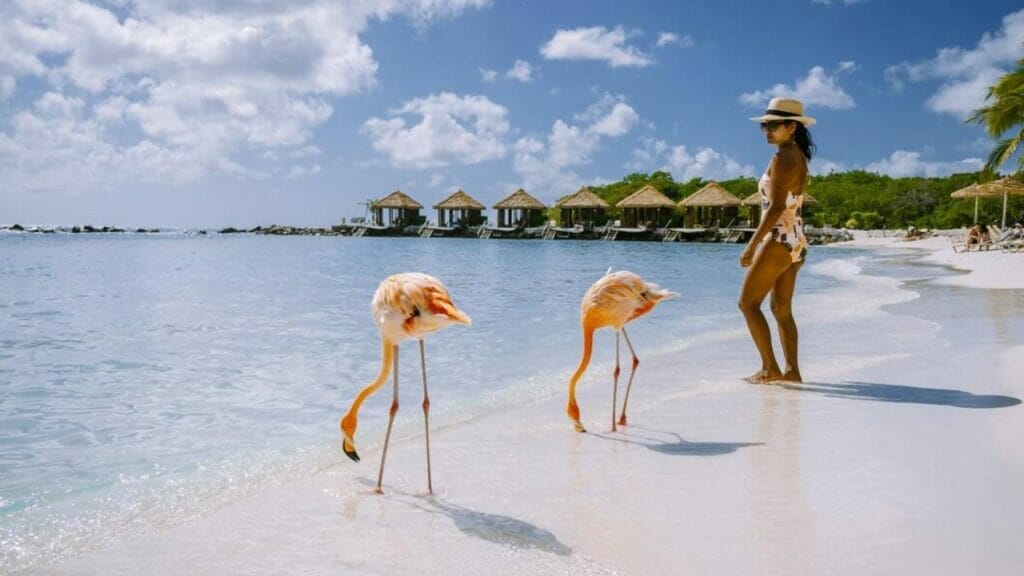 Aruba weather in June is sunny, hot, and arid. The cloud cover is nominal, and the sunlight shines on the island for 9 hours every day. You begin to appreciate the indoors more and get tired of the beach really quickly.
All of these factors drive down the demand for Aruba trips in June, which makes it cheap to visit the island during this month.
Still, tourists visit Aruba in June and engage in gambling and water activities. The diving and swimming experience isn't affected by the weather. In fact, it is elevated.