Aruba Weather in July (2023 Update)
The cheapest month to visit Aruba is also the hottest month. If you're wondering whether the low price is worth the heat, you should start by figuring out exactly how hot the weather is on the Island.
So, what is the Aruba weather in July like? The weather in Aruba is hot and arid in July, with the temperature ranging between 81°F and 90°F. July also has the longest days of the year for the Island compared to the rest of the calendar.
Month
Average High Temperature (F)
Average Low Temperature (F)
Average Precipitation (inches)
Average Sunshine (hours/day)
Average Water Temperature
(F)
June
90
80
0.6
9
82
July
90
80
1.2
10
81
August
92
81
0.8
9
82
If you plan to visit Aruba during the month, read the rest of this article to learn more about the sea temperature, daylight hours, things to do, and rainfall projections in July.
This is the most comprehensive resource on how the July weather can impact your visit/travel to Aruba, and it covers everything, including what to pack.
Aruba Temperature In July
July is one of the hottest months of the year in Aruba. The temperature in Aruba is between 80°F and 90°F, with the 1 pm to 3 pm window being the hottest.
If you go out in Aruba between 12 pm and 4 pm in July, you should have a wet towel over your head and sufficient sunscreen on the exposed parts of your body.
For your vacation, this temperature means that you won't be able to enjoy outdoor activities between 12 pm and 4 pm. But that's okay because the sunlight lasts longer on the Island during the July days.
Aruba Sunshine
Aruba has 10 hours of daily sunshine in July.
The day starts early and ends late.
This means you can enjoy early morning sunlight planning your adventures so that you can be indoors by 10 pm.
You can also go out to sunbathe at 5 pm as the sunlight isn't as harsh.
Aruba Rainfall In July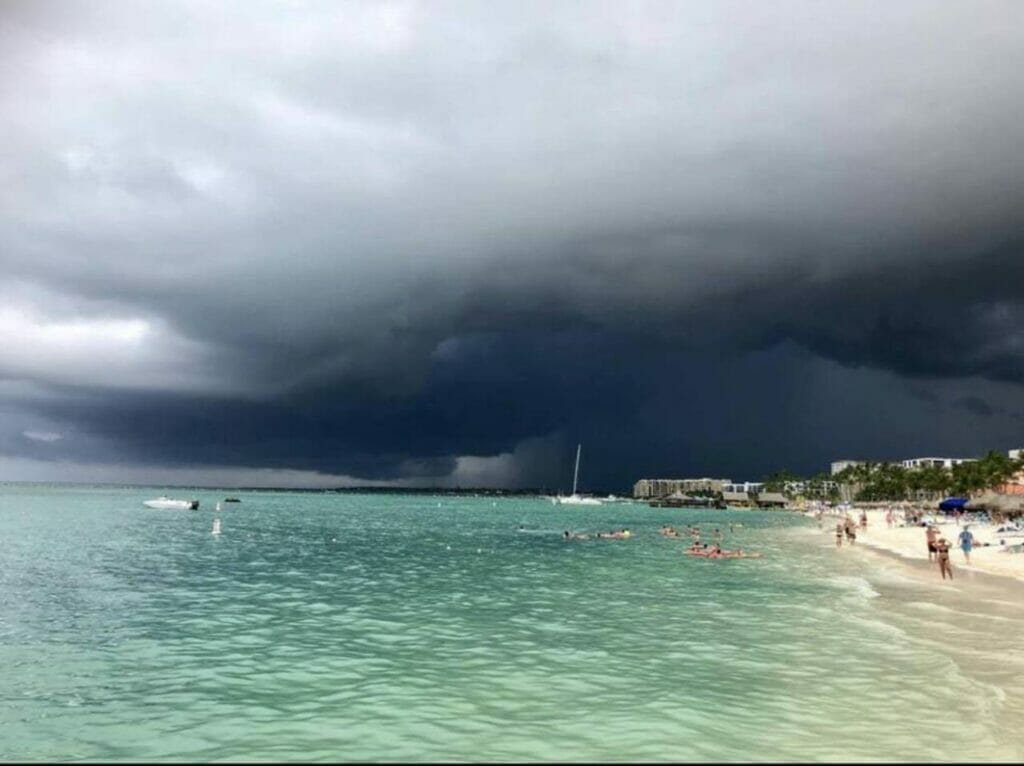 Aside from harsh daylight sun, there's one more thing that can affect your beach fun. And that is unexpected rainfall. Aruba has 1.2 inches of rainfall in July, with an average of 4 days of showers in the whole month.
If you bring an umbrella for sun cover, you can use it as rain cover as well. But even the tourists who come from rainy weather can enjoy the rain in Aruba as it breaks the summer heat in Aruba, even if for a few hours.
Aruba Water Temperature In July
Water isn't limited to rain in Aruba, so you can take a refreshing break from the summer heat whenever you want by taking a dip in the pool or the sea. But given the heat on the Island, it is reasonable to wonder how hot the water might be.
The sea temperature in Aruba in July is 81°F, an average of 9 degrees lower than the hot daytime weather. Moreover, the water feels colder than its thermometer reading because it strips the body of its heat more quickly than air.
Swimming and Diving in Aruba are two of the most rewarding things you can do in July. But even if you do 99 fun things on your vacation, one poorly chosen activity can make the entire trip sour. So be mindful of the Don'ts of a vacation in Aruba.
The Don'ts Of Visiting Aruba In July
Aruba is hot and occasionally rainy in July. Most of the "don'ts" of visiting Aruba during this month center around errors of underestimating the heat. Here are things you should not do when you visit Happy Island in July.
Have A Standard Aruba Holiday Checklist
Aruba's most popular tourist spots and activities are built around tourist interests from colder countries. In other words, most of the activities you will find in tourism resource recommendations will involve a lot of sun exposure.
And that works for tourists who visit the Island from January to May. But starting in June, the heat is too much for daytime activities. So your to-do list must be tailored accordingly.
Go To Aruba With Your Children Or Pets
No matter what the blogs and tourism resources say, it is usually not a great experience to take your kids to a summer destination during the summer months. Aruba trips in July are best suited for couples and single tourists. Family trips in July are best taken to places with a more temperate climate.
Drink Too Much Coffee Or Alcohol
Alcoholic drinks and coffee can be refreshing but also dehydrating. If you don't have great hydration habits, you should have a hard limit on how much coffee or alcohol you consume in Aruba in the summer.
The heat and the arid climate are quite dehydrating. You lose water in the form of sweat and water vapor from your breath. Dehydrating beverages can accelerate that.
Pack/Wear Dark Clothes
As mentioned earlier, dark clothes can trap heat. They might look good in photos, but you won't feel good wearing them. Shed the darker colors and opt for light fabrics in both color and body. They suit the July weather much more than darker clothes.
Go Out Without Covering Your Head
When in Aruba, you might make the mistake of heading out without an umbrella or a hat. This is fuelled by watching locals roam outside without sun cover. Don't imitate the locals because you are not acclimated to the weather that they have grown up in. Sunlight doesn't feel bad or intense when you step out for a few minutes.
As your body begins heating up gradually, you don't realize until you're at risk of a heat stroke. It is best to be safe than to be sorry, which is why leaning towards sun cover is better than waiting until the sunlight is unbearable.
Best Things To Do In Aruba In July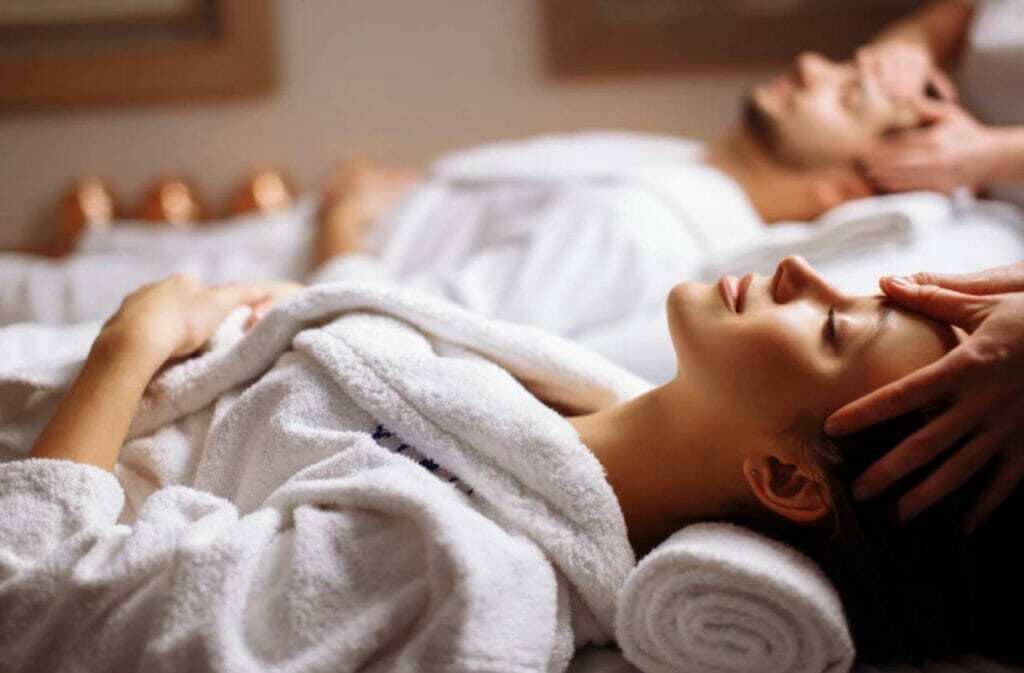 From the Don't of visiting Aruba in July, it is clear that there is no room for daytime outdoor adventures except swimming. The golden hour is reserved for sunbathing, and you can engage in some early morning outdoor excursions too.
But during the 12 pm to 4 pm window, you have plenty of time to kill. So, fit in a lot of indoor activities on your to-do list. Considering Aruba's weather in July, here is a list of things to do, including both outdoor and indoor experiences.
Get a massage
Spas in Aruba are high-end and immaculately designed. They are usually marked up and expensive even for a Caribbean island, but in July, they charge their cheapest rates.
Check Out The Wind Creek Casino
Aruba has its fair share of casinos, and one of the most popular ones is the Wind Creek Casino. It is definitely worth a visit if you like to try your luck. Don't get carried away, though!
Enjoy A Luxury Hotel Stay
Luxury hotel stays can be 30% to 50% cheaper in July. So don't just stay at one hotel. You can turn your Aruba vacation into a hotel-hopping adventure. This even applies to high-end AirBnBs.
Go Diving At The Jane Sea
The Jane Sea diving site is definitely a bucket list item for Aruba visitors. It features an underwater shipwrecked freighter and a live reef. It is an awe-inspiring sight to witness up close, and dozens of diving centers will help you experience it even if you don't have diving experience or gear.
Buy Local Arts And Crafts
The Cosecha in Aruba is a well-known place for buying local art and crafts. However, the establishment is temporarily closed for business. You can find local art being sold around it, though.
Shop At The Aloe Factory
The Aloe Factory Museum and Store in Aruba is a popular tourist destination regardless of the weather. It has an outdoor field as well as a large indoor space that displays the Aloe-making process. You can also buy aloe products and souvenirs from its dedicated store.
Get A Glassmaking Workshop
Aruba Glass Ceramics offers glass-blowing workshops where you get to make and keep glass items. It is a great place to visit if it is rainy or too sunny outside.
Watch The Sunrise
Waking up early and watching the sunrise is a simple pleasure that is elevated in a beautiful setting like the island nation of Aruba. It is even more pleasant if you've stayed up all night with the person you love.
Night Party At Eagle Beach
Staying up all night? How about a party at Aruba's eagle beach? In the summer, beaches come to life as the sun sets. Dance parties begin at around 7 pm and continue well into the night.
Sunbathe in the Evening
Remember, you can always sunbathe in the evenings. The sunlight dims just enough to be effective for a holiday tan, and while the weather is still hot, it is not as hot as the daytime.
What To Pack For A July Vacation In Aruba
When you plan to visit Aruba in the summer, you have to be prepared for a summer unlike most that you have seen. Aruba is a summer island, which means that tourists visit it to find summer in cold times. In the summer, it is at its hottest, so you need to pack the following items:
A Handheld Fan
You can choose a manual paper fan, but it is much better to have a small electric fan that can blow air your way without obligatory hand movement. You will need a handheld fan like HonHey Fan to cool off when the scorching heat becomes unbearable.
The HonHey fan can run for hours and even longer if you get charge it, which won't be too hard to do with a laptop. The fan has over 10,000 reviews and ratings with an average of 4.6 stars. Since this rating is out of 5 stars, that's a pretty good average, especially considering the sample size.
Liquid Iv Hydration Multiplier
Gatorade, Prime Hydration, Liquid IV, or any electrolyte mix that can help you retain water in your body, is perfect. Liquid IV is more portable as it is stored in sachets instead of bottles. But ultimately, electrolyte beverages of any kind are a plus on a trip to a place with dehydrating weather.
A Face Towel
Any face towel you have at home will do the job. You will drench it in water and keep it over your head to stay cold if you go out during midday. If you're traveling with your family, you can buy the OlimpiaFit Quick Dry Towel Pack to save money and get multiple towels in a single package. But the towel doesn't have to be special, so don't buy new ones if you already have them.
Sunscreen
While any towel can work for a headcover, you need a very specific type of sunscreen for July weather in Aruba. It has to be 70 SPF because the sunlight there is very harsh. If the sunscreen you have at home is not 70 SPF, then you need to buy Beach Defense Water Resistant Sunscreen, which is an easy-to-apply sunscreen with 70 SPF protection.
It also has a 4.7-star average rating on a 5-star scale, so you might want to switch to it as your regular sunscreen as well.
A Travel Umbrella
If you have an umbrella, go ahead and pack it. But most umbrellas are nightmares to pack, so you should probably get a contracting umbrella like The Repel Umbrella. It occupies less space and is easier to carry.
A Panama Hat Or Sun Hat
Girls can pack a wide-brim sunhat like Lanzom Women's Straw Hat, while men can use a Panama hat. Both of these options provide sun cover without an umbrella and reduce the need to carry an umbrella when going out for a short duration.
Sunglasses (Uv Protection)
Get sunglasses that provide protection against UV rays, again, because of the harshness of the sunlight in Aruba. Shades like Retro Rewind Unisex Shades are very summer-friendly as they protect your eyes from harsh sunlight. They are also timeless, which means you can continue using them after your trip to Aruba.
Light Clothes
Pack the lightest clothes you have while leaving the black fabric articles. The black color absorbs heat, and thick fabrics trap body heat. When you're in Aruba, especially in July, you don't want anything that increases your body temperature.
Swimwear
Get swimming trunks like Amazon Essentials Quick Dry Trunks if you are a guy or a swimsuit like CRZ Yoga Swimwear if you're a woman. You probably already have swimming clothes, which you should pack as well.
30% of your clothes should be exclusively for the beach or for swimming, while 40% should be compatible with spontaneous swimming. Overall, 70% of your clothes should be swimming-friendly.
Final Thoughts: Is a July Trip to Aruba Worth It?
Aruba can have 10 hours of harsh sunlight daily in July, so the weather isn't enjoyable for outdoor activities.
The temperature can peak at 90°F and be as high as 80°F even on the "low side." So July is not ideal for a trip to Aruba if you plan to do anything else besides swimming and chilling indoors.
However, Aruba hotel stays, spa sessions, and indoor services can be pretty cheap compared to the rest of the year for those willing to put up with the Island's heat!