Aruba Weather in January (2023 Update)
Whether you want to visit Aruba in January because that's the only time you have off work or you want to get on the tourist-friendly packages available during the month, the one thing you must know about is the weather. After all, it dictates what you can and should do once you're on the Happy Island. Here's what you can expect for Aruba weather in January:
Aruba is warm in January, with temperatures ranging between 79°F on the low end and 85°F on the high end. Four out of six days have full sun, and the rest have a partly cloudy atmosphere. January is the fourth rainiest month in Aruba after the October to December period.
Month
Average High Temperature (F)
Average Low Temperature (F)
Average Precipitation (inches)
Average Sunshine (hours/day)
Average Water Temperature
(F)
December
87
78
3.1
7
81
January
87
77
1.8
8
79
February
87
77
0.8
8
79
In this article, you will learn more about sunlight hours, rainfall quantity, and things to do in Aruba, given its weather in January. It will be your guide to Aruba's weather and how it impacts your itinerary with a bonus: what to pack!
Aruba Sunlight Hours In January
Aruba receives 8 hours of sunshine during the day in January. This places it behind July (10 hours), August (9 hours), and September (9 hours) and is on par with the rest of the year except December, which has 7 hours of sunshine.
However, you should not confuse the sunlight hours with full sunshine days or sunshine intensity. In January, there are more clouds in the Aruba skies than in the summer months. So, you get 4.6 out of 10 days of full sunshine. The rest are divided between hours of cloud cover and hours of sun poking through.
The intensity of the sunlight is also dimmer, as is evident from the temperature difference. The highest temperature you can expect in January in Aruba is 87°F, entire 5 points under the hottest months' 92°F.
January's daytime heat, however, isn't unusually low. In fact, six months out of the year, the maximum heat is within the 2-degrees range of January heat. Aruba can be downright arid and blazing in the summer months, so don't take a relatively lower temperature period negatively.
Aruba Rainfall In January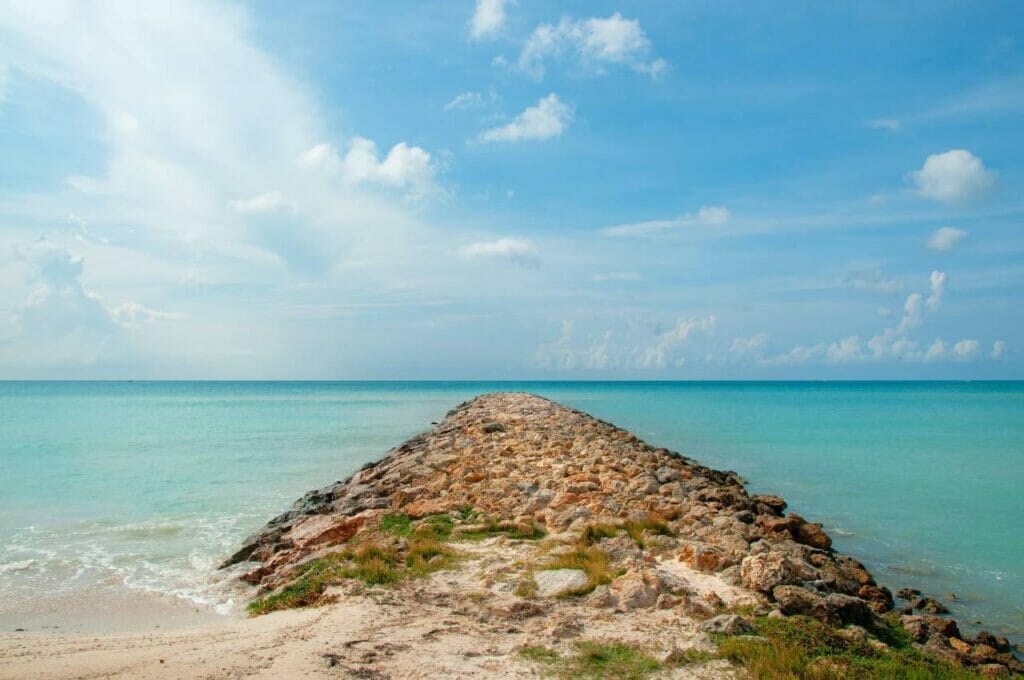 The heavenly beaches of Aruba can be deserted on some days in January because of the rainfall. The popular tropical destination is best enjoyed with clear skies, which isn't a luxury available to January visitors.
Aruba experiences 1.8 inches of rainfall in January, which is higher than February through June weather in Aruba. It, however, falls behind the rainiest month of November (3.3 inches) and December (3.1 inches).
In other words, it is better to visit Aruba in January than in October to December months. This is truer for the tail-end of January as the rainfall frequency gets lower as the days go by. The downward trend of rainfall in Aruba continues, gradually plateauing at a low in March.
So it is even better to visit Aruba in March, as it has the lowest rainfall and mild weather. Still, you can have plenty of fun visiting Aruba in January, provided that you are prepared for the potential rainfall and plan your itinerary around it.
Packing for a January Stay in Aruba
If you are planning to visit Aruba in January, you might think that packing up a few sweaters would be a good idea.
But Aruba is pretty sunny and warm in January, so there is no reason to pack winter clothes. That doesn't mean you are free to avoid packing. Aruba during January is very different from the states, which is why you need to pack the following:
Umbrella
It is three times rainier in Aruba in January compared to the summer months. Make sure to pack a travel umbrella-like Repel Umbrella, before you go to Aruba. The Repel Umbrella is foldable, which makes it travel-friendly and easier to pack. It has over 58,000 reviews and ratings with a collective average of 4.5 stars on a 5-star scale, making it a very safe purchase.
50+ Spf Sunscreen
Aruba isn't very sunny in January, but if you're staying there for ten days, you will have at least four days of full sun, statistically speaking. On other days, clouds will cover the sun for most of the day. Having a small tube of sunscreen like Neutrogena Beach Defense is a pretty good idea.
Swimwear
Swimming shorts like the Amazon Essentials Trunks for men and swimsuits like CUPSHE Women's One Piece Swimsuit for women are must-haves for Aruba visitors in January because the weather there is ideal for swimming.
The temperature is just hot enough to make the cool waters all the more fun to swim in. While 100% of your clothes don't have to be beach-friendly, at least 40% of your clothes have to be good enough for a spontaneous swim.
Cellphone Protector
Finally, you need a cellphone umbrella-like VIVOUNITY Phone Umbrella and a cellphone cover like newppon Waterproof Cell Phone Pouch to document your experience in Aruba in January. Your phone is at risk of getting wet whenever it rains unless you have a case to keep it in.
Even better is the umbrella, which lets you take videos and photos during the rain without putting your phone at risk.
What NOT To Do In Aruba In January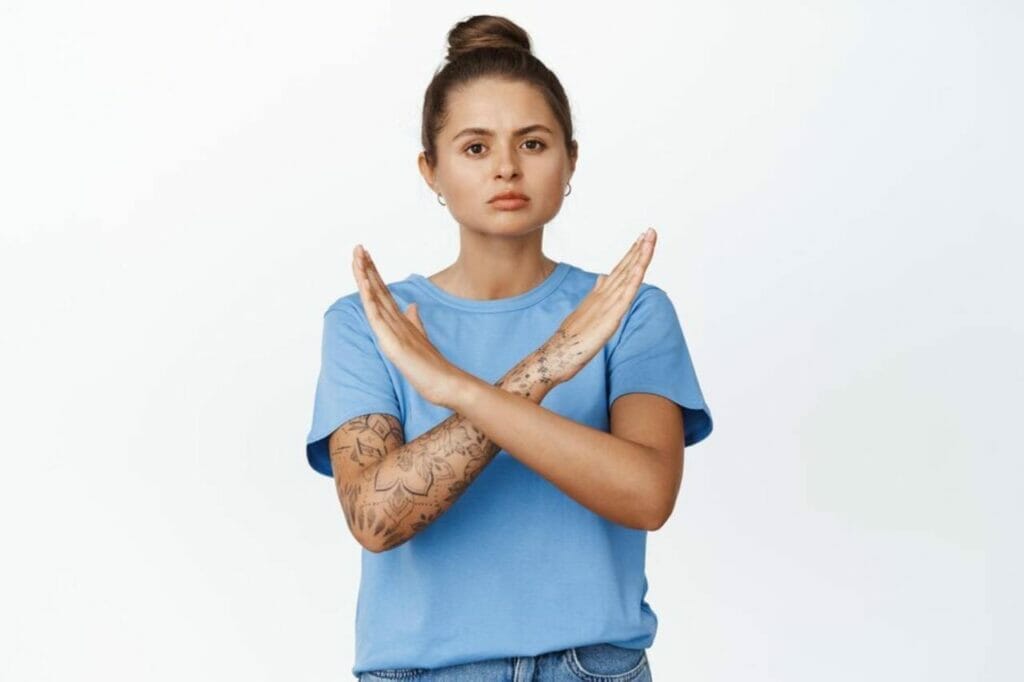 On average, if you visit Aruba in January, you will have a nice experience. There will not be much that will get in the way of the pleasant holiday you have planned. However, you need to be careful not to do the following things, which might make you regret your January visit.
Do Not Take A Late January Trip
While Aruba recovers from the December tourist dip in the first quarter of January, things start picking up towards the last week of January. Your trip should ideally start in the second or third week of January for a rush-free experience.
Do Not Go Without Rainy Day Preparations
You will not have an extended stay in Aruba without experiencing rain. Umbrellas at beaches and tourist destinations are twice as expensive, and the sellers expect you to negotiate with them, which can ruin the pleasant mood.
Do Not Go Without Sunny Day Preparations
The flipside of being prepared for rain is being prepared for the sun. There is plenty of sunlight in the daytime in Aruba, especially at midday. Do not go with sufficient sun cover in the form of hats/caps, sunglasses, and, as mentioned earlier, sunscreen.
Leave Reservations To The Last Minute
The difference in demand between Aruba in December and January is unbelievable. You can get reservations as a walk-in in most Aruba establishments in December. Forget about that being a possibility in January, especially after January 15.
January 15 marks the beginning of Aruba's peak tourist season. And that's good news because all the tourist spots are in full throttle. If you reach early, you get all the perks of an Aruba vacation without the attached rush.
Best Things To Do In Aruba In January
As mentioned earlier, January in Aruba gives you a good balance between sunny and cloudy, warmth and cold, and tourist-ready and tourist-free. If you visit the Island in January, make sure to engage in the following activities.
Roam The Markets Of Oranjestad
Aruba's instagrammable capital has colorful architecture and a great open-market vibe. The entire capital is like a mall, albeit with things getting overpriced as January turns to February. Roaming the streets of Oranjestad is a fun hang and a great window shopping opportunity.
Laze Around On Eagle Beach
Eagle Beach is a west coast beach, a stone's throw away from Oranjestad. You can check out this peach at 4 pm for pleasantly toasty weather and at 2 pm for sunbathing weather. Of course, the cloudiness of the particular day can affect this.
Explore A Shipwreck From A Diving Site
There are dedicated spots and diving tours that help you explore shipwrecks and hidden structures in the depths of the water surrounding Aruba. You will not be able to take pictures with your phone but will witness awe-inspiring shipwrecks and manmade structures underwater.
Witness The View From The California Lighthouse
When it rains, one of the best spots to be is the observatory of the California lighthouse. It really gives you the feeling of being in a movie about sailors or pirates. The view from the lighthouse is incredible regardless of the rain, but when it rains, the entire vibe shifts in a good way.
Party At Palm Beach
Finally, you have to take a trip to Palm Beach in Aruba. Palm Beach is a very popular tourist destination and is one of the few places where a crowd is a pleasant addition to the atmosphere. The evening parties on Palm Beach are the stuff of legends. Be ready to dance, meet new people, and just have fun with friendly strangers.
January Vacation in Aruba FAQ
Is January a good time to go to Aruba?
January (second half) is a good time to go to Aruba. From January 1 to January 12, the Island is recovering from a very wet and mildly cold December. The weather in Aruba is much nicer than in the states in January, but its rise towards peak tourist-friendly weather starts in the second half of January.
The first half of January is better for short queues and better rates because tourist demand is relatively lower. Depending on what you value in a vacation trip, you can choose to visit Aruba in the first or the second half of January.
Can you swim in Aruba in January?
January is a great time to swim in Aruba. The days are warm, and the water is just cool enough to be refreshing. Daytime swimming and diving are recommended during January because the water can be too cold at night.
Remember to take a freshwater bath after you're done swimming. The natural waters in Aruba aren't chlorinated, so you don't have to shower after you're done swimming immediately. But still, you should take a lukewarm or warm bath before dressing up. Aside from post-swimming hygiene, the only other thing to keep in mind is the rain.
Avoid swimming in the open when it is raining because rainfall can change water currents in unpredictable ways. This is yet another reason to swim in Aruba waters in the daytime.
How rainy is it in Aruba in January?
There are three months rainier than January in Aruba. Aruba is three times rainier than the low-rain months of the Island and is two to three times less rainy than the rainiest months.
Rainfall reduces towards the second half of January, with a further drop in February. March is Aruba's driest month. That said, rain's presence doesn't cancel out the sunlight in Aruba. The best way to describe Aruba in January is that the sun and the clouds seem to be playing hide and seek.
Is it sunny in Aruba in January?
Aruba is pretty sunny in January, with 4 out of 10 days having all-day sunshine. In the last week of January, 6 out of 10 days have no cloud cover or rain.
If you're coming to Aruba for the sun, you will get plenty of it in January. Again, you must just be prepared for the occasional rain towards the last two weeks and sporadic rain in the first two weeks.
What is the cheapest month to go to Aruba?
September is the cheapest month to go to Aruba as the demand fades and discounts up to 50% are available at hotels. The flight fares might not drop as much, but the overall vacation cost in Aruba is 30% to 40% lower in September than in January.
However, January is considered a good time overall because it has a good balance of tourist demand and prices. The peak tourist season kicks off in the middle of the month, and tourists can start pouring into the Island in the beginning. Aruba isn't too crowded or too expensive in January.
Final Thoughts: Is January a Good Time to Visit Aruba?
Going to Aruba in January is a good idea if you don't hate rain. Rain is still a significant factor and is a little above average in frequency and precipitation volume during the first two weeks of the month.
The best week of January to visit Aruba is the last one, and the best activity for January visits are swimming, sunbathing, and joining beach parties.