Aruba Weather in December (2023 Update)
If you look for the cheapest time to visit Aruba, you will stumble across a range of months that include December. Since December is particularly cold at home, you might want to take a break from the snow and head to a reliably hot destination like Aruba. But that can be a mistake, especially if you expect to be welcomed by nothing but sunshine. This is what you can expect for Aruba weather in December:
Aruba weather in December is temperate but very rainy. During December, Aruba experiences 3.1 inches of rainfall (the highest in the year) and has a temperature range of 78°F to 87°F. The weather is nice, but the low sunshine availability makes an Aruba stay harder to enjoy.
Month
Average High Temperature (F)
Average Low Temperature (F)
Average Precipitation (inches)
Average Sunshine (hours/day)
Average Water Temperature
(F)
November
89
79
3.3
8
83
December
87
78
3.1
7
81
January
87
77
1.8
8
79
In this article, you will learn more about the temperature, sunlight hours, and expected rainfall in Aruba during December. You will also learn the Do's and Don'ts of visiting the island in this low-tourist period, alongside what to expect.
Aruba Temperature In December
The factor that affects 100% of the clothes you pack is the temperature of the destination you plan to visit. Aruba's temperature in December is among its coldest but cannot be compared to Western countries.
The minimum temperature during December in Aruba is 78°F, while the maximum temperature is 87°F. In cooler periods, the weather is chilly, and a thick shirt with full sleeves will protect you from the cold.
On warmer days, especially during midday, you will need lighter clothes. It is best to pack for summer and then throw a hoodie or two into the baggage.
Sunshine In December In Aruba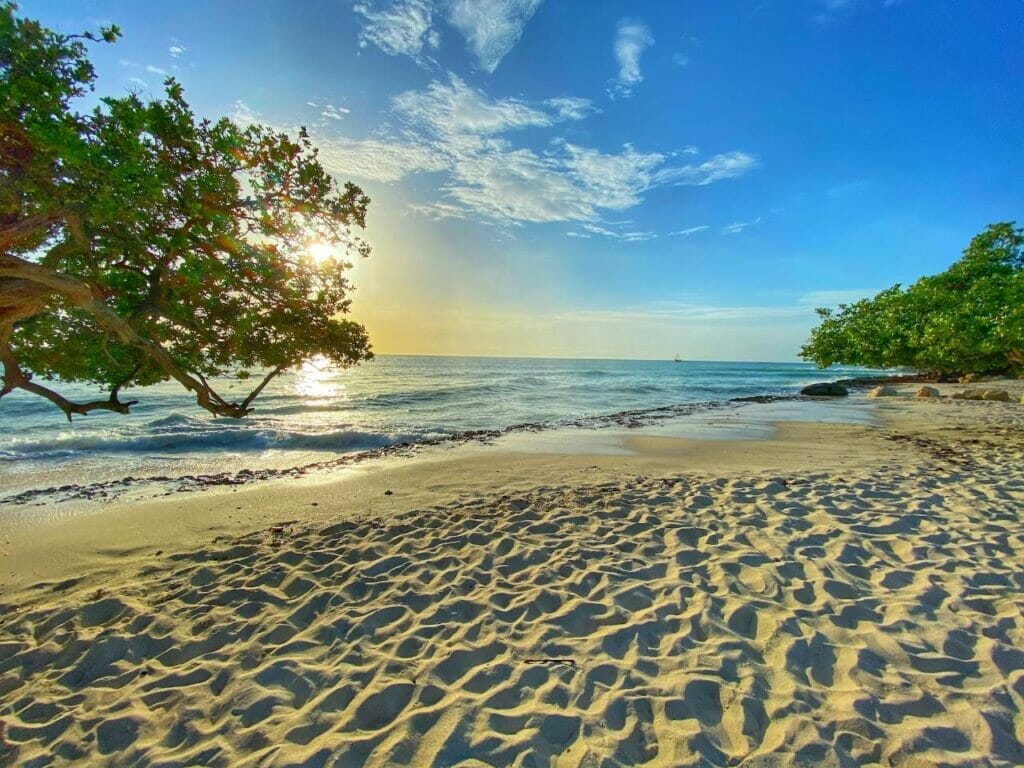 December has the fewest hours of sunshine compared to the rest of the year in Aruba. You will have 7 hours of sunlight, with 3 pm being the equivalent of 5 pm summertime sun. So be ready to sunbathe and laze at the beach from 2 to 3 pm.
The sunlight isn't very intense, and you have the same odds of cloud-free days as in January. This means you will have four days of full sunshine every ten days. The remaining days will be partly cloudy. So you should carry an umbrella and travel-size sunscreen.
And make sure to check the weather predictions on the weather app for the next day to plan your visits. On partly cloudy days, enjoy the neighborhood attractions close to wherever you're staying. For longer trips to popular tourist destinations, check the weather prediction once you are in Aruba.
Packing List for a December Stay in Aruba
Your December packing must be mindful of the rainfall and mildly cold nighttime weather. Moreover, you need to pack essentials for the sunny periods, of which there are surprisingly enough in December as well.
Here is what you should pack for a December trip to Aruba:
Portable Travel Umbrella
A folding umbrella like Repel Umbrella is perfect for an Aruba visit because of how often it rains there in December. This umbrella isn't inconvenient to carry and can be packed in a small bag. It has over 58,000 reviews and ratings on amazon, with a global collective average of 4.5 out of 5 stars. 89% of the customers have given it 4 or 5 stars, which means it is a reliable product.
Sunscreen (50 SPF+)
If you have sunscreen at home, take it with you in a travel bottle like Chica and Jo 2oz Squeeze Bottles. Alternatively, you can buy travel-size Neutrogena Beach Defense sunscreen. Both options are fine because finding sunscreen in Aruba can be difficult. It might be hard to imagine harsh sunlight in December, but in Aruba, it is a reality.
Whenever clouds clear off, the sunlight is just as intense as ever. Make sure to pack sunscreen when you visit Aruba, regardless of the time of the year. There are always full-sun hours in the daytime on the Island.
Mobile Protector Devices
Mobile umbrellas are recommended for Aruba visits whenever there is a chance of rain. But in December, it is most recommended to bring along protective accessories for your mobile phone because it rains the most in Aruba during December.
An accessory like VIVOUNITY Phone Umbrella can protect your phone while you take pictures and videos, while a package like newppon Waterproof Cell Phone Pouch can keep the phone sealed away from rain and water even if you're wearing Bermuda shorts.
Thermos Travel Mug
A travel mug like Contigo Travel Mug can keep warm fluids warm and cold fluids cold. In December, you need hot chocolate and warm coffee on some days and cool tropical drinks on others. The weather is very moody and can shift between rainy and arid unpredictably. An insulated travel mug can be of use regardless of the type of beverage you feel like having.
Swimming Clothes
You will have the least amount of time to swim in December compared to the other months of the year, but still, you will have time to enjoy a dip.
Bring swimming clothes like Amazon Essentials Swim Trunks (for men) and CUPSHE Women's One Piece Swimsuit (for women) to your Aruba trip in December. Pack at least 20% of your clothes to be compatible with a spontaneous swim.
If you have been to a tropical destination during rainy months, the items listed above already make sense. But for most people, the list of items to pack might be confusing and even contradictory. They need to get the complete profile of the December weather in Aruba to know why they must pack an umbrella and sunscreen.
What Not To Do In Aruba In December
Aside from planning your moves based on short-term weather predictions, there's not much you need to do specifically to enjoy your time in Aruba. Having said that, you can make a few rookie mistakes that can ruin your vacation on the Happy Island. Here is what you should not do in Aruba
Do Not Have A Rigid Itinerary
The greatest mistake you'll make when visiting Aruba in December is having a rigid plan of activities. Don't book everything on specific dates while you're at home because the weather in December is unpredictable.
You must have a to-do list of places to go but should not book everything in advance. Whenever the day is rainy, you can pick an indoor activity, and whenever it is sunny, you can go outside. This kind of freedom isn't available to those with rigid schedules.
Do Not Visit Oranjestad When It Is Raining
An offshoot of having a rigid schedule is that you might end up visiting Aruba's beautiful capital on a day when it is raining, and street vendors are mostly busy protecting their stalls from water. The liveliness of Oranjestad vanishes when it is pouring.
Do Not Swim At Night
December in Aruba isn't as cold as December elsewhere, but water can remove body heat quicker than air. Swimming at night in Aruba can give you a cold and ruin your entire vacation. Swim during the day so that you can safely dry off when you get out of the water.
Do Not Pack Leather Shoes
Leather shoes (and other leather products) have no place in a December trip to any place. Rain can ruin high-quality leather shoes pretty quickly, which is why you're better off with shoes that have a better grip and are not as expensive.
Avoid Driving And Vehicles On Rainy Days
Finally, you want to stay out of Aruba cabs and rented cars whenever it is raining. Braking is hard during rain, and the traffic in Aruba isn't as disciplined as the traffic in well-policed states. Avoid accidents by staying off the road when it is raining.
By avoiding a rigid schedule and not packing things that can be adversely affected by the rain, you lower your chances of being disappointed. Aside from the handful of special precautions above, you won't need too much else to have a great time in Aruba except to try to have a great time in Aruba.
Best Things To Do In Aruba In December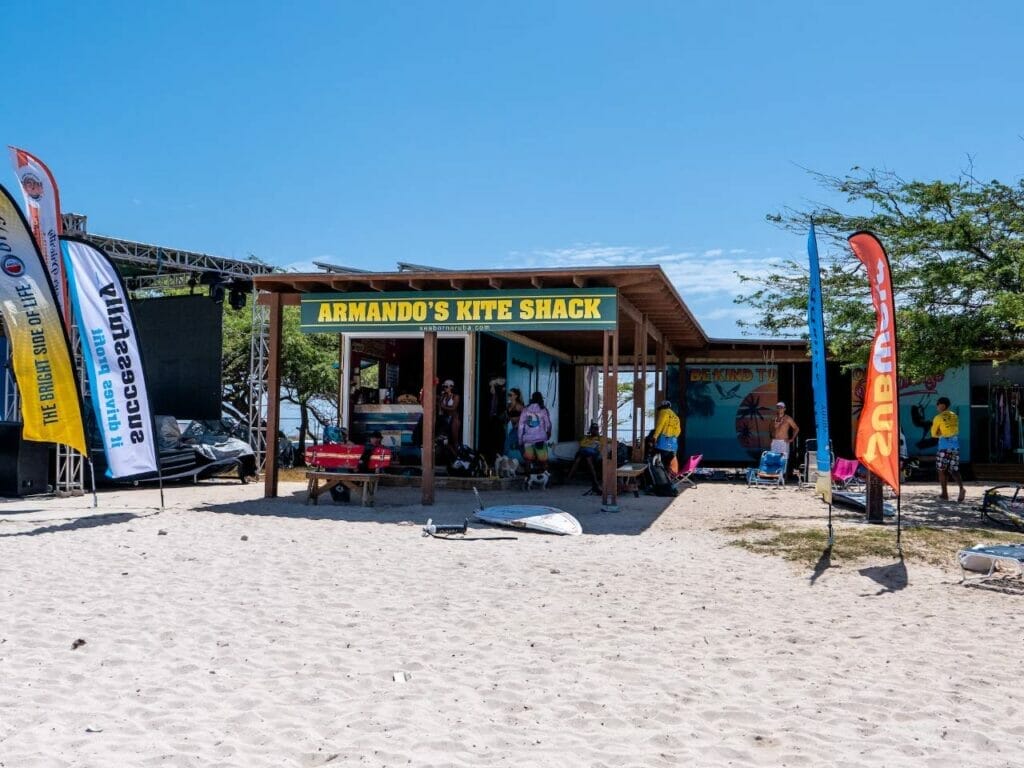 Aruba Aloe Factory – This is a great indoor attraction that is unique to Aruba. You can watch Aloe products being made and can buy functional as well as artistic Aloe products. Advanced bookings aren't required, so it is a perfect entry in your backup itinerary in case there is rain.
Wind Creek Seaport Casino – If you fancy gambling on your vacation, then check out the Wind Creek Seaport Casino. Even non-gamblers can grab a bite at the location and enjoy the exotic and upscale vibe of the place.
California Lighthouse – The California Lighthouse in Aruba is a great place to visit regardless of the time of the year during which you visit. But when it rains, the vibe of the lighthouse is different, and it actually feels relevant yet simultaneously old-timey.
Aruba Glass Ceramics – This one is an art gallery of sorts where you can purchase functional ceramics and glass products. If you're a ceramics junkie, then you shouldn't leave Aruba without visiting Aruba Glass-ceramics. Of course, the fact that it is an indoor spot makes it perfect for rainy December.
National Archeological Museum Aruba – If you visit Aruba with your family, then you should check out the National Archeological Museum, which is a mostly indoor attraction with some open spaces. It doesn't have long queues and is a great experience regardless of the time of the year. Reservations don't have to be too far in advance, so it can be a good option to keep on your flexible itinerary.
Party on Eagle Beach – This beach is much more lively during drier parts of the year. But even in December, there are regular parties and opportunities for friendly encounters. The beach, being an outdoor spot, isn't perfect in rainy weather, so keep it for sunny days. You can sunbathe on the sand during the day and roll up your beach mat for an evening party.
Shop at the capital's outdoor markets – Finally, there's the Oranjestad capital, which no Aruba visitor should leave without visiting. It has wedding cake architecture that looks like it is out of a movie. Taking photos with its brightly painted backdrop is how you show your friends that you went to Aruba and not a generic tropical location.
December Vacation in Aruba FAQs
Is December a good time to go to Aruba?
December is not a good time to visit Aruba in terms of freedom of movement and ideal weather, but it is among the best times of the year for low-priced stays.
The only period cheaper than the peak rainy season is the downright arid season. And that is an objectively worse time to be in Aruba. In short, there are better times (January through March) and worse ones (July through September) to visit Aruba.
Can you swim in Aruba in December?
You can swim in Aruba strictly during the daytime. Night-time swimming may cause hypothermia, pneumonia, or cold, depending on the temperature of the water. Ideally, you should swim between 8 am and 4 pm, whenever you find the skies clear enough.
How rainy is it in Aruba in December?
December is the rainiest time of the year in Aruba, and it rains 3 to 6 times more in December than in other months of the year.
Out of every ten days, 3 to 4 have rain and two days are rain-free. The rest of the days have light drizzle. 6 to 12 days in the whole month might go rain-free.
Is it sunny in Aruba in December?
Five days out of every ten usually have full sunshine. However, the intensity of the sunlight is lower during this month compared to the July through September stretch.
What month is the cheapest to go to Aruba?
September is the cheapest month to visit Aruba though July and June are pretty close. You can get up to 50% off on hotel stays if you pick one wisely.
Recap: Is December a Good Time to Book a Trip to Aruba?
December is an okay month for an Aruba visit if you factor in its cost. But if you wait a while and get a January booking, you'll enjoy more sunny days and fewer cloudy ones. Moreover, the weather gets more temperate as the days go by.
If you visit Aruba in December, make sure to pack for the rain and the sun. Above all, make sure to keep your itinerary flexible.