Aruba Weather in August (2023 Update)
Summer lovers love August, and they love Aruba. But Aruba in August can be too hot even for people who are very enthusiastic about the summer. Before you book your flight to Aruba, you should have a fair idea of what to expect, starting with the sunshine and temperature on the island. This is what you can expect for Aruba weather in August:
Aruba is hot and arid in August, reaching a maximum temperature of 92°F, the highest maximum for any month, and a minimum temperature of 81°F. In August, Aruba is at its hottest, with 9 hours of sunshine, 5 of which are harsh.
Month
Average High Temperature (F)
Average Low Temperature (F)
Average Precipitation (inches)
Average Sunshine (hours/day)
Average Water Temperature
(F)
July
90
80
1.2
10
81
August
92
81
0.8
9
82
September
92
81
1.8
9
83
In this article, you will learn everything about Aruba's weather in August and its consequences, alongside the appropriate ways to prepare for it. Among the things you will discover are rainfall projections, sea temperature, and things to do.
But first, let's start with something that all trips begin with: packing.
What To Pack For An August Vacation In Aruba
August is the hottest month of the year in Aruba, which is generally a hot place. So when you travel to Aruba during this month, you need to take your summer packing up a notch and gear it towards an intense summer. Here are a few things you must pack for an August Vacation in Aruba:
70 SPF Sunscreen
This is by far the most important item you will pack for your Aruba vacation in September. You can get most items on the island, but 70 SPF sunscreen is too specific. Regular sunscreen won't do in the harsh September weather of Aruba.
You'll need a 70 SPF Sunscreen, like Beach Defense Water Resistant Sunscreen, for UV protection that you can be confident in. This particular sunscreen is backed by the trusted Neutrogena brand, so you can be sure that it is actually 70 SPF.
Sun Hat
A sun hat, Panama hat, or even a cowboy hat will do. What you really need is an effortless sun cover. Holding up an umbrella becomes too tiring for long durations and too effortsome for short outings. Instead of exposing your head to harsh sunlight, wear a hat that can protect you from it.
Shades
Even when direct sunlight isn't hitting your head, its bright reflection can strain your eyes. Instead of squinting when you head out, you can relax your eyes with UV protection shades like Retro Rewind UV Protection Shades.
These shades have a timeless design which makes them useful even after your Aruba trip. But you don't need to buy a new pair if you already have shades at home.
Travel Umbrella
While the shades you already have will work just fine in Aruba, your regular umbrella might become too inconvenient. The best umbrella to take with you is one that can fold or contract. The Repel umbrella is a portable travel umbrella that you can use to protect yourself from sunlight when you venture out during the day.
Face Towel
Face towels can be very useful if the heat is unbearable. A wet towel over your head can keep your head from overheating. Water can drain body heat which can make the face towel a great aid. It can help you when you start feeling nauseous or dizzy.
Travel Mug
Carrying a travel container like Contigo Snapseal Travel Mug is a good idea because it is insulated and can maintain the temperature of cold beverages. You can store ice cubes in it to make any lukewarm drink refreshing or can carry electrolyte-mixed cold water.
The weather in Aruba is quite dehydrating. You will lose the water content of your body as sweat and breath moisture. Having cold water will help you replace that lost water.
Liquid Iv
Electrolytes act as sponges that absorb and hold water in the body instead of letting whatever you drink to get lost to sweat or urine. Liquid IV is a hydration mix that features electrolytes that serve this very purpose.
Other electrolyte beverages include Gatorade, Prime Hydration, and even Coconut water. The specifics of the electrolyte beverage aren't important. What's important is that you have access to a decent oral hydration beverage.
Handheld Fan
A handheld electric fan like The HonHey Fan can help you stay cool when you're outside during the day. Ideally, you will have indoor activities scheduled for the parts of the day with the harshest sunlight.
But you need to go outside to go from place to place, and a handheld fan can keep you from heating up in between spots.
Light Clothes
Light clothes must be packed on any summer vacation. Dark clothes might look cool, but they trap body heat, which can make you feel icky and sticky. Light fabrics, both in color and weight, are ideal for summers in Aruba.
Swimwear
Pack trunks like Amazon Essentials Trunks or swimsuits like CRZ Yoga Swimwear because the only thing you can enjoy outdoors in the daytime is swimming. You will find out more about it in the water temperature section.
For now, keep in mind that 70% of the clothes you pack should be clothes you can swim in, even if they are not swimwear articles.
These packing suggestions might seem overprotective, but they are actually just the essentials. The list is long because the heat in Aruba in August is unlike what most western tourists have experienced. If you doubt that, continue reading.
Aruba Temperature in August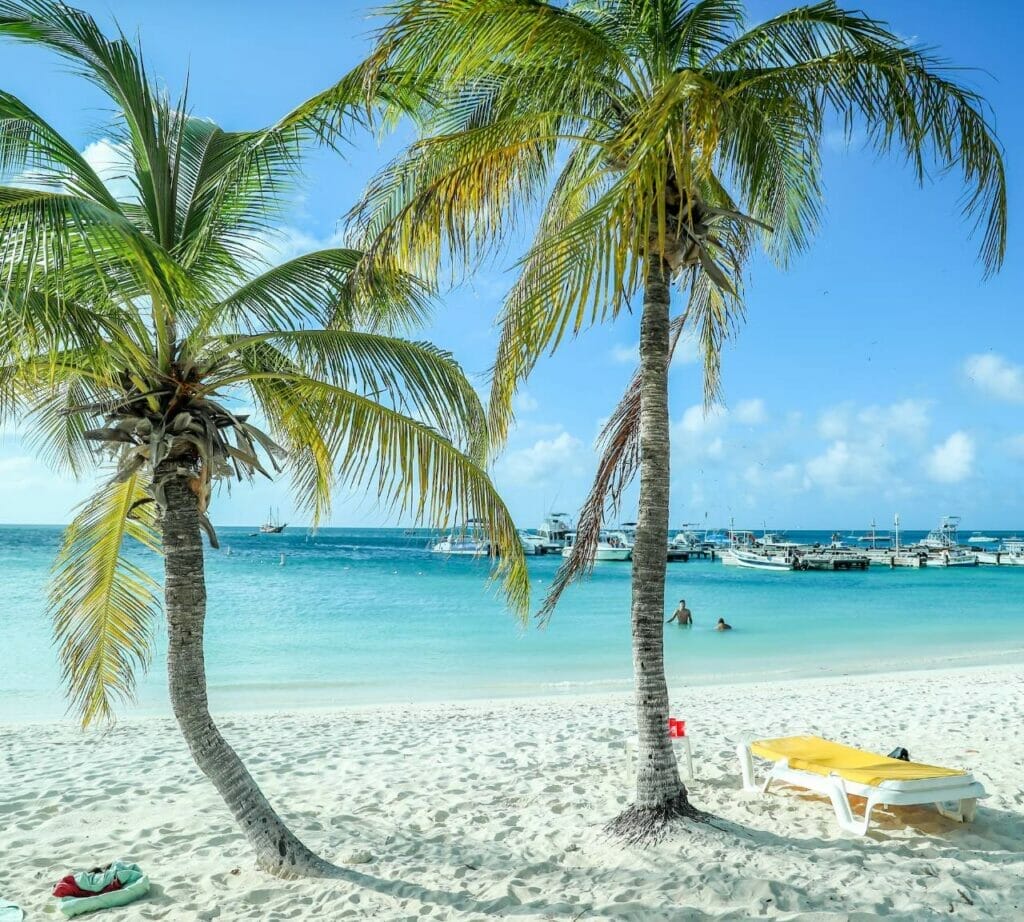 Aruba's temperature in August hovers around 92°F even though the "cooler" days can have the temperature dropping to 82°F. This makes the 1 pm to 3 pm window unbearable for most tourists from the northern countries.
It is also a medical hazard to be exposed to the harsh sunlight that causes this weather. Where July's saving grace is the dimmed sunlight around 5 pm, August doesn't have as many hours of sunshine, so the temperature does get bearable at 4 pm.
Aruba Sunshine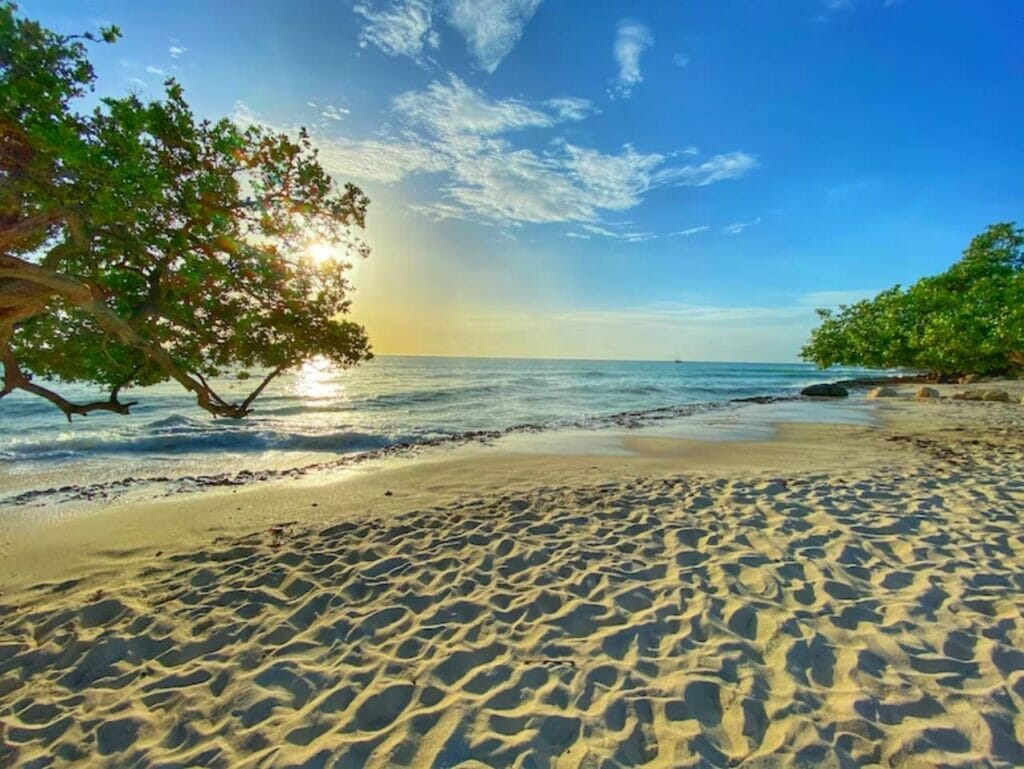 Aruba has 9 hours of daily sunshine in the summer, which is neither good nor bad. It is expected of an island in its geographical location.
You cannot enjoy the sun in the 1 pm to 3 pm window, as it is too harsh. But there are 6 hours of milder sunlight that you can sunbathe and walk in.
Aruba Rainfall In August
The only thing that can interrupt your later-in-the-day sunbathing plans is the rain. The risk of rain, however, is quite low in August. Aruba receives 0.8 inches of rain in August, with an average of 3 days of rain in the whole month.
But don't worry.
You'll probably have an umbrella to cover yourself from the sun. You can use it to protect yourself from the water.
You will most probably enjoy the water, though.
Rain in Aruba is a welcome break from the high heat of the august days. And when it doesn't rain, tourists flock to the sea to cool down.
Aruba Water Temperature In August
The sea temperature in August in Aruba is 82°F. It feels like 75°F, though, because water always feels colder than it actually is.
You can swim in the daytime in Aruba.
In fact, swimming and diving are the only things you can truly enjoy outside during the daytime in August.
The Don'ts Of Visiting Aruba In August
While you can swim and dive in Aruba in August, there are plenty of things you cannot do, especially if you want to have a good time.
In this section, we will go over the Don'ts of visiting Aruba in August. Avoid the following, or you might regret the experience!
Drink A Lot Of Coffee Or Alcohol
Coffee and Alcohol can dehydrate you. The weather in Aruba is already very dehydrating, and you lose your body's water content in breath, moisture, and sweat. Dehydrating beverages like alcohol and coffee (even cold coffee) increase your hydration burden.
You can drink alcohol and coffee in Aruba, but you have to be mindful of how much you need to hydrate to offset the effects of coffee or alcohol.
Go Out Without An Appropriate Head Cover
While most tourists are prudent enough not to dehydrate themselves, they can fall prey to the gradual increase in temperature. You might not feel like Aruba's daytime heat is "too much" if you go out before it gets too hot and stay outside.
But this can put you at risk of getting heat stroke, so you should always cover your head when you go out in Aruba in the daytime.
Schedule A Standard Aruba Vacation
Standard tourist activities in Aruba are mostly outdoor ones, and in August, those are unenjoyable at best and dangerous at worst.
Between 12 pm and 4 pm, you will be indoors, so schedule outside activities for the evening and the night.
The daytime activities should be indoors. Don't worry, there's plenty that you can do in Aruba indoors. See the section below for some ideas.
Take Pets Or Kids With You
Avoid going to Aruba with your family if you have kids. They will not like the extreme heat, and going outside will become a chore. Don't take pets either, especially if you live in a colder state and they are accustomed to that low temperature.
Pack Dark Or Heavy Clothes
Do not pack black fabrics or heavy clothes, as they can absorb sunlight and trap body heat, respectively. As mentioned in the packing section, you should have light fabrics and colors in your Aruba wardrobe.
As long as you avoid the common mistakes covered above, you will have a decent vacation in Aruba. Since the best thing Aruba has to offer is its weather, and that is not too good in August, you have to make the most of your vacation by optimizing your own itinerary for the indoors.
Best Things To Do In Aruba In August
The best things to do in Aruba are mostly indoors, though you can add stuff to do outside in the evenings and the nighttime. Here are some of the best summer activities for tourists visiting Aruba:
Aruba Aloe Factory, Museum, And Store
The Aruba Aloe Factory is a perfect backup place to add to your itinerary for whenever it rains, or the outdoors are too hot. You can buy Aloe products and watch them get made in this tourist-friendly establishment. There are Aloe tours that you can pre-book as well.
Have Fun At A Casino
Aruba truly is the Vegas of the Caribbean. There are multiple casinos with different themes and interior decor but similar gaming slots and gambling options. Among the establishments you can visit are Wind Creek Seaport Casino, Wind Creek Crystal Casino, The Casino at The Ritz-Carlton, and Stellaris Casino.
Aruba Glass Ceramics
At Aruba Glass Ceramics, you can admire the glass items, watch them get made, and even take part in making them. The Glass-blowing/shaping workshop at this venue is the perfect indoor activity for the August weather.
National Archaeological Museum Aruba
This is a location where you can get entertained and educated simultaneously. It showcases the history of Aruba and the artifacts retrieved by archeologists. There are some souvenirs you can buy too, but those aren't actual historical artifacts.
Buy Local Art
While you can't buy archeologists' discoveries in Aruba, you can definitely head to Oranjestad's many crafts and art shops to buy local artists' work. The Cosecha had to close due to the lockdowns and is not in business for the foreseeable future, but around it are many places where art is sold.
Sunbathe (After 5 Pm)
Just because you visit Aruba in August doesn't mean you cannot enjoy the sun. The sunlight begins to dim at around 4 pm, with 5 pm being ideal for sunbathing. You can also sunbathe early in the morning though that might make you want to laze around for the whole day.
Swim in the sea – Swimming is pretty much the only midday activity that you can do outdoors in Aruba. The water temperature is colder than the on-land weather in Aruba, so you can take a break from the heat and enjoy a refreshing swim whenever you want.
Dive at Jane Sea – Jane Sea Diving site has an underwater wreck that is a must-witness for every tourist. Thankfully, the august weather doesn't interfere with diving plans. There are multiple diving centers and tours that can help you check out the freighter wreck and the artificial reef that is formed as an upright wreck.
Final Thoughts: Is August in Aruba Too Hot for a Vacation?
August is the hottest month in Aruba, which means that you will not get to enjoy a lot of outdoor daytime activities except swimming and diving.
There's plenty to do indoors, and the hotels can be 50% cheaper, so it is worth a visit for many tourists. If you plan to go to Aruba in August, though, be mindful of the Dos and Don'ts of being in a high-heat climate.