Aruba Water Temperature (Month-by-Month)
Aruba is an island in the Caribbean Sea, approximately 18 miles north of the Paraguana peninsula and 50 miles northwest of Curacao. Its economy relies heavily on tourism, receiving over 2 million tourists annually. The island's appeal is its favorable travel requirements, incredible hospitality, and of course…those famous Aruba water temperatures!
Aruba's water temperature ranges from 77 to 84 degrees Fahrenheit, allowing for all-year-round tourist activity. It hosts some of the world's most famous beaches, offering vacationers unique aquatic experiences.
Below is information on Aruba's near-perfect water temperature and the best times to visit.
2 Main Reasons for Aruba's Favorable Water Temperature
Ok, so here's the question: why is Aruba blessed with warmer water temps than other islands? To understand, let's take a look at Aruba's climate and geography.
Aruba's Tropical Steppe Climate
The island has a hot semi-arid climate, featuring near-constant sunshine and minimal rainfall. Average monthly temperatures range from highs of 89.2 degrees Fahrenheit and lows of 79 degrees Fahrenheit.
Constant trade winds from the Atlantic Ocean keep the island cool, maintaining relatively low humidity levels of around 77% annually.
It rarely rains in Aruba, with annual rainfall at around 20 inches, resulting in the island's arid landscape. These numbers can range drastically depending on climatic phenomena like El Nino and La Nina. During the 1997/1998 El Nino season, the island received only 6 inches of rainfall, making it one of the driest years in recorded history.
Aruba is Outside the Hurricane Belt
Aruba lies south of the general hurricane paths, around 12 degrees 30′ north of the equator, resulting in relatively calm weather throughout.
The last tropical storm to affect the island was Hurricane Felix in 2007. Despite passing 60 miles off the coast, it did result in heavy rains and high winds on the island, only causing minimal damage.
Aruba Water Temperature by Seasons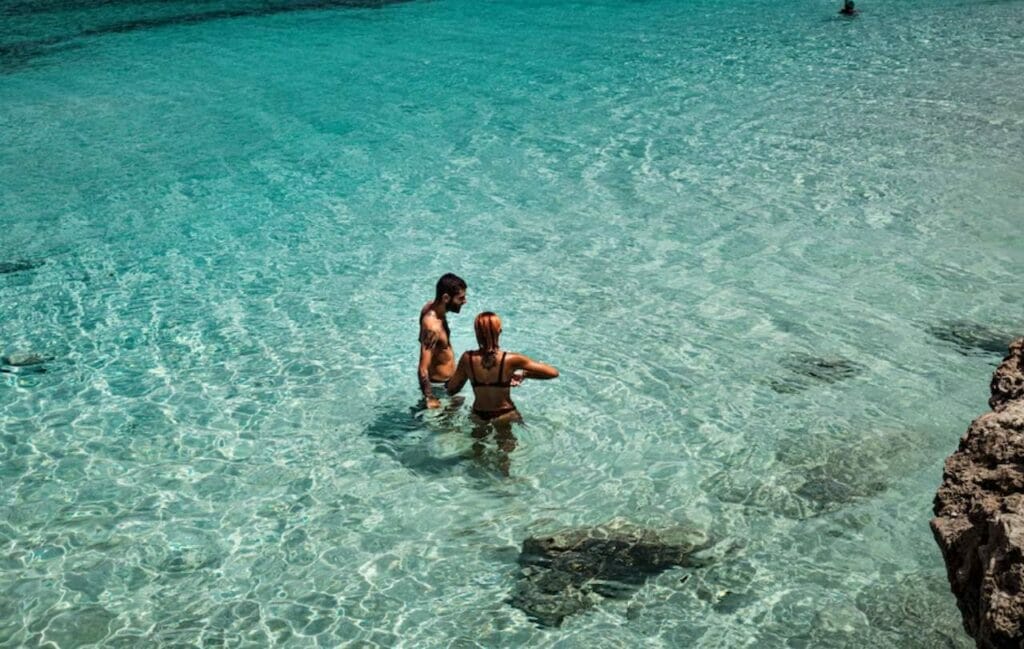 Despite having a tropical climate, Aruba goes through weather seasons that affect the water temperature. Here is more information on their effects
Winter Water Temperatures
Aruba's winter starts in November and ends in March. This marks peak tourist season on the island, with the average monthly water temperatures at 80 degrees Fahrenheit.
The coldest winter month is January, when the air temperature can drop to around 77.7 degrees Fahrenheit, with about 11 hours of sunshine. February has the lowest water temperature of about 78.6 degrees Fahrenheit.
Spring Water Temperatures
Spring begins in late March and ends in late May. The water temperature rises from about 82.5 degrees Fahrenheit in March and April, reaching 84 degrees Fahrenheit in May.
March is also the driest month in Aruba, receiving an average of around 2.4 inches of rainfall.
Summer Water Temperatures
Aruba's summer runs from June to August, with average air temperatures of 84 degrees Fahrenheit. The warmest months are August and September, recording maximum air temperatures of 91 degrees Fahrenheit.
Thanks to the Atlantic trade winds that cool the island, you are unlikely to feel the effect. The average water temperature during summer is around 82 degrees Fahrenheit. Summer also marks the beginning of hurricane season, resulting in tropical storms, but these are rare.
Fall Water Temperatures
Fall is from September to November, and Aruba's water temperature is between 82- and 84 degrees Fahrenheit.
October records the highest water temperature at about 84 degrees Fahrenheit. It is also the month with the highest chance of tropical storms since the hurricane season is at its peak. Humidity levels are also high, averaging at about 85%.
Aruba Climate and Water Temperature Summary
Here is a summary of Aruba's climate to help you plan your next trip:
February has the coldest water temperature at around 78.6 degrees Fahrenheit.
October records the highest water temperature at 83.8 degrees Fahrenheit.
The coldest month is January, with average air temperatures of 77.7 degrees Fahrenheit.
September is the warmest month at 82.2 degrees Fahrenheit.
November receives the highest rainfall with 8.5 inches, and March is the driest with 2.4 inches.
Humidity is at its highest in November at 85.5%, with March being the lowest at 78.7%
The best time to visit Aruba is from January to April.