Top 5 Aruba Water Parks to Visit in 2023
Now that summer is around the corner, you're probably thinking about where to visit. Aruba comes to mind when you think about white sand beaches, friendly locals, spectacular geological formations, world-class casinos, and exciting parties.
But while choosing Aruba as your next vacation spot, it's another thing to decide which activities to engage in. Well, since it's summer, and you expect the sun to be at its best, there's no better way to start your vacation than by spending a day or two in some of Aruba's beautiful water parks.
Aruba has an active water culture, so you expect more than a few of these water parks. We've done the heavy lifting by listing the best water parks in Aruba for you. The following reviews will help you make the right choice when choosing a water park that'll suit your vacation needs.
1. Aruba National Pool
Also known as "Cura Di Tortuga" or "conchi," the Aruba national pool is Aruba's most remote yet most famous natural attraction. It is formed by a rock and volcanic stone circle, giving it a unique, picturesque look perfect for relaxation in any season.
The unique natural pool is located on a deserted stretch of the coastline, and it features dramatic shows of water constantly sprinkling over the rock formations.
The pool is located inside Aruba's national park, with its crystal clear emerald water begging to be jumped into.
Some of the most rugged terrains in Aruba surround the pools. These terrains make discovering the pool an adventure. You can reach the site by foot, horseback, or by a 4×4 vehicle. Unfortunately, the environment's nature means it's almost impossible to access the site with a regular car. 
Another option is to hire a guide with a 4×4 vehicle or ATV to drive you out to the pool. The advantage of choosing this option is that the guide understands the terrains, so you won't waste time trying to navigate. You'll find different sellers of drinks and snacks at the top of the stairs leading to the National Pool during the day.
2. De Palm Island Waterpark
Aruba's only all-inclusive tourism destination has something for everyone. Whether you enjoy going into the water or want to relax and enjoy the calm waters, De Palm Island has something for you. However, the Island's water park takes the headline in this article.
Although it's often referred to as a kiddies' water park, this location still has enough to keep anyone busy irrespective of age. Kids easily fall in love with the water park because of the numerous children's games they can play here.
Most people prefer to twist and turn down the new free-body slides. However, going all out for a daring experience makes sense since you're already here. So we recommend sliding down a dark, twisting tunnel that drops into a spiraling bowl for the more adventurous kids.
Adults can enjoy a snorkeling tour in the same location. Other events include body drop slides and banana boat rides. The waterpark is also an excellent location for picnics. There are many beach beds where you can relax and watch other people having fun. The location is also home to a flock of beautiful flamingos, so it makes sense to go with your camera and click away.
3. Aruba Vacation Park
Although a privately owned park, Aruba vacation park offers everything to define your holiday experience, from a fascinating waterpark to beautiful villas and apartments.
The waterpark, located in the beautiful countryside, is one of the largest swimming facilities in Aruba. Beyond its size, the facility is also famous for all the water fun it offers to visitors.
The Aruba waterpark is the right place to go when looking for an excellent location for family fun. That's not to say that individuals cannot enjoy the park alone.
The waterpark features a large splash pool, a massive water mine, a wild water river, and five spectacular sides. There's also a restaurant where you can enjoy different drinks and snacks to cool off after an exhilarating moment catching up with all the park offers.
The vacation park also offers apartments and villas for long and short-term stays. However, the apartments are distanced from the waterpark so that visitors can enjoy a peaceful stay when they want to be away from the bustles of the park.
4. Mangel Halto and Baby Beach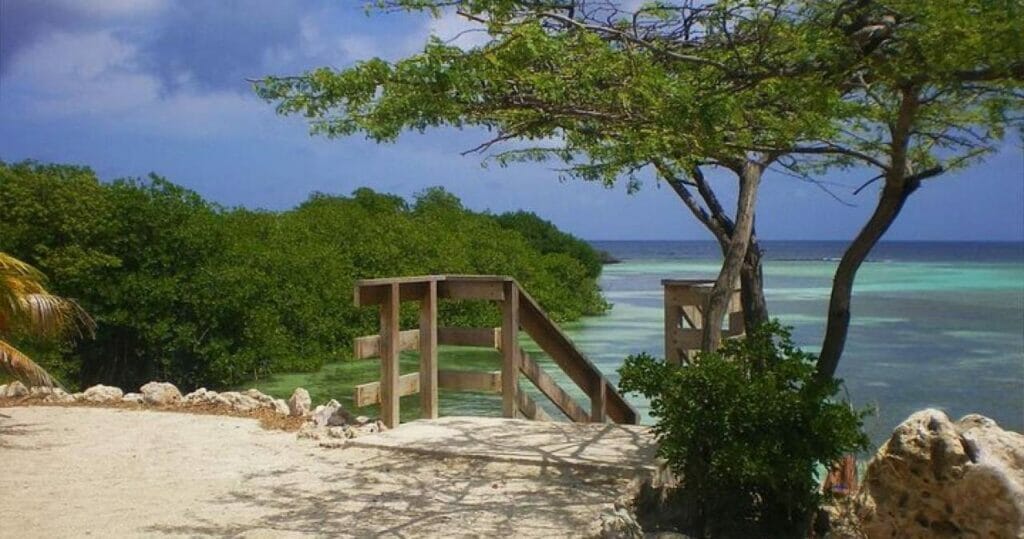 Lying side by side are two of Aruba's most popular beaches. These two beaches are the most loved and cherished by Aruba's visitors. It's not surprising that many of them pull up at the locations to enjoy everything that the waters offer during their trip to Aruba. Fortunately, several available excursions take you to these beaches with their paradise-like surroundings.
While here, you can actively engage in many activities. For example, Mangel Halto Beach is a popular Aruba beach for snorkelers.
On the other hand, Baby Beach offers the option to relax for visitors that may not want to snorkel. If you'd love to snorkel, visiting this park is an excellent opportunity to experience Aruba's underwater life alongside other snorkelers like you.
With the calm and shallow waters facing you, you'll get different ideas of activities to try in the water. 
There are also quiet locations just outside the pools where you can enjoy recreational activities with your family or sit alone and soak in the beauty of the atmosphere.
5. Aruba Atlantis
Although Aruba Atlantis is known for the Atlantis submarine experience that allows you to explore the Caribbean by voyaging 130 feet underneath the water's surface, there's also a water park where visitors can meet other tourists and enjoy water activities together.
The waterpark is best described as an amusement park with waterplay areas such as water playgrounds, water slides, and a lazy river for swimming and other barefoot activities.
The waterpark offers enough activities to make your day, but it's understandable if you want more adventure. You can always board the Atlantis submarine to explore Aruba's underwater world.
Even if you're not a good swimmer, you can still enter this activity as it's safe for children and people who can't swim. A typical ride will take you to about 130 ft below the ocean surface, where you can get a firsthand view of shipwrecks, the Barcadera Reef, and Aruba's famous marine life. The crew commentary added along the journey makes it more fun and engaging.
Staying Safe in Aruba's Water Parks (7 Useful Tips)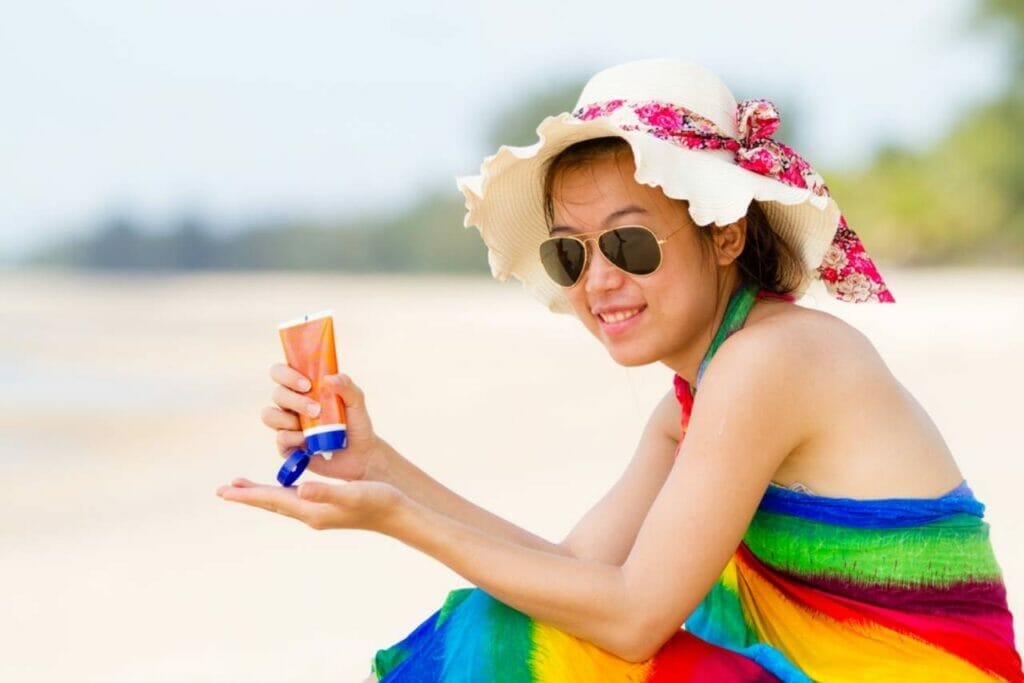 Now that you know about Aruba's water parks, you've probably ticked one or two parks to explore during your next visit to Aruba. But when you visit, don't get too carried away by the water attractions, cooling sprays, wild rides, and waves that these parks offer that you forget everything about safety.
Here are safety tips to help you enjoy Aruba's most fascinating waterpark activities without getting into harm's way. 
1. Dress for The Day
Although often overlooked, this is one of the essential safety tips to know before visiting any waterpark. Exploring a waterpark means you'll be outside, under direct sunlight, for a significant part of the day.
You want to dress appropriately to prevent dehydration, sunburns, and heat strokes. Some recommended clothes to wear when visiting a waterpark include loose t-shirts, sunglasses, water shoes, hats, etc. Just be sure you're comfortable in whatever dress you choose to wear.
If you're going with younger children, keep an eye on them throughout your stay and monitor how long they stay under direct sunlight. 
2. Stay Hydrated
Staying out under the sun for a long time and engaging in many exhilarating activities can get you dehydrated quickly. Therefore, you want to drink as much water as possible to stay hydrated throughout your stay.
While packing your picnic necessity, pack bottles of drinking water because you may not find drinkable water in the park. Even when you find water, it is usually more expensive than you'll have it outside. It makes sense to pack a bottle of water or two. 
3. Wear Sunscreen
If you're going to stay out in hot weather, you better apply some waterproof sunscreen to keep your body safe. Aruba is sunny for most of the year, so it makes sense to pack waterproof sunscreen into your picnic pack.
Apply the sunscreen about 30 minutes before arriving at the pool. Reapply it at intervals throughout your stay. Waterproof sunscreen should be reapplied in 90-minute intervals, especially if you'll spend most parts of your day in the water and will dry yourself with a towel every time you come out of the water.
4. Know the Rules
Every Aruba waterpark has specific rules. Before jumping into the waters or engaging in any activity, read the rules. You'll find posted signs strategically placed in different areas of the park. These signposts carry important messages.
Read the messages before going ahead with your fun activity. If you don't understand any of the messages, ask. Most Aruba water parks have different slides and features, each appropriate for different ages. Beyond reading these safety precautions, ensure to keep every one of them. Talk to staff or lifeguards about any question you may have, and they'll always be willing to answer you. 
5. Know How to Swim!
They are called water parks because of the pools in them. The best safety tip to observe before entering any water is knowing how to swim. Even if you don't intend to go into the water, it still makes sense to know how to swim because you don't know how your visit will turn out.
The best thing to do is to ensure every family member knows the swimming basics before going to a waterpark. Despite the availability of guards and staff in parks, there are still occasional stories of people drowning. So, both adults and children should know how to swim before going to a park.
Teach your children to swim at home if you have a small backyard pool. Otherwise, consider enrolling them in swimming lessons to help them get comfortable in the water before going to an Aruba water park or any water park.
Conclusion: Best Aruba Water Parks in 2023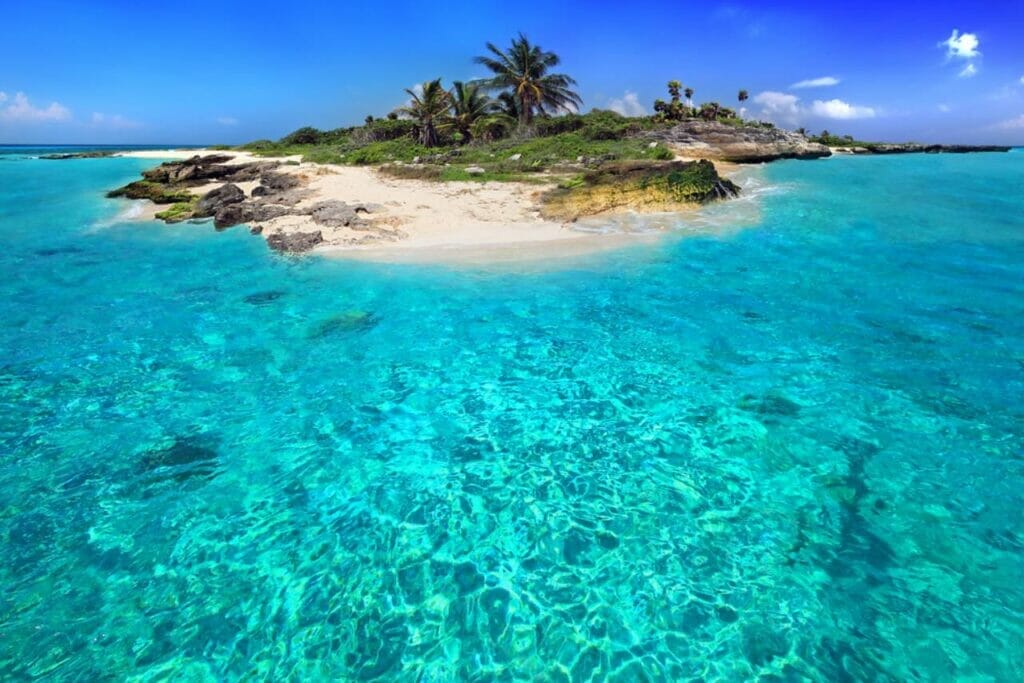 That's it – a detailed review of Aruba's best water parks. Aruba's water culture is thriving, and as expected, there are many water parks on the Caribbean Island. But we've reviewed the best for visitors and tourists.
Hopefully, you'll find one that meets your vacation needs from this list. We've also explained a few safety tips to ensure you're safe during your stay in any water park.