Aruba and Turks Islands may both be Caribbean destinations, but each has its own unique charm and character.
Aruba and Turks Islands differ mainly in their geographical locations and cultural influences. Aruba, located in the Southern Caribbean, offers a mix of Dutch and Caribbean cultures, with arid landscapes, sandy beaches, and vibrant nightlife. Turks Islands, part of the Turks and Caicos archipelago in the Atlantic Ocean, boasts a more tranquil atmosphere, pristine beaches, and a strong British and Bahamian cultural influence.
Travelers seeking a lively and diverse experience may prefer Aruba, while those desiring a serene tropical getaway may opt for Turks Islands.
| Category | Aruba | Turks Islands |
| --- | --- | --- |
| Cost Range for 1 Week | $2,274 – $4,782 (source) | $992 – $4,556 (source) |
| Location | Caribbean | Caribbean |
| Geography | Island | Archipelago |
| Language | Dutch, Papiamento | English |
| Government | Parliamentary democracy | British Overseas Territory |
| Currency | Aruban florin (AWG) | United States dollar (USD) |
| Tourism | Major tourist destination | Popular tourist destination |
| Economy | Tourism, oil refining | Tourism, offshore finance |
From exploring national parks and indulging in water sports to immersing yourself in the local heritage and enjoying warm hospitality, Aruba and Turks Islands have it all. So, pack your bags and get ready for an unforgettable vacation in these captivating Caribbean paradises!
Paradise Showdown: Aruba and Turks Islands – A Tale of Geography and History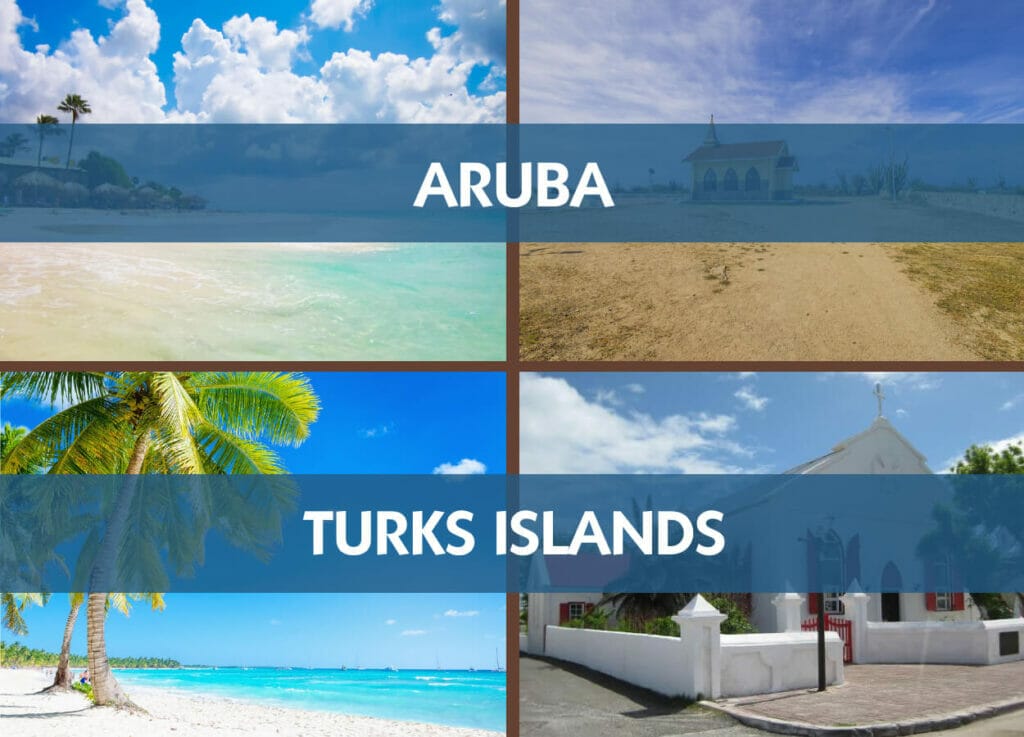 Ever find yourself daydreaming of the perfect beachy escape? Let me take you on a virtual journey, comparing the sparkling jewels of Aruba and the Turks Islands. Whether you're traveling with family, planning a romantic getaway, seeking thrills, or just eager to explore, there's a special corner for everyone in these paradises.
Imagine yourself in Aruba, under the Caribbean sun, toes sinking into velvety white sands, while the azure waters beckon and divi-divi trees dance with the breeze. For families, days are filled with sunshine laughter, from crafting the perfect sandcastle at Eagle Beach to adventures through the rugged charm of Arikok National Park.
But it's not all beach vibes – dive deep into Aruba's rich past by wandering the colorful streets of Oranjestad or exploring its riveting museums. Looking for romance? Picture a sunset cruise or a secluded spot just for two. And for the thrill-seekers, kitesurfing waves, snorkeling mysteries, and underwater shipwreck explorations await.
Next, let's whisk away to the tranquil embrace of the Turks Islands. A refuge from the daily grind, here, calm meets excitement. If you're budget-savvy, imagine the exhilaration of spelunking through limestone caves or gliding alongside vibrant marine life in the surrounding reefs.
For those looking for a touch of opulence, luxuriate in resorts that sit alongside the breathtaking Grace Bay Beach. And did I mention pirates? Oh yes! Dive into tales of old in the charming lanes of Cockburn Town and feel the thrill of the island's buccaneering past.
So, whatever your heart desires – be it family fun, love under the tropics, adrenaline-packed days, or a luxurious retreat intertwined with tales of yore – Aruba and the Turks Islands are waiting to welcome you. Each place promises its own magic, eagerly awaiting the footprints of explorers like you. Here's to your next adventure!
Sun-Kissed Showdown: Aruba vs. Turks Islands – Battle of the Best Beaches
Imagine Aruba as that friend who always has a story to tell – from the picture-perfect moments at Eagle Beach to romantic whispers at Palm Beach. Families will adore the kid-friendly waters, perfect for building sandcastles and taking the first swim. Meanwhile, lovebirds can walk hand in hand, with golden sunsets as their backdrop.
For the thrill-seekers, Aruba's vibrant underwater world and adrenaline-pumping water sports are the stuff of legends. And hey, whether you're pinching pennies or splurging on luxury, Aruba rolls out the red carpet just for you.
Then there's the Turks Islands, a peaceful oasis for those craving quiet moments and hushed whispers. Think of Grace Bay Beach as that secret nook where nature sings lullabies. Dive mask and flippers? They're your passport to vibrant coral cities beneath the waves.
And for those who like their adventures with a pinch of zen, paddleboarding on serene waters or kitesurfing with the wind might just be your jam. While Turks does have a penchant for pampering, it's also got a heart for those traveling on a shoestring, ensuring paradise doesn't always come with a hefty price tag.
Aruba invites you with its lively charm and varied experiences, while the Turks Islands beckon with intimate moments and peaceful retreats. Each offers memories that'll dance in your heart, long after your footprints have faded from their sands. Dive in, and let the waves decide your next beach tale.
Luxury Getaways: Aruba vs. Turks Islands – Where to Find the Finest Accommodation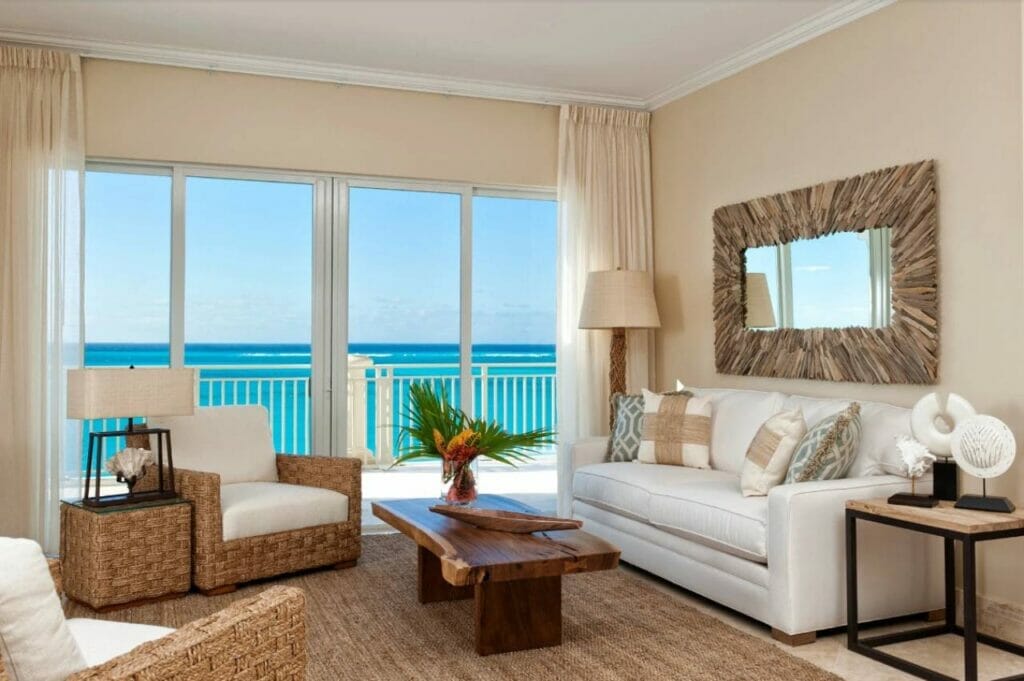 Aruba, with its warm sandy beaches and clear blue waters, is a paradise that understands every traveler's desires. Families can find their haven at The Ritz-Carlton, Aruba, where the kids' club and family-friendly amenities ensure everyone's having a blast.
For couples seeking intimate moments, the Boardwalk Boutique Hotel Aruba provides charming private villas nestled amidst lush gardens. And adventure aficionados, don't miss the Renaissance Wind Creek Aruba Resort, conveniently located near the island's vibrant activities.
Meanwhile, over at Turks Islands, the accommodations are as enchanting as the name suggests. The Venetian on Grace Bay offers a serene escape for couples, where you can relish quiet walks on the pristine beach. Families will adore The Sands at Grace Bay, where spacious suites feel like home, just steps from the turquoise waves. And for those who define luxury as a way of life, the Seven Stars Resort and Spa is a treat beyond imagination.
No matter your travel style or budget, both Aruba and Turks Islands have your back when it comes to accommodations. So whether you're building sandcastles with the kiddos, strolling hand in hand along the shore, embarking on thrilling island adventures, or indulging in the lap of luxury, these Caribbean wonders promise a getaway that'll leave you with memories to cherish.
Thrills in the Tropics: Aruba and Turks Islands – Unveiling Unforgettable Activities
First stop: Aruba! Imagine a place where every wanderlust-filled dream becomes reality. Families, picture your kids' faces lighting up at the Butterfly Farm, surrounded by nature's most vibrant colors. Couples, imagine walking side by side on Eagle Beach, feeling the sun's gentle kiss.
And if you're thinking of your budget? Don't worry! Dive into Baby Beach's serene waters for a magical snorkeling experience. But if you're in the mood for some royal treatment, Palm Beach's luxurious resorts are calling your name.
Next, we drift to the Turks and Caicos Islands, where relaxation is the order of the day. Families, Grace Bay Beach is your sandbox, with waters so calm and clear they're perfect for your little ones. Dreamy couples, picture yourselves aboard a sunset cruise, the horizon painted with warm hues, and champagne glasses clinking.
Adventure seekers, prepare to be mesmerized by the underwater tapestry at Smith's Reef. And for those who crave flavor without breaking the bank, beachside fish shacks are your go-to. But if opulence is on your mind, prepare to be wrapped in luxury in some of the world's most exquisite resorts.
So, fellow traveler, whether your heart beats faster for adventure, romance, a simple retreat, or unabashed luxury, both Aruba and Turks and Caicos have a special spot for you. Aruba bursts with life, family delights, and thrilling adventures, while Turks and Caicos is a serene embrace of calm, underwater wonders, and splendor.
Exploring with Ease: Aruba vs. Turks Islands – Navigating Car Rental in Island Style
Aruba, a jewel in the Caribbean crown, offers a myriad of options to get you from one palm-fringed beach to another. For those looking to stretch their vacation dollars without sacrificing style, Top Drive, Drive 4 Cheap Car Rental, and Jay's Car Rental are your trusty companions.
These budget-friendly options ensure that your exploration of Aruba's hidden gems remains as vibrant as your Instagram feed. Imagine cruising down the scenic coastal roads with the wind in your hair, all while keeping an eye out for those perfect photo spots.
Meanwhile, the Turks Islands, with their pristine beaches and vibrant marine life, hold a special charm. Grace Bay Car Rentals, First Choice Rent a Car, and Island Life Jeeps understand that luxury and comfort are non-negotiable for many travelers.
These options are tailor-made for couples seeking a romantic escape or families who want to indulge in stress-free travel. Picture yourself driving along the iconic Grace Bay Beach, feeling the romance of the islands seeping into every moment.
So, whether you choose to explore Aruba's rugged Arikok National Park in a trusty rental or to cruise along the shores of the Turks Islands in a comfortable and stylish ride, your vacation is bound to be an unforgettable chapter in your travel story.
Remember, it's not just about the destination, but the journey that gets you there – and with these transportation options, the journey is destined to be just as captivating as the tropical paradises themselves.
Dining Culinary Clash: Aruba and Turks Islands – Savoring the Ultimate Dining Experiences
In Aruba, the food scene bursts with colors and flavors. At Fred Restaurant, families can come together over a table brimming with local and global delights, where every bite is a memory made. For those painting the town red, Senses Fine Dining Restaurant offers elegance in every corner, from its upscale vibe to its plate's last garnish. It's the ultimate date night spot.
And oh, the Wilhelmina Restaurant? It's a culinary canvas, painting a beautiful blend of Caribbean staples and avant-garde dishes, captivating both the curious foodie and the lover of timeless tastes.
Hop over to Turks Islands, and the gastronomic tour de force continues. Mudjin Bar & Grill offers families not just a meal, but a backdrop of breathtaking ocean panoramas. For the romantics, Grace's Cottage Restaurant wraps you in an atmosphere dripping with charm – think candlelit dinners beneath a blanket of stars. For those with a thirst for adventure, the Caribbean Element Restaurant and Bar serves up dishes as lively as the island's very soul.
Aruba and Turks Islands aren't just about beaches and sunsets; they're a masterclass in culinary craftsmanship. Whether you're on a shoestring budget or splurging on opulence, your taste buds are in for a treat.
Picture this: You're at Fred Restaurant in Aruba, laughing with family. Or perhaps you're lost in your partner's eyes at Grace's Cottage Restaurant in Turks Islands. Maybe you're diving deep into a plate of something you've never tried before. No matter the scene, expect nothing less than paradise served on a plate.
Aruba vs. Turks Islands FAQ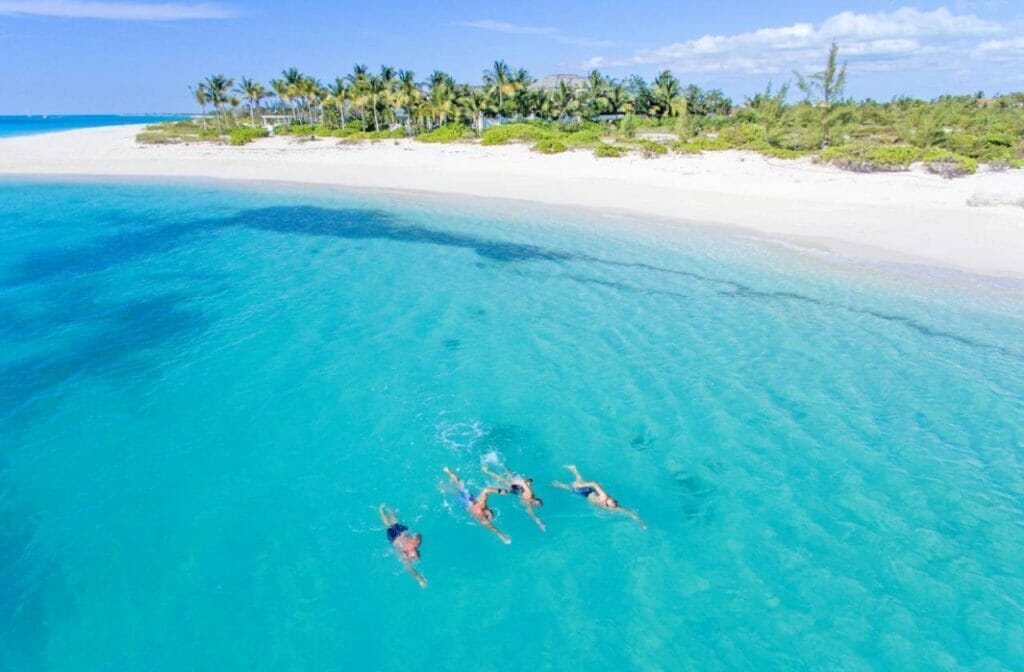 Which island is better, Aruba or Turks?
Both Aruba and Turks have their unique qualities, making it difficult to determine which one is better. Aruba is known for its dry and arid landscapes, stunning white sand beaches, and picture-perfect sunsets. On the other hand, Turks offers a tropical savannah climate, exceptional underwater attractions, and a rich Afro-Caribbean culture. The choice ultimately depends on individual preferences, whether one seeks Aruba's arid beauty or Turks' vibrant marine life and cultural heritage.
Are there mosquitoes in Turks?
Mosquitoes can be found in Turks, as is the case in many tropical and subtropical regions. However, the presence and activity of mosquitoes can vary depending on factors such as time of year, weather conditions, and location. It is advisable to take precautionary measures, such as using mosquito repellent and wearing protective clothing, particularly during dawn and dusk when mosquitoes are most active.