Welcome to the ultimate showdown between Aruba and Tobago, two charming islands nestled in the southern Caribbean. If you're dreaming of a tropical escape, these Caribbean gems offer contrasting experiences that will leave you spoiled for choice.
The main difference between Aruba and Tobago lies in their geographical locations and cultural influences. Aruba, situated in the southern Caribbean, boasts a drier climate with arid landscapes and pristine beaches. Tobago, located in the southeastern Caribbean, offers lush rainforests, diverse wildlife, and a more laid-back ambiance influenced by African, Indian, and European cultures.
Travelers seeking a desert-like coastal paradise may favor Aruba, while those in search of a tropical rainforest experience may prefer Tobago.
| Category | Aruba | Tobago |
| --- | --- | --- |
| Cost Range for 1 Week | $2,274 – $4,782 (source) | $651 – $2,875 (source) |
| Location | Caribbean Sea, north of Venezuela | Caribbean Sea, northeast of Trinidad |
| Geography | Flat, arid, desert-like | Mountainous, lush rainforests |
| Language | Dutch, Papiamento, English, Spanish | English |
| Government | Parliamentary democracy | Parliamentary democracy |
| Currency | Aruban florin (AWG) | Trinidad and Tobago dollar (TTD) |
| Tourism | Popular tourist destination with white-sand beaches, resorts, and water activities | Emerging tourist destination with pristine beaches, eco-tourism, and diving spots |
Both islands boast a rich blend of cultures and histories, providing a captivating tapestry of flavors, rhythms, and stories. So, let's dive into the details and explore the wonders that await you on these mesmerizing islands.
Contrasting Legacies: Exploring the History and Geography of Aruba and Tobago
Ready to dive into a Caribbean dream? Let's explore the mesmerizing charms of Aruba and Tobago – two islands that invite everyone from families, lovebirds, thrill-seekers, to budget-conscious explorers to uncover their diverse terrains and tales.
Picture this: Aruba's sunlit beaches where families play and build sandcastles, lovers walk with interlocked fingers, and thrill-seekers catch waves and memories. With its Dutch roots, Aruba boasts quaint windmills and pastel-painted houses that whisper stories from the past.
If you're keen to splurge, luxurious resorts are ready to spoil you, but if you're on a shoestring, there's plenty of joy to be found in simple beach picnics and local diners. Venture inward, and you'll find Arikok National Park, where ancient tales come to life through mystical petroglyphs and echoing caves.
Then, there's Tobago. Imagine a green wonderland where families embark on rainforest quests and encounter curious wildlife. Romantic souls will fall for its hidden beaches and golden sunsets, while adventurous spirits can dive into an underwater world of vibrant corals.
Tobago's history is a vibrant mosaic of native traditions, European tales, and Afro-Caribbean rhythms. For those traveling on a budget, welcoming guesthouses nestle you amid nature, and if you're looking for a slice of luxury, Tobago's resorts have just the pampering you need.
Picking between Aruba's sun-soaked sands and Tobago's lush wilderness? If desert sunsets and a European-Caribbean fusion tug at your heartstrings, Aruba is calling your name. But if you're yearning for green expanses, marine magic, and a rich tapestry of histories, Tobago beckons.
Comparing Coastal Paradises: Aruba vs Tobago Beaches
First stop: Aruba. Think soft, pillowy sands meeting the tranquil embrace of crystal waters. It's a haven for families, with places like the renowned Eagle Beach offering both the charm of its iconic divi-divi trees and the safety of gentle shores for the kiddos to play in.
And for couples? There's nothing quite as magical as walking hand-in-hand, watching the sun paint the sky with hues of gold and pink. For the daredevils among us, the island's rugged coastlines offer a world of snorkeling, diving, and even windsurfing adventures.
Next, let's hop over to the enchanting Tobago. With a diverse range of beaches, there's something for everyone. On a tight budget? Store Bay has got you covered with its delicious local delicacies that won't hurt your pocket.
Families can bask in the sun at Pigeon Point Beach, with little ones sculpting memories in the sand, while parents relax under rustling palms. And thrill-seekers, Tobago's underwater oasis awaits at Buccoo Reef's nylon pool – it's snorkeling like you've never experienced before!
Dreaming of luxury? Aruba's lavish resorts offer everything from pampering spa sessions to secluded beach cabanas. Meanwhile, Tobago seduces with its boutique beachfront villas, places where privacy meets top-notch service. Castara Bay, in particular, feels like a well-kept secret with its golden embrace and verdant backdrop.
So, no matter your travel style or dreams, both Aruba and Tobago promise to make them come true.
Comparing Accommodation Options: Aruba vs Tobago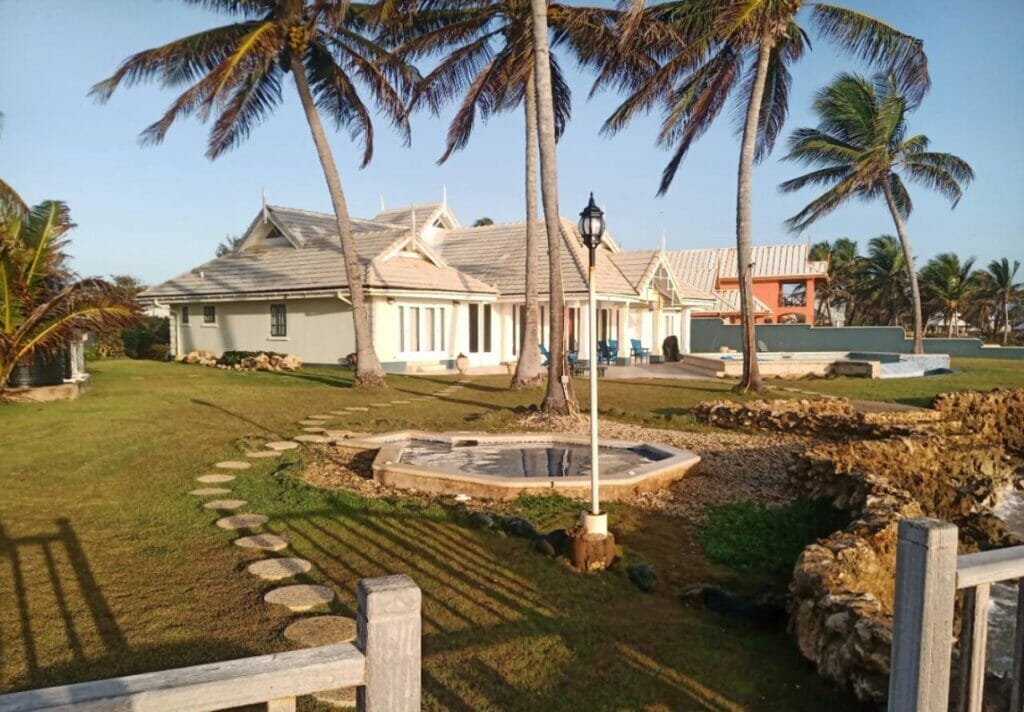 Imagine sunbathing on the pristine white sands of Aruba while the blue waves gently touch your feet. If you're traveling with family, consider Marriott's Aruba Ocean Club as your tropical haven, complete with spacious villas and a kitchen perfect for homemade meals.
If you're a couple stealing moments of romance, the beachfront suites of Holiday Inn Resort Aruba-Beach Resort & Casino might just be your romantic hideaway. And hey, thrill-seekers, the Courtyard by Marriott Aruba Resort ensures you're in the thick of the island's vibrant adventures.
Now, let's catch a breeze over to Tobago. Families will find joy in the vast grounds of Magdalena Grand Beach & Golf Resort, complete with a golf course and kid-friendly amenities.
Beach lovers, you're in for a treat at the Crown Point Beach Hotel, where the ocean's whispers are your morning alarm. And if it's unique experiences you seek, Top O' Tobago Villa & Cabanas, perched on a hillside, promises unmatched views and relaxation after days filled with island exploration.
Whether you're pinching pennies or opening the purse strings for a lavish experience, Aruba and Tobago promise a world of memories. From the luxurious embrace of Marriott's Aruba Ocean Club to the peaceful vibes of Top O' Tobago Villa & Cabanas, your island dreams are just a decision away.
Comparing the Charms: Aruba and Tobago's Top Attractions
Dive into the warm embrace of the Caribbean with the lively duo of Aruba and Tobago! Both islands have wrapped up a unique mix of wonders, making sure every traveler—whether you're with family, your special someone, on a tight budget, or ready to splurge—finds their paradise.
Aruba, our sun-kissed delight, promises something for every soul. Imagine family bonding time with sandcastles on the softest beaches or peering through crystal waters with snorkel masks. Picture you and your partner, walking hand-in-hand on the mesmerizing Eagle Beach or sailing under a golden sunset.
And for those with a thirst for thrill, how about riding the winds with kite surfing, off-roading through the rugged terrains, or diving to explore the silent tales of sunken ships? With both pocket-friendly stays and plush resorts, Aruba guarantees a taste of its magic for everyone.
Then there's Tobago, a green haven of peace and natural beauty. Its heart beats with rainforest rhythms, offering families enchanting trails that lead to secret waterfalls. Couples can share quiet moments on the pristine Pigeon Point or dip their toes in its gentle waves.
If adventures stir your spirit, Tobago's rich ecosystem invites you for snorkeling, diving, and even the joy of spotting rare birds. From cozy accommodations to lavish resorts, this island ensures your stay is as relaxed or regal as you wish.
So, are you in the mood for endless fun, a touch of romance, a dash of adventure, or a mix of luxury and value? Aruba and Tobago are eagerly waving you over. Both beckon with their distinct allure, ready to gift you memories to cherish. Now, the only question remains: will you bask in Aruba's sunny vibrancy or unwind in Tobago's lush embrace?
Comparing Car Rental Options: Aruba vs Tobago
Aruba and Tobago, with their sunlit wonders and rich cultures, beckon you with myriad transportation choices.
Over in Aruba, there's a little something for everyone. With options like Royal Car Rental Aruba, Genesis Rental Cars, and CarVenience, you're spoilt for choice! Got a family? Grab an SUV that fits not just the folks, but also all the beach toys and snorkeling gear.
Romantic duo? Choose a sleek convertible to chase the sunsets. For those who love a dash of adventure, there are jeeps eager to tread the unbeaten paths. Aruba promises that your ride vibes with your vacation mood.
Tobago, not to be outdone, introduces you to O'Neil Rent-A-Car Tobago Airport, Sheppy's Auto Rentals, and Iland Car Rental. Families can bundle up in roomy minivans, while lovebirds might prefer the snugness of compact cars perfect for those seaside drives. And for those who seek a bit of a thrill, mighty 4x4s await to uncover Tobago's wild side. Clearly, Tobago ensures there's a ride for every traveler's heart.
Now, whether your pocket's feeling light or heavy, both Aruba and Tobago got you covered. For those watching the pennies, there are budget-friendly rentals that don't skimp on the experience.
So whether you're exploring Aruba's nooks or Tobago's crannies, know that your perfect ride awaits, holding the promise of countless memories.
Deciding between Aruba and Tobago? It's more about the journey you envision. Each island whispers its own tales, ensuring every drive is a chapter of a beautiful story. From family adventures, love-soaked getaways to thrill-filled escapades, both islands promise a roller-coaster of experiences.
Island Flavors: A Culinary Clash – Aruba vs. Tobago Dining Experience
Aruba greets you with golden sands and a rich tapestry of cultures. Dreaming of a romantic beachfront dinner? Picture you and your partner at The Chophouse at Manchebo, with a backdrop of a setting sun, savoring juicy steaks by candlelight. It's where culinary magic meets island romance.
If you're with family and yearn for a casual nook, Bistro de Suikertuin promises a green garden oasis and a menu everyone will love. For a touch of Aruban history, step into the Papiamento Restaurant. Set in a quaint 19th-century mansion, it's like dining in a historical novel, tasting both local and global delicacies.
Switch gears to Tobago, and a fresh culinary story unfolds. Adventure souls and savvy travelers will find their rhythm at Shore Things Cafe & Craft, where the ocean's essence comes alive on every plate.
Looking for an unforgettable view to accompany your seafood platter? Waves Restaurant + Bar, perched on dramatic cliffs, offers a Caribbean sea canvas that complements every bite. For those moments when you want a sprinkle of luxury, The Seahorse Inn, Restaurant & Bar blends upscale vibes with a dance of international and local flavors, perfect for families and couples alike.
From fun family dinners to romantic twilight rendezvous, and from local delicacies to luxury feasts, Aruba and Tobago roll out the red carpet for every food lover. Dive into these culinary havens, and each bite will tell you a tale of the islands' soul.
Aruba vs. Tobago FAQ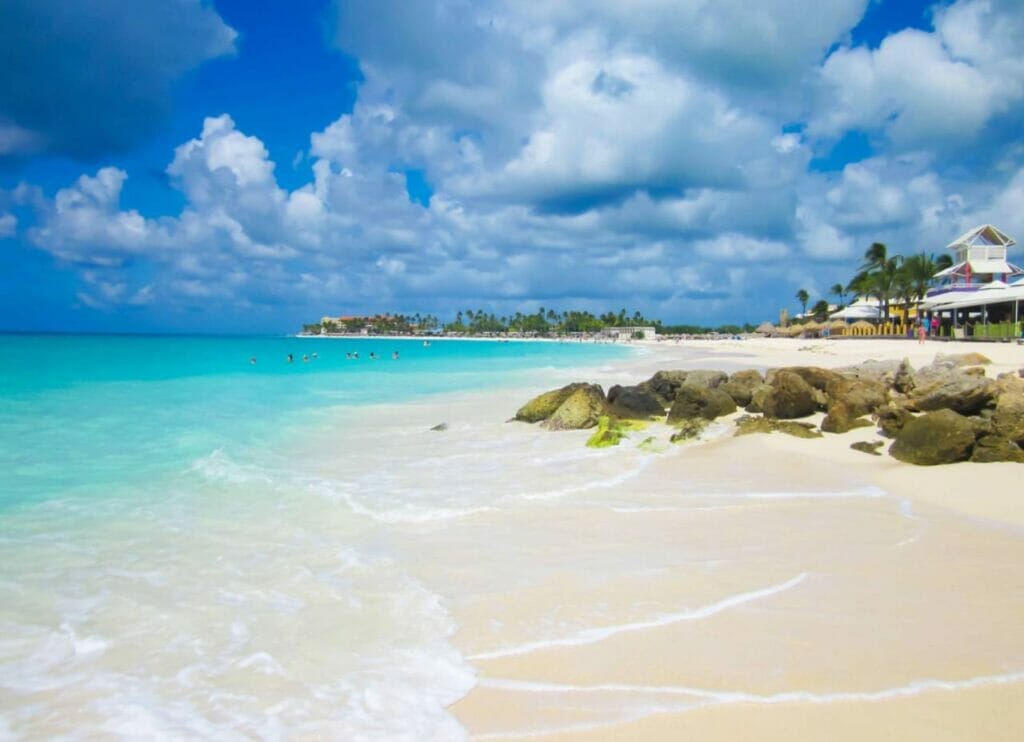 Which country is Tobago Caribbean?
Tobago is an island located in the Caribbean Sea and is one of the two main islands of the Republic of Trinidad and Tobago. It is situated northeast of the larger island, Trinidad, and together they form the nation of Trinidad and Tobago.
Is Tobago its own country?
No, Tobago is not its own country. It is an island that is part of the Republic of Trinidad and Tobago, a sovereign state in the Caribbean. Tobago, along with the larger island of Trinidad, forms a single political entity and shares the same government, currency, and overall governance.
Is Tobago a 3rd world country?
The term "Third World" is an outdated classification that originated during the Cold War era and is no longer used in contemporary discourse. Tobago, as part of the Republic of Trinidad and Tobago, is considered a developing nation. It has made significant progress in various socio-economic indicators and has a diverse economy driven by sectors such as energy, tourism, and agriculture.