Aruba vs. St. Vincent and the Grenadines
Aruba and St. Vincent and the Grenadines are contrasting Caribbean paradises, each offering its own unique beauty and charm.
Aruba and St. Vincent and the Grenadines differ primarily in their geographic location and cultural experiences. Aruba is a Dutch Caribbean island renowned for its arid landscapes, white sandy beaches, and vibrant nightlife. St. Vincent and the Grenadines, located in the eastern Caribbean, boast lush greenery, secluded beaches, and a more tranquil atmosphere.
Travelers seeking an arid, lively destination with a bustling nightlife may opt for Aruba, while those looking for a tropical, serene getaway surrounded by natural beauty might choose St. Vincent and the Grenadines.
| Categories | Aruba | St. Vincent and the Grenadines |
| --- | --- | --- |
| Cost Range for 1 Week | $2,274 – $4,782 (source) | $508 – $2,196 (source) |
| Location | Southern Caribbean | Eastern Caribbean |
| Geography | Flat, arid island | Mountainous, volcanic islands |
| Language | Dutch, Papiamento, English | English, Vincentian Creole, French |
| Government | Parliamentary democracy | Parliamentary democracy |
| Currency | Aruban florin (AWG) | Eastern Caribbean dollar (XCD) |
| Tourism | Major tourist destination | Growing tourism industry |
| Economy | Tourism, oil refining | Agriculture, tourism, services |
Regardless of your choice, warm hospitality and the vibrant spirit of the Caribbean await in these remarkable destinations.
Sun-Drenched Showdown: Exploring Aruba and St. Vincent's Rich Geography and History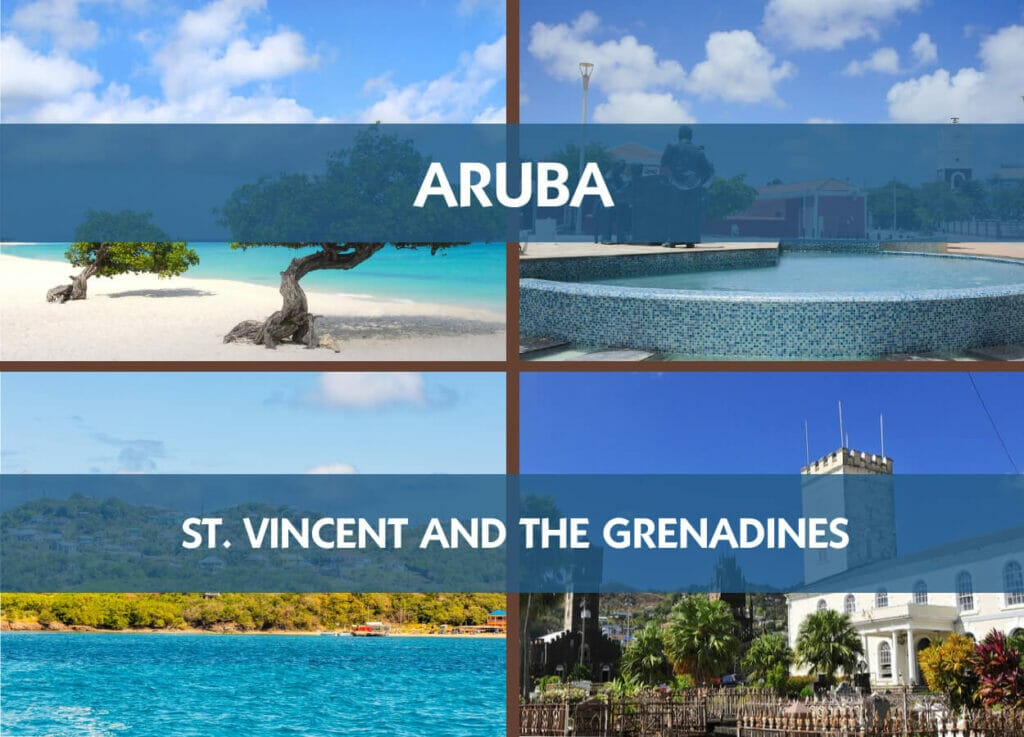 Feeling the itch for a sun-soaked adventure? Let's daydream together about two spellbinding spots every traveler should have on their list: Aruba and St. Vincent and the Grenadines. Imagine sun-kissed beaches, verdant landscapes, and stories from bygone eras calling out to you from these heavenly spots.
Aruba? Oh, it's a sunlit dream! Think powdery white sands and waters so clear, they could very well be tears of joy from Mother Nature. When you wade into those warm waves, you can almost hear your worries whispering their goodbyes. This Caribbean jewel is a haven for families needing a touch of tropical therapy. And oh, the Dutch-infused charm! Every nook and cranny here is a delightful dance of relaxation and culture.
Now, St. Vincent and the Grenadines? They're like whispered secrets of the Caribbean. These are the spots for lovebirds looking for a quiet nook away from the world's noise. The Grenadines, with their cluster of islands, beckon adventurers to weave their own tales of discovery. Picture you and your partner sailing through blue bliss, with every island stop being a new chapter of wonder.
History lovers, listen up! Aruba's tales are a rich mix of indigenous voices, Spanish adventurers, and Dutch dreams. Just a stroll through the colorful streets of Oranjestad is like flipping through a living history book. As for St. Vincent and the Grenadines, they have layers of stories— from the indigenous Carib tales to colonial chapters. And trust me, places like the Fort Charlotte in Kingstown are like time machines.
Budget-savvy or luxury-lover, there's something for everyone. Aruba has everything from comfy resorts to family-friendly havens, ensuring you sleep with a smile. In contrast, St. Vincent and the Grenadines offer chic boutique stays and dreamy villas for those wanting a more personalized touch.
So, whether you're dreaming of lazy days on Aruba's shores or island-hopping in St. Vincent and the Grenadines, both places promise postcard-perfect moments for everyone. So, grab that hat, pack that spirit of adventure, and let's set our sails to memories waiting to happen!
Battle of the Shores: Aruba vs St. Vincent – Which Beach Bliss Beckons?
When it comes to sun-soaked getaways that will leave you breathless, Aruba and St. Vincent and the Grenadines stand as two alluring options, each offering their own slice of paradise in the form of stunning beaches.
Picture yourself lounging on powdery sands, the gentle waves serenading you with their rhythmic lullaby. Whether you're a family looking for a memorable vacation, a couple in search of romance, an adventure enthusiast seeking thrills, or a traveler on a tight budget or seeking luxury, these destinations have something special for everyone.
Aruba boasts some of the most iconic beaches in the Caribbean, making it a magnet for tourists of all stripes. Eagle Beach, with its wide expanse of ivory sand and gently swaying Divi-Divi trees, is a family-friendly haven.
For couples, a sunset stroll along the shores of Palm Beach, with its vibrant nightlife just steps away, is pure magic. Thrill-seekers can try their hand at water sports like windsurfing and kitesurfing, while the Arikok National Park offers rugged landscapes for adventurers. If luxury is your game, high-end resorts pepper the coastline, ready to pamper you.
Meanwhile, St. Vincent and the Grenadines, with its more secluded vibe, caters to those who crave exclusivity. The Tobago Cays, a collection of uninhabited islets, offer untouched beauty perfect for couples seeking a romantic escape. White Bay Beach on the island of Bequia presents a serene setting for families to build sandcastles and snorkel in calm waters.
Adventurers can explore volcanic black sand beaches or hike up to Mount Soufrière for panoramic views. Although more off-the-beaten-path, this destination doesn't skimp on luxury – private island resorts provide a lavish retreat for those willing to splurge.
Budget travelers need not feel left out either. Aruba's Baby Beach, with its calm, shallow waters, is perfect for families looking to stretch their vacation dollars. In St. Vincent and the Grenadines, Mayreau offers budget-friendly accommodations without compromising on the charm and authenticity of the Caribbean experience.
In the end, whether you're building sandcastles with the kids, stealing kisses under the setting sun, chasing waves with a windsurfing board, or simply sipping a piña colada in the lap of luxury, Aruba and St. Vincent and the Grenadines have beaches that beckon to all kinds of travelers.
Stay in Paradise: Comparing Luxe Accommodation in Aruba and St. Vincent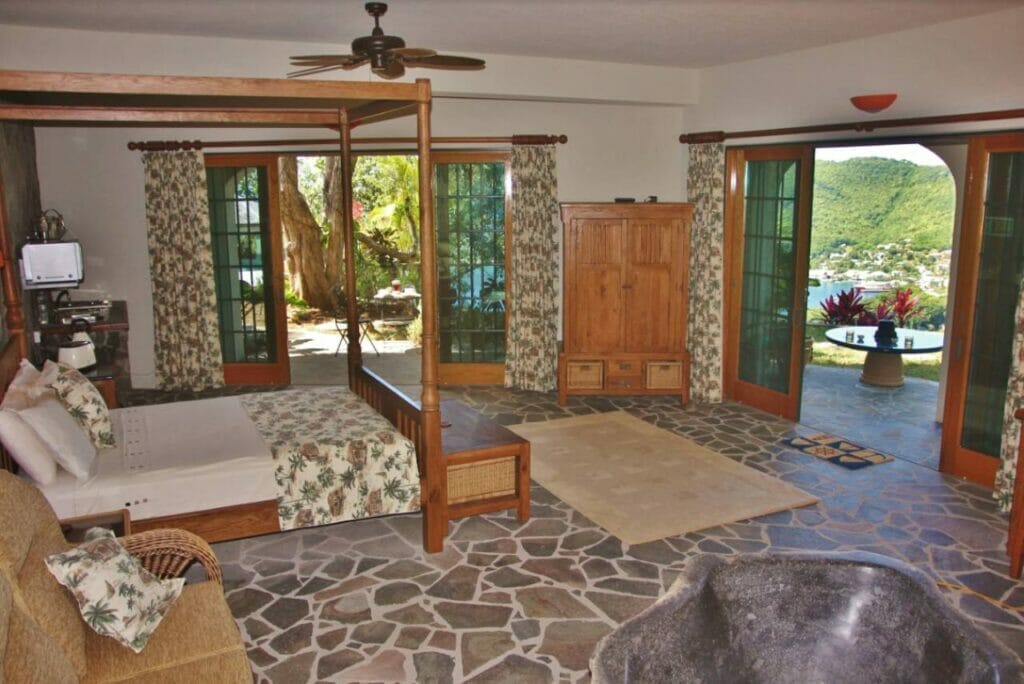 Aruba, with its warm and welcoming vibes, boasts a variety of stays that cater to your every whim. For families, the Aruba Marriott Resort & Stellaris Casino is a winner, offering spacious rooms and a beachfront location that'll have the kids building sandcastles in no time.
Couples seeking romance can snuggle up at the intimate Barceló Aruba, where the ocean views and tranquil setting create the perfect love-nest. And for the adventure seekers, the Renaissance Wind Creek Aruba Resort is your launching pad to water sports galore. Jet-skiing, anyone?
On the flip side, St. Vincent and the Grenadines bring their A-game to the accommodation scene too. Families can set anchor at the Blue Lagoon Hotel and Marina, offering nautical adventures and family-friendly amenities. Couples can escape to Petit St Vincent Resort for a private-island paradise where the only company you'll have are the whispering waves.
Now, let's talk adventure: if you're into exploring lush landscapes and hidden beaches, the Tropical Hideaway 5-Star Boutique Style Accommodation is your headquarters. Hiking, snorkeling, and unforgettable memories await.
Whether you're in the mood for the vibrant energy of Aruba or the unspoiled beauty of St. Vincent and the Grenadines, your stay is sorted. From budget-friendly to luxury indulgence, these islands have your back.
Thrills Await: Unveiling Adventure-Fueled Activities in Aruba and St. Vincent
Let's kick things off in Aruba, where the sun-soaked beaches are practically begging you to build sandcastles and take a refreshing dip in the crystal-clear waters. Eagle Beach, with its powdery soft sands and gentle waves, is a family favorite for building sandcastle kingdoms.
Thrill-seekers can catch some wind while kitesurfing off the coast, while couples can stroll hand-in-hand along the iconic Fofoti trees that dot the coastline. And if you're all about that underwater world, snorkeling at the Antilla shipwreck will leave you awe-struck. No matter your travel style, Aruba's vibrant mix of activities is sure to leave everyone with smiles as radiant as the island sun.
Now, let's jet over to St. Vincent and the Grenadines, a slice of paradise where every island seems to have its own secret hideaway. For couples looking to ignite romance, a private yacht charter to the Tobago Cays offers a secluded escape amidst turquoise waters and secluded beaches – perfect for those sunset toasts. Thrill-seekers, fear not: St. Vincent's lush jungles provide ample opportunities for hiking, with cascading waterfalls like Dark View Falls making for an Instagram-worthy reward.
And let's not forget budget travelers! The local markets bursting with fresh produce and vibrant crafts allow you to immerse yourself without emptying your wallet. But if luxury is your game, indulge in the lavish resorts of Bequia or Mustique, where pampering knows no bounds.
So, dear travelers, whether you're dancing through Aruba's lively streets or uncovering the hidden gems of St. Vincent and the Grenadines, these enchanting destinations have attractions and activities to suit your every whim. From family frolics on the beach to adrenaline-pumping adventures, wallet-friendly escapades to the lap of luxury – the only question is, which paradise will you choose?
Wheels of Exploration: Car Rental Delights in Aruba vs St. Vincent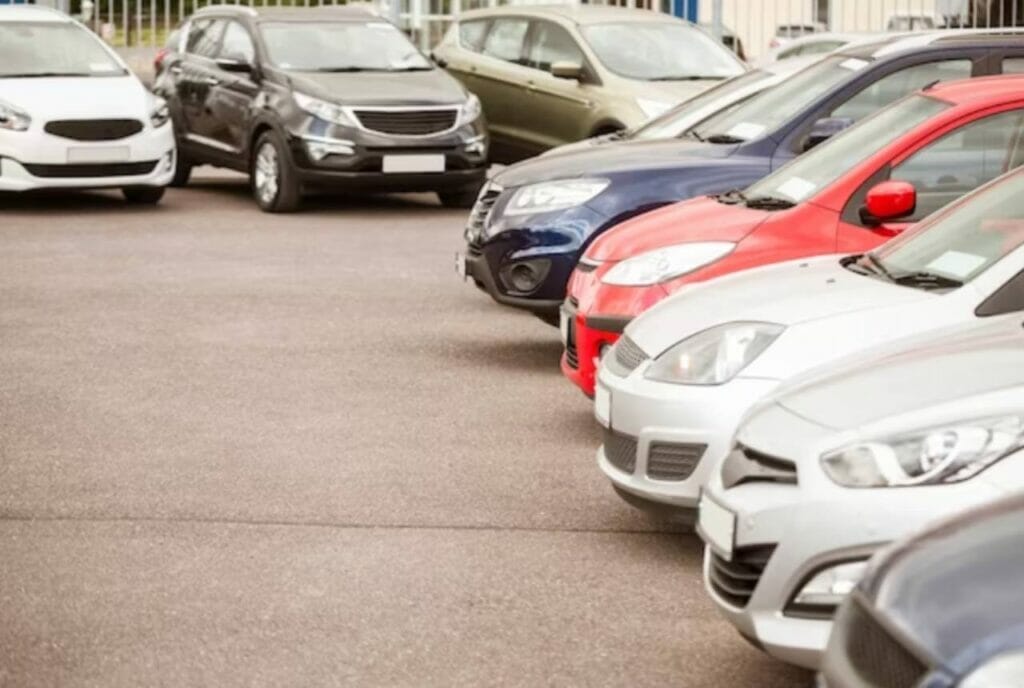 In the heart of Aruba, golden beaches meet a rich tapestry of culture. For those who love the freedom of the open road, Amigo Car Rental is your pal, offering rides that perfectly fit your gang. Want to swap your beach towel for a snorkel mask in no time? Wheels 2 Go Car Rental is your go-to. And if you're dreaming of elegance, Aruba Car Rental – Top Drive will have you gliding down those island roads with grace.
Navigating these gems is a breeze with diverse choices. Crave for a trusty companion on wheels with a smile? Redtop's Auto Rental is there for you. Those looking for a dash of opulence, Prestige Auto Rentals has luxe rides that mirror the island's beauty. And for the smart-savers, kash auto rental ensures your wallet stays as full as your heart.
Be it the allure of Aruba or the magic of St. Vincent and the Grenadines, both islands are ready to wrap you in their warm embrace, offering a treasure trove of transport options. So, if you're creating sunlit memories with your family, wandering with your loved one, chasing thrills, counting your coins, or basking in luxury, your tropical dream awaits. Dive into the beauty, wander along the shores, and immerse in the island rhythm. Here's to your next adventure.
Culinary Clash: Savoring Unforgettable Dining in Aruba and St. Vincent
In the heart of Aruba, dining transforms into pure magic. At Papillon Restaurant, families are treated to a delicious medley of local and global delights, making sure even the fussiest eater leaves with a happy belly.
For lovebirds, the beachside allure of OPUS OCEAN & GRILL promises an evening filled with ocean whispers and tantalizing seafood dishes. And for the daring diners, Lima Bistro promises a flavorful dance that celebrates the island's rich tapestry of cultures.
Over in St. Vincent and the Grenadines, the culinary delights continue to shine. Fancy a romantic backdrop? The Loft Restaurant and Bar sets the tone with its chic yet cozy charm. Flow Wine Bar and Kitchen, with its lively flair, is a hit for both adventurers and families, blending creativity and island zest in every bite.
And for those who wish to dine like royalty, the French Verandah awaits with its sophisticated Caribbean-French masterpieces that both pamper and pay homage to island traditions.
Whether you're pinching pennies or splurging in style, Aruba and St. Vincent and the Grenadines promise unforgettable feasts. Ocean views, diverse dishes, and inviting atmospheres beckon to families, love-struck duos, intrepid foodies, and every traveler in between.
Aruba vs. St. Vincent and the Grenadines FAQ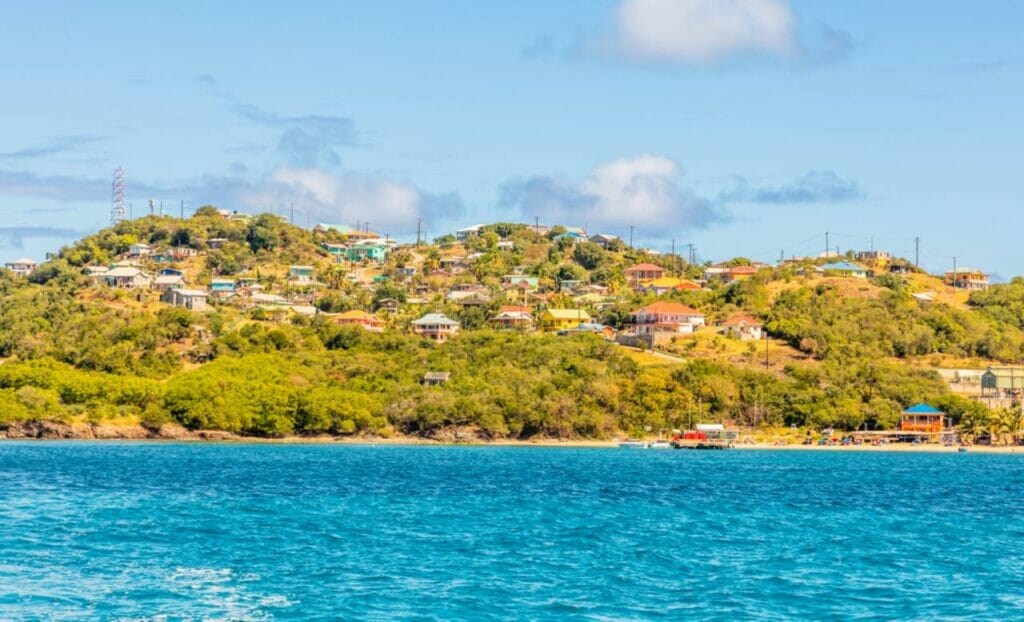 What is the difference between St. Vincent and the Grenadines?
St. Vincent and the Grenadines are two distinct regions within the same country. St. Vincent is the main island, characterized by hilly terrain, tropical rainforests, and the impressive La Soufriere Volcano. The Grenadines, a chain of smaller islands, offer stunning white sand beaches, crystal-clear waters, and a more serene and secluded atmosphere compared to the main island.
What is special about St. Vincent and the Grenadines?
St. Vincent and the Grenadines offer a range of unique features and attractions. The islands boast a diverse natural landscape, including volcanic peaks, beautiful beaches, and vibrant coral reefs, making it a paradise for nature lovers and water enthusiasts. The rich Afro-Caribbean culture, traditional boat building, and vibrant festivals add an authentic and culturally immersive experience for visitors.
Why should you visit St. Vincent and the Grenadines?
Visiting St. Vincent and the Grenadines promises an unforgettable Caribbean getaway. The islands' natural beauty, from lush rainforests to pristine beaches, offers ample opportunities for outdoor adventures and relaxation. Whether exploring the La Soufriere Volcano, snorkeling in the Tobago Cays Marine Park, or immersing oneself in the vibrant local culture, St. Vincent and the Grenadines provide a truly unique and enriching travel experience in the heart of the Caribbean.