Aruba vs. St. George's (Grenada)
Experience the ultimate tropical escape in a showdown between Aruba and St. George's in Grenada.
The main difference between Aruba and St. George's (Grenada) lies in their geographical locations and cultural vibes. Aruba is a Caribbean island known for its arid landscape, stunning beaches, and vibrant nightlife, attracting tourists seeking relaxation and entertainment. St. George's in Grenada offers a lush, tropical setting with rainforests, volcanic mountains, and a rich history. It appeals to travelers looking for a mix of nature, adventure, and cultural experiences.
Ultimately, the choice between these two destinations depends on the traveler's preferences for either a desert-like paradise or a lush tropical escape.
| Aspect | Aruba | St. George's (Grenada) |
| --- | --- | --- |
| Cost Range for 1 Week | $2,274 – $4,782 (source) | $776 – $3,362 (source) |
| Location | Caribbean Sea | Caribbean Sea |
| Geography | Flat and arid | Mountainous and hilly |
| Language | Dutch, Papiamento | English |
| Government | Parliamentary democracy | Parliamentary democracy |
| Currency | Aruban florin (AWG) | Eastern Caribbean dollar (XCD) |
| Tourism | Major tourist destination, known for beaches and resorts | Developing tourism industry, popular for natural beauty and historical sites |
| Economy | Tourism, oil refining, offshore banking | Agriculture (spices and cocoa), tourism, nutmeg processing |
Whether you seek lively nightlife and luxurious resorts or a laid-back experience immersed in history and natural beauty, both Aruba and St. George's offer captivating adventures that will make your Caribbean dreams come true.
Colonial Past and Coastal Landscapes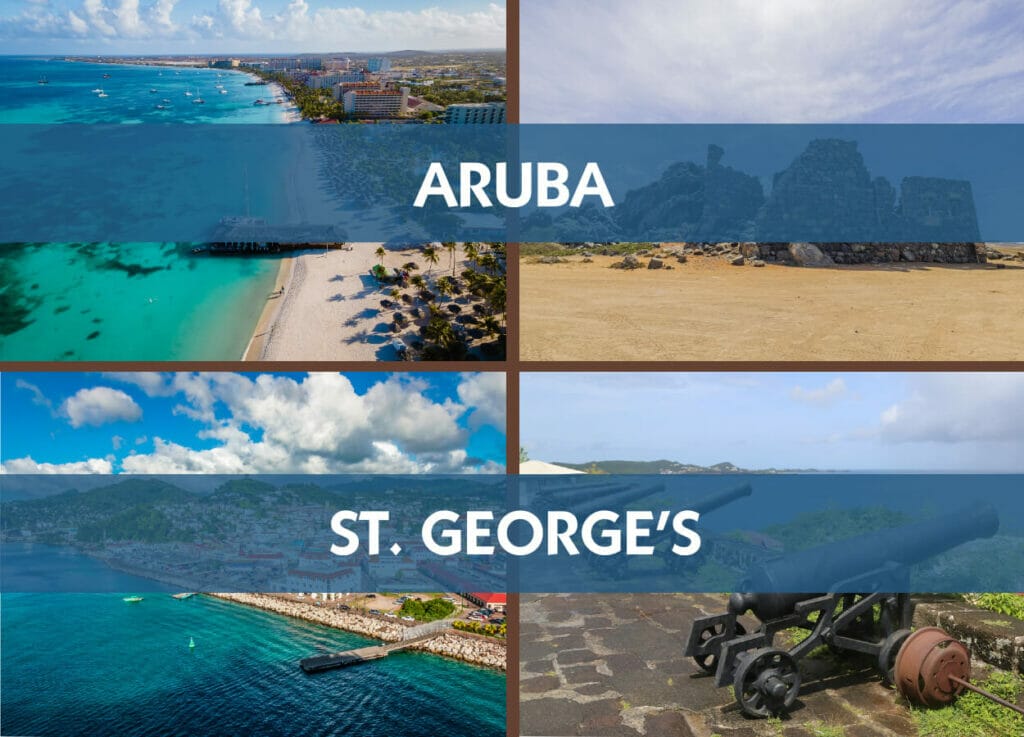 Hello, beautiful souls on the journey of wanderlust! Dreaming of a sun-kissed Caribbean retreat but finding it hard to pick the perfect spot? Come with me as we whisk away on a journey through the wonders of Aruba and St. George's (Grenada) to find that special place for your next escape.
Aruba, affectionately known as the Dutch Caribbean's sparkling jewel, presents a tapestry of vibrant cultures and scenic contrasts. Picture yourself lounging on soft, white sands hugged by azure waters, and then being enthralled by a rugged desert expanse studded with proud cacti.
If you're traveling with your tribe, imagine the little ones giggling as they snorkel among radiant corals or learn to windsurf with the gentle guidance of the trade winds. For the history enthusiasts, dive deep into Aruba's melting pot of traditions, shaped by the Arawak natives, wandering Spanish, and settling Dutch. And when in Aruba, let Oranjestad's pastel-hued streets and stories charm your heart.
On the other hand, St. George's in Grenada is a whispering love song for those with romance in their hearts. Tucked in the Caribbean's embrace, this "Spice Isle" is a symphony of aromatic spice groves and glistening rainforests. Envision yourselves, lovebirds, meandering through shimmering waterfalls or sharing a cozy sunset sail tracing the island's untouched shores.
For the thrill-seekers, ascend the trails of Grand Etang National Park or marvel at the artistic wonders in the Underwater Sculpture Park. And, history lovers, Fort George is waiting to share tales from centuries past, all while offering breathtaking vistas of the radiant capital. Whether you're chasing luxury or seeking a cozy nook, St. George's welcomes every traveler.
Sandy Paradises: Exploring the Beaches of Aruba and St. George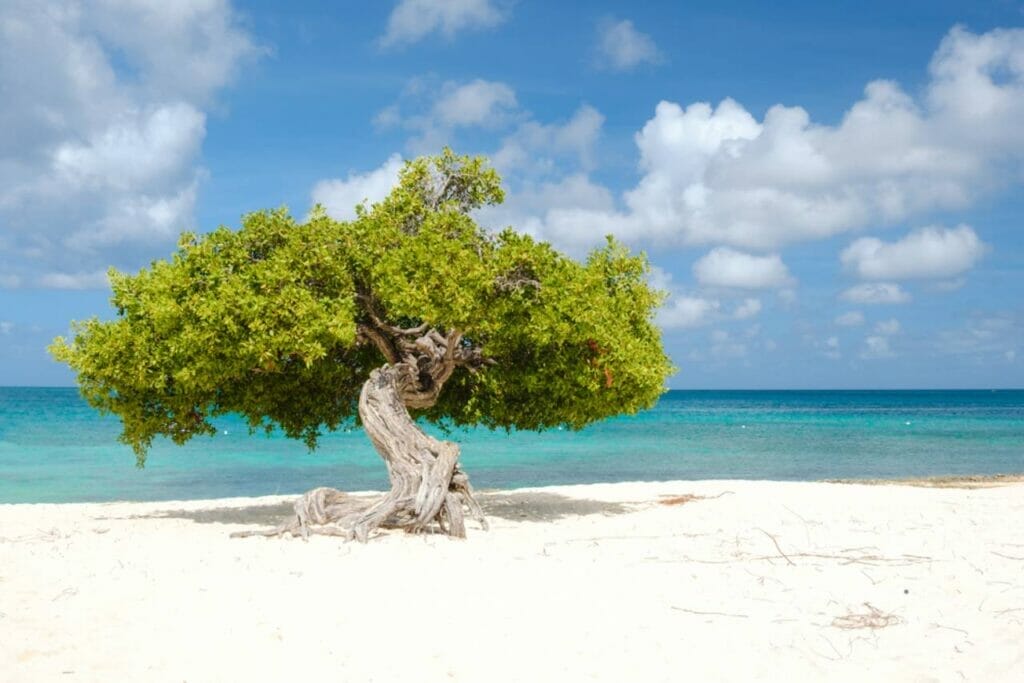 In Aruba, imagine feeling the soft white sands between your toes, while the shimmering turquoise waters beckon you. Families can have a blast at Eagle Beach, where kids can become little architects building sandcastles, and gentle waves invite playful splashes. If romance is in the air, the secluded corners of Baby Beach are just waiting for couples to share dreamy sunset moments.
And for our adrenaline junkies? Arashi Beach is your go-to, with its vibrant marine life for snorkelers and the ideal winds for surfers. No matter if you're pinching pennies or looking to splurge, Aruba's got a cozy cabana or a luxurious resort with your name on it.
St. George's, Grenada, on the other hand, whispers tales of untouched beauty and serenity. The sprawling Grand Anse Beach is a haven for families – imagine your kids giggling in the waves while you take a palm tree's shade, sipping on a refreshing drink. For those in love, the intimate Morne Rouge Beach offers the perfect backdrop for sweet nothings and hand-in-hand walks.
And the adventurers? Dive into Flamingo Bay's underwater sculpture park, where art meets marine life in the most magical way. Grenada ensures every traveler feels right at home, be it in a snug guesthouse or a swanky beachfront suite.
So, here's the deal: If you're craving a mix of beach fun and nightlife, Aruba's vivacious charm might be your pick. But if a serene nature retreat is more your vibe, St. George's gentle embrace awaits.
Where to Stay: Accommodation Options in Aruba and St. George
Feeling the call of Aruba's turquoise embrace or being charmed by the intimate vibes of St. George's in Grenada? Deciding between these two dreamy spots can be tricky, especially with the array of stay options both islands boast of. Whether you're a family making memories, a couple chasing sunsets, an adventurer eager for the next thrill, or a savvy traveler juggling between luxury and budget, we've got some insights for you.
Let's chat with Aruba first. Picture desert scapes meeting pristine beaches—a dream for many travelers. Families? Think about immersing yourself in the all-inclusive fun at the Aruba Marriott Resort & Stellaris Casino, where every age feels at home. For the romantics, the Barceló Aruba promises sunsets you'll remember and beaches you'll never want to leave. If saving a penny without compromising on the experience is your mantra, then The Mill Resort Aruba is your go-to, striking that perfect balance.
Swinging over to St. George's in Grenada, it's all about that cozy, intimate island charm. Families looking for that 'home feel' on vacation will adore Tarragon Apartments Grenada. For those of you who love to vacation in style, the Calabash Luxury Boutique Hotel is luxury redefined with its plush suites and impeccable service. And for our adventurous souls, the Mount Cinnamon Hotel & Beach Club Grenada blends the thrill of exploration with beachfront luxury.
Imagine yourself poolside, tasting world cuisines, pampering your senses in spa treatments, or diving into island adventures—both Aruba and St. George's in Grenada offer stays tailor-made for your dreams. So, whether it's a sunlit family bonding, a candlelit dinner for two, an adrenaline-packed journey, or that sweet spot between luxury and budget, your perfect vacation is just waiting for a nod from you in either of these magical destinations.
Exploring Island Delights: Attractions and Activities
Aruba, with its white sandy beaches and crystal-clear waters, is an absolute dream for families. Picture building sandcastles with the kids, snorkeling in vibrant coral gardens, or even embarking on a fun-filled catamaran cruise that'll keep everyone entertained.
Couples can relish in romantic sunset walks along Eagle Beach or explore Arikok National Park hand in hand, discovering hidden caves and ancient petroglyphs.
Now, let's talk about St. George's in Grenada – a hidden gem perfect for a more intimate escape. Couples can stroll through the historic streets, feeling the echoes of the past, or take a leisurely sail to the stunning Underwater Sculpture Park for a snorkeling experience like no other.
If you're on a budget, fear not! Grenada offers affordable guesthouses and local eateries where you can savor delicious, authentic treats without breaking the bank. Luxury seekers, don't feel left out – indulge in high-end resorts with private beaches, rejuvenating spa treatments, and gourmet dining that will leave you enchanted.
For adventure seekers, Aruba cranks up the dial with off-road safaris through rugged landscapes – an ideal family activity that combines thrills with exploration. But don't underestimate Grenada's zest for adventure!
You can hike through Grand Etang National Park's lush rainforests, chasing waterfalls and spotting exotic wildlife. And the best part? It caters to both budget and luxury travelers, offering diverse accommodation options and activities that won't compromise on the excitement.
So, whether you're chasing sunsets with your loved one, seeking a budget-friendly escapade, craving heart-pounding adventures, or longing for lavish relaxation, both Aruba and St. George's in Grenada have a kaleidoscope of attractions and activities to create unforgettable memories for every kind of traveler.
On the Road: Car Rental Options in Aruba and St. George
Let's buckle up and take a ride through the transportation offerings in these two tropical destinations, catering to families, couples, adventure seekers, and travelers on all sorts of budgets.
Aruba, the "One Happy Island," knows how to keep its visitors moving smoothly. With options like Sunset Car Rental Aruba, Wheels 2 Go Car Rental, and Alamo Rent A Car, you'll have the freedom to explore every hidden corner of this picturesque island at your own pace.
Families can pack their beach gear, couples can cruise along the coastal roads, and adventure seekers can venture into the heart of Aruba's rugged landscapes – all with the wind in your hair and the sun on your face.
Meanwhile, over in St. George's, Grenada, the transportation scene is equally inviting. Avis Car Rental at Maurice Bishop International Airport (GND) ensures a hassle-free journey right from touchdown. For those who love to drive, Dreemz Auto Rental offers a range of vehicles to match your travel style, whether you're a family, couple, or lone explorer.
And let's not forget about Drive Grenada, which caters to everyone from budget-conscious travelers to those seeking a touch of luxury. Imagine cruising along Grenada's picturesque coastal roads, stopping at your leisure to admire breathtaking ocean views and vibrant local culture.
Whether you're all about sun-soaked family fun, romantic getaways, thrilling adventures, or finding the perfect balance between luxury and budget, both Aruba and St. George's have crafted their transportation options with you in mind.
Culinary Journeys: Dining Experiences in Aruba and St. George
Ah, the thrill of exploring new horizons, one plate at a time! If you're a family with ravenous kids, a couple seeking romantic candlelit dinners, or an adventure-seeking soul with a craving for the unknown, the dining scenes of Aruba and St. George's in Grenada have got you covered. Let's embark on a culinary journey that will delight budget travelers and luxury seekers alike.
Aruba, a sun-kissed paradise, knows how to tantalize taste buds. For those yearning for a touch of elegance, Senses Fine Dining Restaurant is a must-visit. Imagine savoring succulent seafood while gazing out at the endless azure waters.
Equally enchanting is Wilhelmina Restaurant, where Caribbean flavors dance on your palate, leaving you in awe of the island's bounty. If variety is your spice of life, Papillon Restaurant offers a medley of international dishes that cater to every family member's whims.
Now, let's set sail for St. George's in Grenada, a hidden gem for those in pursuit of culinary adventures. Sails Restaurant & Bar, a haven for couples, offers an intimate setting by the sea. Picture clinking glasses of exquisite wine as the sun dips below the horizon – romance perfected.
For seafood enthusiasts, BB's Crabback beckons with its delectable crab-infused creations. But don't think for a second that St. George's only caters to the high-end palate. Patrick's Local Homestyle Restaurant introduces budget travelers to the heart and soul of Grenadian cuisine, served up with a side of warm hospitality.
Whether you're drenched in sun-soaked luxury or watching every penny, these dining destinations have something magical in store. Aruba's options promise to pamper and dazzle, while St. George's, with its intimate eateries, promises to surprise and captivate.
Aruba vs. St. George's (Grenada) FAQ
What country is St. George's island?
St. George's is not an island, but rather the capital city of Grenada, a Caribbean republic. It is located in the southwestern portion of Grenada, which is part of the West Indies' Lesser Antilles group of islands.
What is St. George, Grenada known for?
St. George's, Grenada, is renowned for its picturesque beauty and rich cultural heritage. The city is famous for its stunning horseshoe-shaped harbor, known as the Carenage, which is adorned with colorful buildings and historic landmarks. St. Grenada is renowned as the "Spice Isle" due to its production of nutmeg, cloves, cinnamon, and other spices, and George's is also known for its spice trade history. Additionally, the city hosts the annual Grenada Carnival, a vibrant celebration of music, dance, and colorful costumes.
Is Grenada or Aruba better?
Comparing Grenada and Aruba is subjective, as both destinations offer unique experiences. Grenada boasts unspoiled natural beauty, including lush rainforests, pristine beaches, and stunning waterfalls. It is ideal for those seeking a tranquil and authentic Caribbean experience immersed in local culture. Aruba, on the other hand, is recognized for its magnificent resorts, active nightlife, and diverse activities. It is a popular choice for travelers seeking a blend of relaxation, entertainment, and modern amenities. The decision between Grenada and Aruba ultimately depends on personal preferences and the desired vacation experience.