Aruba and St. Eustatius, two contrasting Caribbean destinations, offer travelers an array of captivating experiences.
Aruba is an island located in the southern Caribbean Sea, while St. Eustatius is situated in the northeastern Caribbean Sea. Geographically, Aruba is closer to South America, whereas St. Eustatius is closer to the Virgin Islands. Additionally, Aruba is an autonomous country within the Kingdom of the Netherlands, while St. Eustatius is a special municipality directly governed by the Netherlands.
These distinctions in location and administrative status set them apart.
| Categories | Aruba | St. Eustatius |
| --- | --- | --- |
| Cost Range for 1 Week | $2,274 – $4,782 (source) | $574 – $2,509 (source) |
| Location | Caribbean | Caribbean |
| Geography | Island | Island |
| Language | Dutch, Papiamento, English | Dutch, English |
| Government | Autonomous country within the Kingdom of the Netherlands | Special municipality of the Netherlands |
| Currency | Aruban florin (AWG) | United States Dollar (USD) |
| Tourism | Major tourist destination, known for its beautiful beaches and resorts | Emerging tourist destination, known for its historical sites and natural beauty |
| Economy | Tourism, oil refining, offshore finance | Tourism, petroleum storage, agriculture |
Dive into the vibrant underwater worlds, indulge in rich cultural heritage, and embrace the distinctive flavors of these captivating islands, each offering its own charm and appeal.
Tracing Roots: A Tale of History and Geography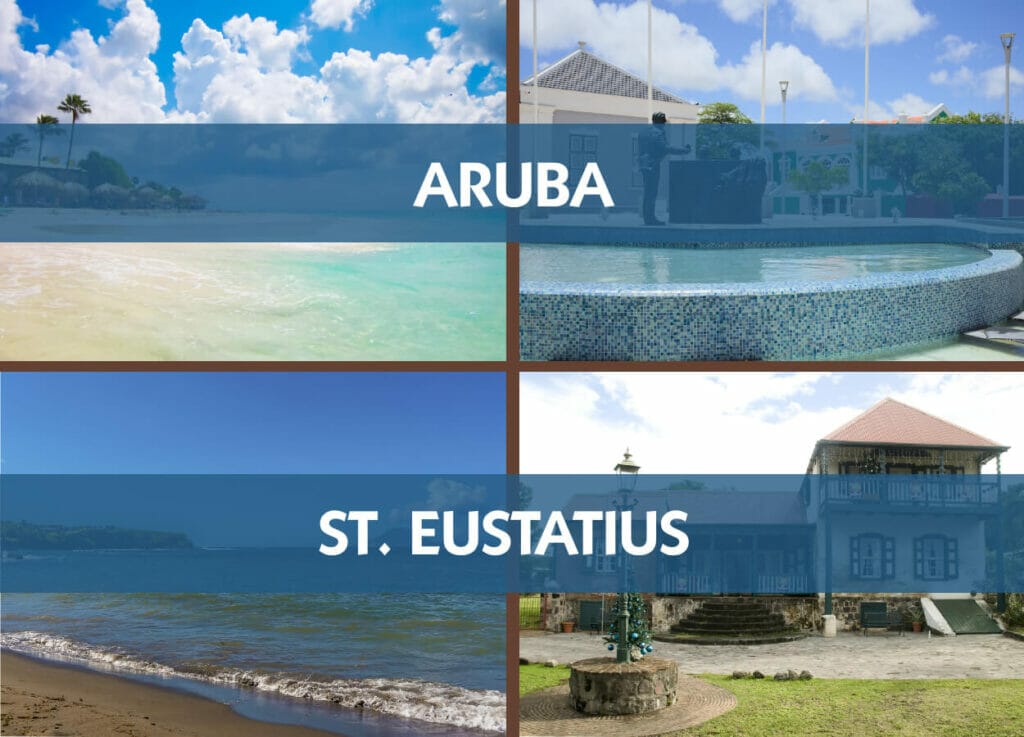 Hey there, adventurous soul! Ever been torn between two Caribbean beauties, Aruba and St. Eustatius? Let me help you out. These pocket-sized paradises might be tiny on the map, but they're bursting with charm, history, and heart-pounding adventures.
Let's start with Aruba, lovingly called "One Happy Island." Picture this: soft, powdery white sands under your feet, sparkling turquoise waters, and the perfect backdrop for family fun or couples' retreats. Adventure junkie? Dive into the waves with windsurfing or snorkel around to meet the colorful underwater locals.
Wander around places like Oranjestad, and you'll be transported through time, unraveling tales of its native heritage and colonial past. Whether you're splurging at a luxurious resort or saving up in a quaint little inn, Aruba welcomes you with open arms.
Now, over to St. Eustatius, the Caribbean's best-kept secret. If hiking up volcanic terrains with breath-stealing views is your jam, this is your island. Couples, imagine serene walks on untouched beaches, with only the gentle ocean whispers for company.
And for my history aficionados, did you know St. Eustatius had a significant role in the American Revolutionary War? The island's vintage vibes with preserved colonial designs will feel like stepping into a time capsule. It might not flaunt the glitz of Aruba's resorts, but its genuine, raw beauty and stories are priceless.
So, whether you're packing up the family for a sandy escapade, planning a romantic island rendezvous, chasing adrenaline-packed adventures, or seeking a budget-friendly tropical getaway, Aruba and St. Eustatius are calling your name.
Do you want the best of both modern and historical worlds in Aruba? Or are you ready for a deep dive into the untouched, historical wonder of St. Eustatius? Whichever you pick, brace yourself for a Caribbean roller-coaster of memories!
Sands of Choice: Beach Bliss Explored
Picture this: Aruba's soft white sands cushioning your feet, its gentle waves whispering sweet nothings to the shore. It's the place where families come to bond, building towering sandcastles, and where couples wander hand in hand, leaving a trail of footsteps during those unforgettable sunset moments.
Palm Beach and Eagle Beach are just the beginning. Dive into a world of water sports – think snorkeling with colorful fish or catching the wind while windsurfing. And for my budget travelers, don't you worry. Aruba's local spots promise delicious bites and cozy stays without breaking the bank. It's paradise made easy.
Now, let's switch gears to St. Eustatius. Think of it as that mysterious book on the shelf you've always been curious about. With its unique volcanic black sand beaches, it's the adventurer's dream. Dive beneath the waves and you'll find an underwater haven, bustling with marine life and stories of shipwrecks waiting to be told.
Families with a taste for the wild side will love it here. And if you're looking to sprinkle a bit of luxury on your adventure, the island's boutique resorts have got you covered with their intimate and dreamy settings.
So, are you a lover of Aruba's vibrant energy or are you tempted by the untouched allure of St. Eustatius? Either way, you're in for a treat. While Aruba wraps you in its lively arms, St. Eustatius whispers secrets of nature's raw beauty. Both promise not just golden tans, but golden memories too.
Retreats Beyond Compare: Navigating Accommodation
Aruba, a vibrant paradise known for its sunny beaches and lively atmosphere, offers a range of options that cater to all kinds of travelers. For those seeking a budget-friendly yet comfortable stay, check out Perle d'Or Hotel and Apartments Aruba. This cozy spot provides a homey vibe without breaking the bank.
If you're all about being in the heart of the action, Talk of the Town Hotel & Beach Club might be your match, offering easy access to the beach and local attractions. For those with a taste for luxury, Blue Residence presents spacious and upscale apartments with stunning ocean views, perfect for a dreamy romantic escape.
On the flip side, St. Eustatius, or "Statia" as the locals lovingly call it, boasts a more serene and off-the-beaten-path experience. Adventure seekers will find their haven at Golden Rock Dive & Nature Resort, where you can wake up and dive right into the crystal-clear waters.
History buffs and couples looking for a touch of nostalgia will adore The Old Gin House, a charming and historic hotel that overlooks the Caribbean Sea. For a truly unique experience, Quill Gardens Boutique Hotel, nestled in the foothills of a dormant volcano, offers tranquility and lush surroundings that cater to families and nature enthusiasts.
No matter which island you choose, both Aruba and St. Eustatius have accommodations that will make your vacation unforgettable. So, whether you're sipping cocktails on the beach, exploring underwater wonders, or simply relaxing in a boutique oasis, these Caribbean gems have something special for every type of traveler.
Adventures Unveiled: Attractions and Activities Galore
Step into Aruba's embrace and you'll immediately feel its vibrant pulse and the call of its pristine shores. Picture your family building sandcastles at Eagle Beach, with its gentle waves narrating tales of the sea, or you and your partner, lost in each other, with nature playing cupid.
And if underwater escapades tickle your fancy, Aruba's clear waters are like pages of a fairy tale, with tales of colorful marine wonders and ancient shipwrecks waiting to be read. For those with a passion for trekking, Arikok National Park offers nature's stories etched in hidden caves and ancient Arawak art. And at night, choose from snug beach huts or opulent resorts as your personal story nook.
Here, adventurers can chart their own path by hiking up "The Quill," a dormant storyteller of a volcano, while the blues of the Statia Marine Park unveil underwater epics for snorkelers and divers alike.
For those moments of quiet connection, Signal Hill serves as nature's own theater, displaying the galaxy's wonders. And while accommodations here wear the badge of intimacy, they promise tales of luxury and authenticity, making every stay a chapter to remember.
In the end, both Aruba and St. Eustatius offer tales of enchantment, showcasing that Caribbean tales are as diverse as the travelers who seek them.
Wheels of Discovery: Car Rentals Made Easy
When it comes to exploring paradise on wheels, both Aruba and St. Eustatius offer unique experiences that cater to every traveler's fancy. Aruba, with its sun-kissed beaches and vibrant energy, is a dream for families seeking a blend of relaxation and adventure.
Picture yourself cruising along the picturesque Ocean Drive with a rental from Ocean Drive Car Rental, feeling the wind in your hair and the ocean breeze whispering secrets of the island. For those who love options, 3XD Car Rental and Aruba Car Rental / Turo Car Rental offer a wide range of vehicles to choose from, ensuring your transportation matches your style.
Now, let's talk about St. Eustatius – a hidden gem that truly embodies off-the-beaten-path adventure. For couples seeking a romantic escape, traversing this charming island with Amare's Car Rental is an absolute must. Imagine driving through quaint streets, hand in hand, stopping at viewpoints that offer panoramic vistas you'll cherish forever.
And for the explorers who crave flexibility, Picobello Car Rental is at your service, allowing you to zigzag your way through this untouched paradise at your own pace.
Budget-conscious travelers, worry not! Both Aruba and St. Eustatius have options that won't break the bank. In Aruba, 3XD Car Rental offers affordable choices, letting you save those extra bucks for thrilling water activities or scrumptious local delicacies.
Similarly, St. Eustatius's Picobello Car Rental caters to budget travelers, ensuring you have more to splurge on diving into the island's vibrant marine life or hiking its lush trails.
For those who seek the lap of luxury, Aruba has got you covered. Ocean Drive Car Rental provides a touch of class, allowing you to cruise like a VIP along the island's most prestigious spots.
On the other hand, if St. Eustatius is your choice, Amare's Car Rental offers premium vehicles that perfectly match the island's exclusive ambiance. So, whether you're driving through Aruba's high-rise hotels or St. Eustatius's charming hamlets, both islands promise a transportation experience that aligns with your taste.
In the end, whether you're a family, a couple in love, an adventure seeker, or a traveler on a budget, both Aruba and St. Eustatius offer transportation options that fit your unique journey. It's not just about getting from one place to another; it's about the memories you create, the sights you discover, and the freedom to explore these Caribbean treasures at your own pace.
Culinary Journeys: A Taste of Dining Delights
Aruba – ah, such a dreamy place! Beyond its picture-perfect beaches and playful palms, the island dishes out flavors that you'll be dreaming about long after you've left. Ever eaten in an old Aruban farmhouse? The Old Cunucu House Aruba is where tradition meets taste. It's like getting a cozy hug from all the yumminess.
Or how about dining with the sea breeze gently ruffling your hair? The Lazy Turtle Aruba is where the ocean sings to your soul and tickles your taste buds. And if you want to sprinkle a bit of luxe to your dining, swing by the Red Parrot Restaurant – it's a dance of elegance and island zest on your plate.
Onward to the serene beauty of St. Eustatius. This island whispers tales of history and culinary adventures. At BarrelHouse St. Eustatius, you don't just eat; you travel back in time. And if you fancy a meal with soft waves serenading you, The Boardwalk Cafe is where you should anchor. For those looking for the whole island package, Whale Tails Club is your spot – it's food, fun, and fabulous stays, all rolled into one!
So, whether you're with your mini explorers, your other half, on a thrill-seeking spree, or keeping an eye on those coins while wanting deliciousness, Aruba and St. Eustatius will enchant you. It's not just a visual treat here, but a carnival of flavors that dance on your palate, making every meal a memory.
Aruba vs. St. Eustatius FAQ
Is Aruba still a part of the Netherlands?
Aruba is a constituent country of the Kingdom of the Netherlands. Since 1986, it has maintained its separate status within the Kingdom, with its own government and a degree of autonomy. While it shares a close relationship with the Netherlands, including ties in areas such as defense and foreign affairs, Aruba is not considered a part of the European Union.
What is Sint Eustatius known for?
Sint Eustatius, commonly referred to as Statia, is known for its rich historical significance. In the 17th and 18th centuries, it was a major trading hub, earning the nickname "Golden Rock." Statia played a pivotal role in the American Revolution when it became the first foreign power to salute an American naval vessel, recognizing American independence. Today, the island's well-preserved historical architecture, submerged Lower Town, and numerous shipwrecks make it a fascinating destination for history enthusiasts and divers.
What are the 6 Dutch islands in the Caribbean?
The six Dutch islands in the Caribbean are Aruba, Bonaire, Curaçao, Saba, Sint Eustatius (Statia), and Sint Maarten. Aruba, Curaçao, and Sint Maarten are constituent countries within the Kingdom of the Netherlands, while Bonaire, Saba, and Sint Eustatius are special municipalities, also known as "BES islands." These islands each have their own unique character, offering diverse landscapes, cultural heritage, and recreational opportunities for visitors to explore.