Aruba vs. Saint Thomas: Which Vacation Is Better?
When comparing islands in a place as beautiful as the Caribbean, it's hard to choose a clear winner. In each of the 700 islands in the Caribbean, you're guaranteed beautiful scenery, good food, and eclectic culture. Deciding between the islands is difficult, but if you've narrowed your choices to Aruba vs. Saint Thomas, you're getting closer!
Aruba is the better vacation spot. The island has the most return visitors in the Caribbean, and it is well-loved for its Dutch stylings and beautiful beaches. Saint Thomas is a good vacation if you're looking for a more affordable, intimate, and authentically Caribbean feel for your vacation.
This article will discuss what each place has to offer. Read on to learn more about which vacation destination is better for you.
| Category | Aruba | Saint Thomas |
| --- | --- | --- |
| Cost of Stay: Weekly (USD) | $1,822 | $1,015 |
| Transportation | Taxis, Free trolleys or streetcars, Public buses, Private vehicle rentals, Rental cars, Motorcycle and scooter rentals | Rental cars, Taxis, VITRAN Buses, Safari Bus System, Independent taxis, Bicycle rentals |
| Notable Attractions | Renaissance Island, Aruba Aloe factory and museum, Butterfly farm, De Palm Island, Eagle Beach, Palm Beach, Natural Pool | Honeymoon Beach, Pirates treasure museum, Water Island, St. Thomas Synagogue, Mountain Top, Scenic Harbor, 99 Steps |
| Weather | Balmy all year with slightly more rain from November to January, and a relieving breeze for most of the year | Warm year-round with hurricane season happening from July to October. |
| Food and Drink | Multinational-influenced cuisine, fresh fish, Dutch cheeses, hearty soups and stews | Caribbean cuisine, Polenta, Baked meat pastries, lobster, Callaloo soup |
| Activities for Kids | Butterfly Farm, Adventure Sports Aruba, Baby Beach, Splash Park Aruba, Island Ultimate Jeep Safari, Phillip's Animal Garden | Pirates Treasure Museum , Honeymoon Beach, 99 Steps, Phantasea Tropical Botanical Garden, Coral World Ocean Park, Blackbeard's Castle |
| Nature Attractions | Eagle Beach, Palm Beach, Natural Pool, Ayo and Casibari Rock Formations, Jane Sea, Hooiberg | Honeymoon Beach, Water Island, Drake's Seat, Brewer's Bay, Magens Bay, Little Buck Island, Mermaid's Chair |
The best time to visit Saint Thomas is from April to June. The temperature is warm without being scorching, and there is little to no rainfall during this time.
However, make sure to visit Saint Thomas before July, because that's when the hurricane season starts. From July to October, Saint Thomas sees plenty of rain and suffers from high humidity.
The most popular time to visit Aruba is during the winter months. Since 70% of tourists who visit Aruba are from the USA, it's common for Americans to want to escape the mainland's colder temperatures.
While the winter months are popular, the best time to stay in Aruba is, arguably, April to August. These months offer much more affordable prices and resorts that aren't so packed.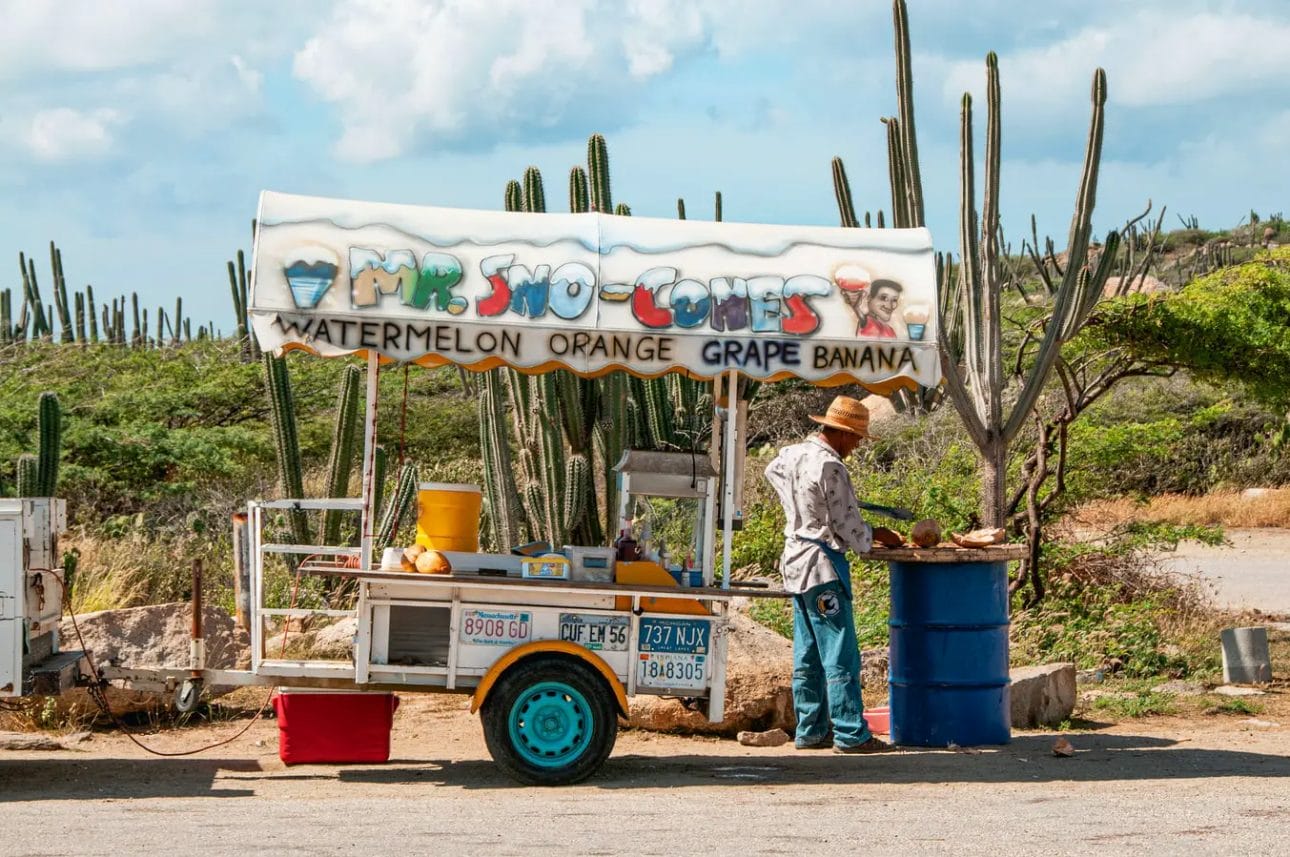 Cost of Stay
The average price per person per week in Aruba is $1,822 US. That means that a fourteen-day vacation for two can cost upwards of $7,000 US. Of course, you can save money by staying at more affordable hotels and visiting the country in the off-season, but in general, a vacation in Aruba will cost much more than one in Saint Thomas.
When you put Aruba's weekly price ($1,822) next to the average weekly price of staying in Saint Thomas ($1,015), it's hard to convince yourself that the beaches of Aruba are worth it. You can save even more money when visiting Aruba if you search for deals online, take a holiday with your friends, and split the lodging cost.
Best Affordable Hotels
In general, you can find cheaper hotels in Saint Thomas. Cheap does not mean bad, however, and you can find some amazing affordable hotels on the island.
The Mafolie Hotel is one of our favorite small-scale hotels in Charlotte Amalie that offers fantastic amenities and quaint decor for a fair price. Sip on cocktails by the cozy pool or enjoy a morning coffee overlooking Charlotte Amelie's picturesque city and port.
If you're on a budget, Aruba is not totally out of the running. The country does have some great cheap hotels to offer, and the money you save on accommodation can be used for more outdoor adventures.
MVC Eagle Beach is one of our top recommendations for affordable accommodation in Aruba. It lets you stay close to the world-renowned Eagle Beach, one of the most classically styled beaches in the Caribbean. The small hotel is beautifully decorated and offers nearly direct beach access.
Main Attractions
In Aruba, the most famous attractions are undoubtedly the beaches. However, the country has so much more to offer. Kini Kini Tours offers exhilarating tours of Aruba's natural landscape and the famous historical Bushiribana Ruins.
The Aloe Factory Museum and Store in Aruba will pleasantly surprise you and your family. Aloe became a staple in the Arubian economy, and the history of the plant is interesting and important to the Aruban culture.
Saint Thomas also has its fair share of postcard beaches, but like Aruba, there's so much more to be found on the island.
Tree Limin' Extreme Zipline is a fun way to see the natural wonders of Saint Thomas. The zipline is situated high in the St. Peter Mountain. After zooming through the trees, you can visit the Mountain Top Cafe and Bar situated at the peak of St. Peter Mountain. This restaurant is famous for inventing the delicious Banana Daiquiri.
Activities for Kids
In Aruba, some of the best activities for kids are:
Butterfly Farm
Adventure Sports Aruba
Baby Beach
Splash Park Aruba
Island Ultimate Jeep Safari
Phillip's Animal Garden
For children's activities in Saint Thomas, the following are extremely popular:
Pirates Treasure Museum
Honeymoon Beach
99 Steps
Phantasea Tropical Botanical Garden
Coral World Ocean Park
Blackbeard's Castle
Food and Drink
The food in Aruba is extremely multicultural. Aruban cuisine is heavily influenced by the flavors of the Caribbean, Latin American, and Dutch peoples.
Keshi Yena is a popular Aruban dish that is the perfect blend of the Caribbean and Dutch flavors. It is said to have originated from a meal made of leftovers. Spicy meat scraps are stuffed inside the rind of a wheel of gouda and then baked. Usually, the dish consists of chicken and is an important food in Aruba.
In both Aruba and Saint Thomas, you can expect to find fantastic seafood. Some of the best fresh fish surround both of these Caribbean islands that the world has to offer. Lobster in the Caribbean don't have claws, but they do have large, meaty tails. These delicious tails are usually grilled and served with butter. You can find this dish in either Saint Thomas or Aruba.
Weather
Aruba is balmy all year with slightly more rain from November to January, and a relieving breeze for most of the year.
Saint Thomas is warm year-round with hurricane season happening from July to October.
Safety
Aruba is considered one of the safest destinations in the Caribbean. You and your family can travel throughout the island without worry, as long as you use basic common sense.
Saint Thomas, however, has a bit more to be worried about. As Saint Thomas is a huge commercial hub, many tourists are targeted with theft and fraud schemes. Charlotte Amelie also has some amounts of gang violence in the downtown area.
Transportation
Getting around major cities throughout the Caribbean is easy. Tourism is a major industry in the Caribbean, and it continues to grow. In 2019 alone, tourism to the Caribbean grew by 4.4%. To provide easy travel for their visitors, both Saint Thomas and Aruba have excellent taxis, car rentals, and shuttles for hire.
Conclusion: Aruba Vs. St. Thomas
While both of these islands in the Caribbean are beautiful, the better vacation spot is almost inarguably Aruba. Aruba is a safer island, and the weather is more agreeable for more of the year. Though it is more expensive, Aruba offers a great combination of history, culture, beaches, and relaxation.
Saint Thomas is still a good option if you are looking for a Caribbean vacation on a budget. It might be a better choice for a younger couple without kids, as the country is slightly more dangerous than Aruba.