Step into a world of natural wonders and cultural delights as we venture into the contrasting realms of Aruba and Saba.
Aruba and Saba differ primarily in their geographic characteristics and attractions. Aruba is a popular Caribbean island known for its sandy beaches, bustling nightlife, and diverse water activities, making it a great choice for travelers seeking a lively and vibrant atmosphere. On the other hand, Saba is a small, tranquil island with lush rainforests and excellent opportunities for hiking and nature exploration, ideal for travelers seeking a serene and off-the-beaten-path experience.
Consider your preferences for activities and ambiance to make the best choice between the two destinations.
| Aspect | Aruba | Saba |
| --- | --- | --- |
| Cost Range for 1 Week | $2,274 – $4,782 (source) | $794 – $3,662 (source) |
| Location | Southern Caribbean | Northeastern Caribbean |
| Geography | Flat and arid | Volcanic and mountainous |
| Language | Dutch, Papiamento, English | English |
| Government | Autonomous country within the Kingdom of the Netherlands | Special municipality of the Netherlands |
| Currency | Aruban florin (AWG) | US dollar (USD) |
| Tourism | Popular tourist destination, known for its beaches and resorts | Quaint and less crowded, known for its diving and hiking |
| Economy | Highly dependent on tourism and oil refining | Relies on tourism, agriculture, and fishing |
So, fellow adventurers, let's embark on an extraordinary expedition to uncover the hidden treasures, breathtaking landscapes, and captivating traditions of Aruba and Saba. Buckle up and get ready for an unforgettable journey of a lifetime!
Paradise Showdown: Unveiling Aruba and Saba's Hidden Gems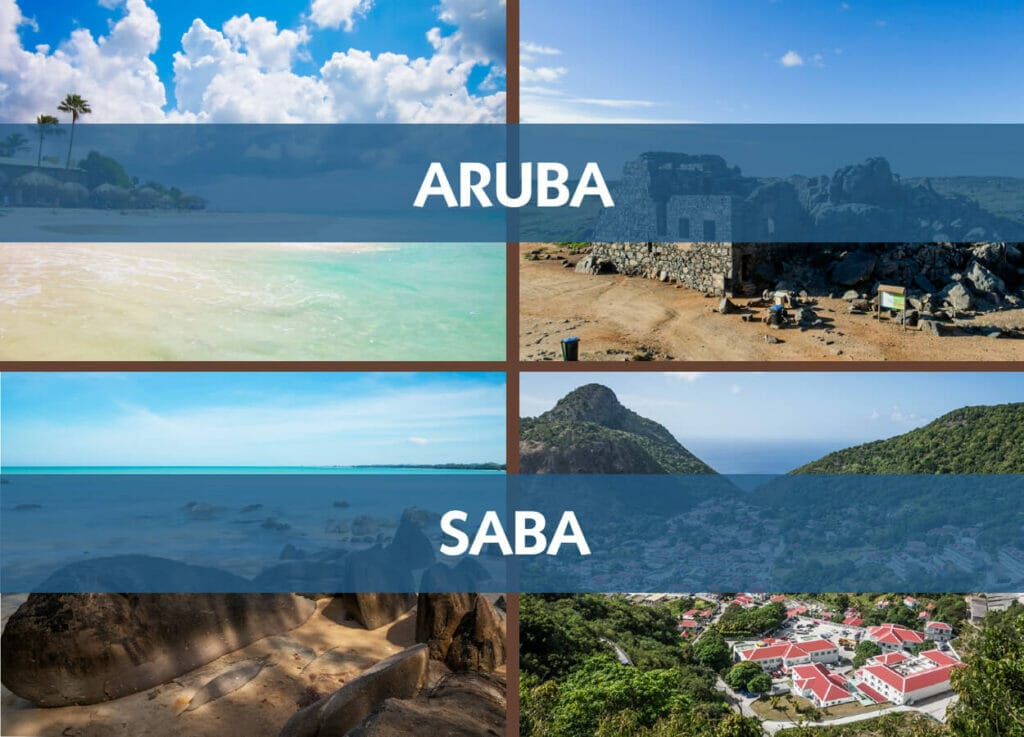 Hello, fellow wanderlust spirits! Ready for a little Caribbean magic? Let's embark on a sun-soaked journey and delve deep into two of the Caribbean's shimmering jewels: Aruba and Saba.
Whether you're a family yearning for beachy fun, a duo seeking romance under the palms, an adrenaline junkie chasing wild memories, or a traveler measuring coins or splurging on luxury – both these islands are ready to sweep you off your sandy feet!
First stop: Aruba, the "One Happy Island" where every sunset feels like a warm embrace. This island sparkles with golden sands and a culture rich with Dutch whispers. Wander the charming streets of Oranjestad, adorned with colorful colonial homes, or dive into Aruba's tales at the Historical Museum.
Of course, those postcard-perfect beaches beckon for lazy sunbathing, playful splashes, and exhilarating water sports. Whether you're settling into a bustling resort or a tranquil boutique hideaway, Aruba opens its heart to every kind of wanderer.
Next, let's hop over to Saba, the "Unspoiled Queen" of the Caribbean. Petite but mighty, this volcanic darling beckons with her rugged allure. Trailblazers, lace up your boots and hike through verdant forests, reaching the towering Mount Scenery for views that'll steal your breath away.
Ocean lovers, dive into Saba's underwater world, where corals paint the seascape and marine creatures dance to nature's rhythm. Though Saba might not have a bustling hotel scene, her quaint inns and dreamy cottages offer the perfect backdrop for moonlit romance.
Budgeting buddies, Aruba's got your back! Indulge in flavorsome arepas from the bustling food trucks or hunt for treasures in local markets without stretching your wallet too thin. For those sprinkling a bit of gold dust on their vacations, Aruba's plush resorts are set to roll out the red carpet, making you feel every bit the star.
If you're all about exclusive escapes, Saba is your secret sanctuary. Her boutique stays, dripping with luxury and personalized service, promise serene seclusion amidst raw natural beauty. It's like owning a slice of untouched Eden.
So, whether you're making waves in Aruba's azure waters or conquering Saba's green peaks, both these Caribbean dreams are set to etch memories on your heart. Time to rally your tribe, pack up, and set sail to the adventure that mirrors your dreams – both Aruba and Saba are ready to welcome you into their embrace. Safe travels!
Sandy Rivalry: Aruba and Saba's Beach Bliss Compared
Let's start with Aruba. Imagine soft, powdery white sands meeting brilliant blue waters—that's Aruba for you. It's a hit among families and lovebirds alike. Palm Beach and Eagle Beach are just perfect for the kiddos to splash and play, and for love-struck duos to wander hand-in-hand, especially during those mesmerizing sunsets.
And hey, if you're the thrill-seeker, the island's water sports, like windsurfing and snorkeling, are sure to get your heart pumping! Be it a pocket-friendly stay or a dash of luxury, Aruba's got you covered with its amazing range of accommodations.
Then there's Saba, the "Unspoiled Queen" of the Caribbean. This gem is for the souls yearning for a bit more mystery and adventure. Its beaches, like the mesmerizing Wells Bay, have this rugged charm that promises a unique adventure every time. Dive enthusiasts, here's a heads-up: Saba's underwater world is nothing short of spectacular.
And for all you romantics out there, the island's serene beaches and quaint villages have plenty of love in the air. While Saba might not have the flashy resorts like Aruba, its boutique hotels and homey guesthouses offer a genuine and heartwarming experience.
So, in the great Aruba vs. Saba debate, what's your pick? Looking for that classic Caribbean dream or an adventurous slice of paradise? Either way, both these beauties promise memories that'll last a lifetime.
Luxury or Seclusion? Choosing Your Getaway: Aruba vs Saba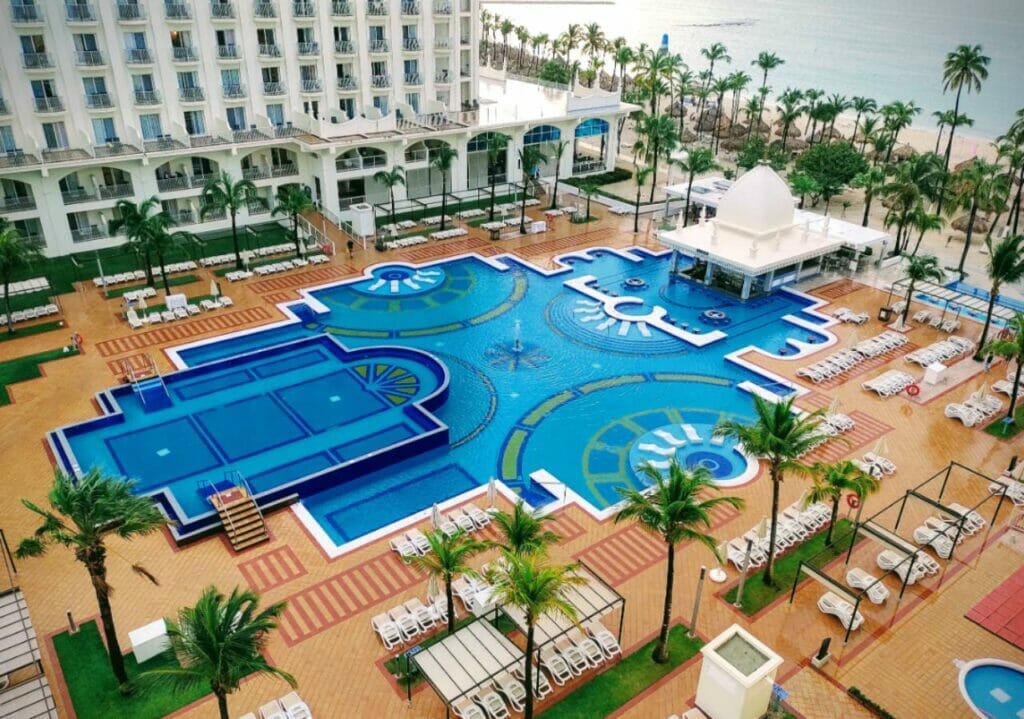 Aruba, known for its pristine beaches and vibrant culture, offers a range of accommodations that cater to all kinds of travelers. Families can find a home away from home at Hotel Riu Palace Aruba, where spacious rooms and kid-friendly amenities abound.
Couples seeking a romantic escape should check out the Hyatt Regency Aruba Resort Spa And Casino – imagine sunset walks on the beach and evenings spent trying your luck at the casino. And for the adventurous souls, Hilton Aruba Caribbean Resort & Casino not only offers a stunning beachfront location but also easy access to thrilling water sports and island explorations.
On the other hand, Saba, a hidden gem in the Caribbean, is perfect for those seeking a more off-the-beaten-path experience. Families will adore the Shangri-La Tanjung Aru, Kota Kinabalu, Sabah, where the focus on family-friendly activities and serene surroundings make for a truly relaxing stay.
Couples can find blissful seclusion at Gaya Island Resort, where overwater bungalows and a spa perched in the treetops set the stage for romance. Adventure seekers will feel at home in Shangri-La Rasa Ria, Kota Kinabalu, surrounded by lush rainforests and offering activities like zip-lining and jungle trekking.
In Aruba, options like Hotel Riu Palace Aruba provide a fantastic balance of comfort and affordability, while in Saba, Shangri-La Tanjung Aru offers great amenities without breaking the bank.
For those looking to indulge, the lap of luxury awaits in both destinations. Hyatt Regency Aruba Resort Spa And Casino and Gaya Island Resort offer top-notch services and accommodations that will pamper you to the core.
Thrills Unleashed: Action-Packed Adventures in Aruba and Saba
Aruba, oh Aruba! This island is a true playground for everyone. Families will be thrilled with the palm-fringed beaches like Eagle Beach, where you can build sandcastles and splash in the crystal-clear waters. Couples, get ready for some sunset magic on the famous Baby Beach, where the sky puts on a mesmerizing show.
Adventure seekers, grab your snorkeling gear and dive into the underwater wonderland of Arashi Reef. And hey, if luxury is your middle name, high-end resorts like Palm Beach offer world-class pampering that will make you feel like royalty.
Now, let's sail over to Saba, the unspoiled gem of the Caribbean. Families, get ready for a unique bonding experience as you hike the lush trails of Mount Scenery. The reward? Panoramic views that will leave you all in awe. Couples seeking intimacy, picture this: hand in hand, you'll stroll through charming villages like Windwardside, where quaint cottages and cozy cafes create the perfect romantic atmosphere.
Adventure seekers, Saba's underwater world is your domain. Plunge into its Marine Park, a paradise for divers with vibrant coral gardens and captivating marine life. And yes, even budget travelers can savor Saba by staying in cozy guesthouses and relishing the local flavors at affordable eateries.
In a nutshell, whether you choose Aruba's bustling beaches or Saba's serene trails, each island caters to every kind of traveler. Families, couples, adventurers, budget explorers, and luxury aficionados will all find their slice of paradise.
Car Rental Guide: Navigating Aruba and Saba's Delights
Aruba, the gem of the Caribbean, welcomes you with open arms and a range of transportation options. From the moment you step off the plane at Queen Beatrix International Airport, you'll find familiar names like Fox Rent A Car, Hertz Car Rental, and ACO Rent a Car ready to cater to your needs.
Families can rent spacious vehicles for those fun-filled island excursions, couples can zip around the scenic spots with ease, adventure seekers can load up their gear for thrilling escapades, and everyone can find options that fit their budget and style.
On the other hand, Saba, the quaint and enchanting island, boasts a charm of its own. Kings Car Rental, Suria Car Rental, and Big Momma Car Rental in Kota Kinabalu are your go-to companions for navigating this unique island paradise.
Families can enjoy the simplicity of exploring together, couples can cozy up in their rental and enjoy the picturesque drives, adventure seekers can head out to conquer the island's rugged terrain, and whether you're a budget-conscious traveler or a luxury aficionado, Saba's car rental options have got you covered.
So whether you're soaking in the sun on Aruba's famous beaches or discovering Saba's hidden gems, rest assured that the transportation scene in both destinations will make your journey as exciting as the destinations themselves.
Culinary Clash: A Taste of Aruba and Saba's Unique Flavors
Aruba and Saba are like two sides of a delicious Caribbean coin! If you've ever daydreamed about dining by the beach or among lush landscapes, then both these spots are worth putting on your culinary map.
Imagine soaking up Aruba's sun-kissed beaches and vibrant vibes. Here, every meal feels like a fiesta! At Aruba Wine and Dine, you can clink glasses under the golden hue of the Caribbean sunset, indulging in mouthwatering international flavors. Looking for something a bit cozier? The Kitchen Table offers a heartwarming mix of local and global treats. The chefs are so passionate, it feels like they're personally taking you on a tasty trip around the world.
And for a sprinkle of fun and surprise, 2 Fools And A Bull has you covered with its ever-changing menu – no two visits are ever the same. So whether you're on a family getaway, a couple's retreat, or just pampering yourself with luxury, Aruba's dining playground welcomes everyone with open arms.
On the other hand, Saba whispers tales of its rugged charm and cozy corners. Dive into the community spirit at The Brass Monkey Cafe & Bar. Here, every bite of comfort food is better with stories shared alongside warm-hearted locals. If fresh seafood and farm delights are your jam, 12 Dining paints a plate against the scenic beauty of Saba.
And if you're in the mood to groove a little, Happy Place Restaurant & Bar brings together a lively ambience and modern Caribbean spins on classics. Saba might have fewer spots, but it's an intimate treasure trove of unique flavors and memories waiting to be made, perfect for those romantic getaways, adventurous souls, or budget wanderers.
Aruba vs. Saba FAQ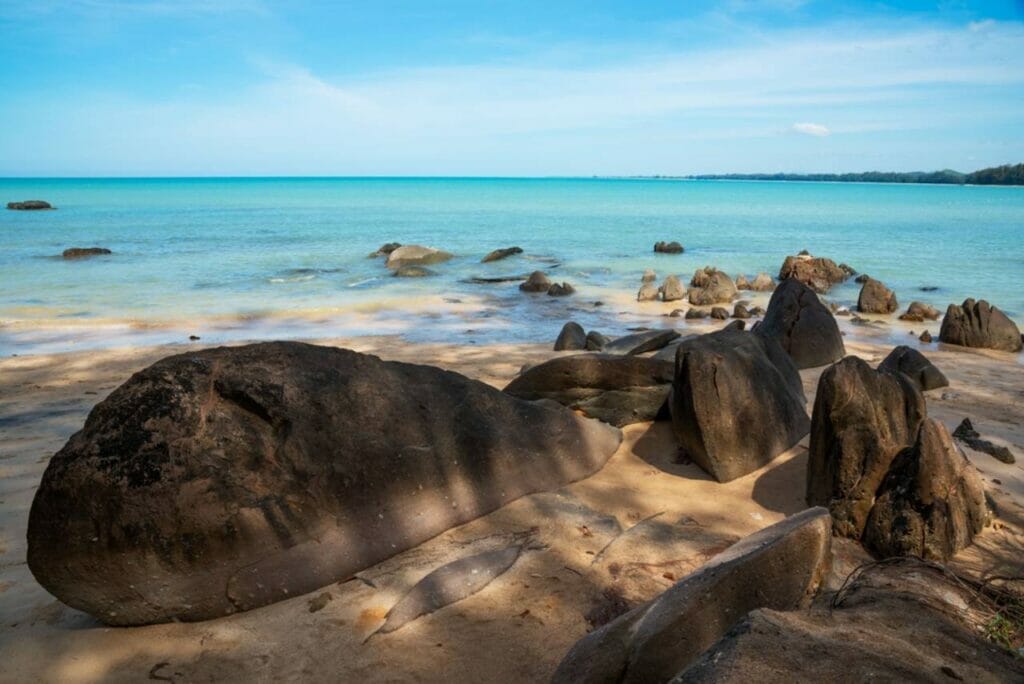 Is Aruba considered part of the Caribbean islands?
Yes, Aruba is considered part of the Caribbean islands. It is located in the southern Caribbean Sea, situated around 29 kilometers (18 miles) north of the coast of Venezuela. Aruba, along with its neighboring islands, is geographically classified as part of the Lesser Antilles in the southern Caribbean region.
Who does Saba Island belong to?
Saba Island belongs to the Kingdom of the Netherlands. It is one of the special municipalities of the Netherlands, along with Bonaire and Sint Eustatius. As such, Saba is a constituent country within the Kingdom and is governed by Dutch laws and regulations.
Which country is Aruba?
Aruba is a constituent country within the Kingdom of the Netherlands. It has a status separate from the European part of the Netherlands, similar to Sint Maarten, Curaçao, and Bonaire. Aruba maintains its own government and is responsible for its internal affairs, while the Kingdom of the Netherlands handles defense and foreign affairs.