Aruba vs. Port of Spain (Trinidad and Tobago)
Experience the Contrasting Charm and Culture of Aruba and Port of Spain as we dive into their distinctive offerings.
The main difference between Aruba and Port of Spain (Trinidad and Tobago) lies in their geographical setting and atmosphere. Aruba, a Dutch Caribbean island, boasts pristine beaches with a dry and arid climate, ideal for water sports and relaxation. Port of Spain, the capital of Trinidad and Tobago, offers a more diverse cultural experience, rich in history, festivals, and vibrant markets.
Travelers seeking a tropical getaway with a focus on beach activities may prefer Aruba, while those interested in exploring a mix of cultures and local traditions may find Port of Spain more appealing. 
| Aspect | Aruba | Port of Spain, Trinidad and Tobago |
| --- | --- | --- |
| Cost Range for 1 Week | $2,274 – $4,782 (source) | $759 – $1,940 (source) |
| Location | Caribbean | Caribbean |
| Geography | Island | Island |
| Language | Dutch, Papiamento | English |
| Government | Constituent country | Republic |
| Currency | Aruban Florin (AWG) | Trinidad and Tobago Dollar (TTD) |
| Tourism | Major tourist destination with beautiful beaches and resorts | Popular tourist destination with historical sites and cultural events |
| Economy | Tourism, oil refining, offshore banking | Oil and gas, petrochemicals, manufacturing |
Whether you seek exhilarating adventures or a taste of rich heritage, these two destinations promise unique experiences that will leave you captivated. So, which Caribbean escape will you choose?
Aruba and Port Of Spain: Geographical Comparison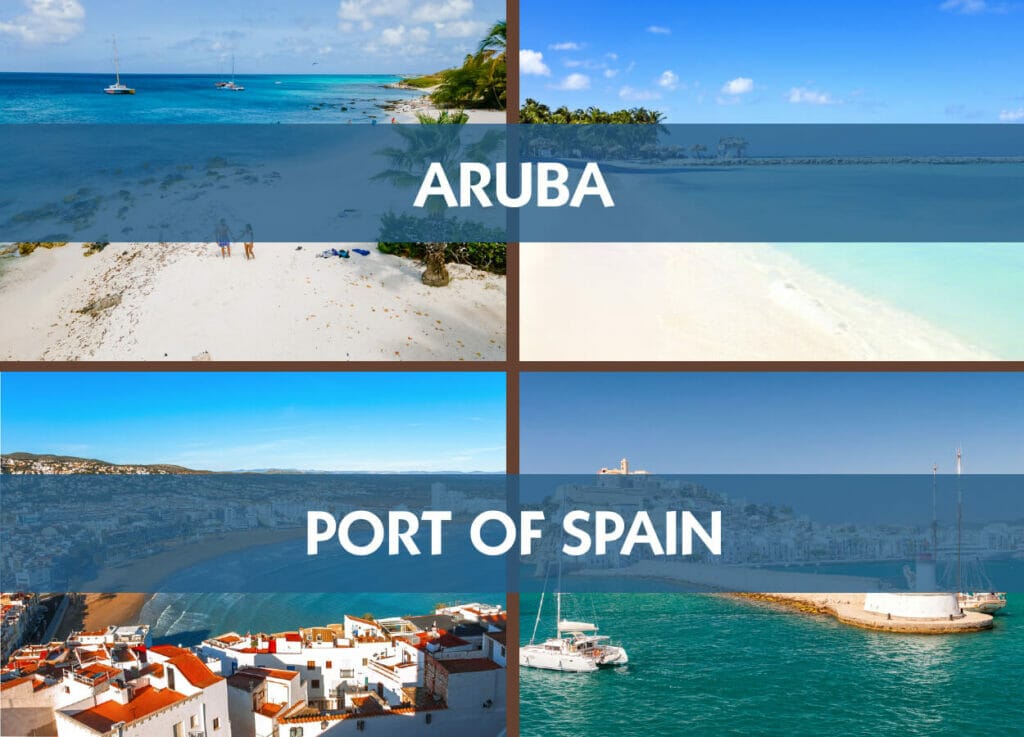 Hey friend! Can't decide between two breathtaking Caribbean spots for your next vacay? Let me give you a hand! Let's chat about Aruba and Port of Spain in Trinidad and Tobago, both of which are absolute jewels for every kind of traveler out there – whether you're setting off with family, your special someone, chasing adventures, or watching your wallet.
Aruba, affectionately known as "One Happy Island," is a slice of heaven. Think powdery white beaches, glistening blue waters, and endless sunshine. Got kiddos? Baby Beach's gentle waves are perfect for some splashy fun. Couples? Picture yourselves wandering Eagle Beach with sunsets that'll make your heart skip a beat.
For the daredevils among us, Arikok National Park is a treasure trove of hidden caves and secret pools. And hey, whether you're pinching pennies or looking to splurge, Aruba's got you – from snug guesthouses to lush all-inclusive resorts.
Now, swinging over to Port of Spain in Trinidad and Tobago, it's a different vibe but just as enchanting. Adventurous souls, the Northern Range mountains await with trails meandering through dense rainforests. Family time? Laugh and learn together in the Caroni Swamp, spotting Trinidad's star bird, the scarlet ibis.
And if you're after a splash of luxe, Maracas Bay offers golden sands paired with the mouthwatering local treat, "bake and shark." And good news, travelers! Your wallet will love Trinidad too – there's a bounty of budget-friendly stays and scrumptious street eats.
Bottom line? Aruba's dreamy shores or Port of Spain's dynamic mix of nature and culture – you're in for a treat either way! Both spots promise memories that you'll cherish forever. So, what are you waiting for?
Aruba and Port Of Spain: Beach gems
First stop, Aruba! Oh, what a dreamy haven it is! Can you picture yourself at Eagle Beach? It's a slice of heaven with its vast stretch of pristine sand, making it perfect for families with kiddos. And for those romantic sunset moments? Head over to Palm Beach. Picture yourselves, cocktail in hand, soaking up the vibrant ambiance.
For the thrill-seekers, diving into underwater treasures and windsurfing await you. And, trust me, your wallet won't feel the pinch here. Delicious local eateries serve up heartwarming dishes that won't break the bank.
Next, let's jet over to the bustling Port of Spain. While it's a tad different from Aruba in the beach department, what it offers is pure magic. Maracas Bay is a crowd-pleaser, with its surf-friendly waves framed by lush green hills. And if you're looking for that perfect couple's retreat? Las Cuevas is the place, with its tranquil settings and mesmerizing sunsets.
Oh, and for those with a dash of wanderlust, hiking trails leading to hidden gems and cascading waterfalls are just around the corner. Your taste buds are in for a treat too, with the city's irresistible street food.
So, the big question: Aruba or Port of Spain? It's a tough choice, I know. Aruba's iconic beaches make it a haven for those seeking serenity and water escapades, while Port of Spain's mix of beachy bliss and adventurous pursuits are a traveler's delight. My advice? Pack that sun hat, your favorite pair of shades, and prepare to be charmed by these Caribbean jewels.
Aruba and Port Of Spain: attractions and activities
Aruba is every beach lover's dream! Picture yourself lounging on its pristine white sands, with waves caressing your feet. From playful family times making sandcastles to romantic sunset walks, there's a slice of beach for everyone here.
And if you're up for some action, snorkeling, scuba diving, and windsurfing promise unforgettable thrills. Looking to really spoil yourself? The luxury resorts along the coast promise top-of-the-line amenities and those private beach moments we all dream of.
Meanwhile, Port of Spain, the heartbeat of Trinidad and Tobago, is a cultural mosaic waiting to be explored. Families, dive into its rich history at the National Museum and Art Gallery. Adventurers, the Maracas Valley beckons with its lush beauty, and the zip-lining in the Northern Range is a rush like no other!
And hey, if you're a market maven, the bustling local markets are a treasure trove of crafts and mouth-watering street eats. And for that touch of luxury? The city's upscale hotels serve up panoramic views and world-class services.
Nature enthusiasts, there's something for you too! Aruba's Arikok National Park offers desert hikes, ancient cave paintings, and encounters with diverse wildlife. Or, immerse in the lushness of Trinidad and Tobago's Asa Wright Nature Centre, a paradise for bird watching and nature walks.
So here's the gist: Aruba offers sun, sand, and sea, while Port of Spain is a cocktail of culture and adventure. Both spots cater to every wallet – from budget-friendly fun to lavish indulgence.
Aruba and Port Of Spain: top accommodations
Aruba is a slice of paradise. Imagine soft sandy beaches and the kind of hospitality that makes you feel like you're hugging an old friend. Fancy a touch of luxury? The Ritz-Carlton, Aruba is your perfect hideaway. Dive into a world of elegant suites, dine in style, and lounge at their private beach.
If it's a romantic escape you're after, Hilton Aruba Caribbean Resort & Casino paints the perfect picture with intimate beachside dinners and sunsets that look straight out of a postcard. And for those memorable family trips? The Aruba Marriott Resort & Stellaris Casino offers spacious rooms and countless activities to keep the young (and young at heart!) entertained.
Switch scenes to the energetic streets of Port of Spain in Trinidad and Tobago. Those with a thirst for adventure, the Hyatt Regency Trinidad sits right at the heart of it all, placing the city's rich tapestry at your doorstep.
On a budget? Kapok Hotel guarantees a comfy stay without breaking the bank. And for couples craving a sprinkle of contemporary chic, the Courtyard by Marriott Port of Spain offers a swanky design and a rooftop pool that'll have you floating on cloud nine.
Whether you're looking to indulge in luxury or dive into an affordable adventure, Aruba and Port of Spain have something for every traveler's soul.
Aruba and Port Of Spain: car rental guide
When you step into the sun-kissed shores of Aruba, it's like being welcomed by an old friend with arms wide open. Whether you're a family on an adventure spree, lovebirds looking for that perfect sunset, a thrill-seeker, or just someone exploring on a shoestring budget, Aruba has the perfect ride waiting for you.
Consider renting a car from awesome folks like Top Drive, Jay's Car Rental, or Amigo Car Rental – Aruba. With your own set of wheels, Aruba's best-kept secrets and pristine beaches become your personal playground. Ready to dive into a self-guided tour of Aruba's wonders?
And oh, let's not forget the rhythmic heart of Trinidad and Tobago, the lively Port of Spain! Whether you're a family with giggly kids, a couple building memories, an adrenaline junkie, or just wandering through in style or on a budget, the city ensures you move seamlessly.
Trusted names like Alamo Rent A Car, Econo Car Rentals, and Autocenter Car Rental are there to be your trusty steed. Imagine effortlessly drifting from the green embrace of rainforests to history-kissed spots, and bustling local bazaars, making memories every step of the way.
Aruba, with its petite charm, promises a cozy, easily navigable experience. You could pretty much dot the entire map in a few days, thanks to its smooth roads and laid-back vibe.
Meanwhile, Trinidad beckons with a call to the wild. Its vast landscapes and intricate roads promise a dash of adventure, unveiling natural marvels and cultural delights.
Aruba and Port Of Spain: culinary journey
If your wanderlust comes with a side of hunger for flavors that dance on your tongue and memories that linger long after the meal, Aruba and Port of Spain in Trinidad and Tobago are calling out to you! Ready to take a flavorful journey tailored for everyone from families and couples to thrill-seekers and luxury enthusiasts?
Imagine yourself in Aruba, an island oasis blessed with sun-kissed beaches and a heart full of warmth. For those romantic souls and families wanting a touch of elegance, Senses Fine Dining Restaurant awaits. It's where sophistication meets a feast, a delight for both the eyes and the belly.
Craving a harmony of Caribbean and international tastes? Let Papillon Restaurant take you on a flavor roller-coaster. And if juicy steaks are calling your name, The Chophouse at Manchebo sets the scene for a dreamy and memorable evening.
Next stop: Port of Spain. Dive into the vibrant heart of Trinidad and Tobago, where each bite tells a story of Caribbean heritage. Families, prepare to be hugged by the genuine warmth and comfort dishes at Veni Mange.
For those looking for an adventurous twist or budget delights, Tiki Village is your street food paradise, bursting with lively hues and scents. As for our luxury seekers, Texas de Brazil – Trinidad promises a dining spectacle, showcasing a mouthwatering rodizio extravaganza.
In both Aruba and Port of Spain, you're promised more than just a meal; it's an experience, an emotion. Whether you're dining under a canopy of stars or munching away in bustling streets, every taste promises a story.
Aruba vs. Port of Spain (Trinidad and Tobago) FAQ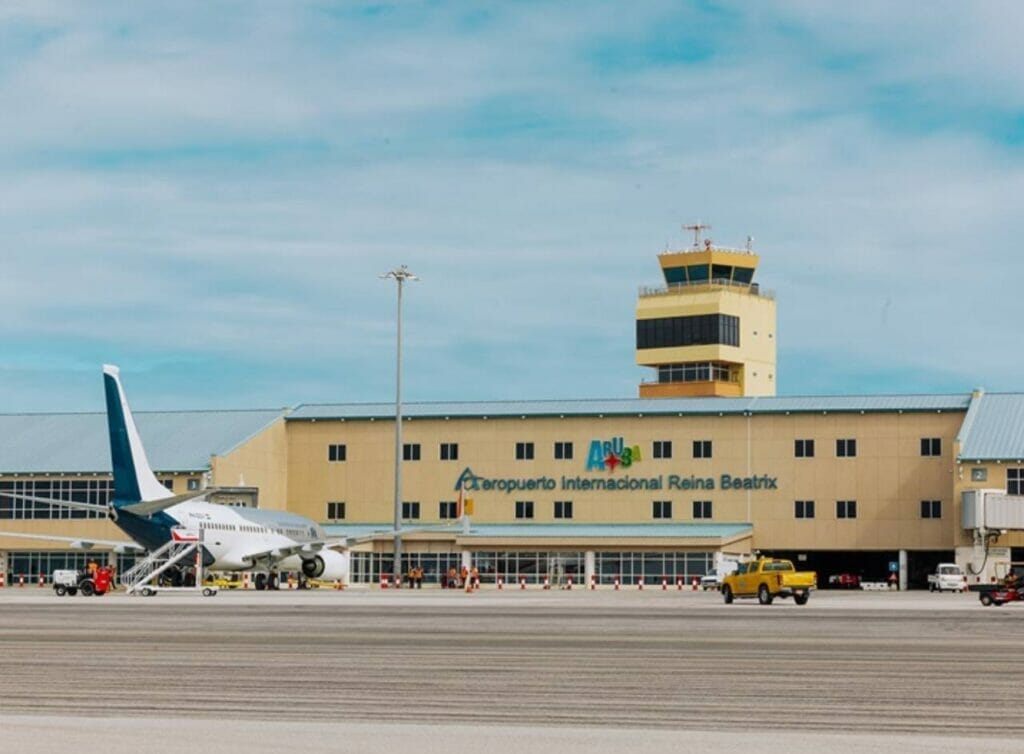 How long does it take to fly from Trinidad to Aruba?
The flight duration from Trinidad to Aruba typically ranges between 1 hour and 30 minutes to 2 hours, depending on factors such as the specific flight route, weather conditions, and any layovers or connecting flights. The distance between the two Caribbean destinations is approximately 800 kilometers (500 miles). Travelers can expect a relatively short and convenient journey when flying from Trinidad to Aruba.
Which airline flies from Trinidad to Aruba?
Currently, one of the prominent airlines that operate flights from Trinidad to Aruba is Caribbean Airlines. They provide regular direct flights between the two destinations, offering convenience and accessibility for travelers. It is advisable to check the airline's official website or consult with travel agencies for the most up-to-date information regarding flight schedules and availability.
How do you get to Aruba?
To reach Aruba, the most common and convenient option is to travel by air. Aruba has an international airport, Queen Beatrix International Airport (AUA), which receives flights from various destinations, including major cities in the Caribbean, North America, Europe, and South America. Travelers can book direct flights to Aruba from their departure point or opt for connecting flights depending on their location. It is recommended to check flight availability and plan accordingly to ensure a smooth and hassle-free journey to the island of Aruba.