Hey there! Are you dreaming of a Caribbean getaway? Let me introduce you to two incredible destinations: Aruba and Nevis. These islands may be small, but they offer big adventures.
The main difference between Aruba and Nevis lies in their geographical locations and cultural experiences. Aruba is a vibrant, Dutch-influenced island in the southern Caribbean, boasting white-sand beaches and a bustling nightlife. Nevis, located in the eastern Caribbean, offers a more tranquil and authentic Caribbean experience with lush greenery, historical charm, and a laid-back atmosphere.
Travelers seeking a lively, modern destination may prefer Aruba, while those desiring a quieter, unspoiled island experience may find Nevis more appealing.
| Category | Aruba | Nevis |
| --- | --- | --- |
| Cost Range for 1 Week | $2,274 – $4,782 (source) | $890 – $5,024 (source) |
| Location | Southern Caribbean, north of Venezuela | Eastern Caribbean, part of the Leeward Islands |
| Geography | Flat, arid landscape with sandy beaches | Mountainous island with lush rainforests |
| Language | Official languages: Dutch, Papiamento, English | Official language: English |
| Government | Constituent country of the Kingdom of the Netherlands | Constitutional monarchy |
| Currency | Aruban florin (AWG) | Eastern Caribbean dollar (XCD) |
| Tourism | Major tourist destination with resorts, casinos, and beautiful beaches | Relatively smaller tourism industry with a focus on luxury resorts and natural beauty |
So pack your bags and get ready for an unforgettable Caribbean experience tailored just for you!
Island Chronicles: Tracing the Past and Exploring the Terrain of Aruba and Nevis
Hey there, fellow wanderluster! Ready to escape the daily grind and teleport to a tropical paradise? Come with me as we daydream about two of the Caribbean's most mesmerizing spots: Aruba and Nevis. Close your eyes and imagine the feeling of soft sand between your toes and the gentle touch of sunlight on your skin, as I walk you through the magic of these islands.
First stop, Aruba! Think of vibrant turquoise waters meeting dreamy beaches – it's like stepping into a postcard. While many islands boast of tropical greenery, Aruba stands out with its distinctive desert vibes. And oh, the stories it tells! Every corner of its capital, Oranjestad, whispers tales of its Dutch heritage.
If you're traveling on a budget, you're in luck! Aruba has cozy spots and mouthwatering local dishes waiting for you. For those looking for a dash of luxury? The island has some of the finest resorts, ready to spoil you.
Next, let's float over to Nevis. If Aruba is the lively party host, Nevis is the serene poet in the corner. It's a little slice of heaven for anyone longing for a peaceful retreat. Picture emerald rainforests, hidden beaches, and a gentle pace of life. Delve deep into its history, and you'll be met with stories of colonial times and age-old sugar plantations.
Got kids in tow? They'll love wandering through the Botanical Gardens or learning about the early life of Alexander Hamilton. And for the adventurers, scaling the misty Nevis Peak is a must-do. Whether you're looking for quaint inns or opulent retreats, Nevis has a heartwarming embrace ready for you.
So, what's it going to be? The lively charm of Aruba or the soulful serenity of Nevis? Or maybe a bit of both? No matter what you choose, adventures, romance, and unforgettable moments await. Dive in, and let these islands wrap you in their magic.
Sands of Serenity: Comparing the Beach Paradises of Aruba and Nevis
Imagine Aruba: where the powdery white sands meet glistening azure waters. Whether you're planning a family vacay, a romantic retreat, or simply want to unwind, Aruba is your ticket to paradise. Picture yourself soaking up the sun on iconic beaches like Eagle Beach or Palm Beach. Little ones can splash around safely in the gentle waves, while lovebirds can share dreamy sunsets.
And if you've got that thrill-seeking spirit? Windsurfing, snorkeling, and exploring underwater wrecks await you. From cozy stays that won't break the bank to swanky resorts, Aruba rolls out the welcome mat for every kind of traveler.
Then there's Nevis, the Caribbean's best-kept secret. It's the place to be if you're after genuine tranquility. The sands of Pinney's Beach, soft and golden, beckon both couples wanting a peaceful escape and families eager for distraction-free bonding.
And if you're itching for a little adventure? A hike up Nevis Peak gifts you with views that'll take your breath away. Nevis might be petite, but it's bursting with authentic charm.
So here's the lowdown: If you're all about that perfect blend of relaxation and zest, Aruba's vibrant beaches and buzzing eateries have you covered. But if you're seeking a tranquil escape where you can truly unplug, the serene embrace of Nevis is calling your name.
Whichever sandy shore tugs at your heartstrings, both Aruba and Nevis cater to every traveler's budget and style. So, dig out that bikini, pop on those sunglasses, and prep yourself for an unforgettable beach affair.
Retreats in Paradise: Unveiling Top Stays in Aruba and Nevis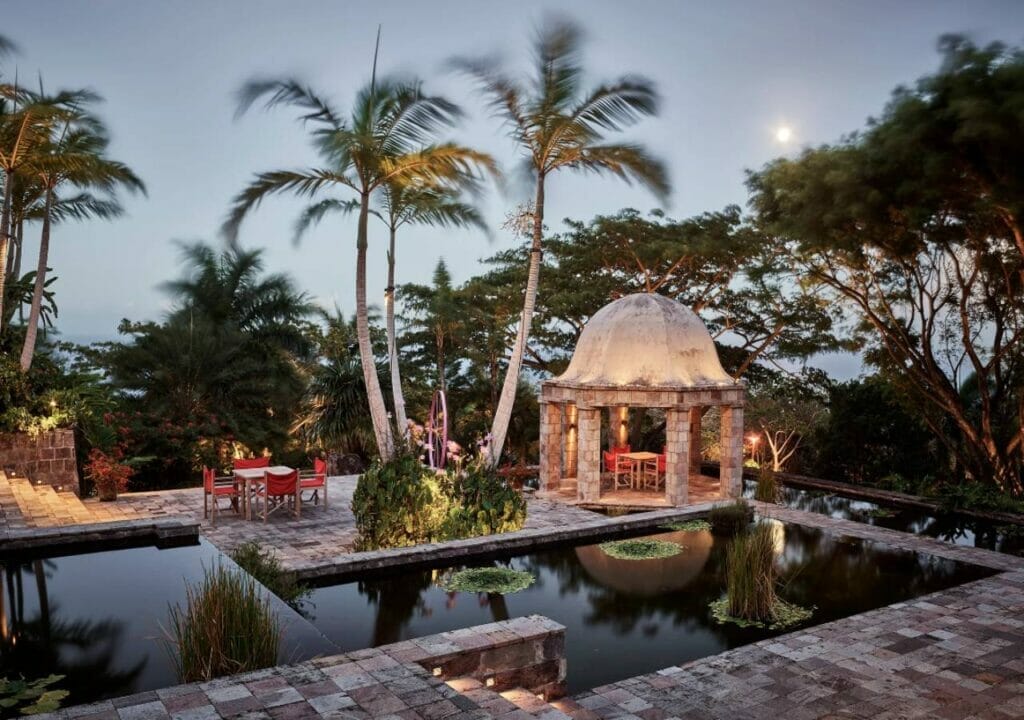 Ah, Aruba! Blessed with sun-kissed skies all year round and beaches that feel like a dream. Can you imagine waking to the gentle rhythm of waves at the Aruba Ocean Villas? It's a place where chic beachfront villas are always ready for a warm family embrace.
If you want a blend of tranquility with a dash of fun, set your sights on Flamingo Beach. Its palette of stays, from pocket-friendly to plush, means every traveler can bask in its beauty. And for couples in search of a secluded hideaway? The Rehoboth Peace Land Boutique Hotel awaits, with a promise to spoil you with its undivided attention.
Over in Nevis, nature sings a quieter, enchanting tune. With velvety green landscapes and a calming aura, it's Caribbean magic of a different kind. Nestled in this paradise is the Golden Rock Inn Nevis – a boutique haven that straddles wild beauty with luxury, and gifts you views that'll make your heart skip a beat. If you're daydreaming of soft sands meeting azure waters, make a pit stop at Paradise Beach Nevis.
From families to solo wanderers, it opens its arms to all. And if luxury's your middle name, the Park Hyatt St. Kitts Christophe Harbour, just a stone's throw away on a neighboring island, promises an experience dipped in opulence and care.
So, here's the scoop: Aruba and Nevis have crafted the perfect backdrop for every kind of traveler. From playing in the sand with the little ones, to starry-eyed beach walks, thrilling escapades, savvy adventures, or pure, unadulterated luxury, you're in for an unforgettable Caribbean embrace.
Adventures Unleashed: Discovering Allure in Aruba and Nevis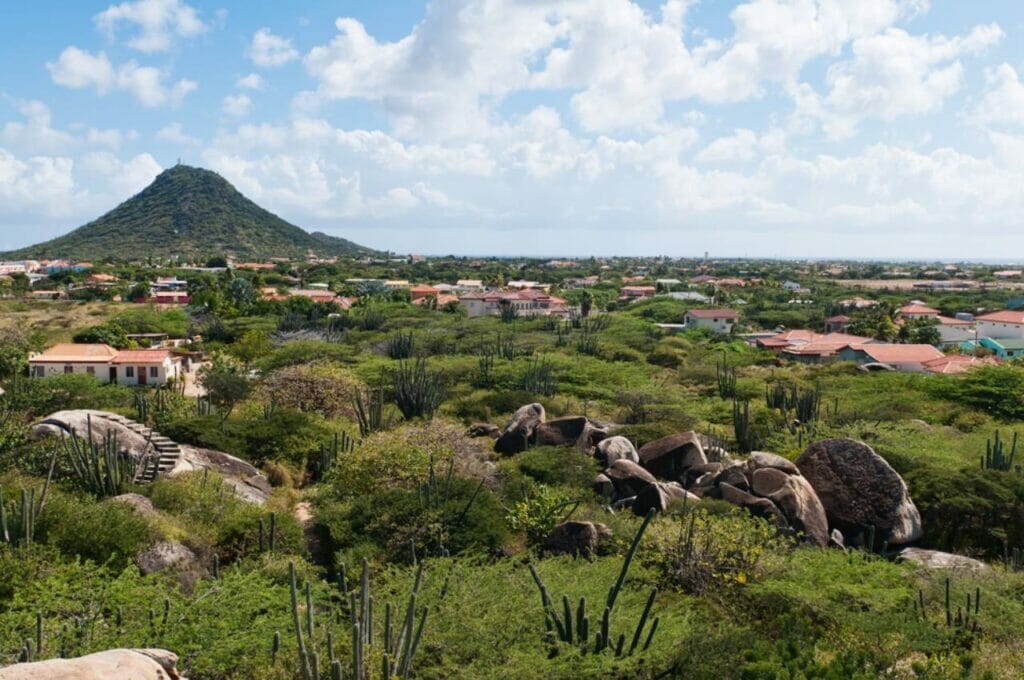 Ever heard Aruba called the "One Happy Island"? Well, it truly lives up to its cheerful moniker. For families, imagine a day in Arikok National Park, playing hide and seek among its captivating landscapes and mysterious caves. Couples, picture a serene walk along Eagle Beach, where the soft sands whisper beneath your feet and the shimmering waters invite you to create lasting memories.
And for my daring souls, the island's ever-present breezes make it a dream spot for windsurfing and kitesurfing. On a budget? No worries! Aruba boasts options for every pocket, from comfy stays to mouth-watering local bites.
Next, let's sail over to Nevis, the Caribbean's best-kept secret. Little explorers will be captivated by the Nevis Botanical Garden, learning about lush flora while engaging in playful treasure hunts. Lovebirds, imagine a leisurely walk through Charlestown's quaint alleys, each corner bursting with history and vibrant local vibes.
And for those who crave a bit of adrenaline, conquering Nevis Peak offers a thrilling ascent and views that will steal your heart. While Nevis has a luxurious flair, budget travelers can still find that cozy inn or delightful eatery that captures the island's magic without breaking the bank.
So, whether you're a family with wanderlust, lovebirds seeking magic, an adventure enthusiast, or a savvy traveler, Aruba and Nevis are calling out to you. Dive into a world filled with unique attractions and activities, creating memories you'll treasure forever.
Wheels to Wander: Navigating Aruba and Nevis with Car Rental
Aruba, with its crystal-clear waters and vibrant culture, welcomes you with a range of transportation options. Families can opt for the convenience of Venus Car Rental, ensuring everyone fits comfortably.
For the budget-savvy bunch, Fox Rent A Car at Queen Beatrix International Airport has your back, providing a hassle-free way to hit the road without denting your wallet. If you're all about that luxury life, Hertz Car Rental offers a splendid array of top-tier vehicles, perfect for couples seeking a romantic getaway.
Nevis Auto Rental Ltd. understands the needs of families, making sure you have the space and comfort to enjoy the scenic drives around the island. For those who crave adventure, Aftermath Car Rental hooks you up with rugged vehicles that can handle off-the-beaten-path explorations, bringing out the inner explorer in you.
And don't worry, couples – Khells Auto Rentals And Imports are there to let you cruise the island in style, helping you create those picture-perfect memories.
Whether you're soaking up the sun with your kids, strolling hand-in-hand with your loved one, seeking out thrilling escapades, or simply watching your budget, both Aruba and Nevis have got your transportation needs covered.
Culinary Journeys: Savoring Flavors from Aruba to Nevis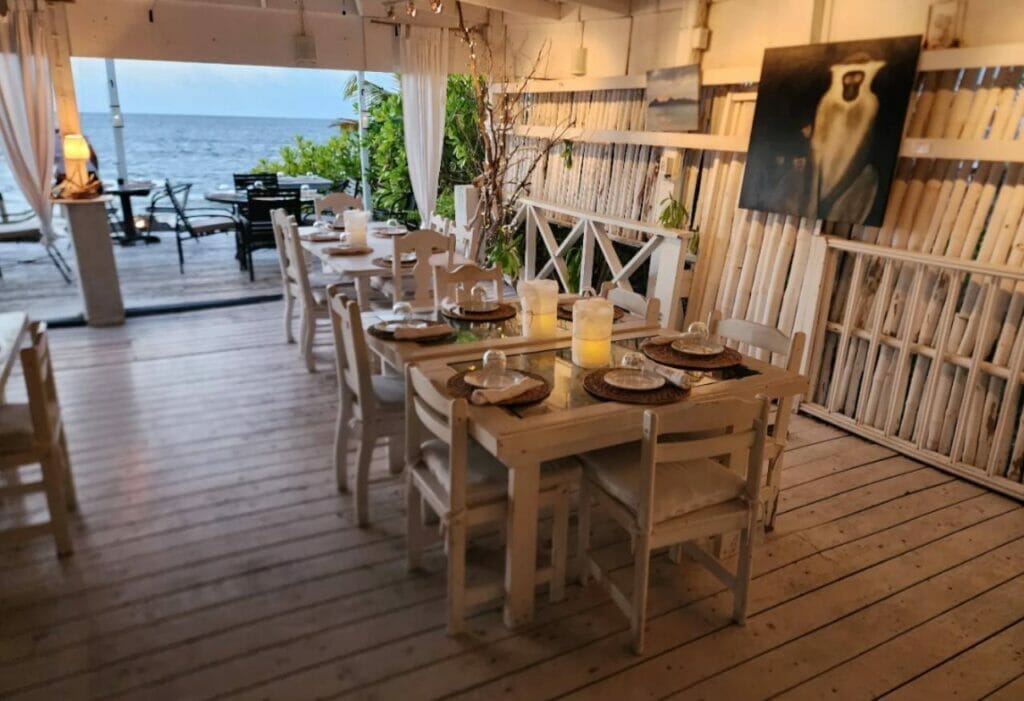 Dive into the flavors of Aruba and Nevis, two destinations where each bite tells a story.
Aruba, with its golden beaches and lively vibes, is more than a sunbather's dream – it's a foodie's paradise. Families, how about a meal at Po-Ké Ono Azure? It's not just about the scrumptious poke bowls that parents and kids love, but the easy-going atmosphere that makes it a delightful family hangout spot.
Now, for the lovebirds out there, nothing says romantic like Aruba's Flying Fishbone. Picture this: you and your partner, dining with the sand between your toes and the waves playing your background score. It's an experience where the setting sun meets your candlelit table. And hey, adventurers, you're in for a treat at Faro Blanco Restaurant. Perched on a cliff, it combines thrilling views with tantalizing dishes – a true sensory journey.
Switching gears to Nevis, it's where tranquility meets taste. Families, step into Drift Restaurant + V Gallery. It's more than just a meal; it's an experience where culinary delights meet artistic wonders. For couples seeking a backdrop of greenery and intimacy, Luna Restaurant awaits. Nestled among lush gardens, it's the spot to whisper sweet nothings over gourmet dishes.
And for those who adore a touch of luxury in every bite, Nevis' The Rocks is your dining stage. Opulence in ambiance, elegance on your plate – it's the epitome of fine dining.
Whether you're with family, your partner, seeking adventure, or luxury, Aruba and Nevis promise to leave your palate dancing with joy. Whatever your travel vibe, there's a plate waiting just for you
Aruba vs. Nevis FAQ
How expensive is Nevis island?
Nevis Island can be quite expensive for travelers. The cost of accommodation, dining, and activities on the island is generally higher than average. Luxury resorts and high-end restaurants contribute to the overall higher expenses. Additionally, transportation costs, such as flights or boat transfers, can also add to the total expenditure.
What is Nevis Island known for?
Nevis Island is renowned for its rich history, unspoiled natural beauty, and tranquil atmosphere. It is famous for being the birthplace of Alexander Hamilton, one of the Founding Fathers of the United States. Nevis also boasts beautiful beaches, lush rainforests, and stunning hiking trails. The island's historic sites, such as the Nevis Botanical Garden and the Museum of Nevis History, attract visitors seeking cultural enrichment.
Is it worth it to go to Nevis?
Visiting Nevis Island is indeed worth it for those seeking a serene and idyllic getaway. With its picturesque landscapes, warm climate, and charming local culture, Nevis offers a unique Caribbean experience. The island provides opportunities for relaxation, exploration, and a chance to immerse oneself in its history. Whether indulging in luxurious resorts or adventuring through nature, Nevis offers a fulfilling and rewarding vacation.